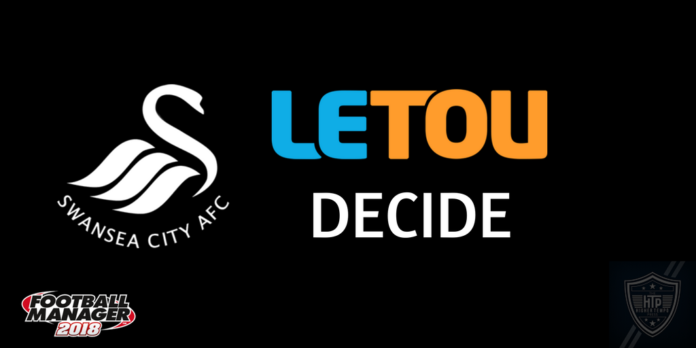 Today's press conference is the second interaction I've had with the media in 24 hours as TEAMtalk.com's Matt Smith was on the blower to ask about Leon Britton attempting to force a move away in order to play regular first team football. Apparently the dressing room is now said to be severely fractured, which is news to me because the only person supporting him is fellow want-away Ki Sung-Yeung.
I told him;
"I'm disappointed that he's chosen to express his concerns in this manner and at the end of the day if he doesn't want to be here then I won't force him to stay."
I've gone as far as to place him on the transfer list and if an offer comes in, I'd have to take it. I haven't yet officially stripped him of club captaincy but it's the next step should he put a foot wrong. As I write this we only have two days of the transfer window left and nobody has even clicked on his page on the website.
The FA Cup draw was kind to us, we play either Burnley or Portsmouth at the Liberty in the Fifth Round and I fancy our chances. I've scheduled a date in the diary to go watch the replay, a little scouting mission.
Onto the official press conference, this is in advance of our game tomorrow night against Newcastle United at St. James Park.
Reporter: A defeat here could see Swansea fall into the relegation zone, so how important is a positive result?
Me: A positive result is always important… can we have less of the scare-mongering, please? We've on a good run.
Reporter: Rafa Benitez has a reputation for favouring a very patient possession game with his Newcastle United side. What are your thoughts on his style and how will you be looking to counter it?
Me: I feel bad for the Newcastle United fans personally, who wants to pay good money to see a load of sideways passes? We'll be looking to show his fans what real football is about with a positive performance on Wednesday. Possession is all well and good but the score is what really counts.
Reporter: Wilfried Bony has been absent with an injury recently but rumours abound that he may be in line for a return against Newcastle. Is he likely to be available?
Me: We'll have to wait and see, he has some more work to do before the match. I'd like to think he'll be at least on the bench.
That's all we have for today, must be a big news day. With the transfer window coming to a close very soon, there's obviously a lot of business happening. Bayern Munch have signed Isco for £57 million and closer to home, Sheffield United have appointed Brian Deane as interim manager following Chris Wilder's sacking. Ryan Bertrand cost Manchester City £31 million initially and becomes Luis Enrique's first signing, Victor Moses is on his way out of Chelsea to Zenit for £9.5 million.
We've still got £33 million burning a hole in our collective pockets but nobody to spend it on. What's a bit more galling is that I'll spend Wednesday evening in Newcastle playing a game of football, not on my phone consenting to deals.