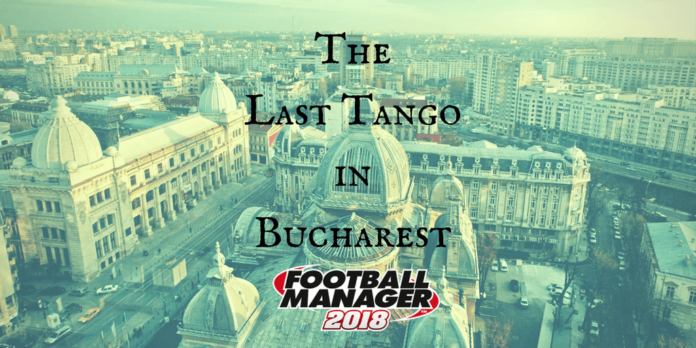 Back On The European Trail
THE MISSION: Enter the unforgiving world of Football Manager 2018, beat your bitter sibling rival to claim prestige in Romania and earn the honour of being named the Last Tango in Bucharest.
THE SNAG: The Rivalità Tra Fratelli series on Football Manager 2017 raised more questions than answers in Tango Towers. Is Charlie Tango just a cup specialist? Will Mike Tango be afforded so much time to gain the glory he craves again? The smart money seems to be on Dan Petrescu's CFR Cluj winning everything.
Episode 1, Episode 2, Episode 3, Episode 4, Episode 5, Episode 6, Episode 7, Episode 8
CHARLIE: We pick up the action this week in conjunction with the last episode, so if you haven't checked out Episode 7 for the explanation, please do. In simple terms, we had four games each consisting of two leagues and two European qualifiers. This episode contains the two European games and last week's focused on the league. Because the Champions League is more important than the Europa League, or so I'm told, we head there first.
MIKE: Sevilla, welcome to Bucharest. Not saying a lot this time, this matters. I really want to be in that Champions League group stage to rub shoulders with the big boys. Captain Pintilii comes in for Nedelcu but other than that, we're unchanged. Let's find out what we'll need to do in the second leg.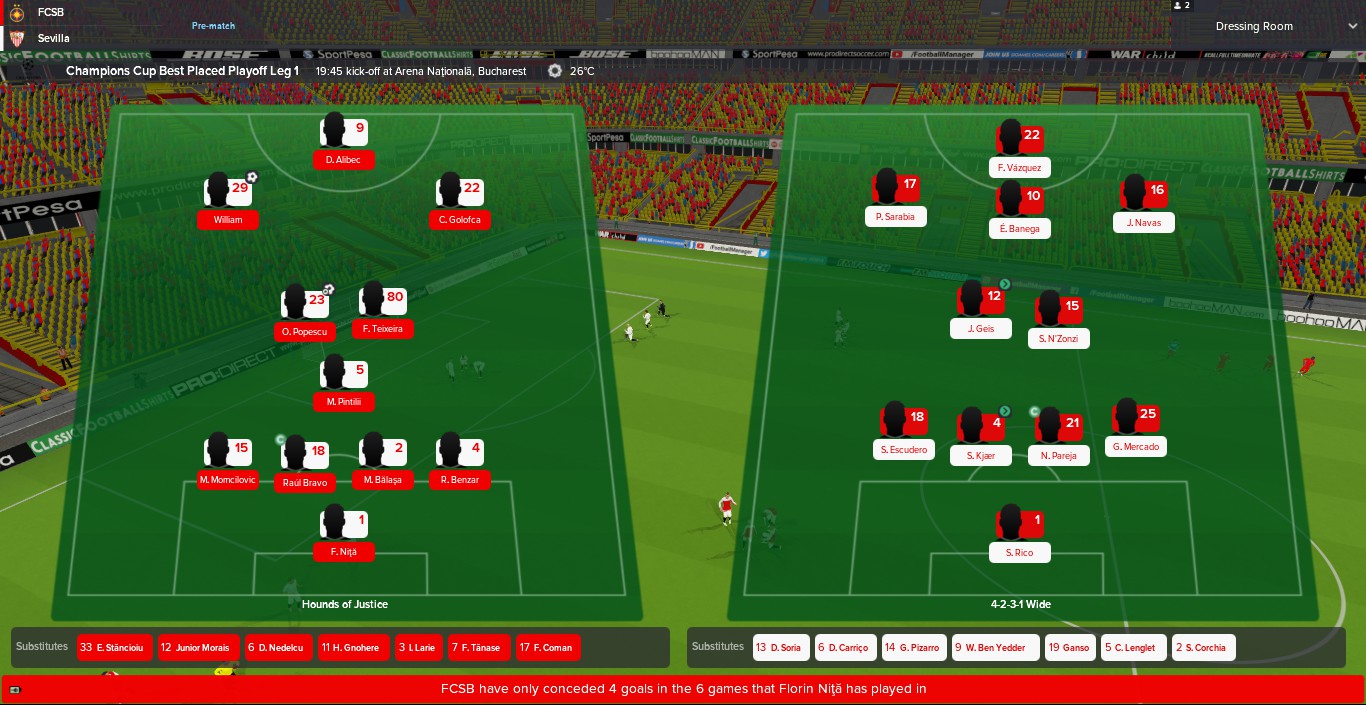 I do not like seeing Ever Banega, my midfield general from the Inter Milan FM17 days. He never fulfilled his potential for me in Milan, what are the odds he'll have a brilliant game here? High? Yep, I thought as much.
We lead! Yes! There is a God! Pareja dallies on the ball and Alibec robs him. He runs it wide and cuts inside for William, he drops the shoulder and checks onto his right before finding the bottom corner! This is dream stuff boys!
Half-time is a sea of green, awash with green, painted with green as I fire up the boys. Keep that spirit and we can win this! One minute into the second half and Alibec goes clear, he scores but he was offside. That will come back to bite us on the ass, I can feel it. Then they get a disallowed goal, Vazquez looked well off and was. This is edge of the seat stuff.
With five minutes to go Sevilla turn to Ben Yedder. He's barely had a touch when Vazquez goes down in the box under the softest of challenges from Balasa. Marks out of ten for the dive. It was blatant! But it's given. Ben Yedder won't miss this. He doesn't miss. 1 – 1 and it's a sucker blow.
The press conference after is just a blur. It was a draw but it feels like a defeat.
CHARLIE: Just before I take up the cudgels against Everton, we've been dealt a blow that left winger Diogo Salomao has suffered a cruciate injury and will be out for 7-8 months. There's even a news story saying he's considering quitting the game altogether. I try to reassure him but it's such a long time.
We travel the 2,323 kilometres (thanks press officer) to Liverpool in sombre spirits. Longer suffering readers may recall we played Everton in a pre-season friendly and narrowly lost 3 – 2 so all to play for.
I haven't written anything during the first 45, I sit here at half-time with the rather odd task of explaining how we're 3 – 0 up. That's 3 – 0 up, at Goodison Park, away from home, against what I reckon is almost full-strength Everton, albeit lopsided with central number 10's in wide positions.
When I read Mike's notes from last week when he won 6 – 0 I did scoff, how could he not know how he won so handsomely? I do not know how we are three goals to the good. At a corner, I don't know what Everton were doing but it wasn't marking as Hanca just cushioned the ball back across goal for Romera to pull off the far post and head in. Our second game from another corner, this time Mahlangu is hovering outside the box, he passes it square for Bokila to volley in from the edge of the area with a stunning strike. @FCDinamoEn has reported that he has not set the world alight for the real-life Dinamo team but for me, he's now scored 6 goals in 5 games. There's a third as Hanca beats Baines to the ball on our right and Baines looks like he just can't be bothered to get back at him, Hanca crosses and Rivaldinho just wanders through a gaping hole between Michael Keane and Holgate to sidefoot in.
It doesn't last in the second half, how could it? First what turns out to be an own goal by Nedelcearu was chalked off for offside somewhere in the build-up (I couldn't spot it) and then again from a corner Ashley Williams is the man to get Everton one goal back. All the attacking players in the home side; Rooney, Sandro, Barkley, Sigurdsson and it's the centre-back that gets it. Good finish too.
I think that makes us favourites to advance. Not something I expected to be writing.
In sad news, Diego Salmomao has decided to retire due to his cruciate injury. I did try to persuade him to mount a comeback but he was having none of it. What this means when we look back at first legs, Dinamo have a great chance of advancing while Steaua will be hard pushed to beat Sevilla in Spain. That means Steaua would drop into the Europa League group stage, the same competition as Dinamo are in.
We all agreed that this was the most likely scenario and that a European tie between us would be awesome, which was really what the first season of RTF in Italy was missing.
MIKE: Mixed news in the build-up to the Sevilla rematch. First, they lost 3 – 2 at the weekend to Elbar and find themselves in 15th in La Liga so we're in better form (Ed – this was actually their first-team as well). Secondly, Raul Bravo is out for two weeks with a pulled abdominal injury, which is a serious problem.
Believe it not, things actually start well for us. Just two minutes on the clock when Teixeira picks up the ball on the edge of his own box from a failed Jesus Navas run. He plays a short ball to Popescu, still closer to our own box than the halfway line and Popescu launches a massive high ball over the top of every player on the pitch. Somehow Alibec gets there ahead of Kjaer and the goalkeeper is in two minds…then it's a goal. Alibec hits a first time finish low and hard with his left, we're in front. But we have been here before…
As I was saying. On the half-hour Balasa has the ball again on the edge of our box and having scored from here, I'm not worried. Not about that. Then I realise he gave away the penalty last week and I am worried. The problem is, he's verging on complacency himself and N'Zonzi sniffs it out. He robs Balasa of possession, crosses low for the unmarked Vazquez to just tap it in past Nita. It's all even once again and at this early stage I sense the next goal will be crucial. One for us means we have a cushion, one for them means game over.
That next goal is an hour later, just as we tick over into injury time at the end of the second half Popescu has the ball in midfield and plays a through ball ahead of substitute Gnohere. He runs onto it, calm as you like, Sarabia was busy appealing for offside (he was played on by the right back) and Gnohere cuts back for fellow sub Boudjemaa to reach and hit first time on the half volley for his first goal in a Steaua shirt! It was an unstoppable shot! Sevilla are stunned, they can't respond in the few minutes that remain. We're through!
I know what you're thinking, not only were my substitutions on point like a decimal, but my summer signing of Boudjemaa has paid handsome dividends. Group stage here we come! Just before we find out whether Dinamo scraped into the lesser European competition let's see who we've got.
CHARLIE: I thought it was destiny for us to be together in the same Europa League competition. How does he do it? No way Steaua should be beating Sevilla. I'm so mad I've got my words mixed up. No way should Steaua be beating Sevilla. All that does is ramp up the pressure on me because even with a two-goal lead and the game saying we're favourites, I'm apprehensive.
Everton on their day are a very good side and the sight of Wayne Rooney, one of Mike's players at AC Milan in the Football Manager 2017 of this sibling rivalry, is enough to cause butterflies the size of eagles flying around my stomach.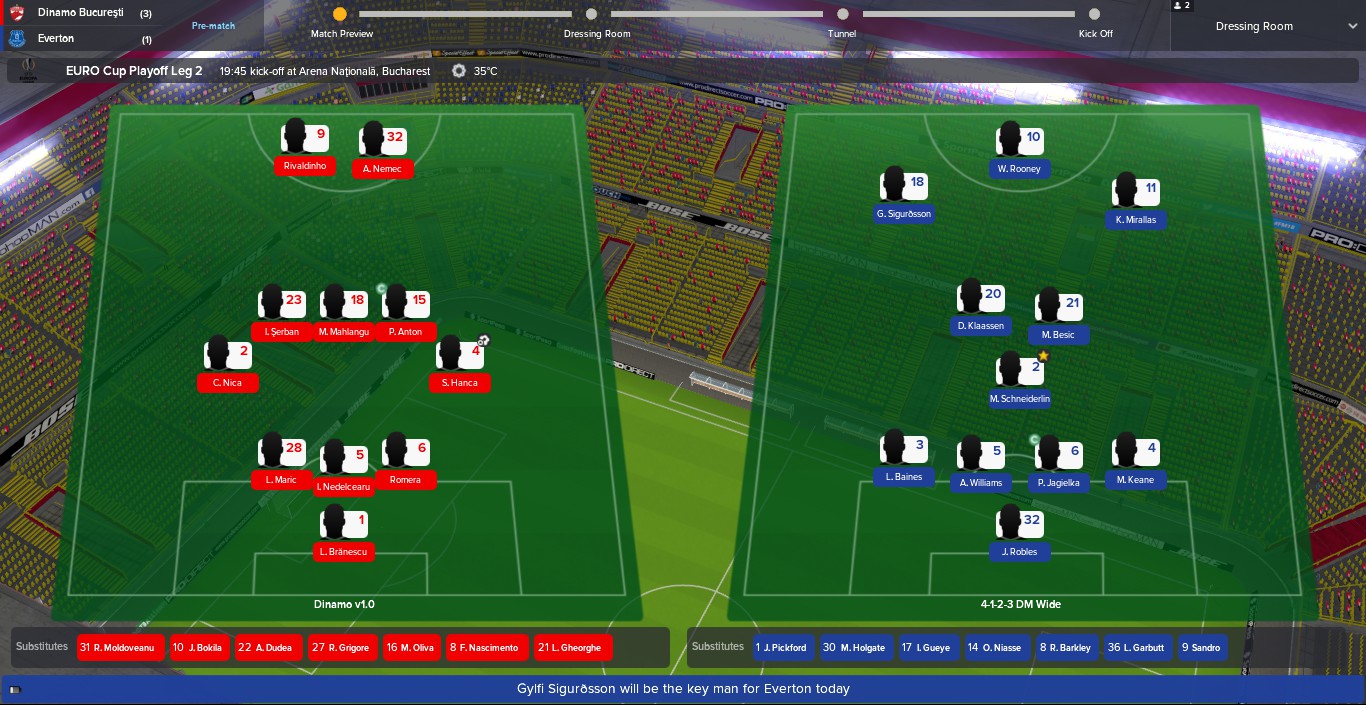 We make the best start imaginable, 28 minutes in and Hanca crosses the kind of ball he always crosses. I used to marvel at Candreva's free-kicks at Inter and this full back rivals him for consistency. Hanca's cross finds Nemec, who does the simple thing to leap like a salmon and heads us ahead on the night, now three goals ahead of Everton.
Sadly, that's the last positive note I have for some time. First Sigurdsson robs Hanca in the same position as Balasa lost it for Steaua, crosses low and Rooney is there to beat our goalkeeper to it. Told you the sight of him concerned me. After half time Paul Anton now loses the ball in a challenge with Morgan Schneiderlin. He finds Rooney and quality does not miss. It's 2 – 1 to Everton, one more for them and they'll match our score from the first leg.
We retreat back into our shell. No shouts are working, no tactical shift to tell the wingers to stay wide and mark their full back makes any difference. Everton are confident, they swagger about the pitch and it's only a matter of time before Mirallas gets forward on the right, crosses high and Sigurdsson heads towards goal. Branescu can do nothing as it finds the back of the net. It is all even.
And so it remains for the rest of the game, then extra-time. Penalties.
Bokila steps up first for us and cracks it home just above Robles' dive. Apparently Pickford not preferred in Europe. Sigurdsson scores, straight down the middle. Our substitute Oliva puts it in exactly the same place as the Iceland international. Baines is next for Everton and surprisingly he misses, his shot saved by Branescu low to his left. Romera has taken a few for us this season and makes no mistake before Rooney hits one in the top corner. We're winning 3 – 2 as Hanca steps up to make it four, following Wayne's example. I can't get my head around why Jagielka comes forward for Everton's next one, but he sees his shot saved and we're through! Hallelujah! Praise the Lord!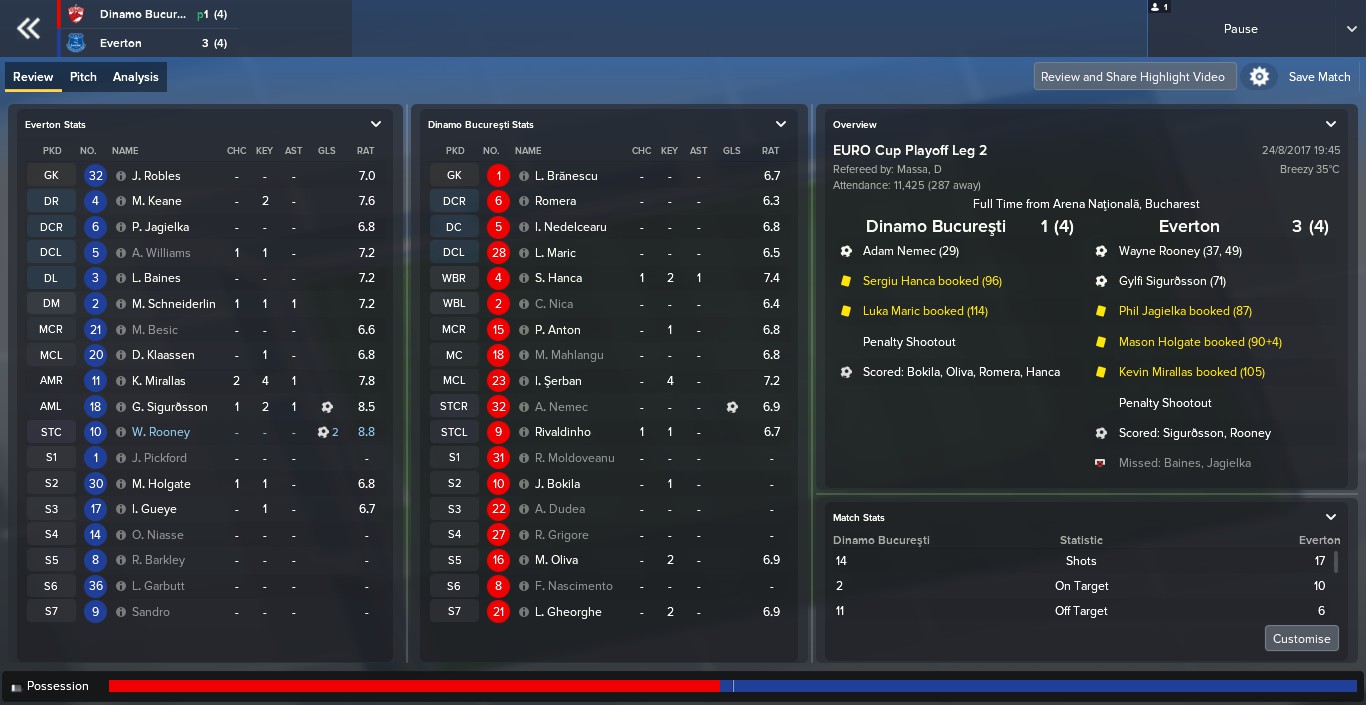 Time to exhale. We're into the group stage and I fancy our chances of making it through. There's still time for a Tango European showdown, just as long as Steaua finish third in their group and we make it through.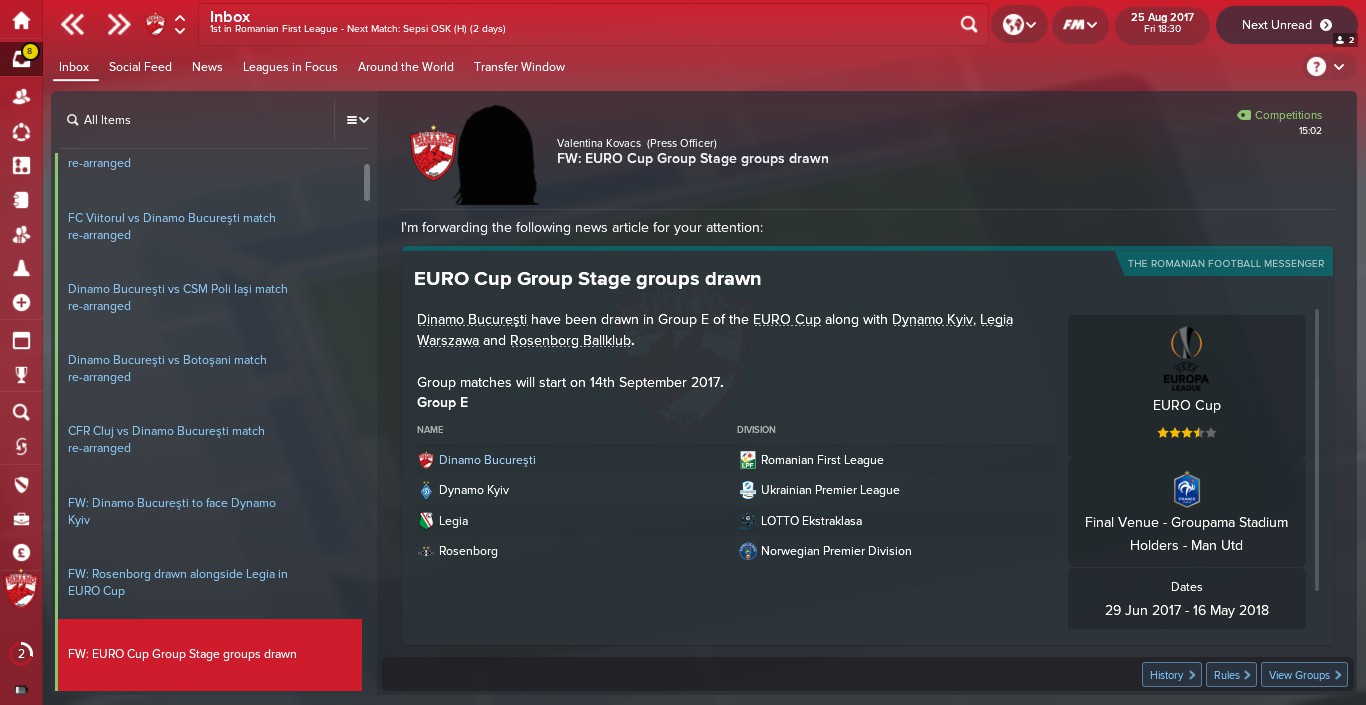 I know what you're thinking, this is all well and good but how does taking on the huge job at Swansea in the Letou Decide project affect the Last Tango? Tune in next week and I'll explain.
Thank you for reading, join us on twitter at @FM18Challenge, @CharlieTangoFM & @MikeTangoFM for exclusive comments, developments prior to episodes and reaction afterwards. Continued thanks to Chris, Luke, Mike and everyone at Tempo for the opportunity to share this with the readers.
If you'd like to replicate this challenge, we're using the large release day database with the following leagues made active: Romania (Liga I & Liga Liga II), England (Premier League, Championship, League One & League Two), Italy (Serie A & Serie B), Spain (La Liga & Segunda División), France (Ligue 1 & Ligue 2) and Germany (Bundesliga & 2. Bundesliga).