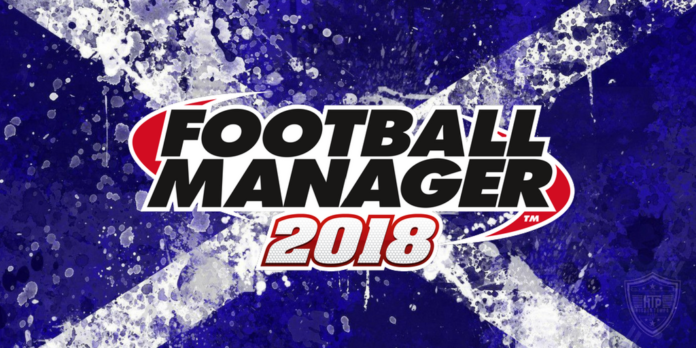 I thought I'd change things up this time with the ICT Crowd. You may remember last time up that I ran through transfers etc. in my set order but that's a bit dull so this time I'm going to break things up into simpler sections.
Results
I've played a hefty amount of game time since the last update too as we're into early February. My optimism after our win over St. Johnstone is still there as we've never been out of contention at all.
That being said, things haven't exactly been smooth. We're very inconsistent. Goals aren't that much of an issue (top scorers in the bottom six) but goals conceded are. We've kept maybe two clean sheets all season which, whatever way you cut it, is f**king terrible.
Best Performance
There are a couple that I could choose from here. We performed really well at home against Rangers and should probably have got a point from that game while a late win over Hearts and at Easter Road were pretty good.
Our best performance though in this update was in our 3-1 home win over Partick in mid-December. We were on it that day and Partick had absolutely no chance. Connor Bell, Dom Stolz and David Goodwillie all got on the scoresheet and we were near untouchable. A late lapse meant Partick got a late goal which was disappointing but we fully deserved the victory.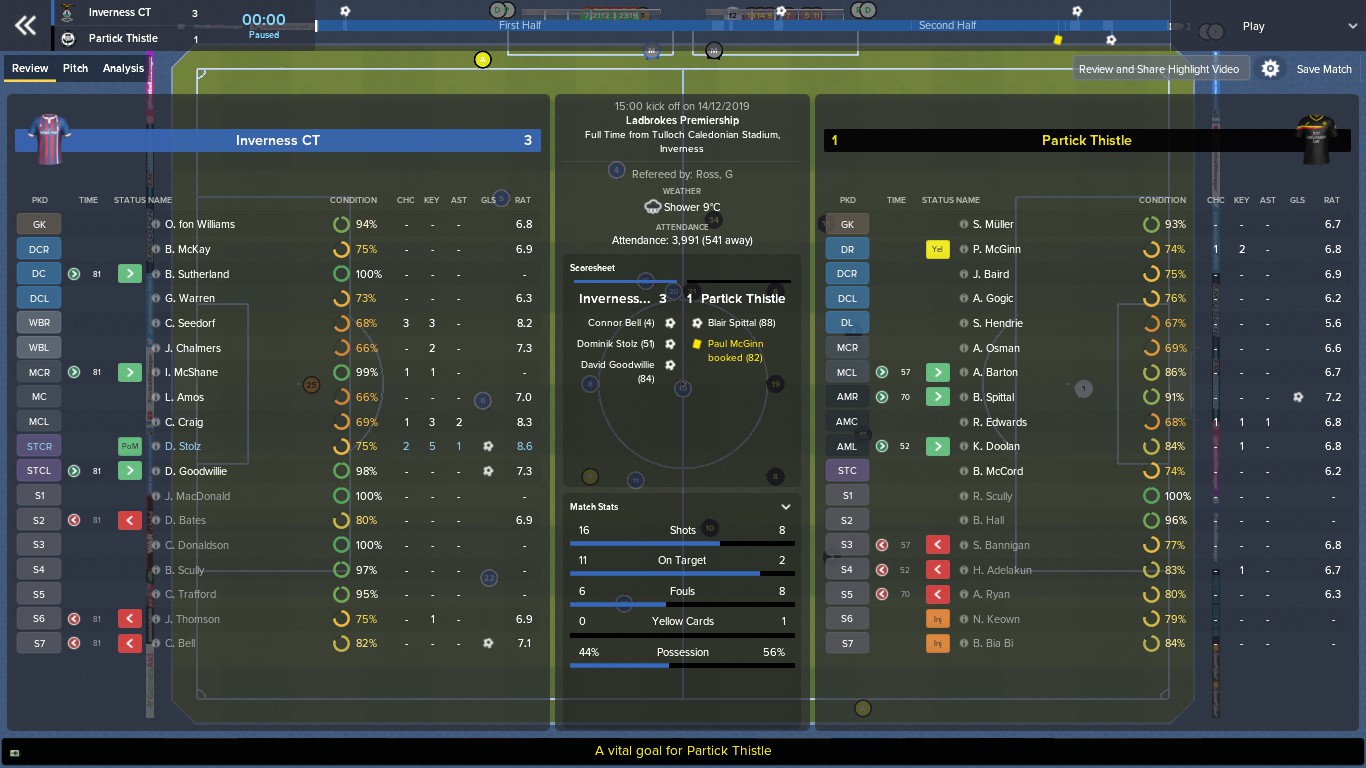 Stolz in particular showed his quality by laying on two chances with five key passes and an assist as well as his goal. But more on him later on…
Worst Performance
Easy one this. We've had some right stinkers but our Scottish Cup trip to Falkirk was shambolic. It took us 70 minutes to register a shot of any kind and Nathan Austin (a man that has missed 15 open goals this season against us) got a hat trick. Can we move on please?
League Table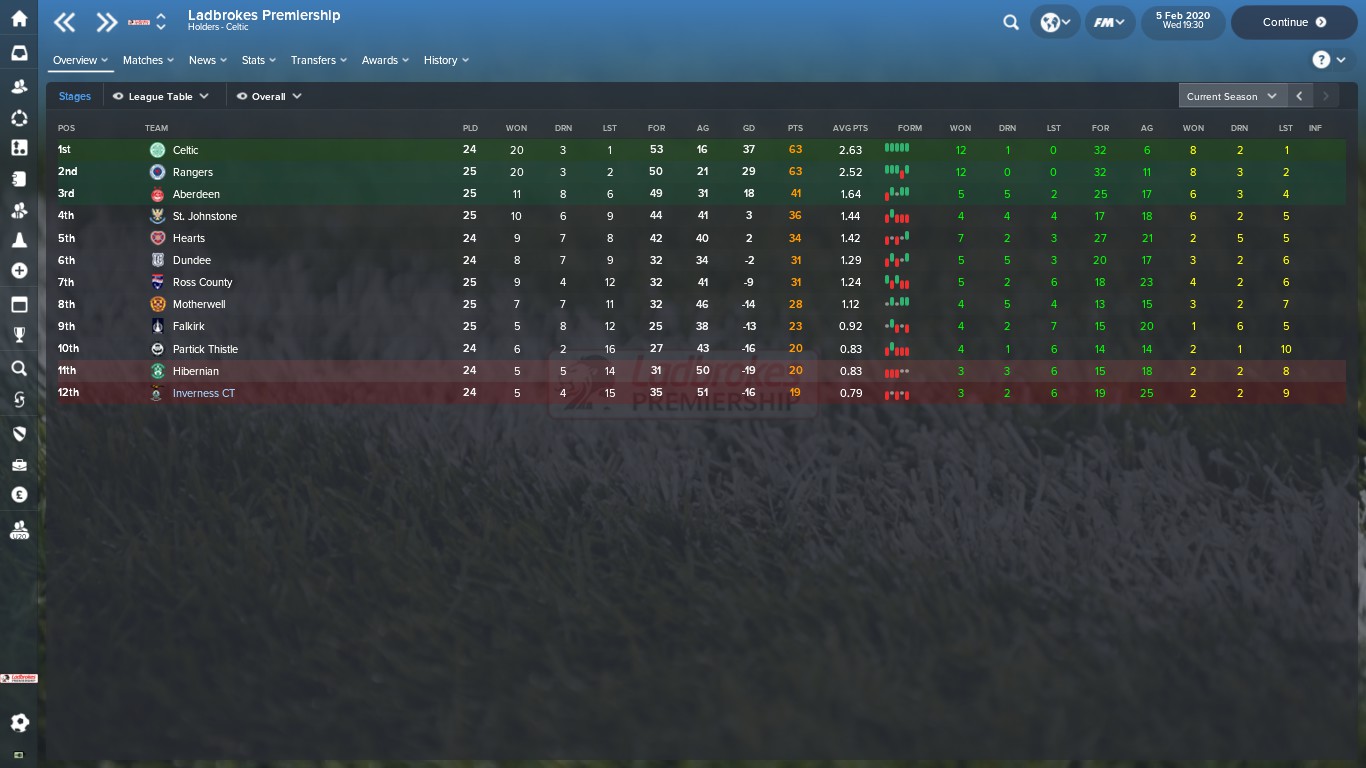 As I said, we're not completely cut adrift but teams above us are starting to find points from places they hadn't before which is something we need to start doing. Finishing above Falkirk was always my goal after the end to last season so that's the aim.
Players
Transfers
We've been hamstrung by budget in January. I wanted to bring in a defender and a striker to give us depth and stop us having to rely on Lawrence Shankland in a crisis or, heaven forbid, Coll Donaldson. It was a sell to buy month then and boy did I try.
Midfielder Zack Elbouzedi left on loan for Alloa because he's sixth choice in a midfield that contains a 17 year old. Honestly, Elbouzedi is one of those players that does nothing of any note, good or bad, and quietly racks up fifty-odd games for you before you realise he's shite. I'll be trying to sell him ASAP.
I also tried to shift out young keeper Daniel Hoban, midfielder Liam Macdonald and Shankland because their deals are up at the end of the season. Macdonald was the only departure on a free to Ayr. Shankland rejected a £1,500 move to Dunfermline and Hoban, well, got no interest.
I did make money selling youngster Chris Charlesworth to Sunderland for a deal worth up to £75,000. He's a decent young player and I did it mostly to keep their attention away from James MacDonald, my star youngster.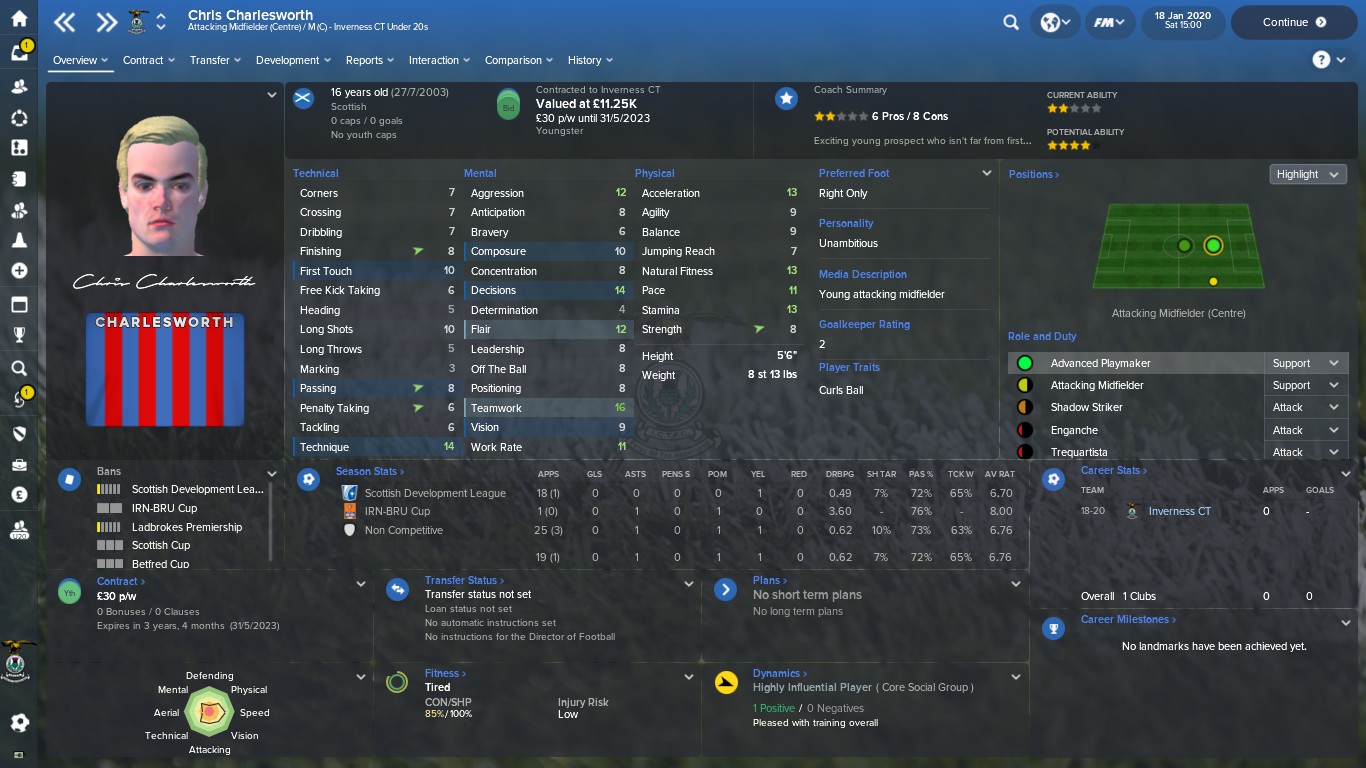 The only player I managed to sign was Jack Aitchison on loan from Celtic. He's quite decent and has scored already which is nice. He was also free.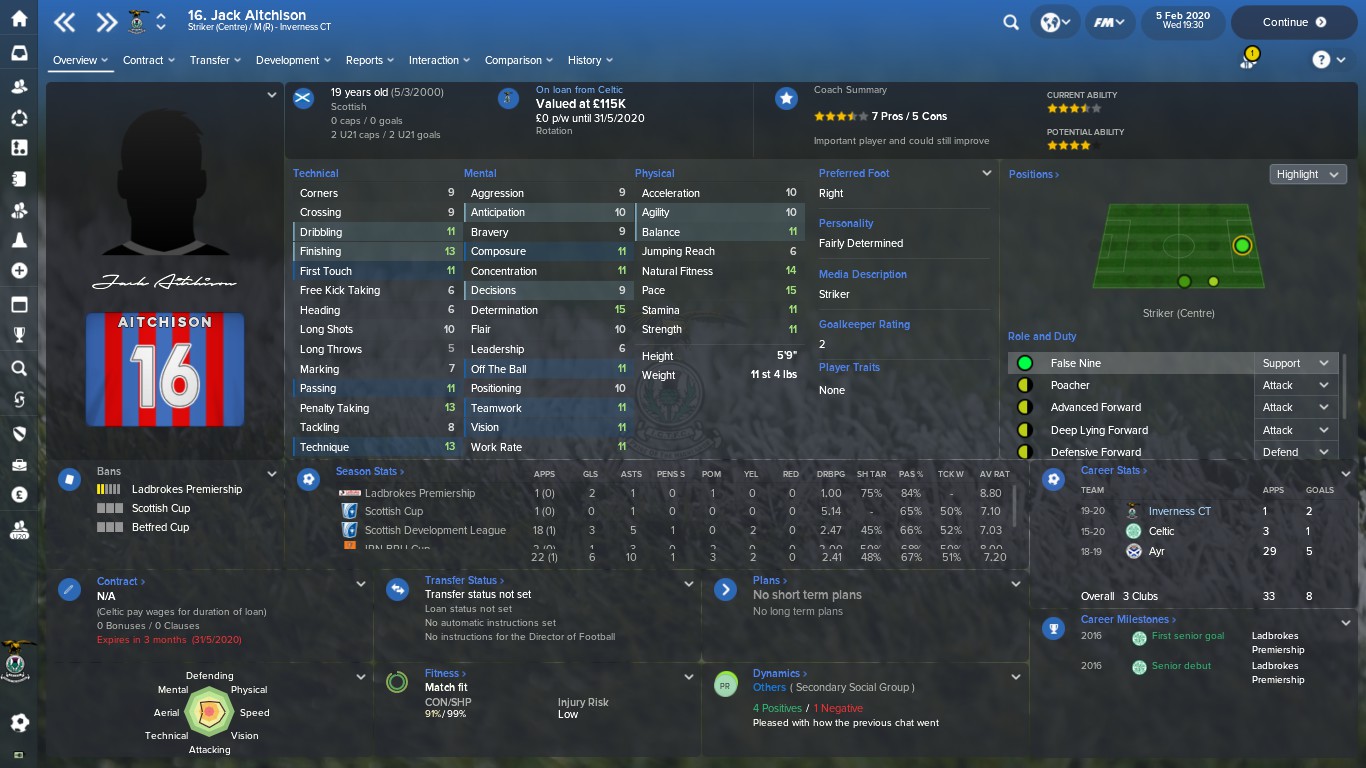 Best Performer
Now, this is a tough call. While both Joe Thomson and Colin Craig have better ratings, my personal favourite so far has been Dominik Stolz. He's proven to be a inspired bit of business as he's pretty much keeping us in games with his creativity alone. Sure, he doesn't get many up front but he doesn't need to with Goodwillie and Bell sharing the load between them. He's second to Walcott in assists too which is phenomenal.
Worst Performer
Coll Donaldson. He might just be the single stupidest defender I've ever had the misfortune of managing on FM. If anyone followed my FM16 save on my own blog with Osasuna may remember Israel Puerto. Donaldson might be worse.
Other News
In other news, I lost out on the Motherwell job to Pedro Caixinha. When I say 'lost out on' I mean I went for an interview to snoop on their budgets. They have £3 million for transfers. We're doomed.
That's about it really for this update. I'll likely be back with the end of season rundown as we head into the final 14 games of what is going to be an uphill battle to stay up. I've been thinking of what to do if I go down and it will likely involve me leaving Caley and trying my hand somewhere else. That's the future though and, as the cliche goes, football is a funny old business.
The skin being used in this save is the Tempo Skin available right here on The Higher Tempo Press.