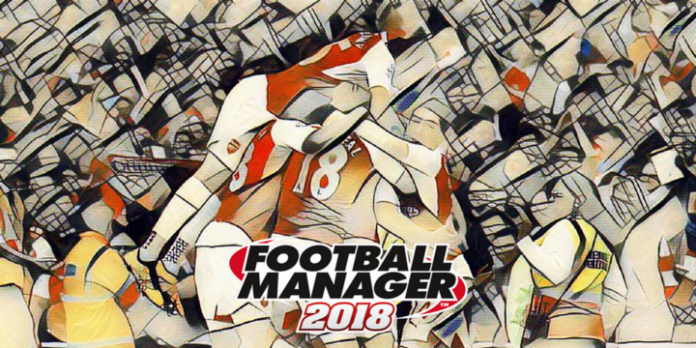 Our season has been nothing short of sensational. We won the Premier League, with an unstoppable run of nine wins in a row seeing us beat Jose Mourinho's Manchester United to the title by just a single point.
That run is part of a 14 match winning sequence across all competitions that has seen us reach the FA Cup final, as well as putting ourselves in the final for the Champions League. There, we overcame a group of death alongside Inter Milan, Bayern Munich and Porto, beating the latter again in the knock-out stages and also seeing off Paris Saint-Germain and Manchester City.
14 wins in a row is sensational. Winning the Premier League is equally amazing. But I'm not done. Two more games, two more trophies. That's the aim. We're here, we might as well win it all. Chelsea and Atletico Madrid stand in our way, the latter of whom play on home soil. That won't stop us.
First, it's the FA Cup final. Chelsea have defeated us in the finals of both the Community Shield and the European Super Cup but they're now set to lose Antonio Conte as his contract approaches the end. I've actually been linked with the job but I have zero intentions of taking it.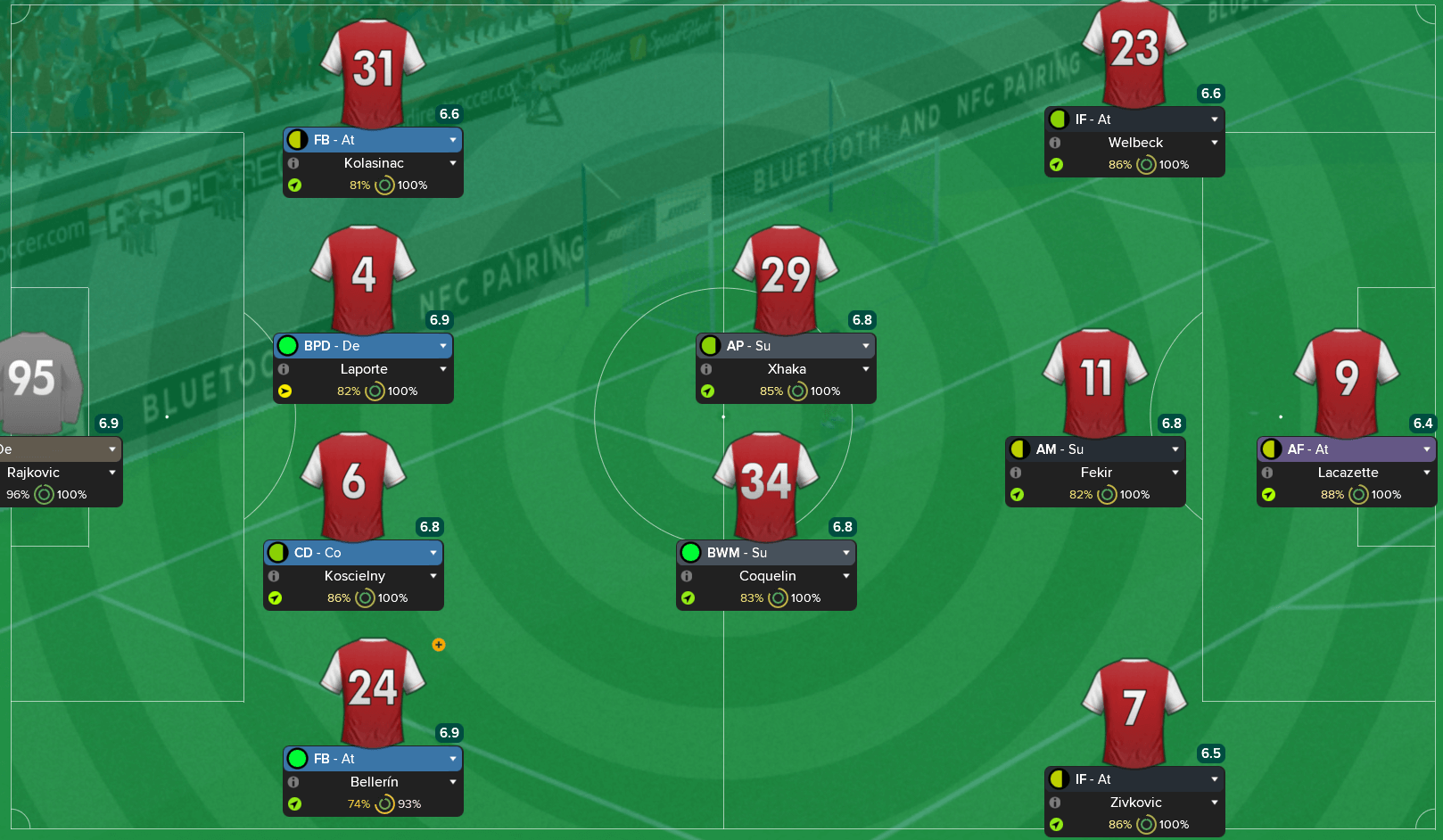 The big concern in the run-up to the game is Hector Bellerin's fitness but he's cleared to play an hour. What follows is the sternest tactical test I can ever remember in a Football Manager save of mine, it stretched me and it was tough.
The first-half is one-way traffic, we push and push but can't find the breakthrough. The second period is more level and both goalkeepers are forced into regular action. Defensively, we were on form but our attacking line, our shining light throughout the season, has a rare off day.
Inevitably, it goes all the way for penalties. By this stage, it had become obvious that it wasn't to be our day and that proved to be the case as Lacazette, Fekir and Iwobi all had penalties saved. It was a bitter-sweet affair but I can certainly be proud of our efforts, as it was another competition we overachieved in.
Anyway, if you had offered me only one of the three titles available I would have taken the Champions League. Already with the Premier League in the bag, I intend to make history by leading Arsenal to glory in Europe for the first time- achieving something that Arsene Wenger didn't manage in two decades in North London.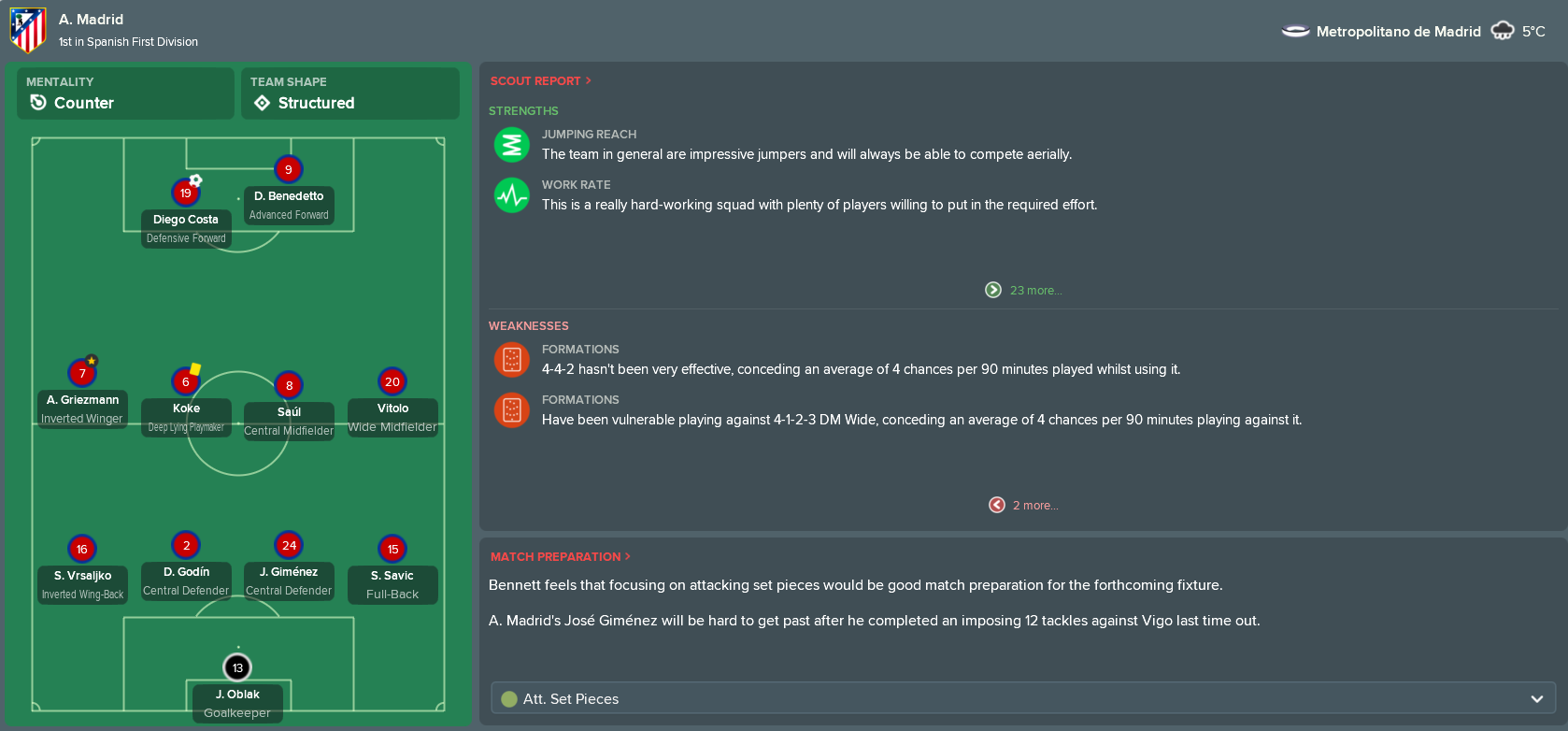 Heading to the Spanish capital, on Atletico's own ground no less, we're certainly up for a stern test. The pre-match brief is interesting, as Griezmann and Vitolo are playing a lot deeper than I'd expect. I believe we'll have the advantage out wide, so 4-2-3-1 is definitely the route to go.
Oh, the drama! We fall behind extremely early on to a goal from Diego Costa but we rally back, as we have so often before, with Iwobi equalising and then Lacazette firing us in front. The real telling moments came in the final ten minutes though, where the game hung in the balance.
Dario Benedetto sent Rajkovic the wrong way from the spot but struck the post, allowing Mustafi to clear away. Five minutes later, Zivkovic cut inside and fired an unstoppable shot past Jan Oblak. It sealed the win, we were European champions for the second year in a row- but this time it was the big one.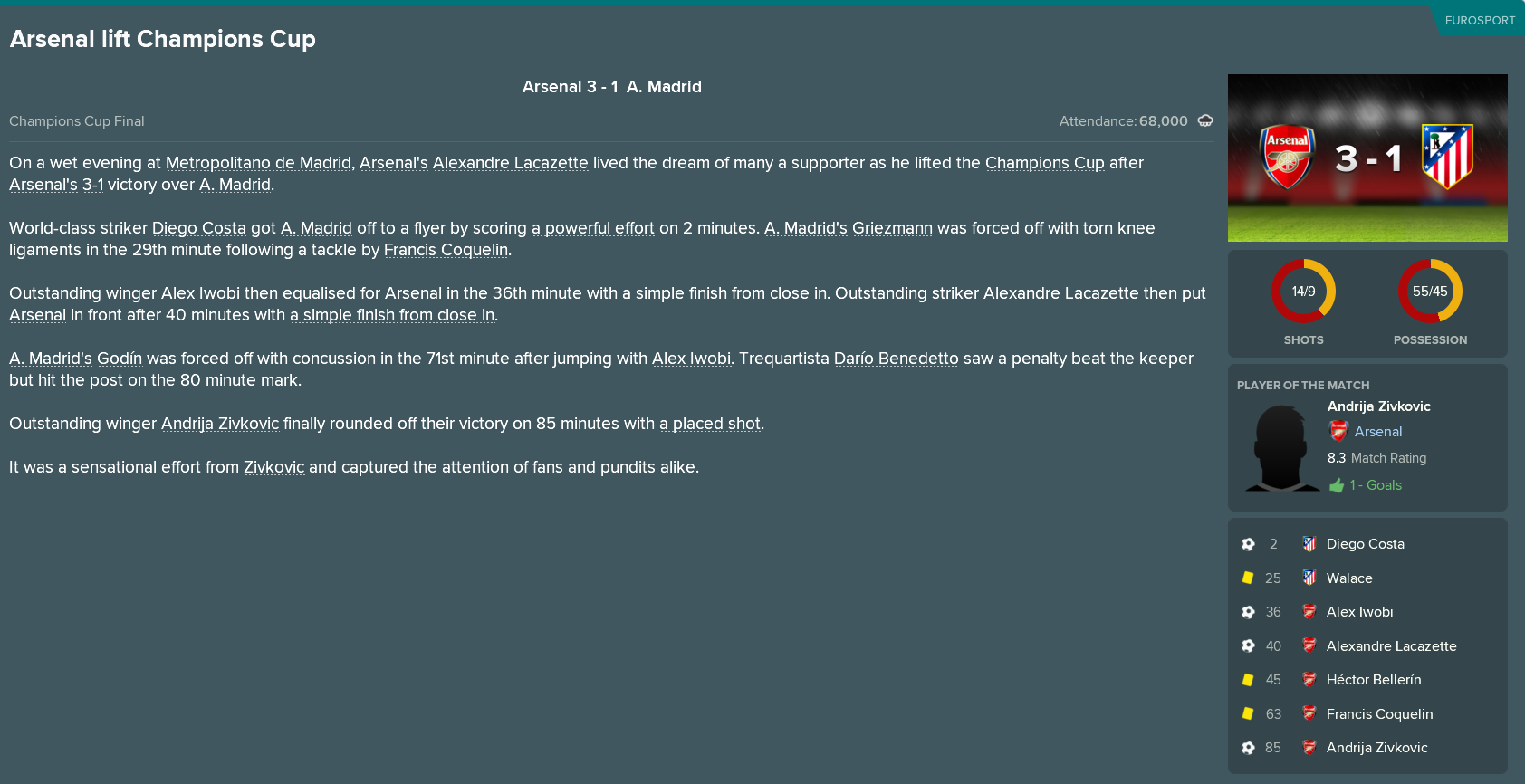 The awards once again follow. Rajkovic, Bellerin, Koscielny, Coquelin, Zivkovic and Lacazette all make the Team of the Year, with Rajkovic named best goalkeeper, Koscielny named best defender, Iwobi beating Zivkovic to best midfielder and Lacazette runner-up in the best striker category.

As you can see by our team awards, Lacazette, Iwobi and Zivkovic were incredible. Kolasinac's red cards were a major concern though and secretly I may look to sell in the summer should I get a decent offer. Either way, Jose Gaya is likely to be the starter next term.
Join me next time for my season review and yes, I will be doing at least one more year at the Emirates Stadium!