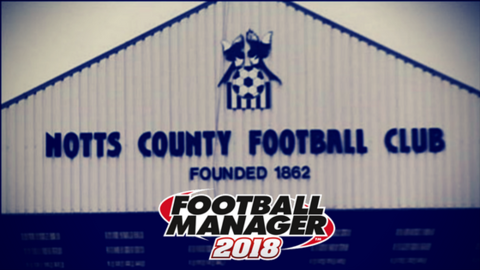 Welcome back. It's not a happy camp here at Notts County, as a promising start has slowly been frittered away by incompetence – mostly mine, but not all. As the calendar turns to November, the dark nights draw in and I remind anyone who will listen that there's still 6 months of the season to go. It will be fine.
I can't deny though that there is an obvious problem with us scoring goals. I've decided my tactics are to blame, and not Shola. Never Shola. So I've changed to 4-2-3-1 and made everybody attack. A lot. It can't fail.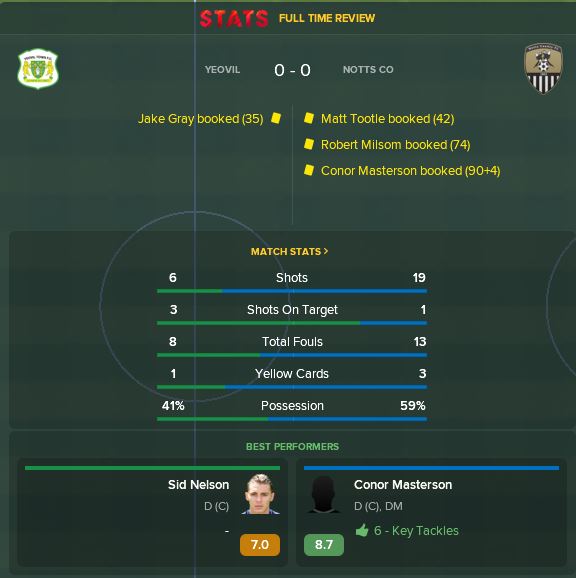 We had so many shots…but they were all terrible. Except 1. But bloody hell, is that my fault?
It's MK Dons in the cup, we have enough trouble beating teams in our own division let alone those one rung higher up the ladder. Nevertheless, my new all guns blazing tactic nearly springs a surprise.
So close. The replay starts badly but the big man drags us back into it, but it isn't to be.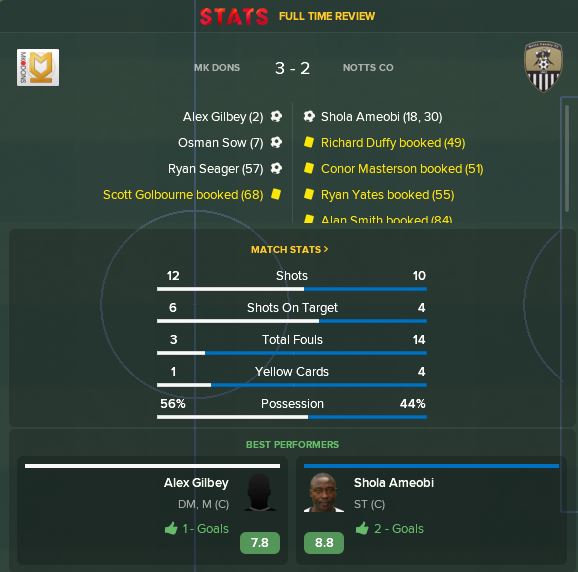 Still, the new tactics seem to make us more of a threat and the visit of bottom club Grimsby is a great chance to see our new attacking style pay dividends. Right?
Wrong.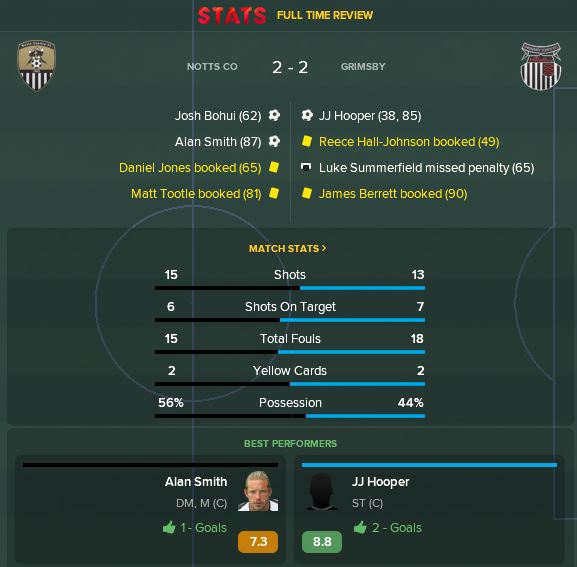 Alan Smith pops up with a late, late leveller which saves us some face but it's more points dropped. The disapproval is growing louder.
Walker, annoyed by the fact he can't get a game, doesn't turn up for training. THREE TIMES. A warning, a one week fine, a two week fine. It matters not to this man who is rich with Gibraltar cash.

He probably represents what most of the squad would like to do. Off we go to Chesterfield, where our attacking stance sees us score inside 30 seconds.
Then concede 4 before half time…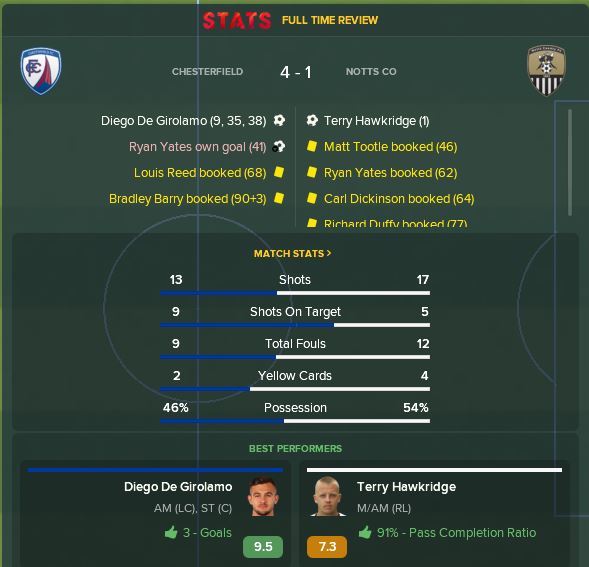 All three of De Girolamo's goals are the same. The defender hoofs it over the top, my defenders react by standing watching it go over their heads, striker runs through and scores. I'm livid at the break but nobody cares. The game is gone.
Dr Evil is not happy, I mean we are 19th so he's probably right.

I sit down in the boardroom and explain I need more time. I stop short of begging. The gauntlet is laid down.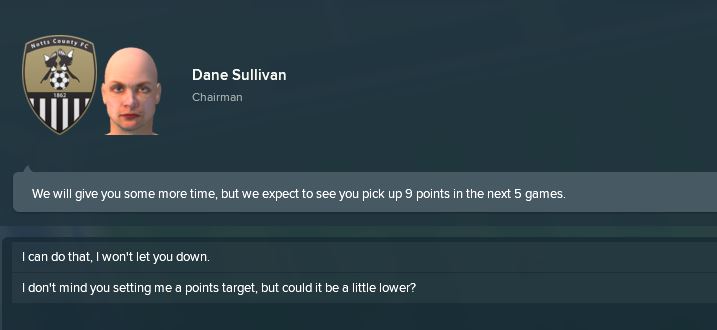 I say I can do it, when in reality I'm thinking 9 points is a huge ask. But now is the time to get serious.
It's times like this my name is a headline writers, or in this case hashtaggers dream

If I want to keep the lights on here, I need a better tactic. I've tried all sorts of elaborate things and none of them have worked. I've noticed a lot of teams play two strikers and we can't handle it, so let's give that a go. Ladies and gentlemen, Notts County will be playing 4-4-f*cking-2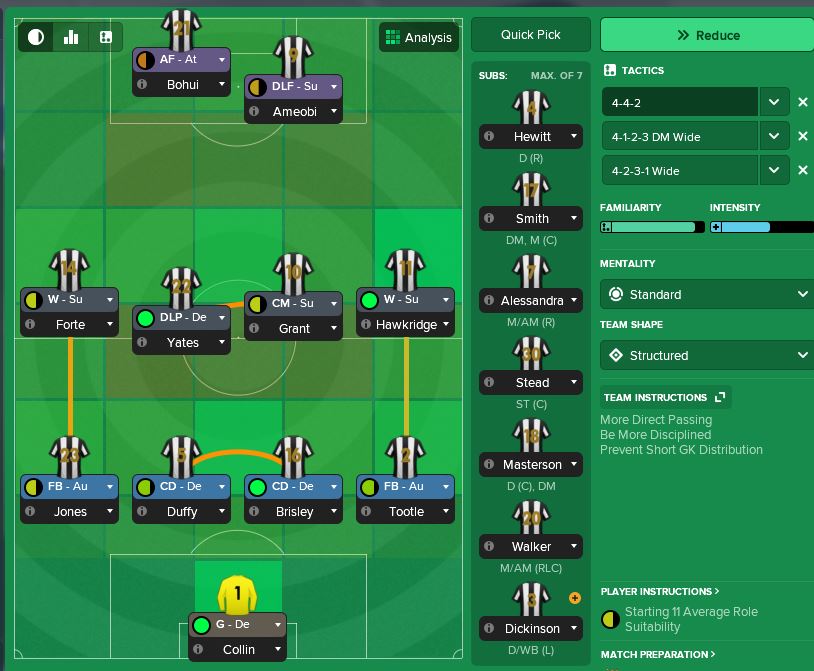 Come at me Wycombe, we're ready
Make it stop. We lead at half time, we're in control…then we aren't. And when we aren't, the roof falls in. We're in a world of trouble – I now need 3 wins from 4 matches.
Against Crewe, we're behind inside 5 minutes. I consider going to pack my things but the lads rally and win with style. How can we win 5-2 one week and lose 5-1 the next?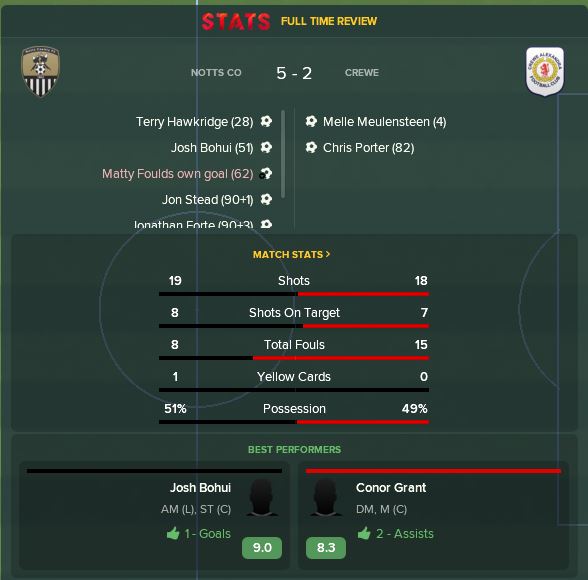 The lads are at least fighting for my future, or maybe they feel guilty?
Stevenage away is next, and they've just won 5-0 at Accrington. The media say we need a miracle. They are probably right. But we'll go and compete.
It's a backs to the wall draw.
In reality that doesn't really do much for me. If 9 is the target, we can win the next two games and get 10, but it confirms we have to win them both. Barnet away is up next and we must win if I am to stay employed. I enjoy an extra long embrace with Shola.
Lads, lads, lads. We're 12th now. Ahead of the predicted 13th and yes, strictly speaking we need to win to keep me in a job but surely this run which has seen us go 3 games unbeaten and take 7 points has bought me some time, regardless of our next result?
That next game is against Swindon, against whom I suffered my darkest hour, possibly ever in that 6-1 defeat. Swindon are 6th, they hardly concede and they have Matt Taylor. But we have Shola. We can do this.
Swindon don't play Keshi Anderson, who ruined us earlier in the season, maybe that's a sign?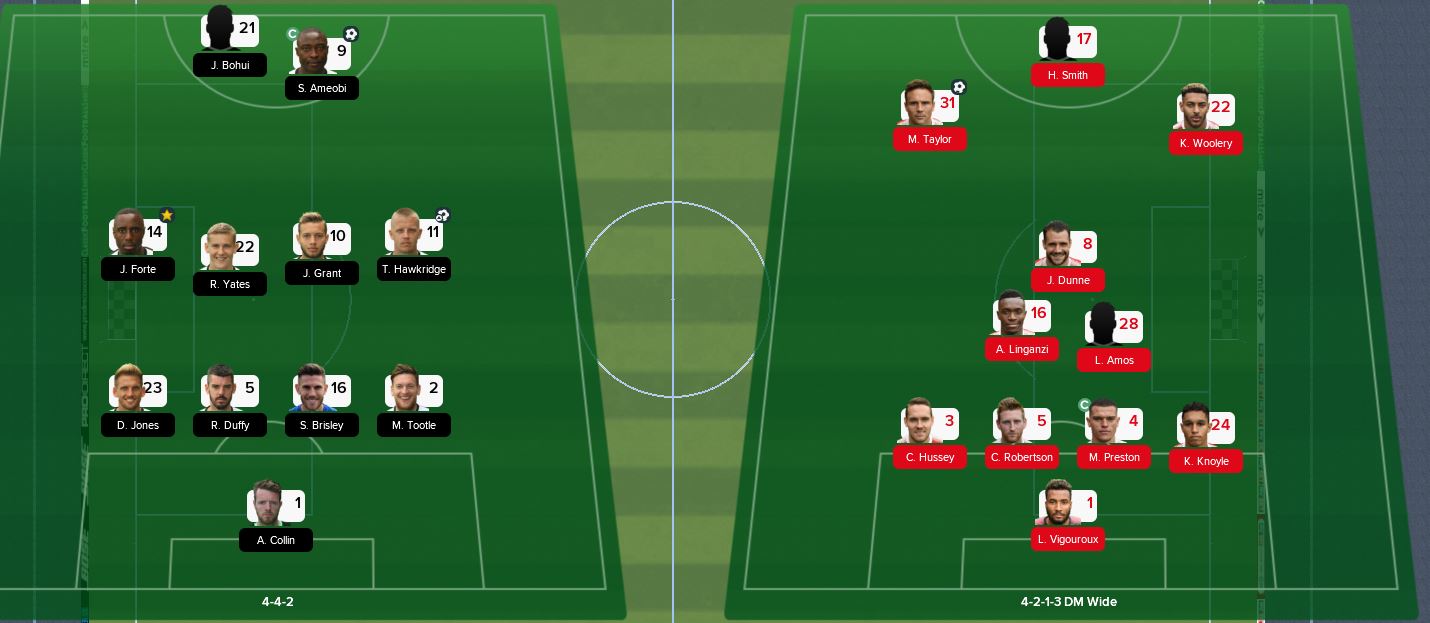 Bohui misses two great chances early on, but we pepper Swindon. At half time, we've had 8 shots to 0, it's all us. Can we find a way through?
No, we can't. We'll have to settle for 8 points. Will it be enough?
It will not.
Alan Smith jumps in my grave to take over first team duties, I always knew he was a rat.
We had recovered matters to 12th and were on course for the top half finish required. I think this is harsh.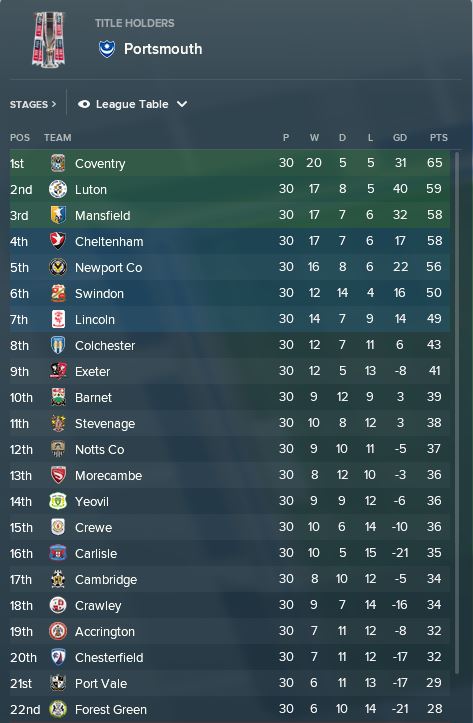 I hang around to see what happens next. Smith wins his first two games in charge and I decide to go on holiday, I can't sit through this. I return from holiday in May to the news that he won one of the next 14 on the way to a 19th place finish. He's been sacked and released. Not so easy, is it?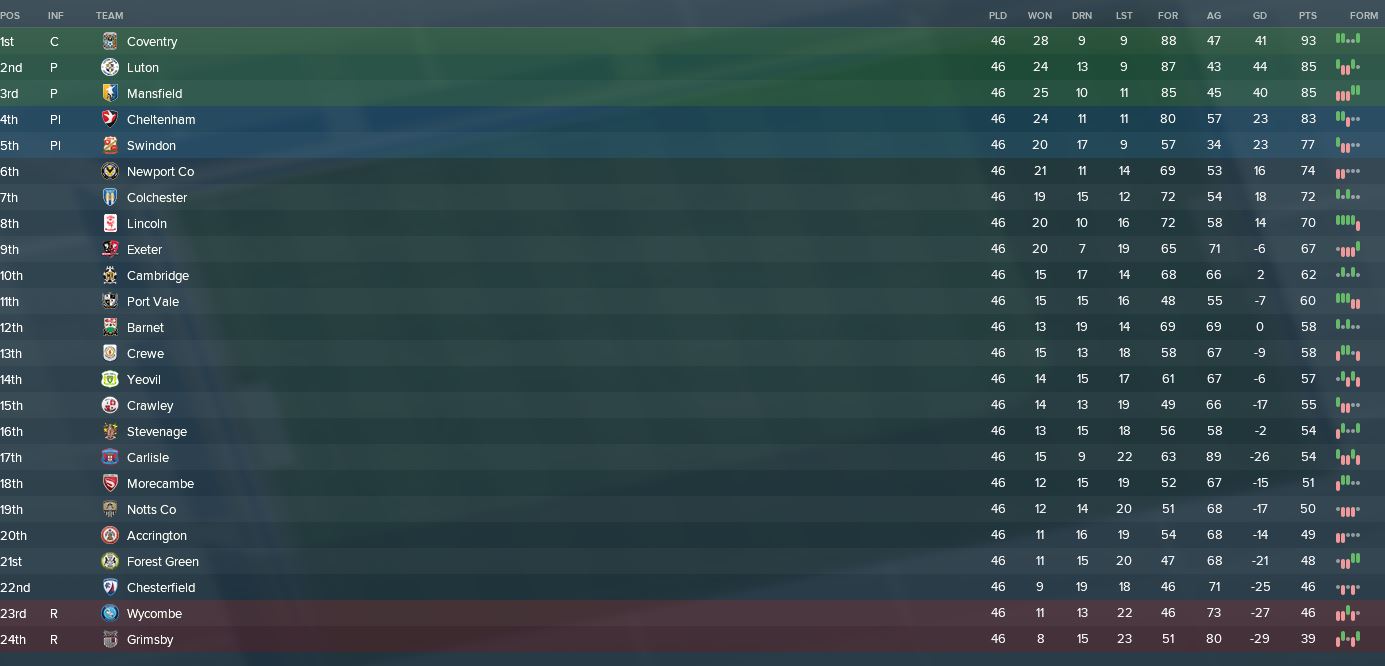 Brian Deane is the favourite to take over, a move I heartily endorse. Hucks and Sarge are still there, so they'll make a wonderful team.
What can I say? I found the switch to FM18 very difficult indeed. Maybe I was a tad ambitous starting low down but we had our moments and I think 4-4-2 was proving a success, I guess we'll never know how it would have worked out.
I'll be returning to my Retro Championship Manager section from now, you'll be glad to know, but I will be back to FM18 at some point. It won't defeat me.