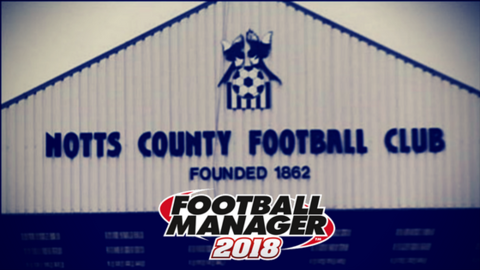 Welcome back, where I'm trying to learn FM18 as the manager of Notts County. Things were going remarkably well in part 3, it looked like I was going to go a whole update unbeaten, but then we let in 6 at Swindon and my true colours were revealed. Was it a blip? Or is there more pain to follow? Let's dive in.
The Checkatrade trophy is not something I care about, so a home game with Everton's Under 23s seems like a good chance to rest my entire first 11 and we are duly beaten 3-1, with Stead briefly reducing the arrears to 2-1. It doesn't bother me, and I'm already planning for Barnet's visit on Saturday to start September.
I have to say though, the lads have done a good turn by refunding the fans who traveled to Swindon. Hopefully it doesn't become a regular thing.

We lead Barnet through a Shola pen but Barnet head in a second half equaliser and it's probably 2 points dropped. We didn't concede 6 so that's like a win. It's a trip to Luton next though and I set us up to be compact and hopefully nick a point. We concede in first half injury time and I feel the rage a bit. We're like a boxer on the ropes in the second half, but Luton can't land the knockout blow. We make them pay when Jorge Grant bends a free kick in to the backpost where substitute Alessandra loops a header over the keeper. 1-1 and we've nicked a point on the road.
That sets us up nicely for the visit of Crawley, where we have a rare good day in front of goal.
That puts us second and I'm starting to think I've cracked it. Coventry are the early pace setters so our away game there is a big problem, but we turn a huge positive into a massive negative with an 89th minute loss.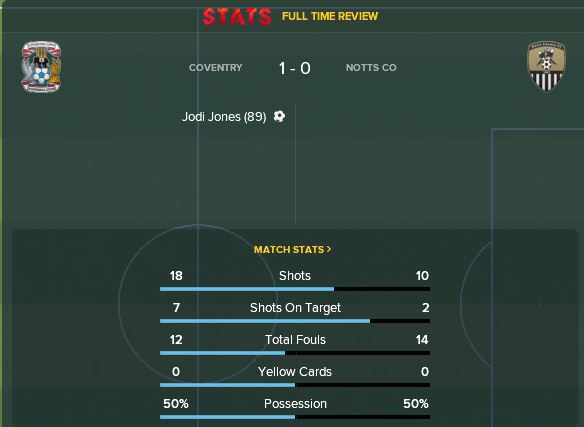 It's nothing to be ashamed of. Afterall, it's struggling Carlise next. Keith Curle is in charge of them and we'll surely get back to winning ways.
After taking the lead, we imploded as Kennedy headed in from a long throw, and then the Godfather of soul smashed in a loose ball from a free kick. My first rule in football is never lose to Keith Curle, as bad things will happen.
Still, we're 8th, it's not a disaster. Yet.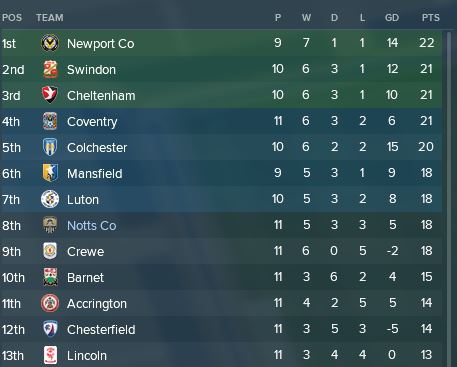 A draw with Cambridge is probably not a good result. Again. At least Shola scores. he always knows how to cheer me up.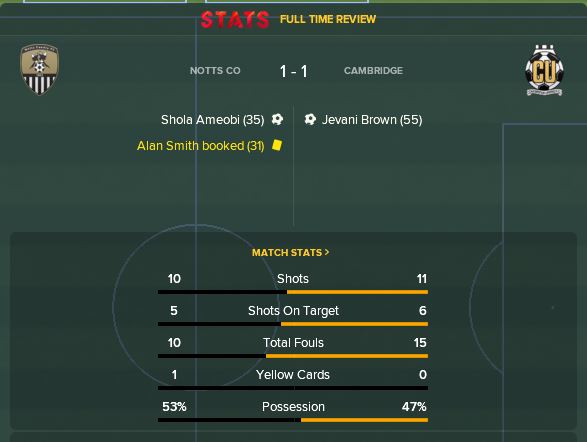 Seeing as 4-4-1-1 seems to have stopped working for me, I feel I need a plan B. I mean a different plan B to the one we already had, so we switch to a 4-3-3 for the trip to Forest Green.
It's an absolutely woeful game of football, but with 9 minutes left Yates plays a pass of far greater quality than the game itself and Alessandra is in. It's a composed finish and some brief respite.
We ruin it all with a 3-1 loss at Cheltenham. They played like Man City, beautiful passing and moving, whereas we didn't. That's followed up by a 0-0 draw with Accrington at home. It's like death by a thousand cuts.
Checkatrade time again and our second string are battered by Kazaiah Sterling. We play them in the league in a few weeks, so we'll have to deal with him better next time.
Another 0-0 follows. this time away at Morecambe before time to do battle with Lincoln again. Stop Sterling, it's all I ask.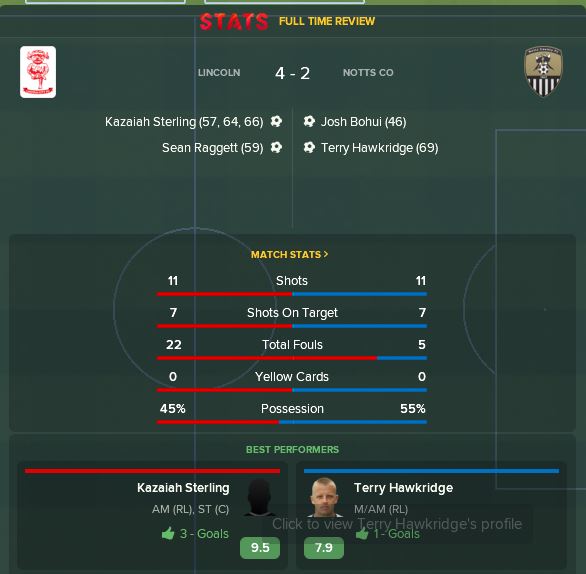 The SCENES when we took the lead were destroyed by the same player scoring three times in 9 minutes, or 6 times in 7 days if you prefer longer term humiliation. Good grief.
My sub keeper has been booting off about not getting a game. Well son, every time you play in the Checkatrade you concede on your near post and look frustrated about it. He wants to play, I tell him no. Oh look, it's a little gaggle of cry babies.
Liam Walker by the way also wants to play, saying he's an International footballer and can't believe he's not a regular. You play for Gibraltar mate.
As my bad fortune would have it, my first choice keeper got injured picking the ball out of the net at Lincoln and twisty Bran gets his chance. It's our local derby and we could do with a performance. Shola keeps vowing to end his goal drought, but I'm less convinced.
Steve Evans is shouting his over sized mouth off pre-game, how Mansfield are going to shove it up our collective arses in our own back yard. I don't rise to it, I have my own problems. Shola heads us in front after 5 minutes but after years of watching the big idiot, I know a cursory glance at the linesman is always required. Sure enough, his flag is aloft and the goal will not count.
Everything is going fine, really, when Mansfield punt a hopeful one forward and Duffy, my usually reliable centre half, is there. He leaves it for Bran, who doesn't seem interested. Jimmy Spencer nips in to score. Branislav looks frustrated to be beaten on his near post. I don't have the words.
We go looking for a way back in and our cross into the box is cleared. Spencer is holding it up and…what? Ah I see, Tootle has decided to two foot him into next week and he's off. Well. We switch to a 3-4-1-1 to try and find a way back but we get picked off twice on the counter late on and we've lost our derby. That's going to sting.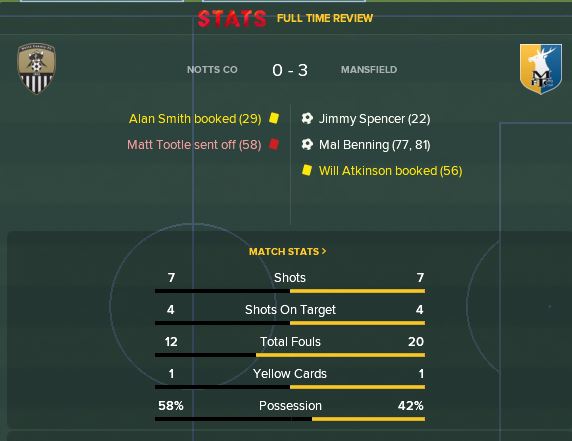 We go on to lose 1-0 at Exeter. The lads ask for a meeting. I tell them I believe they can turn this around, starting with Port Vale at home.
Hawridge and Alessandra are unavailable, so Walker plays as an inverted winger. It actually works. He overloads the centre of the park and he grabs the second assist for Shola, who ends his goal drought in style. It's a bloody win – our first in 8 games.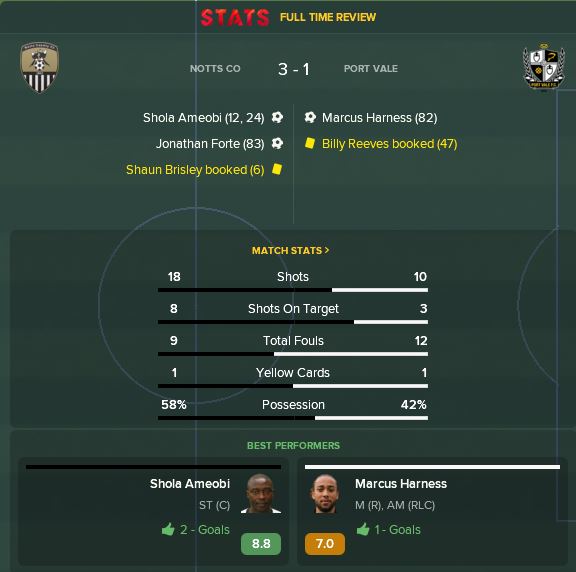 Another home game with Colchester follows, they're 6th but our season can turn around now. A win here and we'll be right back in the playoff mix and this will be dismissed as a blip.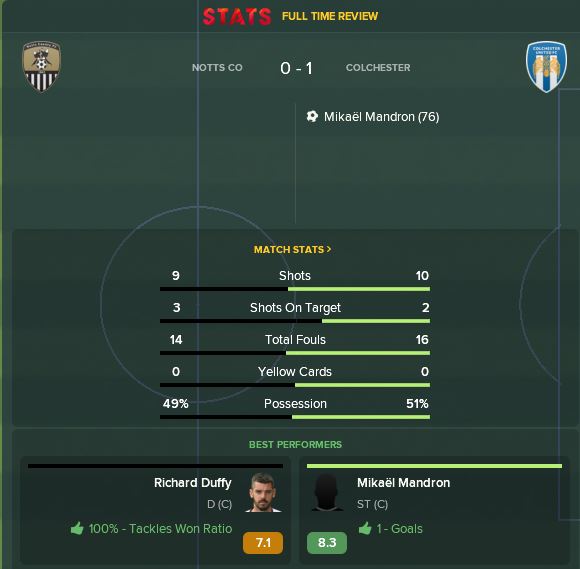 For goodness sake. Back to the drawing board. I'll be back soon with part 5 – hopefully not the final part…