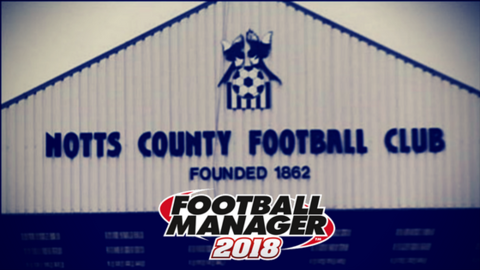 Here in the county of Nottinghamshire, it's not all Robin Hood this and…Trent Bridge that. No no, football has its place on the map and yes, our neighbours have the more illustrious history, but one day, we might emulate their European Cup win. In the meantime though, we have a friendly. Away to Didcot.
I'm not going to spend loads of time talking about the remaining three pre-season games. I've settled on 4-4-1-1 as a formation and it seems like a good idea to just tweak the instructions based around what we can expect to face. The next three games will mainly be about getting minutes in the players' legs, and as we found out in the last episode, these games will not be a challenge
Wonderful stuff. It turns out too that Shola, aka the game plan, is banned for the first game of the season for some reason, but we'll figure out a plan around that later. I have spent my time trying to figure out some set pieces, but again, I've gone for a fairly bland approach of putting my big lads in the penalty area and twatting the ball towards them. If it doesn't work, we'll come up with something clever. Off to Farnborough for more fun

That Stead injury is concussion, which puts his participation in the season opener in serious doubt. Young Callum Saunders makes his claim to take the starting spot, but veteran Alan Smith really catches my eye. He used to be a forward but became more of a midfielder as his career progressed. Maybe he can do a job for me?
That's pre-season completed then, with 5 of the easiest wins you could wish for against frankly awful opposition. I have learned nothing and kept one clean sheet, which is probably more telling.
All that preparation in getting my backroom staff in place and it's all gone up in smoke because Burton want my chief scout. I asked him politely to stay. He told me he was capable of thinking for himself and didn't appreciate me trying to influence his career. I didn't mean it like that…this is why families fall out at Christmas.
I've placed an advert to try and find a new chief scout, right now my focus is on Newport at home.
The scouts, or what is left of the scouting team, tell me that Newport will play 5 at the back but they can field two decent centre forwards. I'm not sure how well 4-4-2 will stand up to two centre forwards, it matches my centre halves to their strikers whereas I have one forward against three Newport beasts. When that one forward is Alan Smith, you'll forgive me for not being overly confident.
I needn't have worried, we go into half time with a 2-0 lead. As was the case in the first few pre-season games, Hawkridge runs riot down one side and crosses deep to the arriving Forte, a tactic I am a big fan of. Newport briefly rally after half time to make it 2-1 and I do fear the worst when a highlight begins with a Newport corner. What followed was one of the finest sights in football. A headed clearance, a long raking pass, a beautiful cross and Alan Smith heading us 3-1 in front. From defending a corner to scoring in 15 seconds.
A fine start to the season.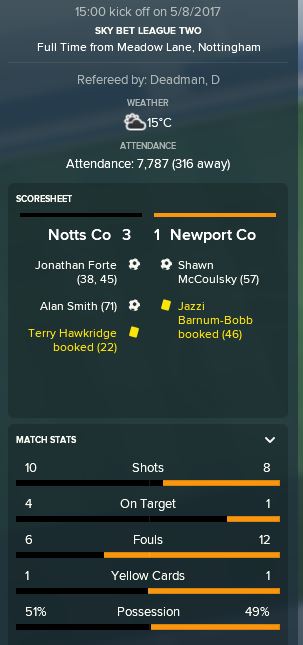 Greater challenges will lie ahead, when you think about it Newport only survived relegation on the final day of last season so, on that form, they're one of the weaker sides. It's time for the League Cup or whatever it's called these days, and we have a home game with Championship Derby.
It's a tough fixture but I'm purposefully going to change very little, as this is a good way of seeing how we stack up. Shola makes his first start of the season – I have made him captain, much to the annoyance of many, but otherwise we are unchanged.
We fall behind early on to a Tom Huddlestone header, but with Andre Wisdom booked I tell the lads to give everything to the pacey Forte down the left. Sure enough, 7 minutes later, Wisdom hauls him down and Derby have to play 70 minutes a man light.
Shola heads us level but it's a game of cat and mouse, as Derby flood the middle of the park and my full backs are not equipped to bomb on. It goes to extra time and penalties, where of course the usually reliable Forte and the easy to hate Smith see their efforts saved. We're out.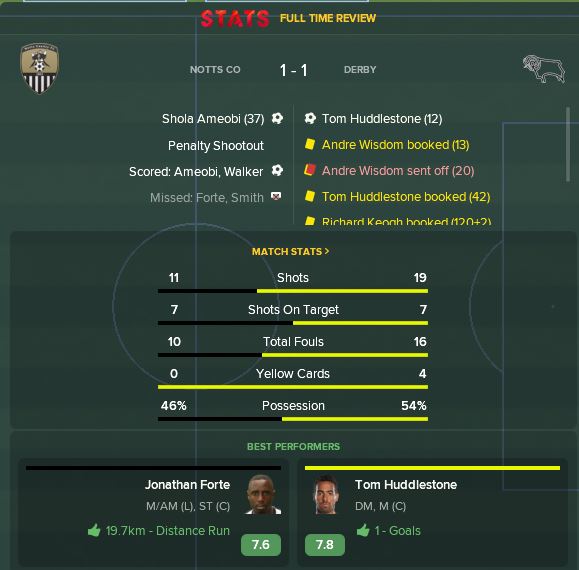 Still, we performed admirably and I can take some comfort in not being smashed to pieces by a team two leagues higher than us. Gary Rowett, however, saw a penalties win as a walk in the park.

Fair enough. We're off to Grimsby, with Smith deployed in a midfield role to try and provide some protection against a fairly adventurous Grimsby side. We concede after just 3 minutes but, bloody hell, Alan Smith rams in an equaliser from a corner that breaks loose to him on the edge of the box.
With 120 minutes weighing heavy on the legs of my lads, I play more of a 4-1-4-1 in the second half as a point becomes an increasingly attractive result. We get it, mostly thanks to some poor finishing.
We have back to back home games now though and a chance to build on an away point.
What transpires is one of the most satisfying afternoons I have ever had (in Nottingham)

Jonathan Forte is a wonderful man. Not only does he get a hat-trick, he also adds two assists on his way to a 9.8 rating. 4-0 up at half time doesn't happen very often, and I am able to give Stead some minutes on his return from concussion. He scores too, before Wycombe pull one back to ironic cheers. We are mint. I wonder what pose they'll put my statue in?
Three days later and we're back at the Meadow for the visit of Stevenage. If it isn't broken, don't fix it. Huckerby is full of bright ideas during games, he can talk the hind legs off a donkey. I take some of them on board and it tends to work. Here though, my plan A of "give to Shola" works out just fine. Despite a brief wobble before half time, we survive the second half without too many alarms.
We're actually 2nd, but we've played 4 games rather than 44 so it's nothing to get excited about. It's also time for back to back away games, which is a real test of our capabilities.
We're away to Crewe, who play a 4-4-2 with two holding midfielders. That'll probably make Jorge Grant's afternoon difficult. Matt Tootle has been, how can I put this, getting on my tits at right back so the veteran Nicky Hunt is in. My two full backs are primarily there to defend, a tactic that has certainly worked so far as the wingers have been brilliant.
Sure enough, Shola opens the scoring with a header from a right wing cross and despite Crewe finding an equaliser, Grant threads a lovely ball in behind the full back and Forte seals the points.
The three points put us top of the league, with just one more league game to come in August – a tough looking trip to 4th placed Swindon.
Swindon play 2 defensive midfielders as part of their 4-2-1-3 and will pose a very different challenge. They seem to play very direct with long balls, my centre halves should be able to cope with that.

Nope. We were so close to going through a whole update looking semi-competent. Cheers lads.
More soon…