Good day to you, welcome back to a rather cheery East Anglia. We're into season 3 now and with Norwich establishing themselves as a Premier League club, all that can stop us now is second season syndrome. And a bonehead manager.
Things are going well. We're in the hunt for the European places I crave if we are going to progress, I mean I like to think I raise the odd titter when I write these things up but nobody is going to come back time and time again to read about a club that finishes 10th and loses to lower league teams in the cup. We're slightly better than that, I think, but what you're about to read will sicken you.
Things start with a defeat to Sunderland. Filthy Sunderland on this occasion, but they came with a game plan and it paid off. We helped by going 2-0 down inside 20 minutes, but briefly rallied amidst a sea of yellow cards. Said was injured, and we really missed him.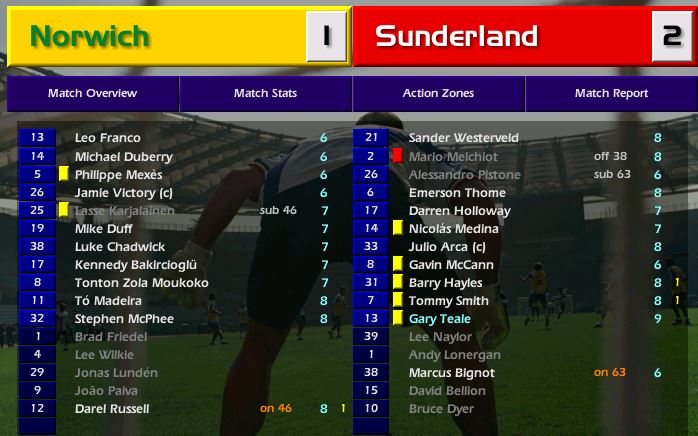 Defeats are expected, and a 1-0 loss at Old Trafford is, in many ways, a good result in that we left with our dignity and some lovely wine from Fergie. Chelsea visit Carrow Road and it's a wonderful game, a thriller that we edge by the odd goal in five, even if I am lost in a daydream of what life would be like if Chelsea had opted for a striker force of Forssell and Christie instead of Drogba and Crespo.

It means we're buzzing for the Old Farm derby. It's a trip to Ipswich, unpleasant at the best of times but moreso when they are your local rivals.

A bad result. A grim day. Akinbiyi causes us all kinds of problems and Kevin Nolan feeds off his carnage. The 11 minutes we were level seemed like salvation, but this one will sting.
I am relieved to be reminded that I secured a pre-contract with a young Swede and he arrives on December 1st. I have to break open a small foil window to receive him but hopefully it'll be worthwhile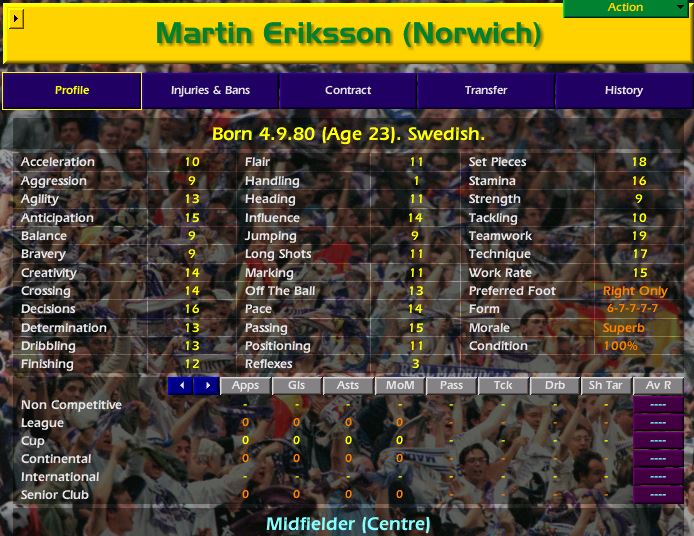 Not bad for a freebie. He'll be backup to Said who is not only carrying injuries but going to Africa for the cup of nations in the new year.
What follows is an incredible run. It's probably not this young man's fault but you know he'll get pinned with the blame.
Firstly this happens.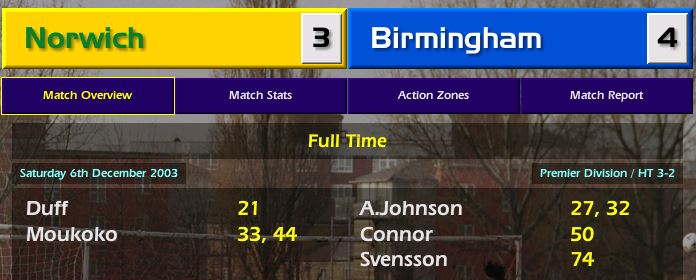 We concede a lot but we score a lot, that's just how it is for us. Duff scores in back to back games as we nearly secure a famous win against mighty Leeds.

Rio on spot kicks in stoppage time? Right you are.
There's no shame in losing at home to Leeds. Losing at home to Wolves though…

Not even injuring David Prutton can cheer me up, and 2-0 away defeats to Arsenal and Leicester mean we have lost 5 out of 5 in December. Happy Christmas.
We have an FA Cup 3rd round tie at Old Trafford, which hardly seems fair but is reflective of our current mood. We're 3-0 down inside 25 minutes.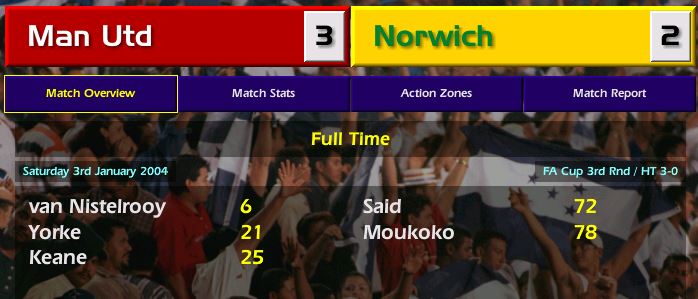 A late rally nearly earns us a replay but…it's not our season. Defeats to Newcastle and Middlesbrough follow, which means by the time Liverpool visit Carrow Road, we haven't won or even drawn a game in any competition for over 2 months. That. Is. Bad. Form.
Obviously we go on to beat Liverpool, ending a run of 9 straight defeats.

The season is in tatters though. We've barely made a dent in either cup and our league form has dropped us into the bottom half of the table. We celebrate by losing 3-0 at Fulham, before finding the strength within to nab a win at Vicarage Road

Tommy Svindal Larsen! Do do do. The CM9798 legend there biting the hand that has fed him many times. We had the last laugh though.
Next up is Sheffield Wednesday at home, and I'm desperately searching for answers to give us a good run in. Friedel deserves a run in goal, maybe there is someone in the reserves who I can bring back into the fold. Hang about…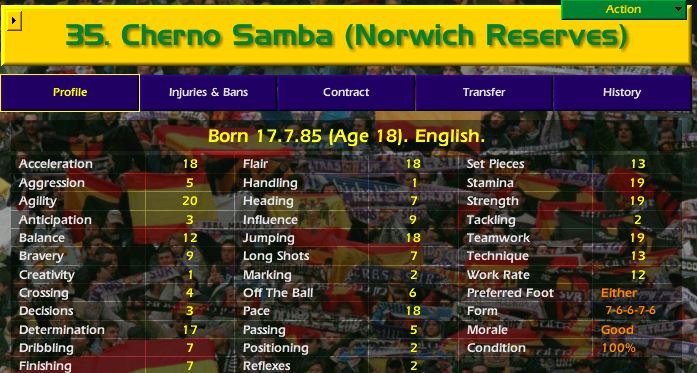 Ah yes, now I remember. I signed Samba on a free during the summer after we got promoted. I couldn't believe he was on a free but there you go. Because he's a youngster the game ploughed him straight in the reserves and I forgot about him. For 18 months. But now, I have remembered. He's going straight in my lineup to face Sheffield Wednesday.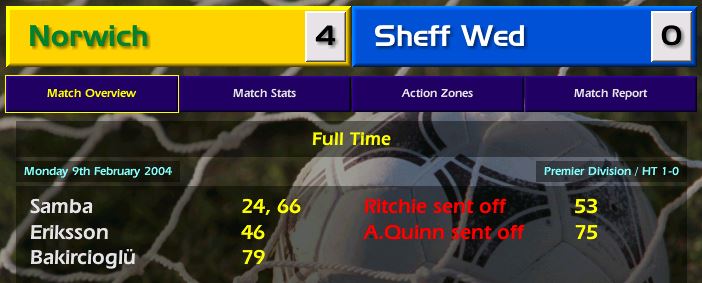 You know…I probably should have picked him sooner. I am my own worst enemy sometimes. Alan Quinn gets sent off for punching Luke Chadwick. A magical night in East Anglia.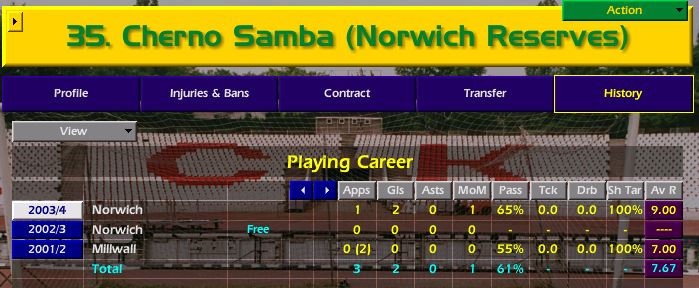 I admit, I have messed up here. But all is not lost.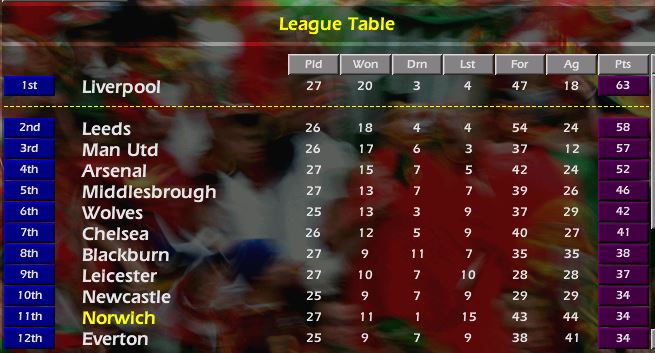 All we have to do is make up an 8 point gap in 11 games and we can achieve our dreams. With Samba now at the helm, what can possibly go wrong?
Just in case somebody does discover what can go wrong, here's the bottom of the table. That Watford defence looks good.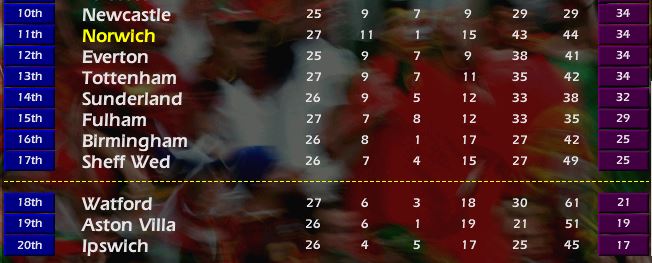 My 1 draw in 27 games sums up how we approach the game. But it's all good fun.
Please do join me next time as we hopefully make a mad dash for Europe. I'm off to profusely apologise to Cherno Samba.