Well hello from East Anglia. After a small break for Christmas and for me to try and play FM18 for a bit, I'm back with what I know: Retro Championship Manager.
Shortly before Christmas, I signed off having guided Norwich to a midtable finish at the end of season 2. I should be considered some sort of hero to the people of Norwich, though I don't like to brag. I took over a side with no money, expected to battle relegation in Division 1, and now we sit here as a comfortable Premier League club on a secure financial footing, with Philippe Mexes and Tonton Zola Moukoko already through the door for our assault on season 3.
I've had a spat with the board but, to be fair, they've given me the prize money and said go nuts. And my oh my have I gone nuts.
Firstly, Mexes needs a partner. Michael Duberry is a bit of a CM hero, and as Celtic are flogging him, I'm all over that.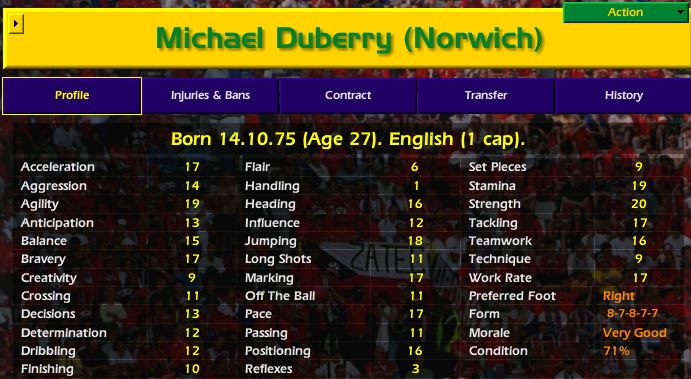 The legend of To Madeira is well known in these circles so with him having a release clause I can actually meet, it's the simplest £875k I've ever spent.

Jonas Lunden is less well known but as an AM/FRC he can play a few positions, and at £2.5m it's not a bad deal.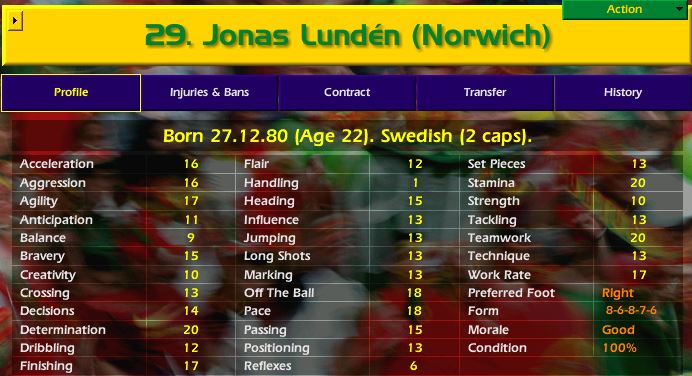 We've probably got one too many forwards now, and so I am actually a little relieved when Birmingham offer up £8m for Jon Dahl Tomasson. He scored twice for me in 24 games, and I'm getting back nearly double the £4.8m I paid for him. Scenes.

I make Friedel's loan permanent after all £1.3m is nothing really. Friedel didn't do badly last season but he was still prone to the odd game where he thought his hands were feet, so I'd like somebody better.
Leo Franco is somebody better.
He's got a cap for Argentina. He must be good.
Add in Mike Duff for £55k and Keith Gillespie on a free and we're really ticking.
Here's a summary of what £10.5m can get you in 2003.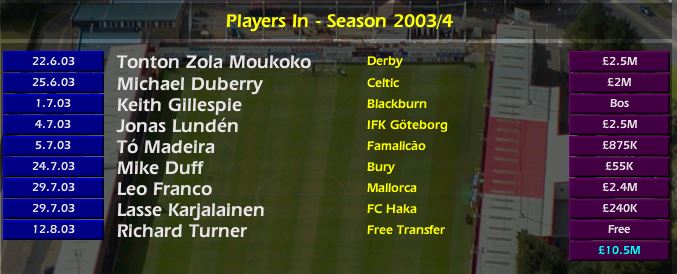 We've even kept Delia relatively happy by having a net spend of £1.5m. Get the pies on!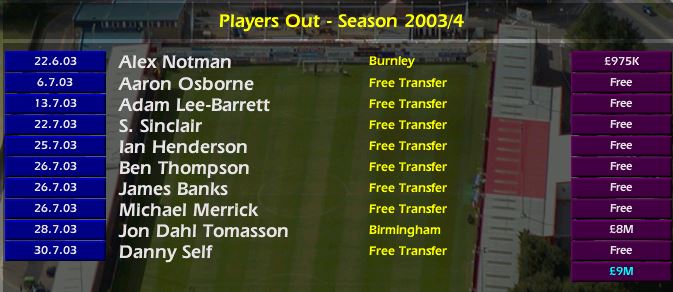 We're off to Middlesbrough on the opening day, where last season's top scorer gets us back underway and one of our new heroes nicks the points.

I'm not 100% happy with the side, it's a little bit imbalanced but I'm sure I'll figure it out.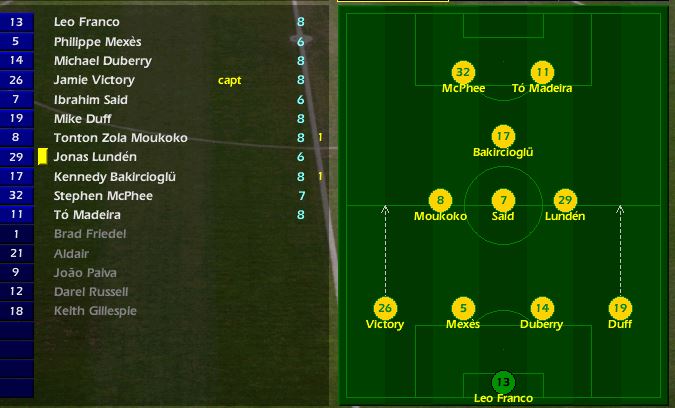 A 1-0 win over Leicester at Carrow Road keeps our momentum, but we're off to well fancied Leeds.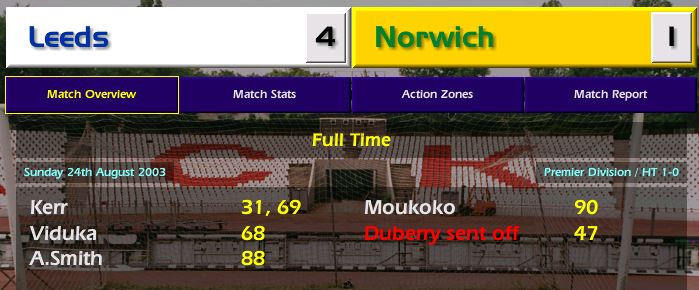 I wish Mark Kerr didn't get a game for Leeds. I'd sign him immediately. Duberry got sent off against his old club and it was difficult enough with 11. That's the problem with signing well-known idiots.
Still, it's important to bounce back from such setbacks and we do thanks to Watford being the next visitors.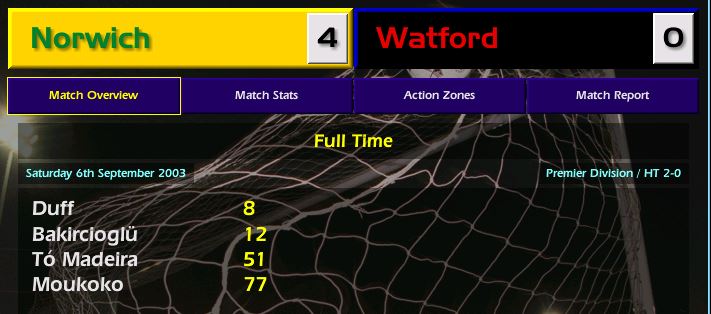 But, such is the way it goes, whenever I think we're all set to be the greatest team the world has ever seen, we lose at home to Fulham.

It's all a bit helter-skelter, but a win at Anfield is always welcome.

Defeats against Villa and Newcastle set us back a bit, and I decide now is the time to dip back into the market. We need to learn to win ugly.

Sorry, that was uncalled for. Chadwick is an excellent young player on CM01/02, and I'm pretty pleased to have got him. He rewards my faith with a debut winner.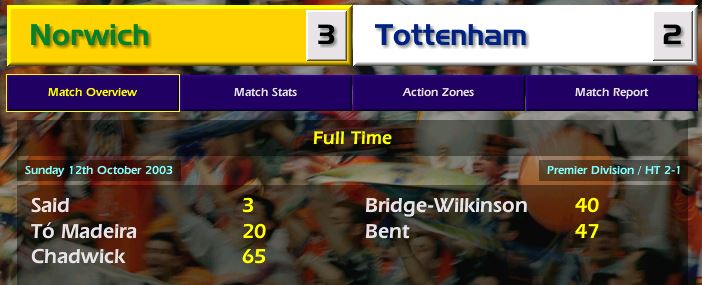 It actually triggers a wonderful run of form, with a 5-0 away win at Sheff Wed again seeing Chadwick on the scoresheet.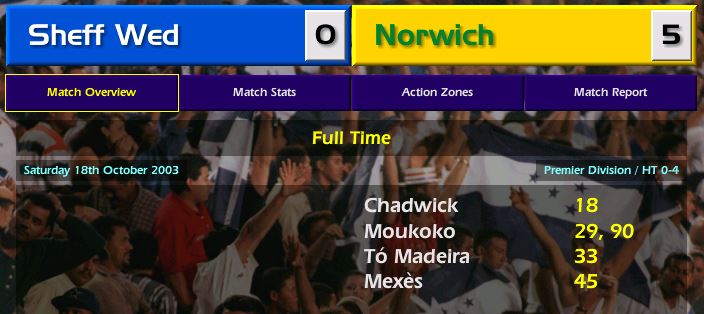 Then a 4-2 win over Blackburn where even Lee Wilkie scored. We're wonderful entertainment sometimes.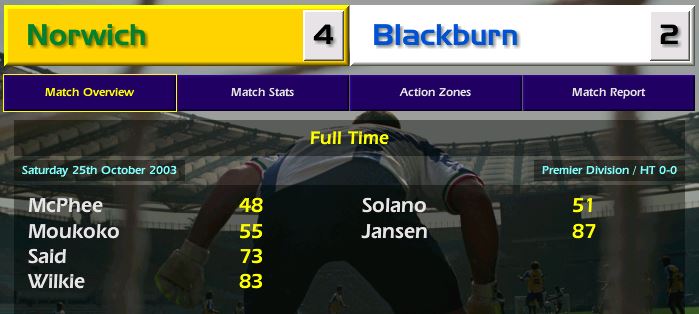 But this is Norwich, where we keep shooting ourselves in the foot. After beating Cambridge in Round 2 of the League Cup, a favourable home tie to First Division QPR should see us into Round 4.
It doesn't.

How can we keep doing this to ourselves? Maybe it's my fault.
We go to Goodison and try to take out our anger on Everton, but Magnus Hedman saves everything. Also, Jason De Vos had a blinder. I can't legislate for these things.
They say never forgive in football but Stam and Fergie have made up, for a fraction of the price
Pacey…
Anyway, all of that brings us to the end of this update. We're 4th, somehow, but there's an awful long way to go. Also, we are further away from 1st (7 points) than we are from 12th, so there's not much getting ahead of ourselves.
So, it's all going quite well. Not brilliant, but certainly cause for optimism. Even if the board think we'll be battling relegation, I'm confident we can get a European spot which would be real progress for us. The only thing in the way is that several of my new signings would only sign if they could have minimum fee releases attached. I can't lie, that remains an issue. Join me next time to see if things get out of hand.