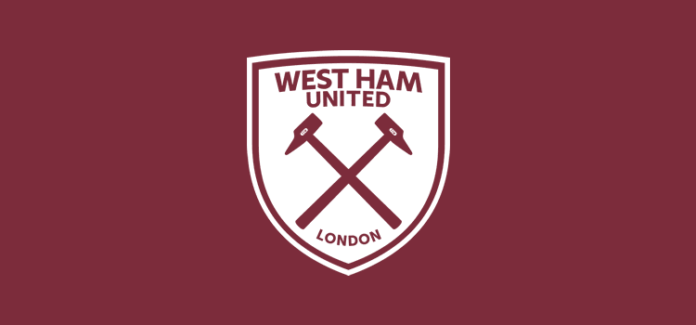 The international break came to a close, and I was about to embark on a vile run of matches. Of course, you all read Episode One numerous times so you all remember that!
Basically, Arsenal had clobbered us and Javier Hernandez was only capable of scoring goals against Charlton. Which was, by any stretch, rather inconvenient.
Buckle in, I am going to try and cover a few months in this episode alone.
September began with a bit of fortune. West Brom were furious at my 77th minute penalty victory, but I was happily grinning at my screen as Mark Noble tucked it away. My first three points of the league season were sweet, and they were about to get sweeter.
Several sugar cubes were added, in fact. A victory over Manchester United. And how beautiful it was. Marko Arnautovic popped us into the lead midway through the first half, and that was it. United created very little, and my midfield completely shut them out.

A heavily rotated team then fell to Everton in the Carabao. As is typical of everyone in English football, I wrote off the importance of this once I was eliminated. You could almost hear my fans shouting 'Mickey Mouse Cup' as Sandro scored the winner.
My form as a team of frustraters continued with a 0-0 draw at Wembley against Spurs. My asymmetric 3-4-3 worked perfectly again, but this did put me on three goals in five league matches. The fans weren't too fussed, but I was becoming bored of watching my own team. Sad times.
You would have thought I would act on that, wouldn't you?
Well, that was foolish of you. I was in Mourinho mode. Bring me points, bore people to tears. It worked again. Huddersfield succumbed this time, thanks to a thunderous near post blast from Michail Antonio.
What followed was a run I really do not want to talk about. And, in this era of fake news, I am not going to speak about it much.
Here are the results, draw your own conclusions.
Not good, hey? Not good at all.
The Palace match was a heart breaker. We went 2-0 and 3-2 down, but drew level on both occasions. I was proud of my team, but Jason Puncheon stole all joy from the occasion. Cruelty, really.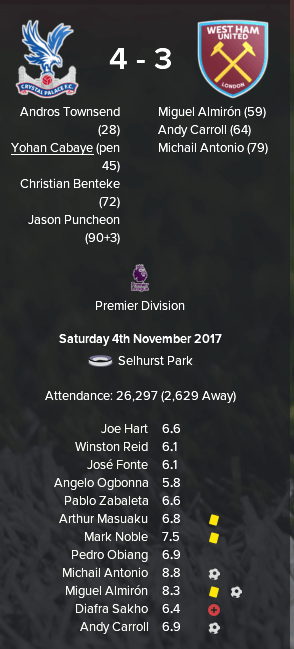 A return to my 1-0 form followed. Hernandez snatched the winner against Saints, and it was looking exactly how I had hoped. Lean on a solid defence, and hope that the Mexican netted every sniff of a chance he got.
The two draws that followed with Swansea and Stoke kept us wedged in the Premier League's midriff. Relegation was not on my mind, but the press did keep pestering about not being in the top half.
Ready to shift things up a bit, I opted to change shape for Bournemouth. We were closely competing in the table, it was time to pull our season together. A 4-2-3-1 was in order – as you can see – and it brought quick results. The unbeaten streak continued until mid-December and everyone was happy at the London Stadium (except Aaron Cresswell who had been awful).
The heard of attacking midfielders made the switch inevitable at some point, but this was the first time they had all been fully fit.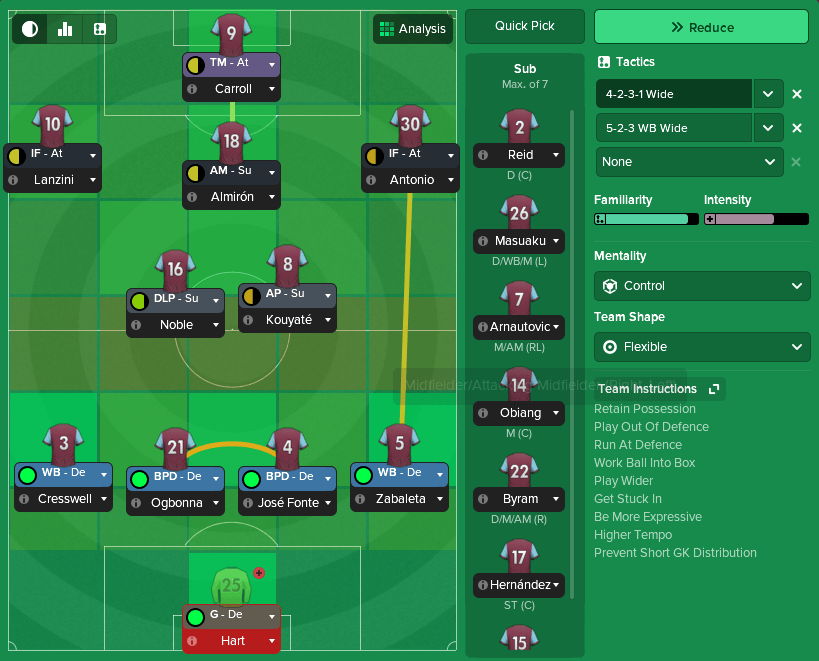 The run was on course to continue as we took a 2-0 lead at home to Newcastle in the first 15 minutes. Quickly, though, the defence collapsed. Jacob Murphy made it 2-2 before half-time, and the match descended into an end-to-end thriller. Not so thrilling for managers, however, as we are so often told.

Henri Saivet scored the goal of his life in the 79th minute. Newcastle had started the season well, but losing at home to them was a devastating blow ahead of a nasty Christmas.
The visit of Burnley was so nearly a disaster, too. We had dominance in possession, but creating against Sean Dyche's team is trickier than keeping Andy Carroll fit. (On the topic of Carroll, the Geordie had scored some important goals during this run and was a handy option when Hernandez was struggling for fitness and form.)
Pedro Obiang delivered a driving run into the box, and got himself on the end of a cross to snatch a point from the Clarets.
The schedule after this made me wretch. Manchester City were our hosts on the 30th, then Arsenal were coming to the London Stadium on New Year's Day. Hideous in the extreme.
We did not even have a shot on target against City. A 3-0 defeat was actually pretty lucky. This was, in part, because I had rotated almost the entire team. The Burnley match was only a few days prior, and I felt points versus Arsenal were more likely. My medical team were not keen on anyone starting all three, so I wrote that City match off.
The Arsenal match was silly. An early Antonio finish and a Carroll header in first half stoppage time put us 2-0 up at half-time and cruising. I thought we might just relax a bit, hold the ball, and enjoy our beginning to 2018.
I was very wrong (again).
Alexis Sanchez and Olivier Giroud scored in the 75th and 86th minutes respectively. A draw would have been okay, but it would have stung after a two-goal lead.
Step forward Manuel Lanzini. The Argentine scored one of the goals of the season in the 88th. A right-footed shot from the inside-left drifted inside the right upright. 3-2! What a win.
Better than Slaven Bilic would have been doing, this.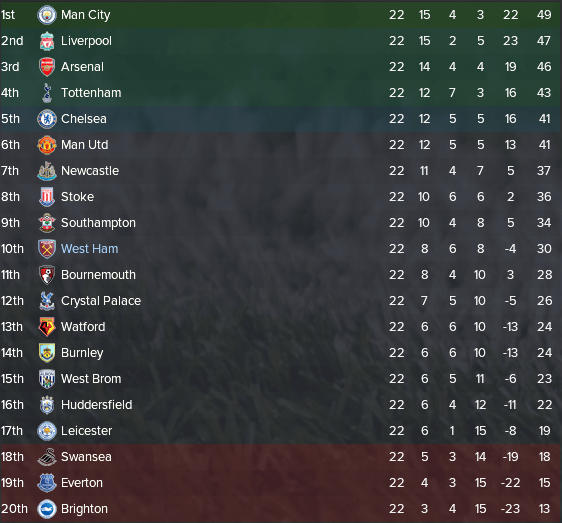 Here we are, then. It's the start of a new year, and I will not be turning over any leaves. First up, though, it's the FA Cup with Sheffield United.
Find out how we get on in Episode Three…