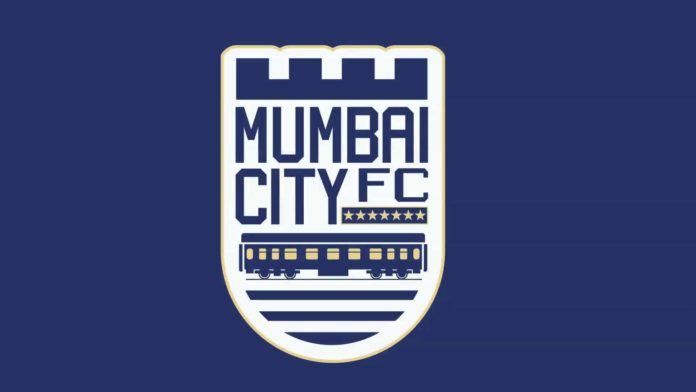 Welcome back to the Mumbai Express. The last time we spoke there were seven regular ISL matches left and we were working our way through the AFC Champions League group stages.
Because I've been a little bit slack in doing updates, I've bombed ahead so we have quite a few things to cover (again) to keep you on track.
---
THE ISL 2021/22
As expected, we qualified for the playoff semi-finals but it was not a particularly great regular season – we won the ISL, but FC Pune City managed to take four points off us and properly battered us 3-1 at our place.
But, it was a sixth straight ISL regular season title for us so we couldn't complain too much – going two straight seasons unbeaten would have been unlikely.
FC Goa were the semi-final opponents and we had the usual joke of international call-ups killing us.

We were going into the first leg only able to select eleven players.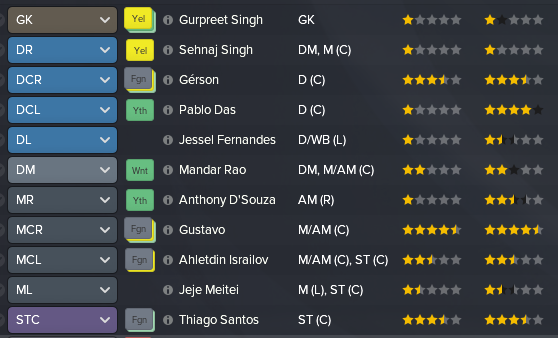 Pablo Dias, all 5ft 7 of him, was going to start at centre-back and Anthony D'Souza had only recently arrived in a youth intake. Madness.
FC Goa were still 10-1 to win the match though, crazy odds for a semi-final. I was tempted to have a bet on them myself.
That said, I am a terrible bettor. I'd have lost all my money.
D'Souza set up Thiago Santos for the opener in the first few minutes and the Brazilian netted a hat-trick within the first 25 minutes. A first leg win, 3-1. We'll take that.
I was hoping that ATK might be able to do something against FC Pune City.
You never know, right? That would be a touch.
We did the business in the second leg, Dawson Dias giving us a 1-0 win.
What about ATK?

Bugger. An extra-time winner. Would our run end at three in a row?
I don't even know what I was worried about. We won the first leg 2-0 and the second leg 3-0, meaning we were ISL Champions yet again.
Let's be honest though, this was very much expected and the real focus was on the Champions League campaign.
---
THE AFC CHAMPIONS LEAGUE
As you will probably remember, we'd made it into the groups again and due to our improved performances in the continental competitions, it would be the last time we'd have to go through the qualifying rounds – the winner of the ISL would go straight into the groups from next season.
Five goals from Thiago Santos got our group campaign off to an amazing start, but we followed it up with a disappointing defeat to the Iranian Tractor Boys. We led 1-0 with 89 minutes on the clock and managed to lose. Back-to-back wins (including four from Thiago Santos against the same team) put us in a good position before we went to Iran and lost to that lot again. It all came down to the last fixture – a point would be enough. Mandar Rao scored a beauty to give us all three points.
We were through.
We'd be playing a team from Qatar.
The Indian Federation were their usual helpful selves.
The biggest game in the history of an ISL side and they stick the FA Cup semi-final 48 hours before. Thanks.
(We won the semi-final, in fact, we won the Federation Cup for a third straight time).
Sadly the Qatar team were on a different level to us and saw us off 4-0 on aggregate. It hurt less than last season where we lost in the last minute of the tie, but the gap in class was massive.
It brought me to a decision point.
---
THE EVOLUTION
The simple fact of the matter was, even with Gerson, Gustavo and Thiago Santos we are unlikely to be good enough to win the Champions League in the next three seasons. By that point, Gerson will be 33 and Thiago Santos will be 31 and, more importantly, they will be holding down positions that I would rather be going to talented homegrown talent.
Therefore I decided to bring forward my plans to make Mumbai City FC an all-Indian squad and, in fact, I've decided to go one step further. We will be adopting a "cantera" policy with immediate effect.
What does that mean?
The only player born in Mumbai will be considered as potential Mumbai City players moving forwards – naturally, I cannot make this happen overnight so we will only be selecting Indian players as of now and then all signings (after the two I had already agreed before this decision) will be players born in Mumbai.
I would imagine the vast majority of these players will come through our Academy but we will aim to get as many of the other Mumbai clubs as affiliate clubs meaning we get first refusal on their best players. Even if we don't get that deal in place we will keep a close eye and snap anyone with ability early before probably loaning them back.
So, this was a sad moment waving goodbye to these three legends. All three were off to Brazil and I'd managed to get Gustavo into a Serie A side in Internacional.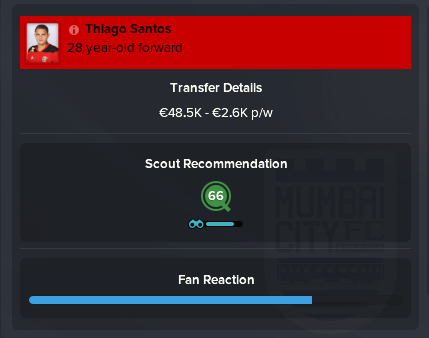 Between them, they had made 500+ appearances for me and Thiago Santos was leaving the club having scored 196 goals. What a man.
---
THE FUTURE
This is the Mumbai City FC squad for the upcoming season. You might think we have a "foreigner" in the side but Pablo Dias is dual nationality.
There is a lot of pressure on Janak Franco who will be taking over from Thiago Santos. The kid has scored goals for me whenever he has been given a chance so I hope he will grow into the role.
I actually feel that we are one top-class central defender short. Ganesh and Dawson Fernandes can both play in there but are short, frankly. Mondal and Shanks will be the first choice pair – Shanks could have been off to France but turned the chance down.
We are very strong in the middle of the park – Dane and Bibi will be pushed hard by Nikhil and Syed for the shirts. I've loaned out Roy as he needs game-time. Jonny Fernandes is back and will be understudy to Jhingy.
Will we win the ISL? I reckon we will go close, but it will be one hell of a challenge which I actually need to be fair.
---
THE SURPRISE

If you can't read that, it is telling me we have an ISL match rearranged due to our participation in the…
FIFA CLUB WORLD CUP.
Eh? Confused? Yeah, me too.
How's that happened?
It turns out it is being played in India so we are invited. Cracking.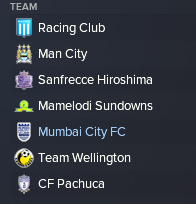 A bit disappointed the European team is Manchester City to be honest, and I would have loved the South American team to have been Boca or someone. But hey, we won't even get that far.
That said, I do fancy us to win this opening game…
That would put us in the 1/4 Final.
If nothing else, we'll make a bit of cash from it. We are going to need it, to keep ploughing into the facilities.
---
CONCLUSION
I have one main concern about flicking to a Mumbai only side over the next few years – we don't have an U23 or U19 setup or anything, meaning our youth facilities will always be below average as we don't have any to improve.
We will always push to improve the youth coaching and recruitment, obviously, and we have state of the art senior facilities but there is only so much we can do.
Next time out we will have a roundup of the FIFA Club World Cup and let you know how the ISL is going. At some point, I will do a download of my 4141 for you to try as well.