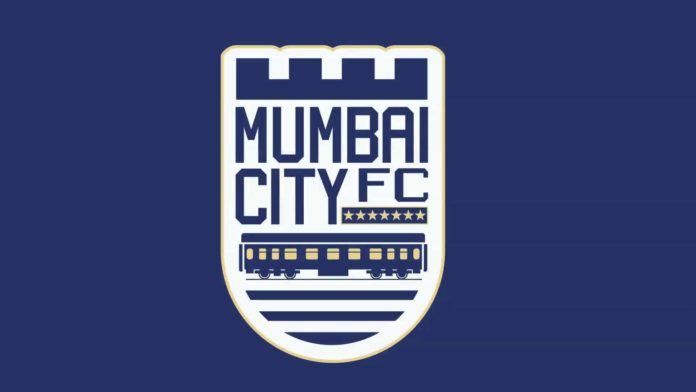 Christ alive, over a week has gone by since the last update from Mumbai. I do apologise to the two-and-a-half people that might have noticed and, frankly, one of them is probably one of the dogs.
Quite a lot has actually happened since then so I suppose I should at least make some kind of effort to bring you up-to-date.
---
THE RECAP
Using my Slack channel as my virtual notepad, I've thumbed back over the pages to see the thoughts of December 14th. It was Federation Cup Final day and we were due to play Mohun once again. No doubt they would be playing a completely non-Indian XI and no doubt it would be a tough day out for us.
Matters were not helped as we were going into the final without our skipper Gustavo (injured with a damaged spine of all things), Bibi Fernandes and Sehnaj Singh.
We were just about on top in the first half and most of the second half but the game was still 0-0. Then FM decided to get a wee bit involved. I subbed Jhinny as he wasn't having a good day. Imagine my delight when a couple of game-time minutes later revealed that Thiago Santos had been withdrawn and I had a 5ft 4 right midfielder playing up front on his own with 20 minutes left. My only option was to move Jhinny up top as he can play as a striker, though he was currently rocking a 6.4. Awesome.
However…

To quote @fm_samo, "love big Dawson".
Dawson Dias, all 5ft 7 of him, managed to curl a winner home deep, deep into injury time and we'd won the bloody cup again.
At this point, the kid had 68 goals for us from the left of midfield and had only just turned 21. Throw in nearly 50 caps for India and a fair few goals for them too and his career was progressing rather nicely.
I felt jaded on the 14th December, I cannot lie. I was still smarting from the Champions League "failure" and the thought of strolling through yet another ISL season wasn't really doing it for me. I was starting to get itchy feet, wondering what the grass might be like on the other side of the fence and wasn't entirely sure of what side of the bread had my butter on.
I started considering a move away. Germany, France and Spain were all potential destinations and if the right club had been interested in me at that moment I think I'd have gone.
Nice was available, to test whether I'd be able to realistically get a gig in a European top flight.

Good to know.
Castellon, in Spain's Segunda B, interested me briefly and I would have got it but in the end actually leaving was way harder than I expected.
I took a few days away from Mumbai to refresh and evaluate where I was going in my FM life.
It worked. I came back ready to go again, ready to move towards an all-Indian XI winning the ISL and trying to conquer Asia and then, maybe, the world.
The board were still backing my desire to move the club forward.

---
REFRESHED AND READY TO RUMBLE
The preseason of 2022. The mini-break had done me good and I was thinking clearly. It was going to be another successful season.
I was happy with the preseason transfer business.

We had limited backup for Dawson Dias on the left of midfield and Keegan Rao had been impressive for Shiva last season – €50k, as ever, was a drop in the ocean and very much worth the gamble. Alvito was the backup goalkeeper I'd been looking for, again excellent for Shiva last season and had broken into the India national squad. He was brought in with the long-term aim of shadowing Amrinder for a few seasons before taking over. And in Janak Franco, we'd nabbed an Indian international with 20-odd caps aged 20 for nothing off an ISL rival. Potentially he could take over from Thiago Silva in the future.
Anyone who had returned from their loan spell last season and had been unimpressive (basically a loose rule of thumb meaning anyone averaging under 6.8 if they had got game time or anyone that had failed to even get game time) was released but there was still quite a list of people to send out once again.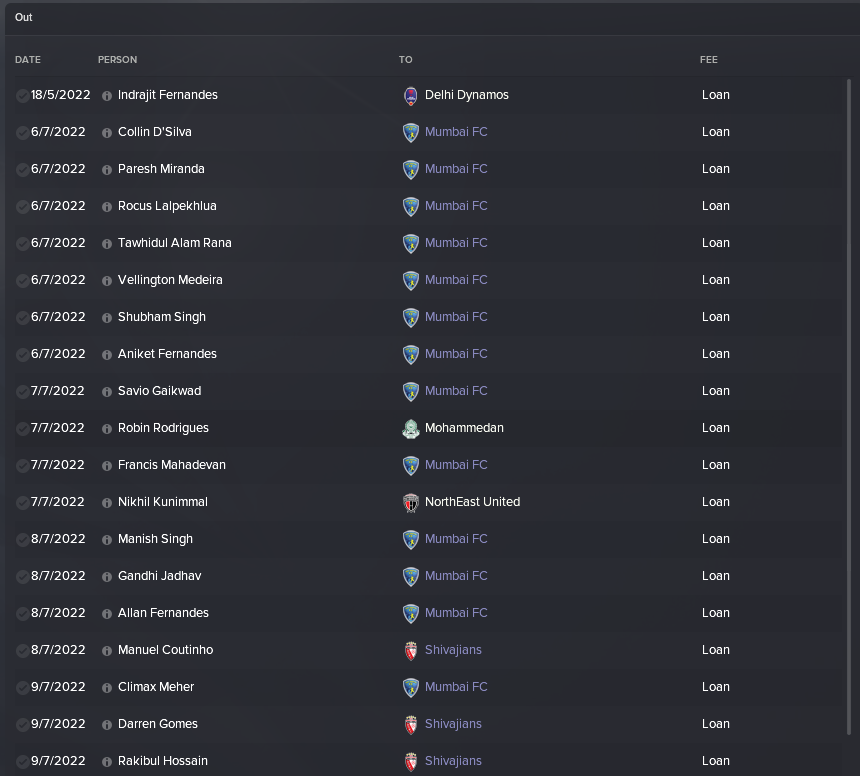 In that group, I still believe we have at least two or three potential first-team regulars but they will need to prove themselves – Kunimmal is probably the best prospect. If Indrajit does well at Delhi he could be an option as well.
I settled on two simple aims for the season.
1. Win the ISL unbeaten (for the second season in a row which will be our 4th title in a row overall)
2. Go deeper into the AFC Champions League which, for me, means 1/4 finals at the very least
Alongside that, the decision to start the transition towards an all-Indian squad had been made. Isra's contract is up at the end of the season and would not be renewed. With Gustavo missing six months through injury and us not really suffering it gave me confidence we could cope in midfield. Gerson ended up missing the first few games of the ISL season through injury and we defended fine. It's just Thiago Santos who feels irreplaceable right now. The three Brazilians all have 18 months left of on their deals, so basically, this season and next – when I start to attempt a fire sale will depend on our Champions League performance this season.
The Super Cup against FC Pune City was a joke. 24 international call-ups meant I was able to field a bare 11, including our sub keeper playing as a right back. He got a 7.0 and we won 2-1. Another trophy.
---
RIGHT NOW…
To end this rundown we are 11 games into the ISL season.
The league table looks, unsurprisingly, like this.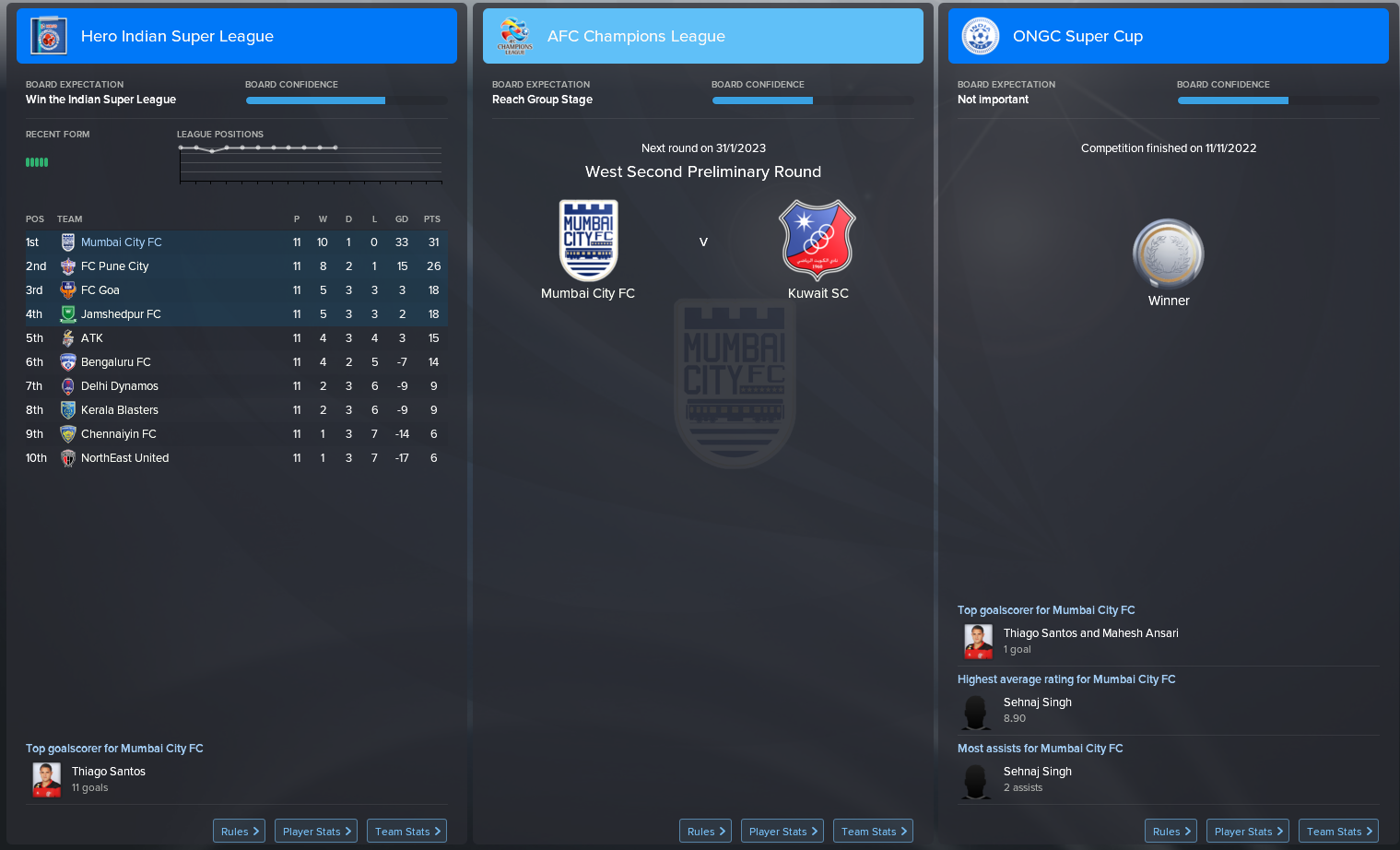 There are seven regular league matches left and I have sneaky feeling we will be in the playoff semifinals once more.

The only blot on the landscape to date has been the 0-0 with FC Pune City who are looking likely to be the second best side in India again this season. As you can see, the only team to actually score against us is Kerala Blasters.
The lazy thing to do would be to continue with the same team year in, year out as frankly it is the best in India. However, I've made a few changes for this campaign.
Ganesh Singh was signed last season I think and was initially a 5ft 8 CB who could play a bit in midfield – I started training him as a right back and decided he was ready to take over from Rakip (who has 42 Indian caps).
Dawson Fernandes was a youth intake man, again a CB when he arrived – I've now made him our best left back.
Keegan Rao joined in the summer as I had no quality back up on the left of midfield – Dawson Dias got injured early in the season and he got a chance. He has been incredible meaning I might consider moving DD central at some point.
Finally, young Dane Fernandes has been covering Gustavo, our skipper, as the RPM in midfield and hasn't done bad for a 16-year-old kid at all.
Take a look at some of our best young players in this gallery.
Dawson Dias is the young star of Indian football right now.

We are about to embark on the AFC Champions League campaign. Hopefully, it will be the last time we have to go through the playoffs as this bit of good news has been delivered. Indian needs to thank me once again.

There we are then, you are up-to-date on what's been going on.
I'll aim to get another post out at some point this week, probably rounding up the end of the ISL regular season and the AFC campaign to date.
Toodooloo!