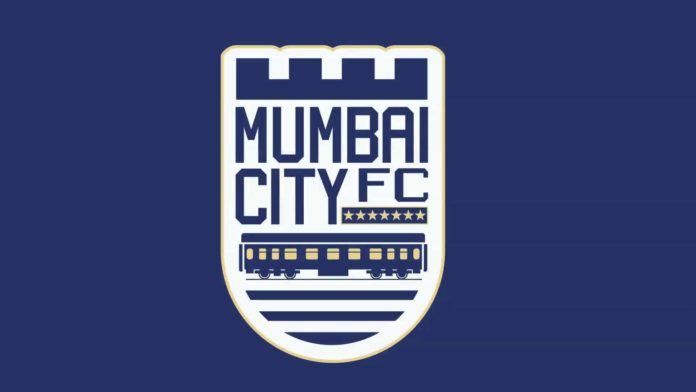 Oh, my word do I have an update for you today. I know, I know, they've been a little less frequent in the last fortnight but I made the mistake of (a) thinking anyone was reading them and (b) anyone would mind if we spread them out a bit more and it turned out I actually like brain farting all this stuff down on paper daily. So I shall continue.
A quick recap on my FM18 journey so far – started off in Italy with Brescia on BETA with a view to making them a solid Serie A outfit churning out Pirlo's all over the shop. Got sacked. Had to wait for ages to get a new job and ended up in the 3rd tier of Denmark with Skive. Won promotion at the first attempt and hot-footed it off to India on FM18 release day. So far in India Mumbai City have won three out of the four ISL titles we have competed for, the Federation Cup and back-to-back AFC Cups (that's the Asian version of the Europa League to you and I). It's going alright and I ploughed through a lot of game time last night.
---
THE ISL
I have two clear aims for this season's ISL competition.
Win it for the third time in a row
Win it unbeaten
We managed to win the regular season title after just 14 games this season.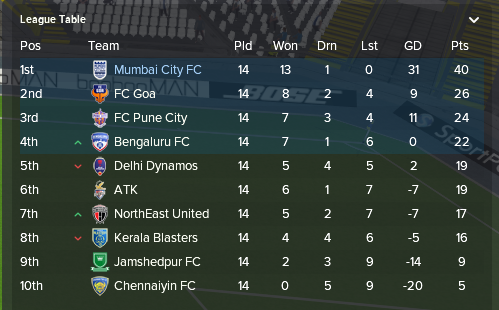 Not even close really, and with a AFC Champions League campaign kicking in at the same time it was important to get the €5m prize money in the bank early. But, we wanted to go unbeaten so we couldn't completely write-off the remaining four league games.
We won the next three without breaking sweat, meaning if we could avoid defeat at Bengaluru FC we would have completed an invincible league season.
At one point it did look like we might falter though, as we were struggling to break down FC Pune City. Up stepped Bibi Fernandes who is likely to get a post of his own very soon. Pick this one out!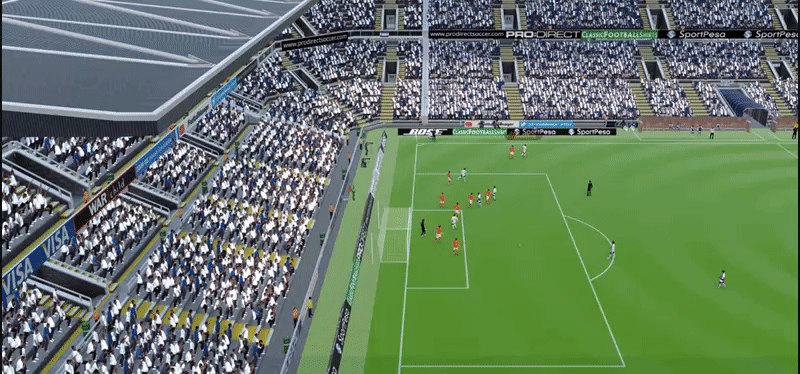 So, Bengaluru FC.
They needed a positive result to ward off a late run from Delhi Dynamos (I know, right?) for 4th place in the ISL and therefore the final playoff spot. We obviously knew what we needed to do.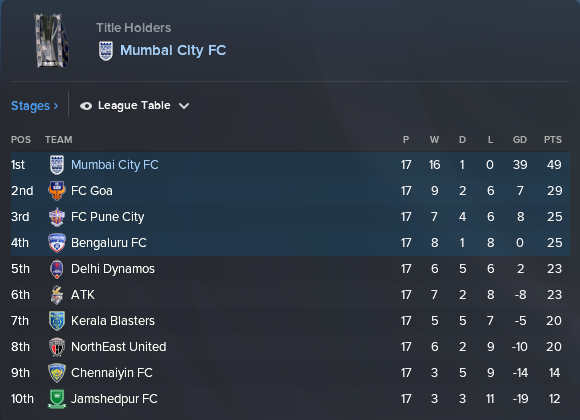 It was a turgid first-half, we were only fractionally better than them but we certainly hadn't looked like scoring. We came in 0-0 and it was the first time this season that I felt we might actually screw it up.
I was right. Bengaluru scored ten minutes into the second half. We were going to throw it away in the last 45 minutes of the regular season.
Then Thiago Santos got clipped in the area and we all jumped off the sofa. I jumped out of excitement, the three dogs jumped because I jumped and didn't really have a clue what was going on.
Thiago Santos is no Matt Le Tissier when it comes to penalties, admittedly, but neither is he Christian Benteke.
I knew a goal would see us right.
Thiago stepped up and blasted it down the middle!
The only problem was, the keeper hadn't moved and punched it to safety. We were now nailed on to throw it away in the final 45 minutes of the regular season.
Mumbai City FC pay me to make the big calls, so it was time I made a big call. I pulled off a central defender and sent Isra on to the field to play up front and instructed the boys to lump it forward and see what happened.
Plan B's do not have to be well thought out, believe it or not.
83 minutes were on the clock when Amrinder launched a clearance in true Dave Beasant style (or Jordan Pickford for the younger readers) over the Bengaluru FC back four and Isra nipped in to slip it home. 1-1. We were going to do this.
Time seemed to slow down. Bengaluru looked like they would score every time the got the ball.
Rakip launched one from right back. Their centre-back jumped under it. Isra was away, onside and free from everyone. He pulled the left-foot back and launched a thunderbastard into the roof of the net. Talk about doing it in style!

What a regular season!
The win also helped Delhi Dynamos slip into the playoffs which made me bizarrely happy. However, that is as far as they are going as we now face them.
The other pleasing thing about the win against Bengaluru was that Gerson, our Brazilian defender, was suspended and I decided, on a whim, to give a debut to another one of the Academy lads.

Shanks is going to be pushing for a first-team spot before we know it.
I doing my best not to be too complacent but we should be OK against any of the sides in the playoffs.
---
THE AFC CHAMPIONS LEAGUE
There's not a lot to beat a trip to Uzbekistan I can tell you. Especially when it came just three days after an ISL match.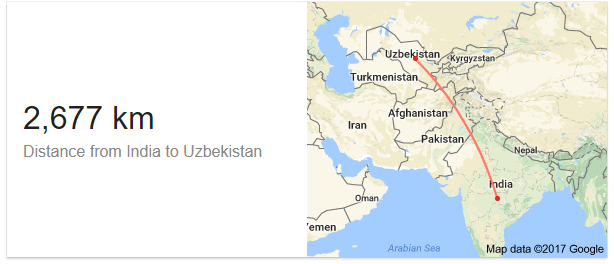 That's quite a long way.
We were up against Paxtakor who we had beaten previously in an AFC Cup Final – they are still managed by ex-Rangers striker Shota Arveladze.

We were very, very good and it was such a relief to get three points at the first time of asking considering our last AFC Champions League campaign as a right cowfest.
Next up was Al-Sadd of Qatar. We battered then but could not find a way through and the game ended 0-0. Still, four points after two games was a solid start and we topped the group.
Al-Wahda had ex-Everton striker Denis Stracqualurski up top and Bartosz something or other who used to play for PSV in their midfield. I expected this to be our toughest game yet.
But.
I was wrong.
We didn't panic after they pulled one back and Thiago scored another beauty.
At the half-way point in the campaign,it all looks like this.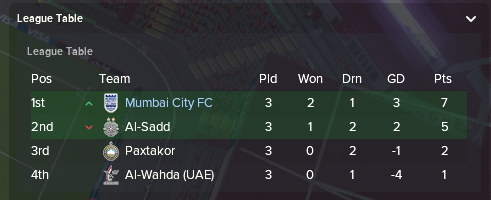 There's plenty to play for but we are most definitely in the driving seat which is rare for an Indian team in the Champions League. I'll be gutted if we don't get out of the group now and whatever happens after that will be a bonus.
---
AOB
My policy of trying to buy any Indian player that the scouts' rate higher than 50% (which really is a small percentage of the Indian players) continues to bear fruit.
This striker will be joining us at the end of the season.
I like him a lot and as he is costing me nothing I have nothing to lose and everything to gain.
As ever, I've been on at the board to give me more and more and they've agreed to improve the training facilities yet again (they are now up to GREAT so I think the next one is state-of-the-art but I might be wrong) and improve the data analysis facilities.
I keep banging on at them for more coaches but it is the one thing they refuse to back down on.
---
WHAT'S NEXT?

Fingers crossed, we can add in a playoff final to that and, I would imagine, some AFC Champions League knockout matches alongside the defence of the Federation Cup before the season is out but that is what the current fixture list looks like.
As I mentioned earlier, I will probably do a piece on Bibi Fernandes (and maybe a couple of the other key young talents in the squad) as we move closer and closer to the time where we move into an all-Indian squad. Also, to avoid this becoming just my own monologue of what is going on, please do throw some ideas in comments about other things from within the save you'd like me drill down into.
---
DOWNLOAD
If you fancy a crack at managing in the ISL yourself, check out the ISL guide and download I put together here.