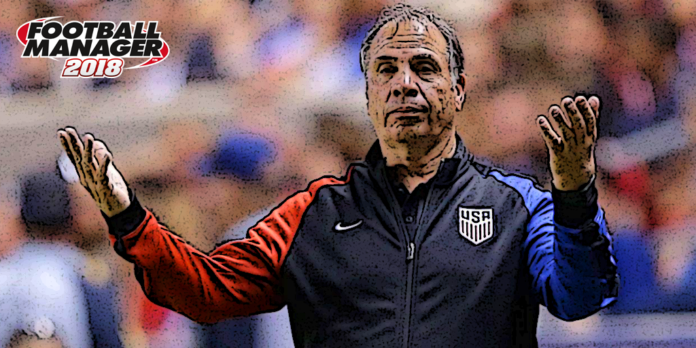 The United States Men's National Team has made it into the World Cup, but how far can we go? I wanted to push for advancing beyond the group stage in this run, since getting past the group stage has been the average final position for the USMNT in recent World Cups. Want to know how we did?
Before we get into things, if you need a quick refresher on what's gone on before now, check here for the previous posts.
Our draw for the World Cup put us in a group against England, Russia, and Uruguay. The only way this could be a worse group of death was if Spain was thrown in somewhere! We've got our work cut out for us if we're going to make it out of this, and to be entirely honest, with our previous misfortunes, I am not convinced we can do it! But, let's not get ahead of ourselves.
We had a total of six friendlies between the qualifiers and the actual World Cup. We're going to skip those. They will only serve to fluff out the article, and I could better use the space talking about what mattered. There were 4 draws and 2 losses if you want to know. I'm the king of only being able to pull up a draw if you didn't notice!
Our odds also aren't in our favor…
Our lineup for the World Cup was similar to previous lineups. There were a few players new to the setup who were pulled in to cover injuries, but the core regulars were there. Notably absent from those lineups is Bobby Wood, who will not feature in my World Cup squad. He's been a letdown of a striker with low match ratings for both club and country, and I'm not convinced he's the best choice for the team in what is the most major competition we're going to do in this save.
Our first match of the three we had to do was against England. Don't get me wrong, I didn't expect an England win at all, but as with the rest of the story of my life here, this had to go horrendously wrong! We start off with our captain taking a straight red card after a crap tackle, and then England capitalised on the hole in our defensive play to put us to the sword with two headers off the back end of set plays and a fabulous Marcus Rashford finish.
This was a far from an ideal result, but we'll just have to buckle down and move on! We still have time to come back!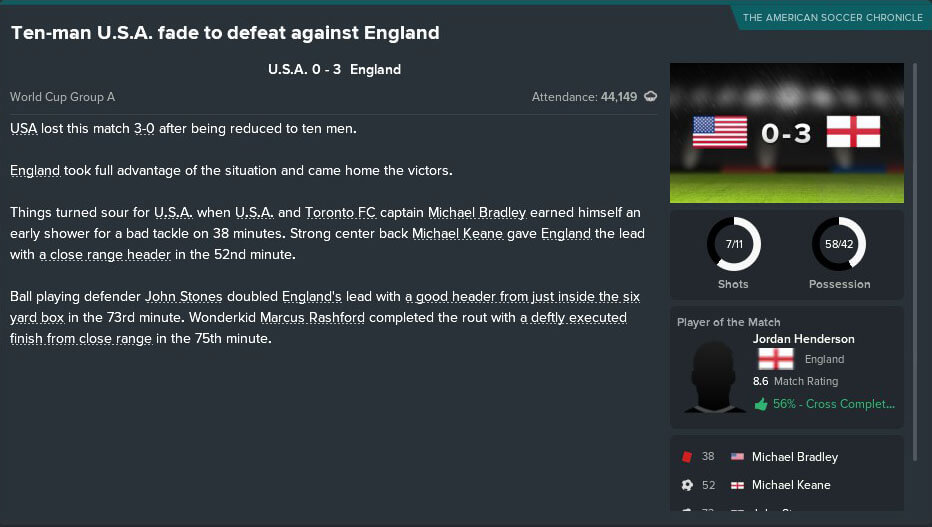 The Russia match was a bit more promising, at least at first. We had a Jozy Altidore goal late in the first half, though we quickly conceded a goal afterwards. We had some fair attacking moves, but nothing that could get past the opposition keeper. In the 85th minute, Russia scored the last goal of the match and was able to secure the win and deprive us of our chance to see at least a single point.
With the loss against Russia, we were mathematically unable to progress beyond the group stage of the World Cup.
In a mirror image of the first match, we went up against Uruguay for a 3-0 loss after going down to ten men after DeAndre Yedlin, our starting fullback, went off for unsportsmanlike conduct. Barcelona's Luis Suarez scored two goals in a match I want to forget about. Honestly, the score could have been a lot worse, all things considered.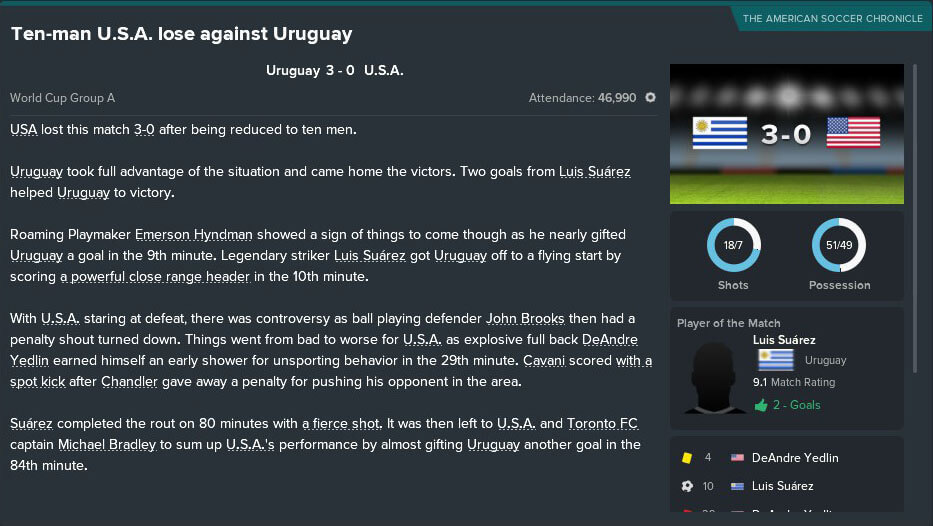 Confidence in my tenure is pretty low at the moment. I have a less than 15% win record with the team, we had our butts handed to us in the World Cup, and our world ranking is horrible! I didn't even bother looking at the post World Cup rank, but I do know it was in the mid-30s when we started the World Cup…

There are a few things I can put this down to…
First off, I'm not the greatest tactician. I have a rudimentary grasp of tactics, and I shot myself in the foot by being more experimental than my skill at the game should have allowed. This lack of tactical knowledge also affects my ability to successfully adapt to the situations I face, because I'll either stubbornly not adapt out of fear of making a mistake. Or, if I do make a change, it's the wrong change because I'm just making them for the sake of hoping something good shows up.
Second, this is a new game, and I used a major competition and a year and a half of international games to get used to the match engine, so what rudimentary tactical knowledge I had from previous iterations of the game still isn't ported over quite yet to this version as I see what works for even the most basic tactics.
From a gameplay perspective, I don't know how much this comes down to the above shortcomings or if it's just the nature of international management, but I'm observing that with zero tactical knowledge compared to the chance of having even a little in previous games, my team always felt like they were getting the short end of the stick, especially since I was trying to tinker between games instead of persevering.
Secondly, as my performances faltered, the players went from some degree of interest in what I had to say with my starting qualifications to not giving a damn what I had to say towards the end, and it had a major influence on my team talks and shouts. Morale is seemingly a bit of a big deal at long last!
I completed my objective in the sense that I at least qualified for the World Cup, which the USMNT never did in real life, but it's fair to say the entire ride was not how I wanted, and luck had a fair influence in both my arrival and departure from the competition…
I've offered a letter of resignation to the US Soccer Federation, and now I'm off to fix a drink, reflect more on what went wrong, learn about tactics a bit better, and ponder what my next move is.