Welcome back to our so far ill-fated attempt to see if I can outdo Bruce Arena. As we saw in the last update, we are barely holding onto automatic qualification right now following a series of draws and losses. With one international break left for World Cup qualifiers, it's now or never!
Before we get into this update, if you need to brush up on what's been going on over the last many weeks, you can check out Part One, Part Two, Part Three, and Part Four at the links provided. 
I gave it some thoughts, and my previous tactical setup was too unbalanced and risky. It defensively had potential, but I was basing my play on quick passes and brief possession of the ball to make it work with a lone striker. I made some changes ahead of our Trinidad & Tobago match, and I decided for a last-chance outright assault on them to see if we can get some critically needed points on the table to keep our chances of qualifying alive.

I'm not going to lie, I see this as a big tactical risk. I'm aiming for aggressively closing down the ball on the flanks or in the midfield with the defensively minded players and the midfielders, then I want to see a very direct and aggressive counter-attack where the wingbacks surge forward up pitch to feed the ball to my attacking trio, currently two false nines and a shadow striker. Two F9s and a shadow striker worked well for me a couple of years ago, so I'm going to see how it works for me here.
The defensive end of the lineup is reminiscent of the strikerless tactic I used last year when I was in Australia with the Central Coast Mariners. The back three as ballplaying defenders is a little unorthodox when you're used to two central defenders, but my thinking was that I'd have two defenders on defensive duty and one stopper who' allowed to move forward a bit and contribute somewhat to the play by moving forward to feed the ball to the midfield.
Again, I'm a poor tactician and half of the challenge is the fun of trying my own tactics instead of other people's. This may work like I'm thinking it will, or it may bomb entirely!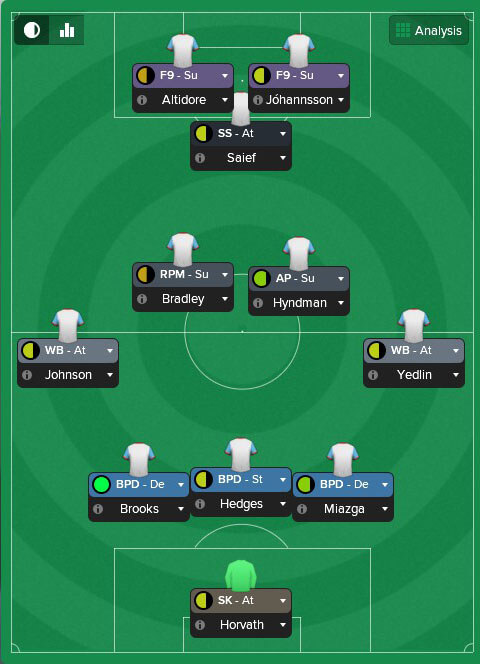 The gamble seemed to work, and our aggressive attack overwhelmed Trinidad to give us a 5-1 win at Toyota Stadium in Frisco, Texas. Personally, that was the icing on the cake for me, being at my home MLS stadium and winning it an hour from my home of all places!
Unlike previous matches, we had more possession this time around despite the team being instructed to make the higher risk, more direct passes to the front in an attempt to overwhelm the opposition, and we had twice as many attempts at goal, most of which were on target.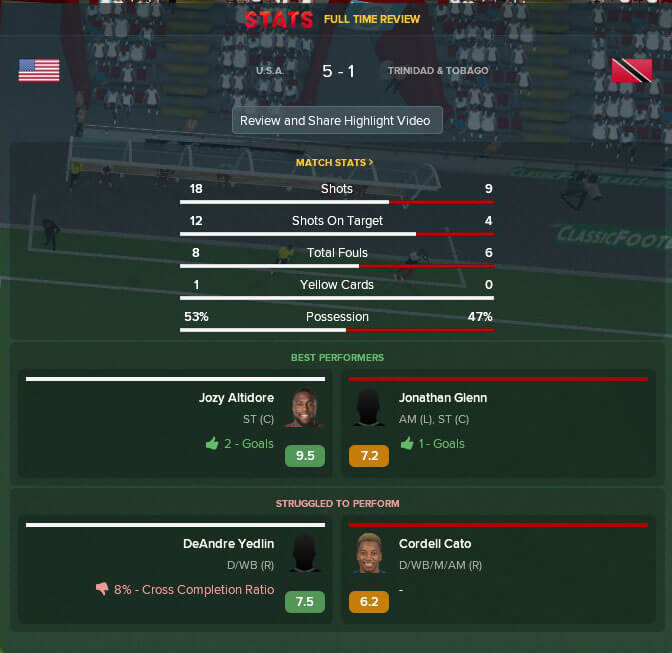 With this badly needed three points, we're mathematically secure in our qualification position at third place. Costa Rica was only one point behind us going into the Trinidad match, but they suffered a 4-0 hammering at the hands of Mexico, so with one match to go, we have a 4 point lead on them going into the final match against Honduras.
Feeling emboldened by the change in tactical direction, I took the same lineup and formation into the Honduras match to see if I could get a similar result in a dead rubber matchup. In this one, we suffered a 1-3 home defeat in Chicago.
As far as match statistics go, we still had more shots at the goal, though fewer of them were actually on target, and we still held more than half of the total possession in the match, though we racked up some yellow cards in the process.
One of those goals came from a set-piece, but the other two came from wingbacks being too far advanced up the field on a counter attack and that position being exploited by wingers who fed the ball into the center to the attacking midfielders and striker, which was always a potential weakness.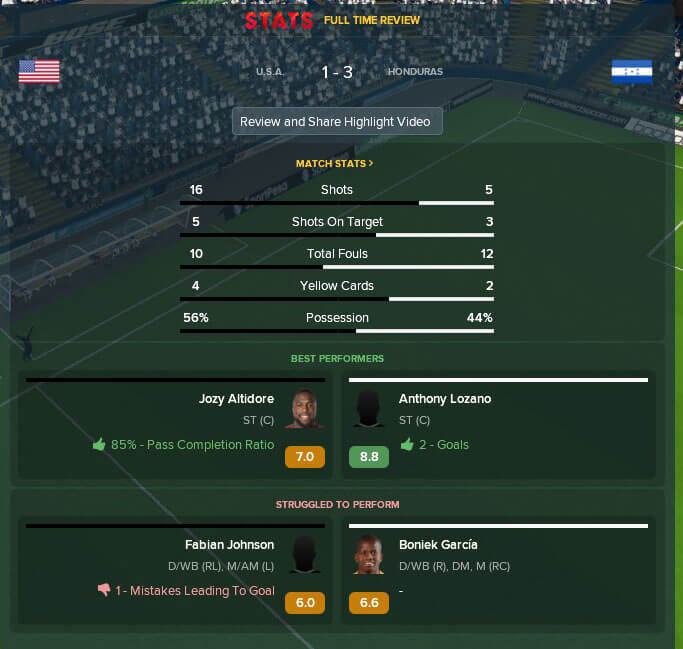 I think it was just a rough day up front, but as far as performances go, my initial impressions are that the squad wants to play like I had envisioned play to be, so I might make a couple of subtle tweaks here and there. Namely, I'm going to be more conservative with the wingbacks and experiment with WB-A from the fullback position or as a wingback playing from a supporting fullback position.
This is what my tenure in charge of the USMNT has looked like so far since I took over. I have a 20% win record. That's a bit disappointing to see!
For the last two matches of the year, we have a pair of friendlies in November against Scotland and South Africa where I will test out the wingback tweaks and see what I can do about getting my people firing into the net a bit more often.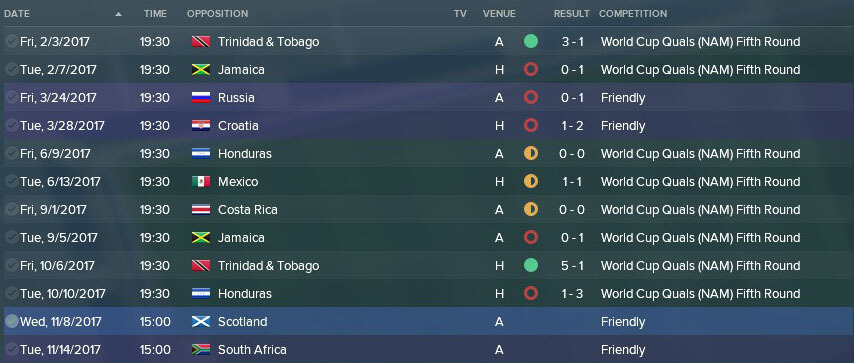 In the next update, I'll see you in late spring 2018 a bit ahead of the World Cup. I'll go over the results of my tactics experiments and learning, and I'll go over who I want to name to my final World Cup squad and why, before we get into it for real.
I was a bit concerned for a while, but I'm quite pleased that we're going to the World Cup. I'm under no illusion that we're going to win the World Cup, but I do at least want to make it out of the initial group stage and into the round of 16, which is about where our average position in the past seems to have been.
I guess we're in luck and we won't have to write the series off as a complete failure due to not qualifying! It looks like you guys will get to see a bit more of me as I attempt to take on the 2018 World Cup!