Back again with another international break down. I wish I could say things were going great, but it's on the low end of average, at best.
If you want to brush up on what's been going on so far, you can check out parts One, Two, and Three at the provided links.
In this international break, we visited Costa Rica and Jamaica in the World Cup qualifiers.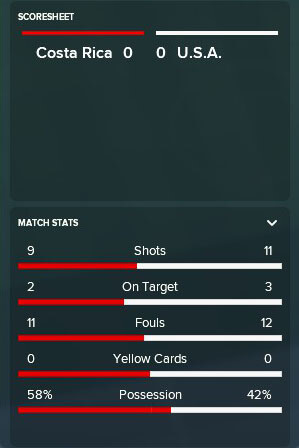 I wish I could provide good news about the result, but it's hard to say it was anything more than a dull draw. There were some good attacking moves on each side, but nothing ever came of anything, so both sides leave with one point added to the table.
The second match was against Jamaica, and it was an embarrassing 1-0 loss. It was basically neck and neck for shots and attacking moves, though it all went out the window with a last-minute goal after John Brooks made a mistake moving in to help defend the net.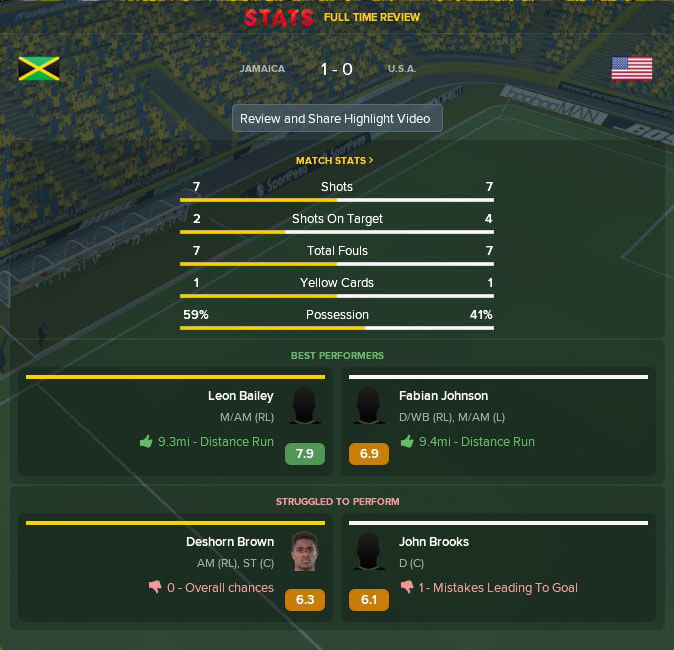 I'm going to acknowledge before I get into rambling that I now realize it was foolish to use an international team to get used to developing tactics and seeing what works. It seems like in this year, team chemistry and tactical familiarity are more important than before. In previous versions of the game as an international manager, I was able to field a team that was always somewhat familiar with the tactics from the beginning and tactical familiarity never seemed to be as important as it should have been.
This time around, I am always going into matches with zero familiarity of my tactic because the team is only together for one week every couple of months and the members are always changing. It's made finding the right pieces for this tactic more difficult because the team is not familiar with the core of the tactic before any changes, and therefore I never see quite what I was hoping to see, to begin with
I've been reluctant to make wholesale changes, but if tactical familiarity won't be a thing anyway, it wouldn't make as much of a difference. I was basing my tactical decisions on aggressively counter-attacking the ball and moving it quickly up the field. The defensive end is looking decent enough. The defenders, for the most part, have been keeping the defensive duties up, but trying to feed the ball to the wings or take advantage of a central playmaker to deliver the ball to a trequartista isn't working as well as I would have liked.
As you'll notice in previous matches, possession has always been in the other team's favour, and I'm going to see what changes I can make to hold onto the ball for a bit longer while looking for an opportunity. It goes without saying that the more time I have in possession of the ball, the more opportunities I have to find chances and the less the opposition has.
I'm going to have to do some tactical changes, and I think this time I'm going to go for a more balanced tactic and see if I can create options for attack and find a less obvious player in the national pool who's able to be the creative outlet that I hope I can find if I am able to create a tactic that works like it looks like in my head.
Anyway, this is our schedule for the previous and upcoming matches. Not reflected in this schedule are international friendlies against Scotland and South Africa in November after the qualifiers end, which I accepted after the team left for their clubs.
As you can disappointingly see, we've had just one win against Trinidad during my time in charge of the club, and we've had three competitive draws and two losses. Not the greatest record in the world!
Looking at the competition table, we're now in third place behind a surprisingly strong Jamaica and Mexico. We are holding onto automatic qualification by the skin of our teeth, and we need to put in some good results against Trinidad & Tobago and Honduras, or we're not going to the World Cup!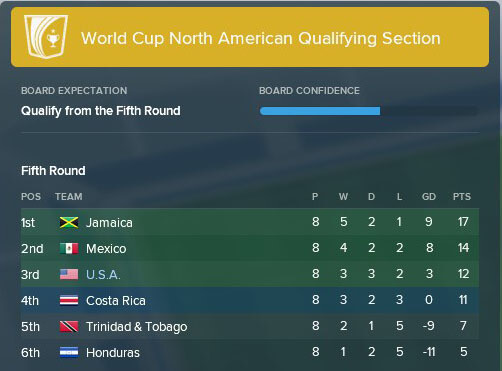 It's fair to say things are not going at all how I had hoped! As far as performances go, we're matching the failures that the United States had during the World Cup qualifiers in real life.
The point of this save is to say that on Football Manager I am a better Manager than Bruce Arena was in real life. The very next post could quite possibly be the last one in the series. My intention was to always use the World Cup as the first goal, and I'd work with the USA for another couple of years if I made it to the World Cup and completed my objective. If I fail to qualify, I consider the series as a whole to be a failure, and I'll more than likely just step down.
We'll see what happens in the next update, though, so stick around for it!