We're back at it again with another series of international matches in our quest to outdo Bruce Arena and take the USMNT into the 2018 World Cup. In this update, we're going to cover the March international friendlies and June's World Cup qualifier matches.
Before we get into that, if you're just now finding this series or you want a quick refresher, check out Part I and Part II.
The friendlies in March provided me with an excellent opportunity to analyze my squad and some national team prospects in a non-competitive match since I was thrown right into managing competitive World Cup matches a month after I got the job.
There still aren't as many matches down as I would like for a detailed overview of the average performances of my national pool, so I'm still going largely off of what my assistant manager suggests to me at this stage.
My lineup is largely the same this time around, although instead of being on the bench, Portland Timbers midfielder Darlington Nagbe comes off the bench to start after some promising substitutions in February, and Omar Gonzalez isn't joining us due to injury. In his place, I've called up FC Dallas defender Matt Hedges because I'm biased towards FC Dallas players, though he is a good defender in his own right.
Not reflected in this tactical lineup is Nagbe's position becoming an inside forward to match Christian Pulisic, and the full-backs being trialled as wingbacks, though they stay where they are and aren't pushed forward.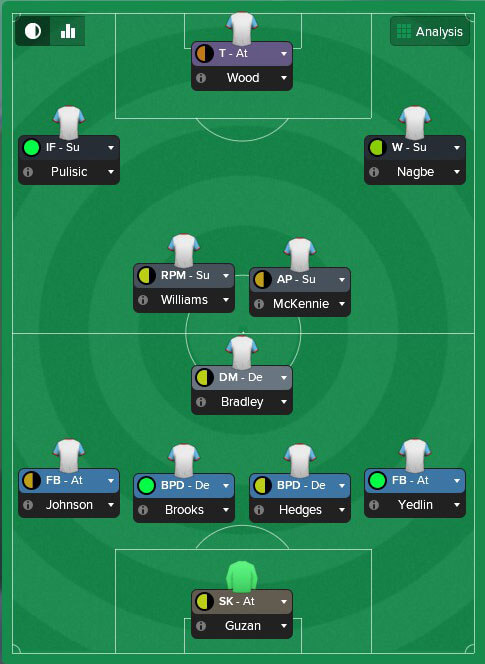 Our first international friendly was against Russia. I felt like it was a neck and neck affair for most of the match, though Russia ultimately edged it out.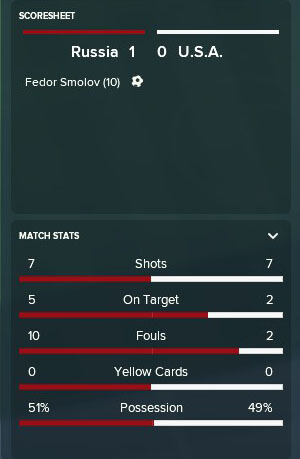 I am not running a concurrent save at the moment, so I'm not really testing tactics in full detail, so I don't know quite yet if it was a bad day at the office for the strikers or if I need to make a tactical tweak to accommodate them better, but Bobby Wood had a bad day and wasn't able to put in a good performance for us in the forward position, which is a letdown. I was banking this tactic on the ball being fed to a creative trequartista or perhaps a complete forward, but he's seemingly not capable of delivering.
In the last three matches, and in the matches following, he's had ratings of 6.3 or lower while on national duty, so he's either not clicking with my system, my assistant thinks a bit too highly of him, or the fact that I started with a USA start time and the German Bundesliga isn't playing for another couple months means he's rusty and match sharpness plays a bigger role this year than before. Either way, I feel like some additional analysis of his Bundesliga performances will be necessary when the summer comes and European teams start playing. Right now, I'm relying on good performances from Minnesota United's Christian Ramirez when I need someone to save the day at the last minute.
The next international friendly was against Croatia, and in another tight match, we lost 1-2 at home following the last minute Krovinovic goal. This match saw Bobby Wood injured (not that I'm crying), as well as an injury to defensive midfielder Michael Bradley, both of whom will miss some matches at their clubs for two-three weeks.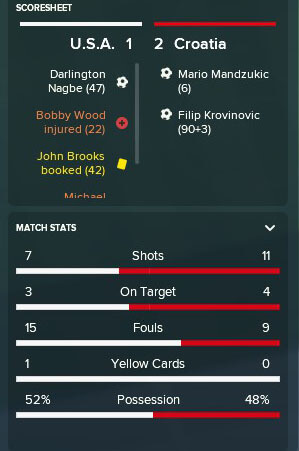 With our team showed what-for on two occasions, the team split and went their separate ways again with disappointment on our minds. Luckily, it was only a pair of friendlies, but I was still hoping for good results to either vindicate my tactical decisions or provide some good performances from players to size them up for the upcoming qualifiers, but I left empty-handed.
When the qualifiers came around in June, our first match was against Honduras, and we completely dominated this one. I had made a few tactical tweaks based on previous impressions of how the ball was being moved around and I was able to see a few more attempts at goal compared to previous matches, though frustratingly, nothing came of the great attacking linkup between the attacking midfielders and striker.
The next match was the big one… The United States hosting Mexico, our rivals in soccer! In an absolutely deadlocked match, we wrapped things up at 1-1. Compared to the Honduras result, this is one that I'd consider fair, as Mexico has a comparatively stronger team in my opinion, and this could have swung either way for us on any other day.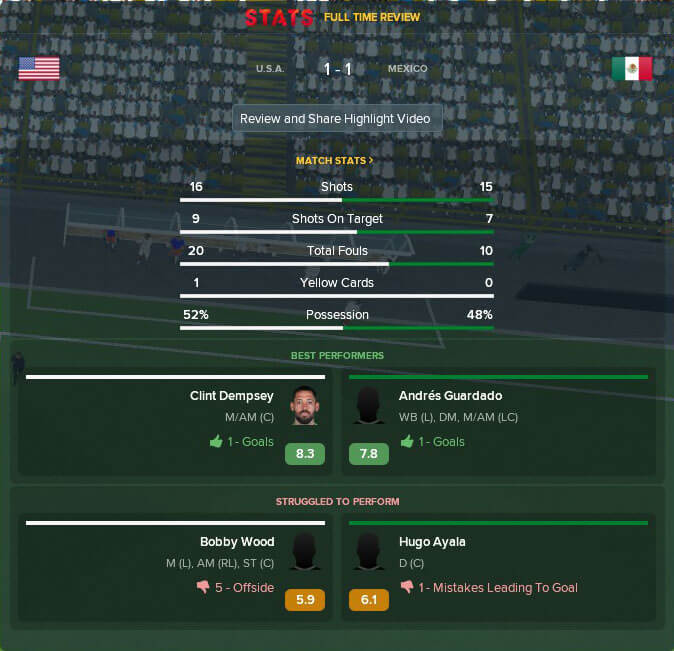 This match is also noteworthy for showing a 5.9 rating from Wood before he was kicked out at the 30-minute mark. Honestly, I didn't want to even start him, but my choice striker for that match was injured and didn't get to start the match. I've had enough consistently low ratings that he's going to be dropped from the national team. The other players seem to be doing alright, but he's a stand-out letdown of a player for the last two breaks.
This is the run we've been having since I was hired at the start of the year. It's not exactly the greatest record ever, and we've still got four World Cup qualifier matches to go until we're through to the World Cup or out for good. Luckily, we're joint first-place at the moment right now for points with an edge to us for goal difference. Of the upcoming matches, I see Costa Rica as the biggest threat, though on a good day we should be able to outdo all of them if we perform as I think we have the quality to perform as.
Here's a look at the standings right now.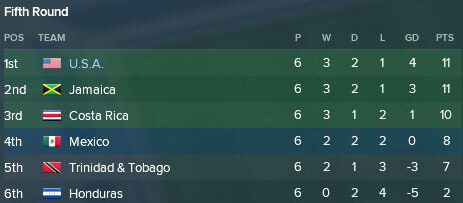 So far, things aren't going quite as I expected. Based on my half-season at FC Dallas and my start here with save, it seems this year fitness, tactical familiarity, dynamics, and team chemistry are vital to performances, and it's affecting my ability to field a good team, since the roster for a national team is entirely fluid and there are no meaningful team relationships in place on the pitch at any given time.
It's also harder for me because I am not the greatest tactician and part of the challenge was to make my own tactics instead of using someone else's. That means I'm testing things unknown to me, and I have to keep making changes in response to things I don't like, which is likely hurting limited team chemistry as it is.
I've got a couple of months to go until September, so there's plenty of time to watch Major League Soccer matches and think about what I want my legacy with the USMNT to look like as the World Cup approaches. I'm off to read about tactics and player roles, and I'll be back with an update on the next round of qualifiers soon!