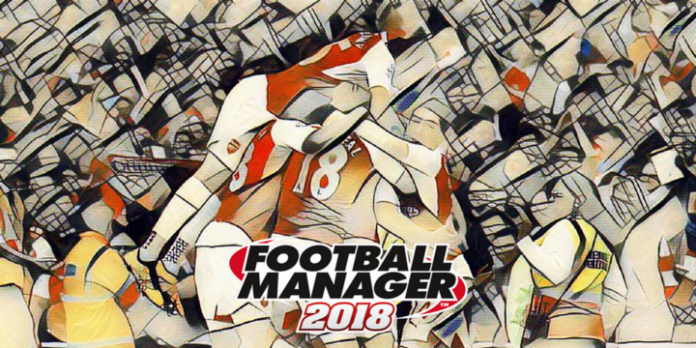 Good news guys, somebody actually wants Theo Walcott! Lyon have made me an offer worth an initial £26m and a further £14m in bonuses. I bite their hand off, mostly because he's been a pain in my arse ever since I started this save. However, I do expect some slack from the squad as he's a senior player.
Still, I don't have time for babysitting. The new season is upon us and it once again starts with a clash against Chelsea, with silverware on the line. I wasn't too fussed about the Community Shield last year but I want the Supercup. I've always dreamed of lifting a trophy at the, er, Lillekula Stadium in Estonia…
Walcott is gone and the squad don't want to kill me, which is nice, though I do take issue with the social feed calling him a 'club legend'. Yes, the treatment room will really miss his presence. With Domenico Berardi already in as his replacement, I think we'll be fine and dandy. Chuba Akpom and Emiliano Martinez have also left, incidentally.
Oh, remember how I said Koscielny would be captain with Xhaka/Ramsey as vice? I lied. The squad wanted Lacazette, I caved. It will be nice to have a captain who actually plays, I think this is the first time in years that Arsenal have had that. Anyway, here's my team for the Chelsea game.
If it looks familiar, it's because it hasn't really changed. This is my strongest side and new signings Berardi and Pineda are on the bench. I chopped and changed a lot last season, so expect the same here. Anyway, they both get their debuts and we lose 2-1. Let's not talk about it.
On Deadline Day we sign Predrag Rajkovic, a talented young goalkeeper who's actually rated better than Timo Horn and the same as Cech. We're preparing for the first game of the season against West Brom and nothing but three points is good enough. Ahead of the game, I'm finally allowed a feeder club- Getafe are perfect.
We struggled against West Brom at the back-end of last season, so I'm pleased with our performance in a 5-2 win. Iwobi scored a brace and Coquelin also got in on the act, before Berardi scored his first goal in Arsenal colours, though we did lose Koscielny to injury. He'll be out for two-three weeks.
Watford, another side we've struggled against in the past, are next up. We switch to a 4-4-2 and it works, with Lacazette and Bellerin netting inside half an hour. After the break, Deeney pulls one back but we hold on. Two games, two wins. Not bad at all.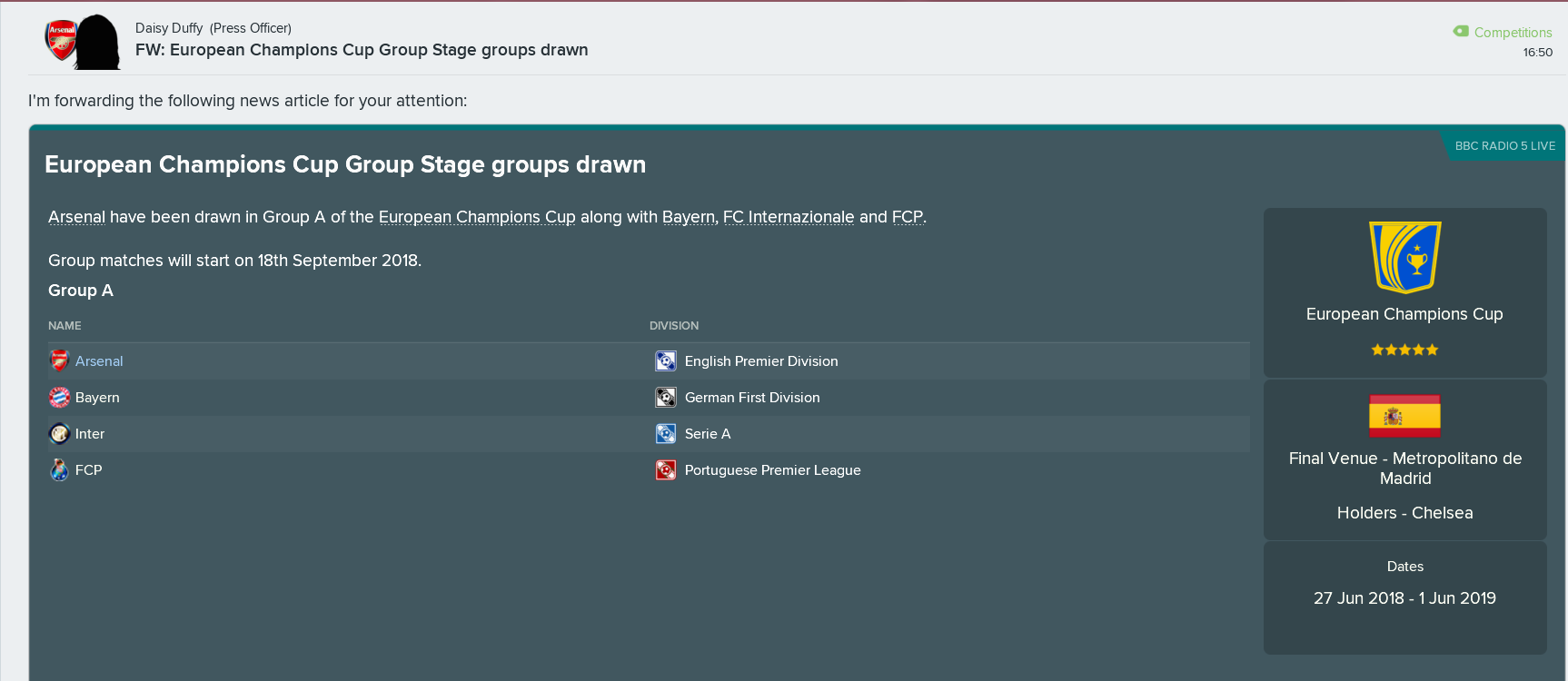 We draw Newcastle in the Carabao Cup and there's a great sense of intrigue for our return to the Champions League. It doesn't disappoint, as we're handed a group of death against Bayern Munich, Porto and Inter Milan. It will be nothing if not fun.
Everton, who have also won both their opening games, are next and I stick with 4-4-2. Lacazette gives us the lead and then sees a second disallowed, though Iwobi does double our lead. After the break Schneiderlin scores an own goal and Lacazette has a penalty saved, so we maintain our 100% start with a 3-0 win.
Our testing start continues with a trip to face Stoke, where we struggle to break the Potters down but Lacazette scores his 50th Arsenal goal as we win 1-0. Inter Milan are next and we remain switch to 4-2-3-1, as the pre-match brief says the Italians struggle against this set-up.
We have a goal disallowed before Zivkovic gives us a first-half lead, with Coquelin then doubling our advantage. After the break we lose Xhaka to an injury but hang on to our lead, starting our difficult group in decent style.
Huddersfield, who have impressed so far this season, are up next and we race into a two-goal lead after Lacazette's brace, though Kolasinac is swiftly sent off. Still, Lacazette nets a first-half hat-trick. He adds a fourth in the second period, as we win 4-1.
For our Carabao Cup clash with Newcastle, I make wholesale changes and hand youngsters their chance. It's goalless at full-time and we're set for another half hour of action and Lacazette, off the bench, finally breaks the deadlock. He later adds a second but we concede, though win the game 2-1.
The month concludes with a match against Southampton and we enter the game on a six-match winning run in the Premier League, including the final game of last term. We already have a three-point lead at the top of the table and I intend to keep it that way.
Iwobi, who incidentally has just asked for a new contract, opens the scoring and swiftly nets a second, before then turning provider for Lacazette's tenth of the season. The Nigerian then scores a hat-trick and we have a 4-0 lead at the break, which Zivokovic adds to in the second-half. Lemina gets a consolation but I'll take 5-1 any day.
Barring the European Super Cup defeat to Chelsea, it's been a perfect start to the campaign. As you'd expect, we sweep the September awards as I claim Manager of the Month and Iwobi is crowned Player of the Month.
With our first three matches in October seeing us tackle Bayern Munich, Manchester City and Chelsea though, the difficult challenges are right around the corner.