Let's Football folks, let's football.
The Indian Super League (called the ISL from herein) is a league that is fast becoming very close to my heart, mainly as I got lumbered with writing about it for www.indiansuperleague.uk – but, shockingly, I have grown to really like it and have invested a bit of time and effort into making it into something playable for all of your FM18 aficionados.
Please note – this would too be classed as custom or fantasy as due to the restrictions in the editor it is impossible to get the ISL to be a 100% replica of the real world.
---
THE STRUCTURE
The ISL is one of those leagues that works to a franchise structure – a bit like the MLS. This means that corporations/investment groups went out to bid for the rights to bring an ISL side to the city of their choice. The original clubs were: FC Goa, Chennaiyin FC, Kerala Blasters, NorthEastUnited, Atletico de Kolkata (ATK), Delhi Dynamos, FC Pune City and Mumbai City FC.
For the 2017/18 season, the ISL grew to ten teams with Jamshedpur FC and Bengaluru FC successfully being awarded expansion franchises. Bengaluru moved up from the tradition Indian top-flight, the I-League whereas Jamshedpur FC are a brand new team backed by the steel magnates Tata Steel.
The regular season runs from mid-November to the end of March and is a total of 18 matches. The top four sides then go into a seeded play-off where the semi-finals and final are played over two legs, home and away. The winning team are then crowned ISL Champions.
As per MLS, there is no promotion/relegation to/from the ISL.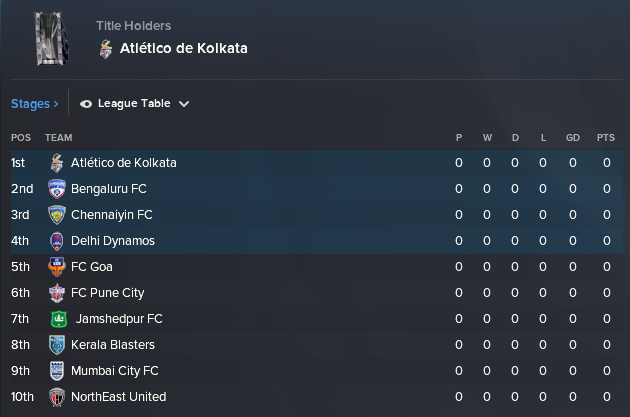 Real-life rules that I've been able to replicate
Each side can only field five foreign players on the pitch at any time.
All away kits have been added, meaning each team should have the right colours!
Real-life rules that I've NOT been able to replicate
The Draft System: In the real world, each ISL side can choose two of their Indian players to retain only, and then everyone else is released. A draft system (again as per MLS) comes into play and each team in order of bottom to top then gets to pick what they consider to be the best available Indian players. Unfortunately, drafts in FM are hard-coded and I can't recreate this.
Continental Qualification: This season in the real world is the first season where the winner of the ISL would qualify for the secondary Asian continental competition, the AFC Cup. The ISL is officially now a "joint first division" in the eyes of the AFC along with the I-League. It's impossible to recreate this in FM18 so the ISL is placed as the top division with the I-League being Division Two (which is basically what it is in the real world anyway). However, this means the ISL winner goes into the qualifying rounds for the AFC Champions League and the three other playoff teams go into the AFC Cup along with the Federation Cup (the Indian FA Cup) winner.
Other things I've added which are relatively close to being real
Transfer window: The ISL has a transfer window that replicates the European transfer window – namely the summer and January. This means all ISL transfer business has to be done before the season starts and then you get a month in the mid-season break to improve matters if needs be.
Prize funds: The winner of the ISL regular season gets approx €5m and then the prize pot goes down per place. The overall winner of the ISL (wins the playoff final) receives an extra €10m approx.
TV Money: Each ISL club receives approx €5m as part of the Star Sports TV coverage.
Academy sides: Each ISL side is likely to have an Academy side/B team playing in I-League 2 next season. I've not placed them in I-League 2 this time, but you do have an Academy setup.
---
PAST WINNERS
Atletico de Kolkata won the first ever ISL trophy back in 2014. In their first three seasons, ATK were co-owned by Atletico Madrid but that agreement came to an end this summer and the club rebranded to ATK.
Chennaiyin FC won the second ever ISL before ATK regained their title last season, beating Kerala Blasters (twice runners-up) on penalties.
---
A WHISTLESTOP TOUR OF EACH CLUB
ATK: Now coached by Teddy Sheringham, ATK have made a terrible start to the ISL this season. Robbie Keane is their big name player, but he has been injured. If you are a fan of old Finnish goalkeepers, then you'll be delighted to see Jussi Jaaskelainen in the squad. ATK's best Indian player is Euegenson Lyngdoh though Robin Singh would tell you it is him. They play in India's biggest stadium.
Kerala Blasters: Co-owned by Sachin Tendulkar, Kerala have lost in the final twice. They are now coached by ex-United man Rene Meulensteen and can call upon ex-United stars Dimitar Berbatov and Wes Brown. They also have the ISL's record scorer in Iain Hume who returned to Kerala this summer.
Delhi Dynamos: The club from the capital city. Can you fight off the December pollution and do well? Delhi have finished bottom in the first four ISL's I have played in my own save. The good news is that they have one of India's rising stars in Lallianzuala and Romeo Fernandes is supposed to be decent too. They are coached by Miguel Angel Portugal.
Bengaluru FC: These boys were one of the best sides in the I-League before moving into the ISL this season. They have India's greatest ever player available to them in Sunil Chhetri and target man Miku is a decent player. Albert Roca is the gaffer.
Mumbai City FC: It is difficult for me to be impartial about Mumbai having managed them for four seasons so far on FM18. Everton Santos, Thiago Santos and Gerson are a strong Brazilian contingent for the Islanders.
Jamshedpur FC: These boys are managed by Steve Coppell and his assistant Wally Downes. They have ex-Reading man Andre Bikey in their squad and are a very solid option. Kervens Belfort of Haiti is a star and Indian Mehtab Hossain is an excellent midfield enforcer.
Chennaiyin FC: Who remembers ex-Aston Villa manager John Gregory? Well, he is still managing out here in India. There are no real star names in Chennai but they are a strong squad. Ex-Brighton right-back Inigo Calderon is there and in Indian Jeje they have a proper poacher.
FC Goa: Can you be the person to replace Zico? Brazil's darling managed Goa for the first three seasons but never won the ISL. However, his stylish football is in the club's DNA and if you want to build an entertaining squad then this is the team for you. Manu Lanzarote and Adrian Colunga are a potent Spanish striking duo and Mandar Rao Desai was the first Indian ISL scorer this season.
FC Pune City: They have one of the smaller grounds in the ISL and it is always a tough place to go. Ex-La Masia graduate Marcos Tebar makes their midfield tick and Uruguayan striker Alfaro guarantees goals in the game.
NorthEast United: NorthEast are the only ISL team never to have made it to the play-off stages (not counting the two new teams for this season). Borges and Nazary are two of the better Indian players and in Odair Fortes they have a real crowd pleaser. They are coached by Joao de Deus.
---
WHO TO PICK
As ever, it depends on what you want from your save but I've picked my three favourite narratives for you to go for.
#1 Kerala Blasters
They may well have Berba, Hume and Brown but the team with the best ISL fans are predicted to finish 8th at the start of the game. They have twice been the bridesmaid so can you be the boss to lead them to their first ever ISL title?
#2 FC Goa
Zico is a legend in India, even if he didn't win the title. Can you take on the legacy that he left and rebuild the club to become a contender?
#3 Delhi Dynamos
As I mentioned earlier, the team from the capital city quickly became the whipping boys in my save. Personally, if I was ever to leave Mumbai City I'd go to Delhi because they really should be leading the way – a potential super club could be built here.
---
TIPS
I've played four complete seasons on my original ISL database (which is not as well done as this one you lucky so and so's). I've learned a few things along the way…
#1 Watch out for international call-ups
They come along at the most inopportune times in India. If you have built a squad that has a few Indian internationals rest assured you will play some ISL matches without your strongest squad.
#2 Don't have a foreign keeper
It's a waste of a foreign spot. The Indian keepers are better than they look so trust them and use that extra foreign spot for a position that can really hurt the opposition.
#3 Don't be put off by the Indian player star ratings
Your first glance will tell you that every Indian player is rubbish and everyone will be "surplus to requirements". Don't bin them off, you need Indian players in the squad and there are few better options out there for you to sign. Stick with them!
#4 Pre-season
And that is pretty much what preseason is for, all three months of it – get a game in each week and use that time to get your tactics right and learn which Indian players you can rely on.
#5 If you do get into the continentals…
Do note that where you are allowed five foreign players on the pitch in India when it comes to the AFC continental competitions you are only allowed four in the squad and only three of them can be non-Asian (which means you could only have three Brazilians for example). Don't let this sting you!
---
DOWNLOAD
I love the ISL now and I hope you want to give it a go yourself.
The database is here – just add it to editor data as normal and enjoy!
I would recommend loading it up with a LARGE database and then add in all players from ASIA and SOUTH AMERICA to give yourself the best possible chance to build the squad you want.
GOOD LUCK!
#Let'sFootball