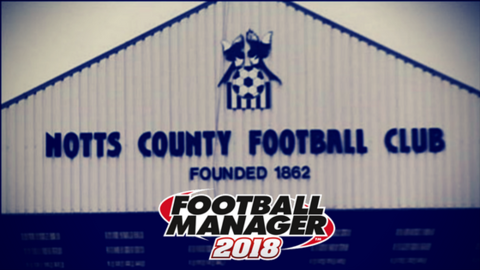 Greetings. The festive period is a time for traditions. Carols are sung, presents are exchanged and footballers are forced to play more than once a week. A lesser known tradition is that I try and play the latest version of Football Manager, after spending the previous 51 weeks of the year stuck in a retro wonderland. It's always a treat.
Last year, you may recall, I eventually took Newcastle to the Championship title. It was a constant struggle, as I made the strongest squad in the league look decidedly average on many occasions. But we got there in the end, despite several squad mutinies, who were rightly suspicious of my managerial credentials. The very fact that we got there in the end, despite these obvious problems, is enough to bring me back for another crack at the big time.
Jermaine Jenas once described Newcastle as the goldfish bowl, and whilst he couldn't handle the pressure of being paid tens of thousands of pounds a week to play football in front of a large crowd, I can't deny that it is a pressure cooker of a job. The fact that Rafael Benitez – Champions League winning Rafael Benitez – has only just about managed to keep the current squad's collective heads above water, I'm not sure it's a challenge I am ready for. I do, however, have some other Magpies in mind.
I've rocked up at Notts County, going for the cut and thrust of league 2 rather than the diamond-encrusted Premier League. Kevin Nolan has done a decent job there in real life, and they are predicted 13th. I think I can beat 13th and that makes me a winner. More importantly, they have former Newcastle legend Shola Ameobi. And Alan Smith. But I'm mostly here for Shola.
Can you ride a bike and eat an apple?
I've arrived to meet the Chairman, who looks a little like Dr Evil.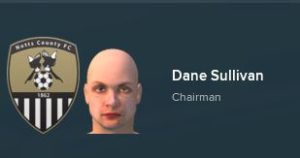 Sadly he doesn't give me $1 Trillion to spend, instead I have £75k. It's not a huge amount but it won't be in League Two. I've approached this save like writing a thesis – I've done a lot of reading, made pages of notes (don't worry, the famous notebook will make an appearance) and I feel like I'm ready to make a go of this.
For example, I've read it's a good idea to actually sort your training out an assign different duties to coaches. I only have a handful though, and that's not good. The fact that Alan Smith is coaching these players doesn't fill me with any great hope, but I can't mutually terminate him as he's a player. Well, I could, but it'd be pricey. Mike Edwards is 37 and doubles up as a fitness coach and a defender. That's not clever.
My assistant, Richard Thomas, doesn't look like a good fit. His heart really seems in Youth Development, which is his highest stat, and I don't really know if this is the place for youth development. We shake hands and he walks away £28k richer. He is terrible though.

I've got his replacement earmarked. As you'd expect from me, it's a 90s star who I expect will make a great team with me. Yes, he fancies being a coach more than an assistant, but his skills lend themselves to more than just bibs and cones, so welcome Darren Huckerby.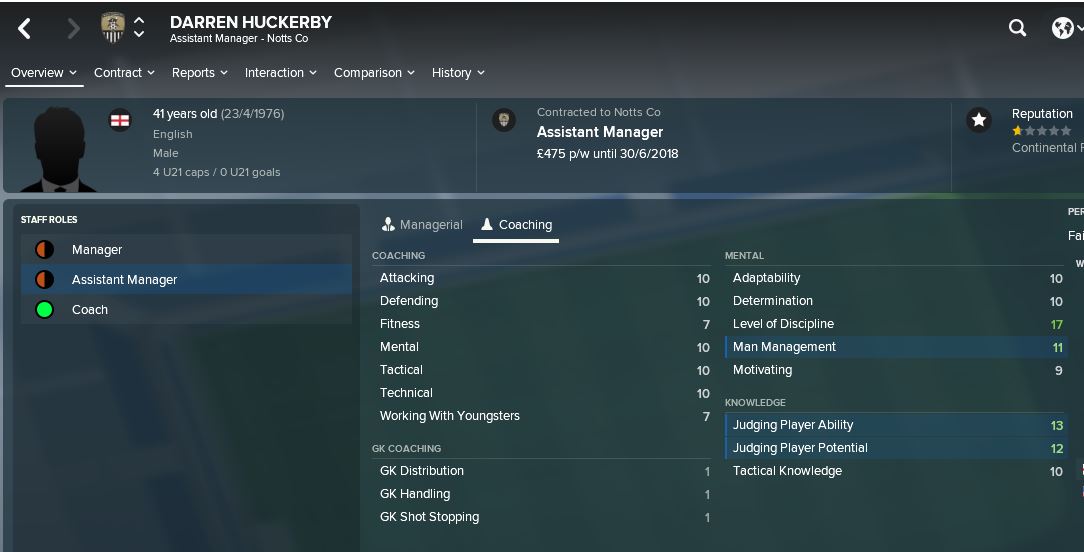 I begged Dr Evil for more coaches and he has allowed me one more. He's more than double my age but he'll have experience to pass on. I reckon he's a bit of an old stalwart. I think I'll call him Sarge.
We also have 90s hero Mark Crossley training the keepers, so things will be fine. I'd like more coaches but I'll make do with what we have for now.
The comparison table to the rest of the league is now looking rather splendid
The squad itself isn't bad. Shola is a player with Champions League experience with a goal in the Nou Camp to his name, so I'm not worried about that. He'll be backed up by Jon Stead, who is also a human male. He has played at a higher level though so they're a useful pair. The standout player is Jorge Grant, on loan from neighbours Nottingham Forest, an attacking midfielder with a bit of flair who gets 4.5 stars on the coach report. I'll probably build the team around him. Michael O'Connor looks like the grit in the team, but he's out for most of the season, and Liam Noble arrives in January for some reason. So I might source a short-term replacement there. Otherwise, though, we're maybe a couple of defenders short from a depth point of view, but we can rectify that.
Recruitment then is my next port of call, but as the club has one chief scout and one data analyst, I think it's fair to say there's work to be done.
Therefore I'm pleased to sign Tommy Miller from Spennymoor. He's 71 but his judgey stats are excellent.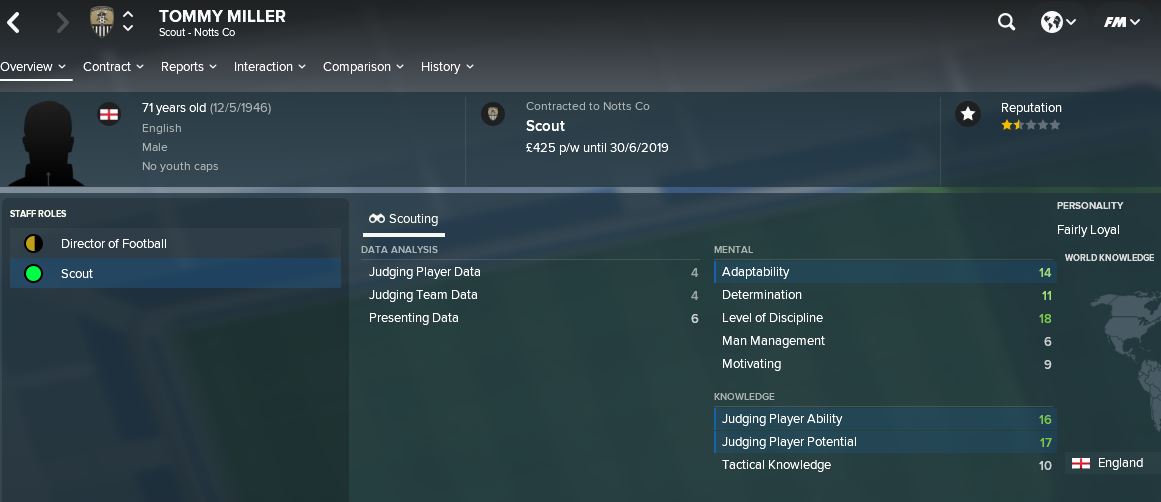 I guess his presenting data stat is low as he'll be crap at Excel. He can get to work on finding us the next Shola in between having naps.
Some joker has booked us a friendly with Rangers in 16 days. It's all about fitness, unless we win in which case it's a sign of things to come. However, my attention now turns to what I consider my achilles heel…tactics. They are quite important, but I have more reading to do. Suggestions welcome. See you for part 2.