Welcome back to Carrow Road. You may remember last time I was poking the board with a rather large stick asking for some money to spend. They've relented, and we've not won in nine games. Are the two related? Quite possibly. But I'll be the bigger man and carry on. Spurs are coming.

The run is OVER! It didn't look like it would be for an awfully long time but my two jewels in the crown scored. Both had frighteningly small release clauses, but both now have bumper new contracts and £15m release clauses. Everybody wants a release clause here, it's a massive kick in the tits, I'll be honest.
Anyway, what do you do when you have £110k to spend and the board won't give you more? You scout Sweden and set your budget to £100k. This is the best I could come up with.
He'll do. He's not 38 which makes him a longer-term option than Aldair and he's able to put his boots on the right feet which puts him above Lee Wilkie in the pecking order. We're laughing. We're soon not though…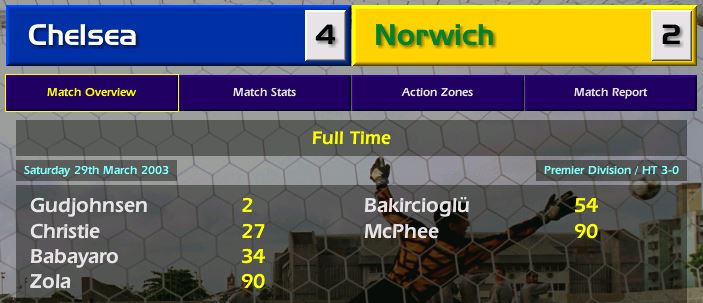 That defence is going to be useless forever. As if to prove that point, we manage to proceed to the triangle of doom – Akinbiyi, Impey and Savage.
Whilst I scramble around trying to see if I kept the receipt for Ola Nilsson, it's good to see players around the country are all in on the same practical joke and vote Celestine Babyaro as the second best player in the league.

Mind you, both of my top lads made Team of the Year, and poppadom hands Friedel made the bench.
On we go then and it's the Old Farm derby. The players are stinging after losing at home to this lot but there is no repeat here. We're stronger and have an Egyptian prince in the middle of the park, backed up by Darel Russell. It's comfortable.
Bursting with confidence, we charge into a 2-0 lead against Liverpool. At half-time, Jari Litmanen is fed raw meat and we can't handle that.

Fortunately, we're all but safe at this point, and a hat-trick from king Kennedy more or less secures us a second season of Premier League football.

Lovely Kennedy. He carries that form on to get us off and running against Southampton, on our way to a handsome win.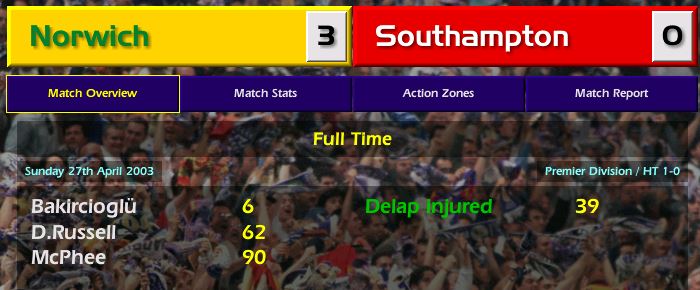 With Premier League football secured, normal teams would release the handbrake and play with freedom, but seeing as we do that in every match anyway, we're just going to ruin some dreams. Leeds need to beat us to remain top of the league with just two games to go, but it, in fact,ct them who snatch a late point thanks to Mark Kerr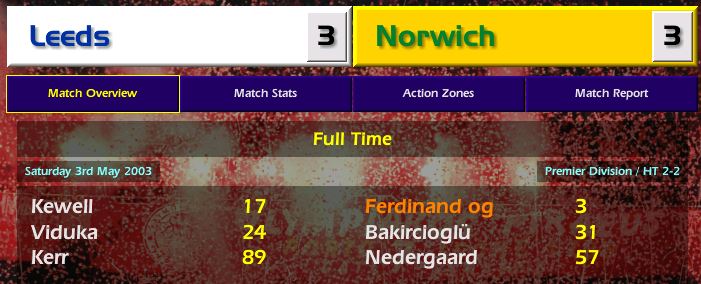 Remember how Wolves won Division 1 at a canter? They can't handle the Canaries. Jamie Victory scores the last goal of a ridiculous season.

It means we finish the season 10th, which I am more than happy with. We're the division's top scorers, though we have the third worst defence. We are definitely the entertainment in this league, though Middlesbrough finishing third is impressive.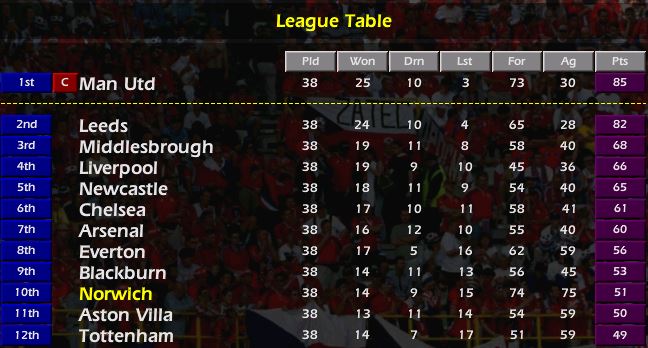 I applied for the Inter-toto place but Blackburn took it. I'm not too bothered by that though, as if I can sort the defence out we can have a crack at the top 7 next season, provided nobody leaves. Kennedy finishes as the top scorer in the division.
Not bad for an attacking midfielder. Him and Said were the obvious heroes, though Friedel was very, very busy and McPhee can be happy with his contribution of 15 goals on his first season in the top flight.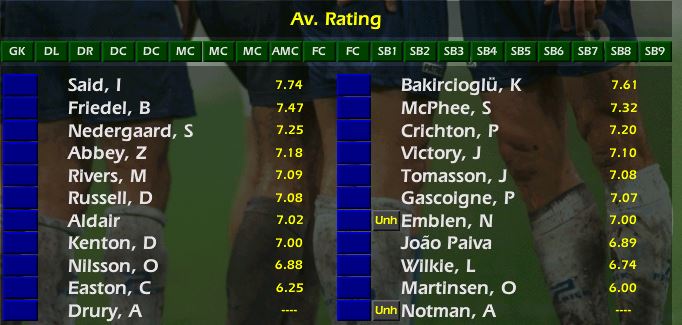 We've moved early to sort the defence out. Philippe Mexes is out of contract and I've managed to get him on a pre-contract, which I find incredible. If my memory served me correctly I thought he was a bit of a legend on this game, but maybe it's a bit early for him. He's got to be better than Wilkie though, and he can only improve.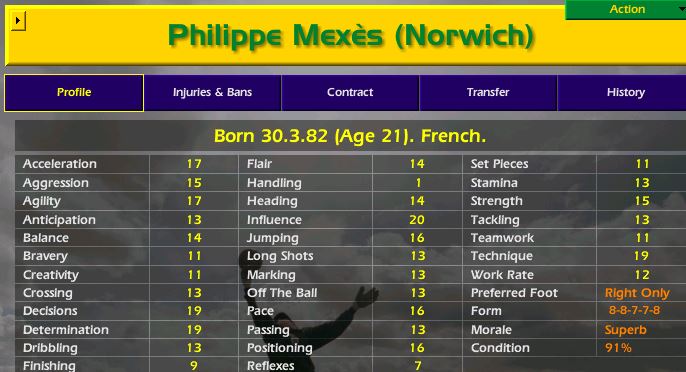 He cost NOTHING. Money day arrives.

The board obviously don't think 75 league goals is something to build on.
Incredibly, I have £16m to spend. It's going to be quite the summer!

On that note, I'm off to sign more attacking players and worry about the defence later. I'll be back with part 7 in the New Year, I don't see the point in bringing you part 1 of season 3 then having a few weeks off for Santa, so try and keep your excitement under control. Have wonderful Christmas times, bye for now.