Now that the virtual version of Damon is back in America and has written a Major League Soccer guide, I've decided my next piece of business should be to manage an international soccer team. Back in the summer, I dabbled lightly in international soccer when I was in charge of Australia, but that was more of an afterthought to forward my own agenda by capping my own Australian youngsters to add to their value and pedigree as Central Coast Mariners players. This time around I have decided I want to focus my attention solely on being an international manager, with my nation of choice being my home nation of the United States.
Following consecutive losses at the start of the fifth round of World Cup qualifiers, Jurgen Klinsmann was relieved of his duties as the US Men's National Team coach by US Soccer. In his place, they hired the former USA and Los Angeles Galaxy coach Bruce Arena. I'm not going to lie, I was against the hire from day one. I feel like he's a relic of older times, and with the advancement of the US soccer program, he's out of his depth. I feel vindicated now, as the USMNT has failed to get out of the qualifiers for the first time in 30 years, and Arena has since resigned. Like any other Football Manager, it's gotten into my mind that I think I can do better than Bruce Arena, so I've fired up Football Manager 2018 for my first save commitment since the full release and my short-lived FC Dallas beta tenure.
My goal as the USA boss is first and foremost to put forward as strong of a World Cup showing as I can in 2018. While a failure to make it to the World Cup isn't a major setback to US Soccer, I see continuing our previously strong World Cup showings as crucial to the development of our domestic soccer program and players, and I'm going to use the World Cup performances to gauge the quality of my players for future performances as I set up a legacy as the boss of the USMNT.
Speaking of our players, while we do have quality young domestic players like Kellyn Acosta in our ranks, most of our squad's strength is in older talents like Brad Guzman and Michael Bradley, both of whom have years of service abroad under their belts, and we have younger players like John Brooks and Christian Pulisic currently abroad.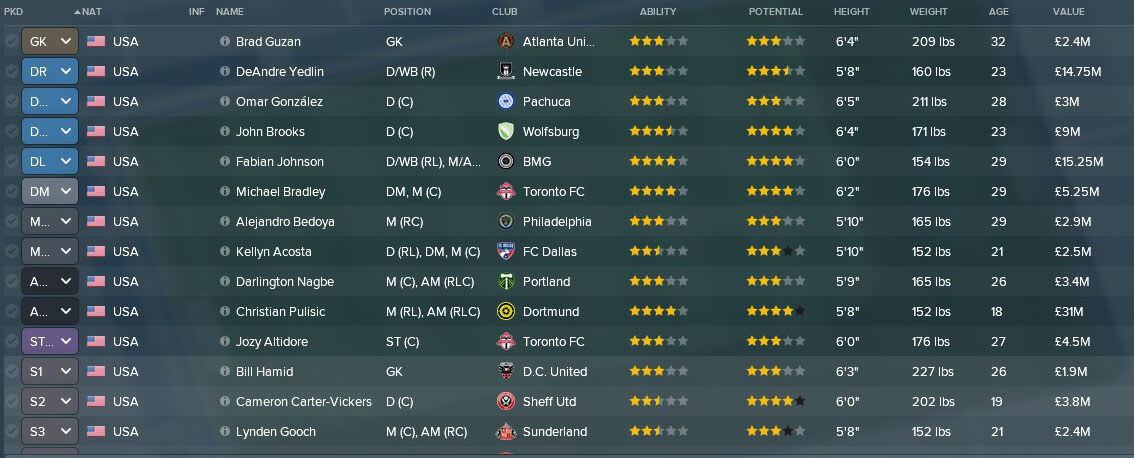 While I have a preference for domestic talent, the fact of the situation is that while our domestic players are becoming increasingly better, we've currently got to rely on our players who have experience abroad to put our team over the edge for the short term.
I don't know how instrumental international experience on its own is for players, but I'd like to eventually phase in younger domestic-based players. It's my hope that if I'm calling up and playing the best of our U-23s with the senior team it would influence other teams' interest in developing these players to their fullest ability instead of looking at other options.
Going over my objectives for this series, my immediate goal is to put in as strong of a World Cup showing as I can. Since it's a new game and year, I've decided to focus on using my own tactics instead of cheating like I always do and using someone else's, so this could go horribly wrong. If I've survived the World Cup, I'm going to analyze the state of the squad and look at who impressed me or didn't impress me during the year leading up to and through the World Cup, and I'm going to focus on making my domestic-based international squad for future competitions.
Tactically speaking, I don't have a solid idea of what I want to do or what will even work. Tactics are something I've tinkered with, but have never quite mastered during my four years of Football Management.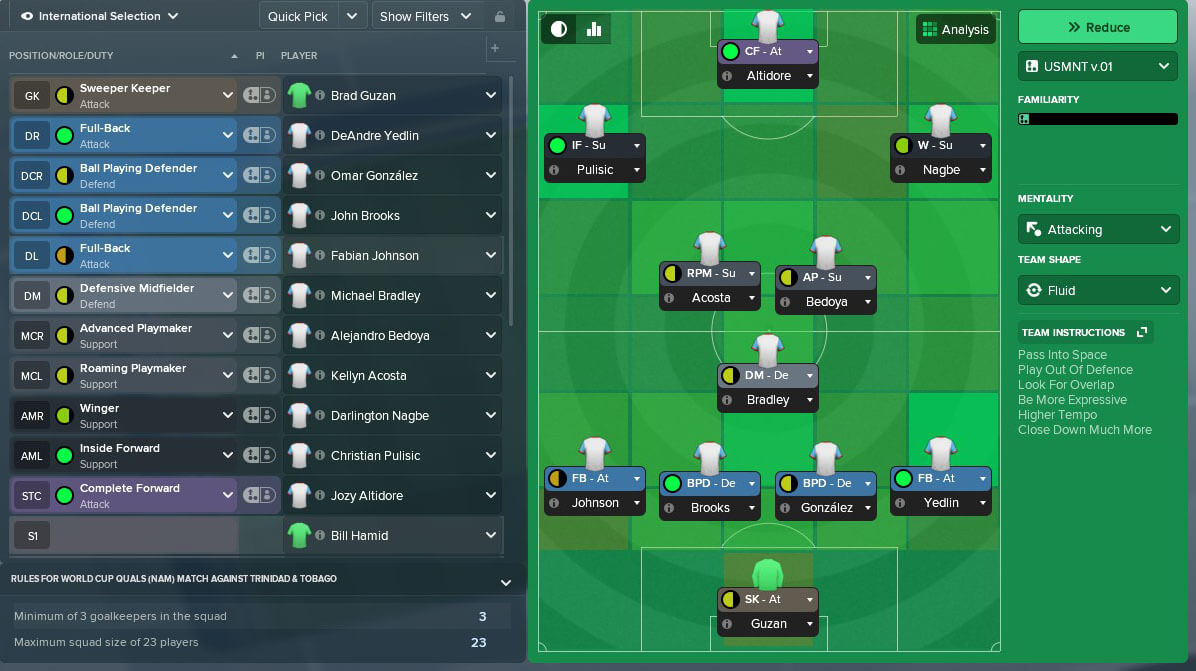 This 4-3-2-1 with a defensive midfielder is my first thing I quickly threw together, and hopefully, it will work, but I'll likely have to be making changes as I try to find what fits.
This is what I have set up for Day One in charge of the team. It's all subject to change, and in part two, I'll look at the performances and attributes of the top US players in more detail and decide on a starting eleven for our first international run.