Well, would you look at that.
Having gone unbeaten for the first eleven or so games, the players were bitching and moaning about me not being the gaffer for them. Oh, they love a team meeting on FM18 don't they?
Yet, Skive hit a tricky patch in the run up to qualifying for the Promotion Stage and, frankly, our form within the Promotion Stage has been slightly less consistent than Liverpool's back line.
And then this.

Whoa there boys, satisfactory? You flatter me.
No, actually NOW you flatter me!

Average? Hell, we will take that.
Things could be considered to be settling down in Denmark.
So where were we? Skive had qualified for the Promotion Stage where the four best teams from the three groups play off in a new league and the top two get promoted.
We had four months to pass before all that good stuff though, so I thought I'd have a quick flick through the books.
I had decided that my main plan this season was purely to get through the season employed, and worry about things like finances and scouting once I felt a little more stable in my career.
And with "average" being the word on the Skive street, I felt it might be worth a nosey. Last time I checked, we had a bit of cash.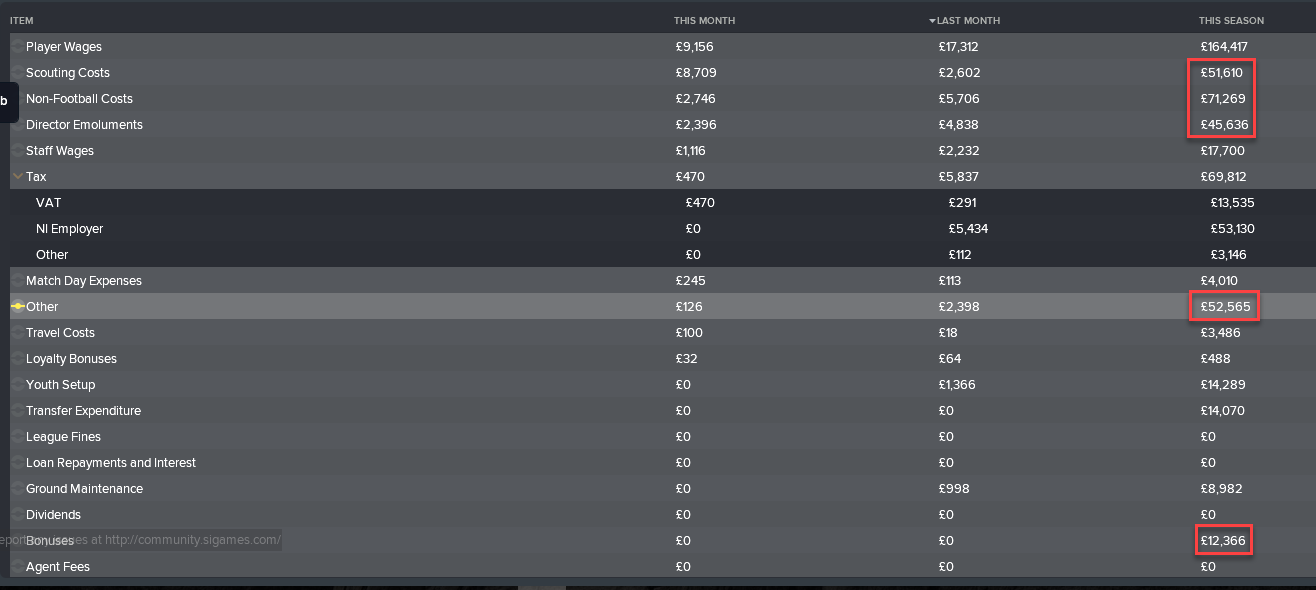 We don't anymore and we seem to have some culprits as to why – even discounting the fact we've not been able to have a match for three months due to the winter break.
– Scouting costs – a little on the high side, will need to look into that and cut back
– "non-football costs" – er, you what? As ever, FM doesn't tell us what they are so I cannot manage them
– Director – why the sweet jesus are the directors getting all that money?!
– Other – ah, other. Again, not a scooby what this is.
– Bonuses – finally one I can control.
So, not the greatest set of outgoings I have ever seen.

This is helping me learn where the trends are for income, as for next season I will be nailing down every penny and getting this club to break even at the very least. It's good to see a fair whack of sponsorship cash in there. We need more than gate receipts to keep us alive!

I always see this screen as a challenge, more than something set in stone. A bit like the time of arrival on SatNav, can we beat it?
Anyway, Skive have got about the business of trying to finish in the top two because that is what the board demanded of me at the start of the season.

It was a solid start, a start that saw us sitting pretty top of the tree. Had the inconsistent streak come to an end? Was it going to be plain sailing?
Was it balls.
Not a single win in the next five league games and we plummeted to 5th. 5th! And we went out of the DBU Polken on penalties having been superb against Odense. That really hurt that one.
But promotion was looking far from guaranteed.
I tinkered.
I KNOW!
But I didn't tinker much.
I abandoned the trequartista in the 4141 and made him a target man. I listened to my coaches. And I flicked us on to "work ball into the box" which kinda felt contradictory to the whole target man thing. And boom. Boom indeed.
Look at them carrots.
5 out of 6 wins, clean sheets in all the victories. We are back on baby, we are back the fuck on!
The defeat was deserved, we were rancid against Avarta who lead the league with a single match to be played.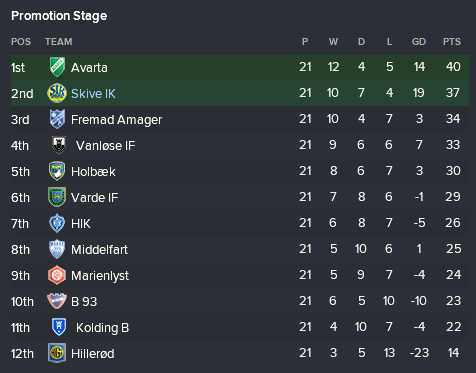 We are, to all intense and purposes, promoted. It would need a 16 goal swing for Fremad to do us. But, the confetti has not been thrown over the players yet, I want us to smash B93 (didn't they record Love Shack in the 1980s?) and do it properly. We could still win the title, that would be alright.
However, Avarta play Middlefart and I cannot see them losing that.
But, but but. This failed manager right here, the guy bombed out by Brescia. He is back doing what he does best. Winning promotions with unfancied teams you have never heard of.
And that makes me feel a lot better about myself. You know, deep inside. My dogs are happier too, as I have stopped kicking them.
I'll be back tomorrow, adios!