"Look, you are tainted goods after Brescia. If the bottom teams in Italy won't touch you then you're going to have to go somewhere else. I can get you into Greece or Denmark, you choose".
My FM18 agent
---
And he was right. Italy didn't want to know. I had four interviews after Brescia, all of them with teams bottom of the Liga Pro and I didn't get a single offer.
I sat it out, June would arrive soon and then I could see what doors opened in Greece, Hungary and Denmark.
Not that many, it would appear. Weeks went past and eventually I got a chat with Panianos (or someone like that) who had finished very low in the Greek 2nd Division. The chat went well, and I started to imagine leading out their side at their 500 seat stadium. Olympiakos eat your heart out.
They offered me 200€ a week and a one-year-deal. I asked for a week to think about it, hoping my agent could find me something to at least compare.
And then the call from Denmark came, Skive IK were interested in me and without even knowing too much they became my first choice.
Why? Well, honestly, the potential to flip the name of the series to something Skive related was a factor and I also liked their kit. But, more seriously, Denmark is a footballing nation that has fascinated me for many, many years.
Get a brew, I'm about to go on a nostalgic trip yet again. Or just skip this bit…
Jesper Olsen. That was the first time I really even knew Denmark played football. He was a rarity at the time, a non-British or Irish player playing in the First Division for Manchester United. Back then, English clubs used to sell their players into Europe quite frequently. Even the likes of Frank Stapleton played for Ajax and people of a certain age still wonder how the hell Terry Venables thought he could get away with taking Stevie Archibald to Barcelona to replace Diego Maradona. Jesper was a flying winger for United, though English Football never really saw the best of him. After realising United had Olsen, flicking through my Panini album also educated me on Jan Molby who remains my all-time favourite Danish footballer (sorry John Jensen). Jan was good enough to be slightly on the porky side and still play fairly regularly for the greatest side in the 1980's in Liverpool. He didn't move much, apart from the goal you can see below, but he didn't have to. He could pass a ball like nobody else and learning English in Liverpool gave him an accent that could not be rivalled.
Oh, that goal.
Not bad for a fat lad, eh? Even Micky Quinn was impressed.
Anyway, Denmark popped up again in 1992 winning the European Championships despite being on the beach a few weeks before. They had Peter Schmeichel, soon to become the best goalkeeper I had ever seen play. They had John Jensen who Arsenal fans saw score a screamer in the final against Germany and believed they were finally signing a goalscoring midfielder.
There have been amazing Danish footballers throughout time really. What about the Laudrup brothers? They could do a bit. And don't forget that Kasper is following in his father's footsteps in the Premier League.
So yeah, Denmark. I've never managed there and I was delighted to get a contract offer, you know, considering my name is mud.
Skive IK were relegated from the Elitedivisionen in the 2017/18 season, dropping down to the 3rd tier of Danish football. For some utterly unknown reason, they saw enough in my brief spell at Brescia for them to believe that I was the man to get them back there at the first attempt. Crazy fools, eh?
I signed a contract for one year on 200€ a week. To be fair, at this stage, that's probably more than I am worth.
Rather than rock up with any grand plans or aims, I decided to set a few smaller goals for myself.
– Still be in a job by the end of the Group Phase
– Get the team into the Promotion Phase
(simply, the Danish season at this level is broken into two parts – first part, three groups and the top teams qualify for an overall promotion group where the top two sides go up).
How the hell was I going to do that?
By KISS. Google it or ask your Dad.
4-1-4-1.
Don't make it too complicated.
Keep the players onside where possible.
Hope.
The Skive squad was decent, in fairness. There was a decent keeper, solid defenders, plenty of options out wide and a few faces to pick from as the striker. What they did not have though was any semblance of a central midfield whatsoever. Fortunately, I quickly learned that the club has a link with FC Midtjylland! I didn't abuse it, I just brought in the five players to boost our squad.
Now, I knew it was going to be tough after my previous experience but to be informed of this on my first day was a little harsh and not very welcoming.

I mean, give me a chance lads. We've not even put on a training session yet.
Despite their initial reservations, we got the pre-season campaign underway.
I really felt good after the first match, I can tell you, having spent an hour putting into place the 4-1-4-1 and then feeling pretty confident I had nailed it. But, as you can see, things started to improve little by little – maybe sticking to one approach was potentially going to pay dividends?
The Autumn Series was going to be 14 games long and the top four teams would go into a twelve team Promotion League. Just to add a little bit of pressure, the board are (as you would expect) expecting us to win promotion at the of the season. I was sticking to my initial aims – stay in the job long enough to get us into the Promotion League.
Oh, and maybe have a little cup run if possible.
Six clean sheets from the first six league games, ten clean sheets from the first thirteen games overall. Oh, and unbeaten. I'm back baby, and the squad must be eating out of my hand, hanging off my every word, no?

Er, no.
Now, I am not saying that SI might have the dynamics thing slightly out of kilter in BETA but come on. Top of the table, unbeaten, winning, scoring and not conceding and the players want me out? Bless them, they don't like being shouted at. I have to admit, I am continuing my half-time bollockings no matter the score and they shall continue. They are working this time.
Granted, all bar two of the lads simmered down after the meeting but the trust had gone already. If they still hate me when we are winning, what if we go on a bad run?
Oh bloody hell.

Here we go. They've downed tools. Awesome. If they kept that up, we'd only just scrape into the Promotion League.
Next up was Superligaen side Randers FC in the Danish Cup. They were top of the league, we were out of form and the players were working to a new agenda. Paranoid? You bet.
Well, would you look at that. It turns out some of the old magic is still there. I've not had many cup giant killings over the years, but that one is top of the list now considering the circumstances. That has booked our place in the Quarter-Finals, and it was fully deserved. We dominated the ball, and they barely had a shot on goal. However, at half-time, I massively screwed up and clicked the wrong team talk and saw the entire squad turn red, pressurised and demotivated. The fact we dug in and won was nothing short of a miracle, frankly.
The players are back on board, let the good times roll!
Oh do one, will you. What's that about? Those boys weren't even in the play-off places.
Fortunately, we won the final Autumn Group match against the side who had led the group for most of the season – Middelfart. Therefore, the group ended as such…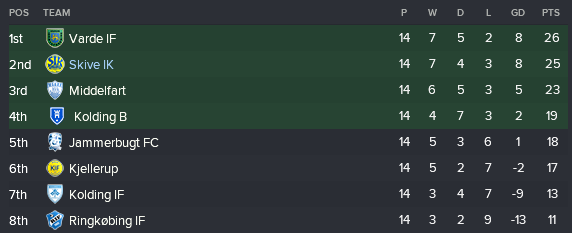 Result. I have achieved the first part. I still have a job (fortunately the board are more impressed with me than the players seem to be) and we are into the Promotion League.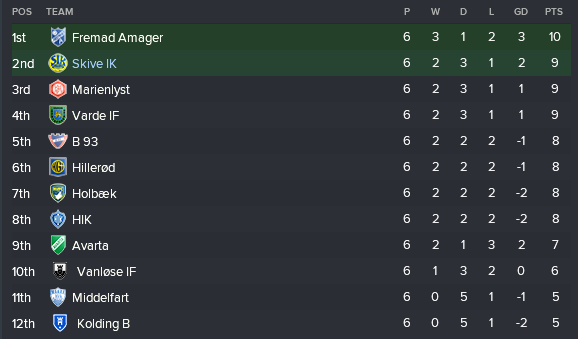 I have absolutely no idea how this table gets worked out, but somehow we are above Varde despite finishing two points behind them in the Group. But hey, I've got 133 days until we play the first match to work it all out. 133 days? Yeah, they love a winter break in Denmark so I'm taking the boys to Spain for some warm weather training.
What's in store for the second half of the season?
The board want promotion, understandably. We've been made second favourites to win the league behind Fremad, who were also relegated last season.
Outside of the obvious, there are a few other things I would like to get to grips with in the second half of the season.
Other than bringing some of the boys in on loan, I've barely explored the world of scouting. I signed three midfielders off my own back, following the scouting report thing (ugly screen) that pops up in my inbox from time to time and they've done quite well. But we have no real structure in place yet, and I am keen to start planning for next season. My scouting will be going back to my beloved StS methodology that I've talked about before, and I will write up that approach once we get there.
I also want to delve deep into the finances. We've made 44,000€ profit so far this season, and I don't really know how or why – so I need to get my head around that. You can also expect a Balancing the Books type piece in the future.
Anyway, that's enough Skiving off today.
Ciao. Actually, scrap that.
Farvel!