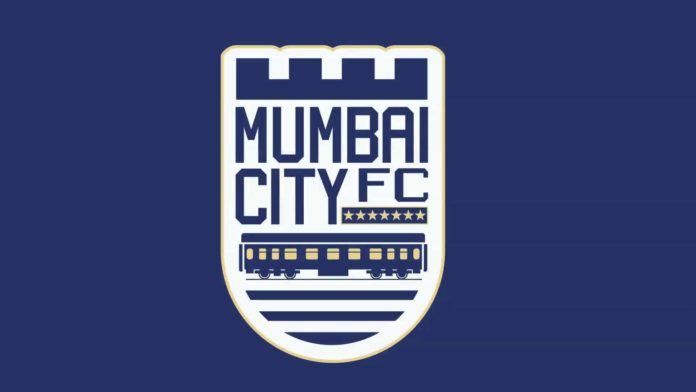 Welcome back to the Mumbai Express, and we've got a corker of an update for you today. Why's that? Because we take our first little baby steps towards the Continental competition of the AFC Champions League.
What do I say time and time again? Check the rules of the competition you are entering, make sure there are no nasty surprises. I did this, I promise I did, and I learned that we'd have to get through two qualification rounds and that we could only have four foreign players on the pitch at any one time – three non-Asians maximum. Two legs, I'd presume and all the usual stuff.
So imagine my disgust, shock and horror as I learned that it was four foreign in the whole squad (I know, I should have recalled this from my days in Japan) and not just on the field – meaning I had to leave out Kim (signed purely to be the backup in the continental squad) and Gustavo, our star midfielder. Leaving out Gustavo is tantamount to Sir Alex Ferguson having to leave out Roy Keane or Ryan Giggs back in the day.
But OK, I made that one single mistake. What's that? There's more? Really? Yeah, 'afraid so'. It's a single match knockout, not over two legs and as the lesser seeded team, we would be on our travels – no taking them back to Mumbai for a second leg.
So we were off to Uzbekistan to play Bunyodkor – no, me neither. They were huge favourites for the game and I was lining up with a team that I wasn't 100% confident in. Back in the side, at 78% following ankle ligament damage was Israilov. Had it been two legs, I'd have rested him but this was shit or bust.
We dominated the first half an hour, moving the ball quickly and creating several chances – none of which we managed to hit the target with. Then, disaster. Kimkimi clipped their striker in the box and the ref pointed to the spot. All eyes were on Singh in goal. He guessed correctly, got a hand to it and the ball went in slow motion on the bar…. and bounced out to safety!
The game was a proper dogfight, neither team giving an inch and chances were hard to come by. I took the kid, Dawson Dias, off at half-time as the occasion seemed to be getting to him and we kept pushing in the second half. Eight minutes to go and the ball fell to Milan on the edge of the area. He dropped the shoulder, got on to his right foot and curled one top bins! The opposition were done, and we were through courtesy of a goal from the player with some of the worst attributes I have ever seen.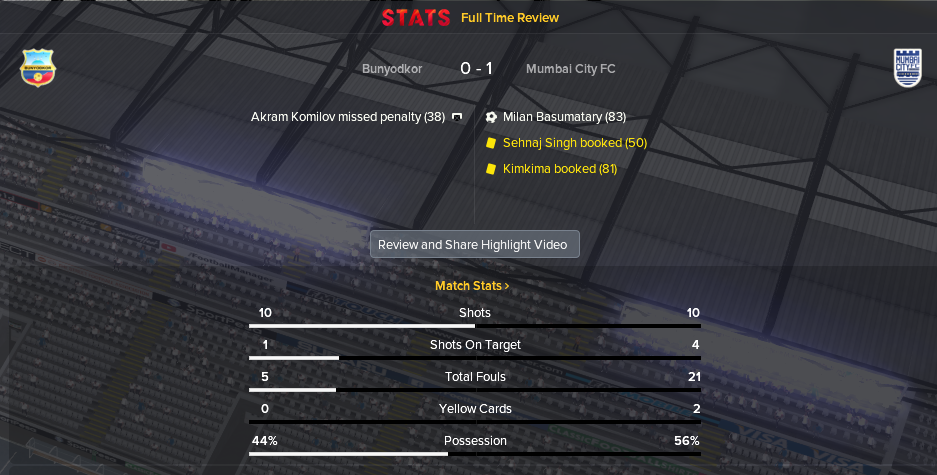 Of course, it doesn't get any easier…
Al-Rayyan are from the Qatar Star league and are absolute moneybags. I would suggest our journey comes to an end here.
As would the pundits…
I was able to name the same XI again, having rested a few in the ISL match in-between. All we could do is defend well and hope our style created something.
Turns out, we defended well but couldn't create enough to score in 90 minutes.
Or in extra time.
Penalties!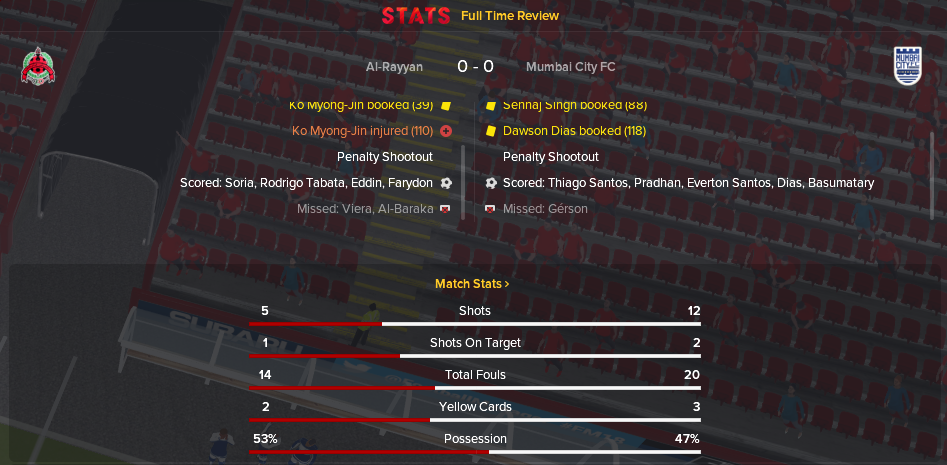 It's that kid again being a hero. Milan stepped up and took the sudden death penalty and sent us into the Group Stages. Incredible, I genuinely did not think we would go through.
Back in the day job, the ISL, we did this between the two AFC matches.
I rested several of the team and we still managed to hammer Bengaluru in every way imaginable.
That means the league table looks like this.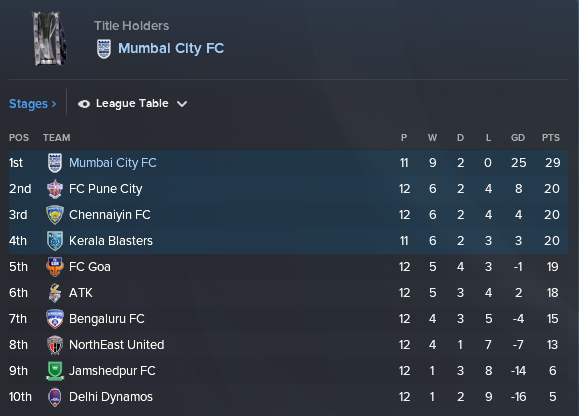 Seven ISL matches remain for us and I would be amazed if we didn't finish the regular season in top place.
The team from the capital city, Dehli, are looking to nail down consecutive bottom place finishes and Jamshedpur are looking likely to finish second-bottom for the second season in a row. I think we will see splits within this league quickly, due to the difference in money for winning the title down to finishing bottom. I've made a note that if I update the database for others to use that I should make the money spread more evenly and improve the TV revenues.
We have the draw for the Champions League groups very soon and I am looking forward to knowing where we might be going. Imagine if we could win that at the first attempt as well?!
The new knowledge around the squads for Champions League football means I will be drawing up a new plan for next season – I will have the ISL squad down to the bare bones in terms of foreigners, it seems daft to have top players unable to play in the CL. It means we might initially be a little weaker in the ISL, but the long-term dream is to have an all Indian squad, so we can make steps towards that now. Everton Santos is the obvious man to look to move on due to his age and I have my eye on a young Indian star as a replacement.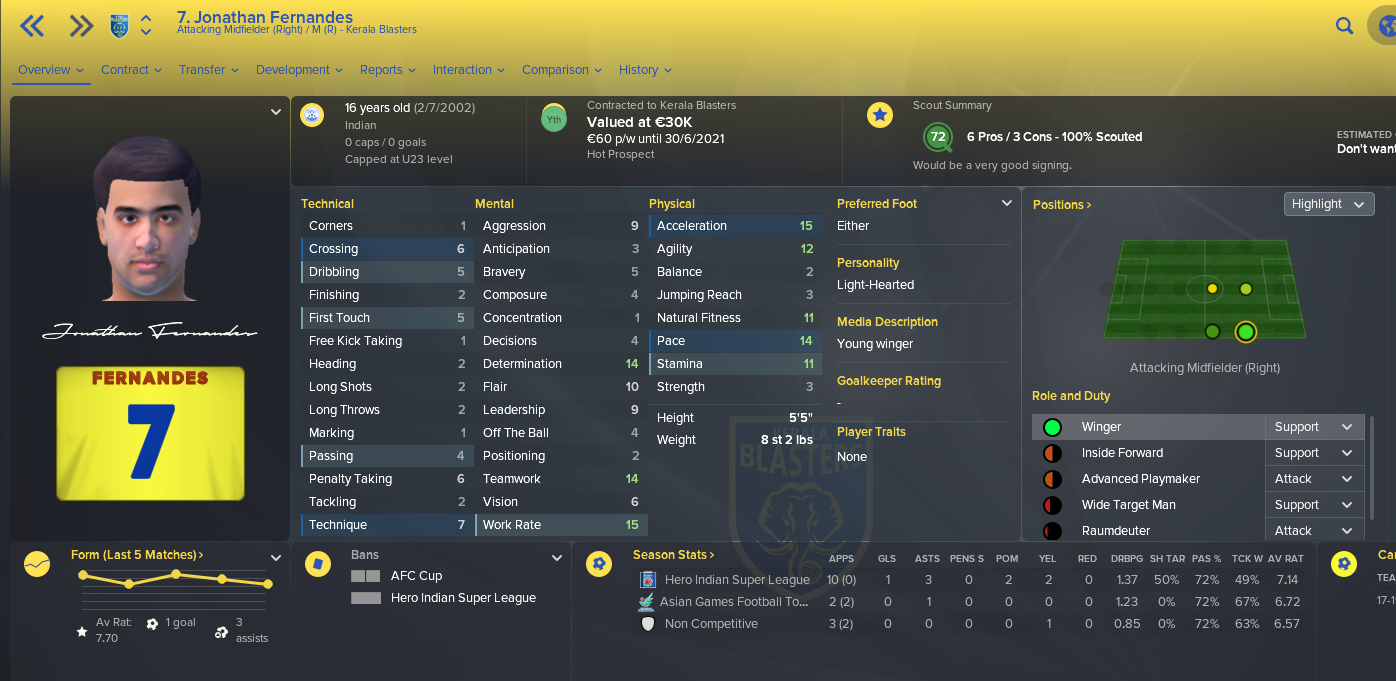 This lad is doing very well for Kerala in the ISL, so ticks a lot of boxes. Sure, he might cost us a bit but I reckon he will be worth it.
I've got my head around the scouting centre finally, and I might do a piece on it over the weekend.
It's going to be a good next session of game time – I reckon we'll get through the rest of the ISL regular season!