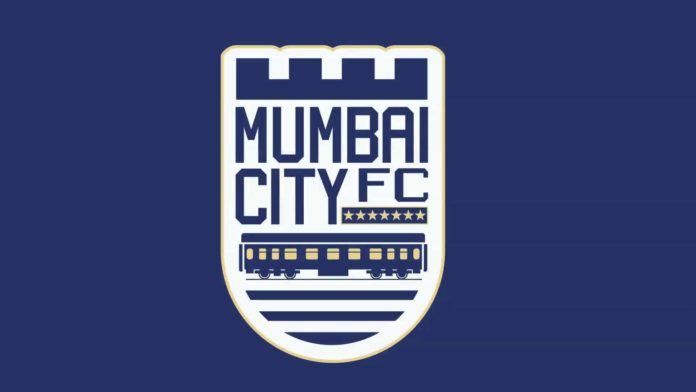 Indian greetings to you all. As you should know by now, Mumbai City FC are the new ISL champions meaning this old fool has won back-to-back league titles since his sacking by Brescia all the way back when FM18 was still in BETA.
Next for us was the Indian Federation Cup, a competition that includes pretty much every single club in India – a massive amount of teams and a cup that I feel is important for us to win (one day) as it still keeps the ISL kinda real to the masses even though there is no pro/rel.
The key point in that last sentence was one day. It won't be this year, we ran out of steam.

It's annoying because we were better than ATK on the night, but we didn't take our chances. Still, it's been a fine season.
Anyway, this is way more important.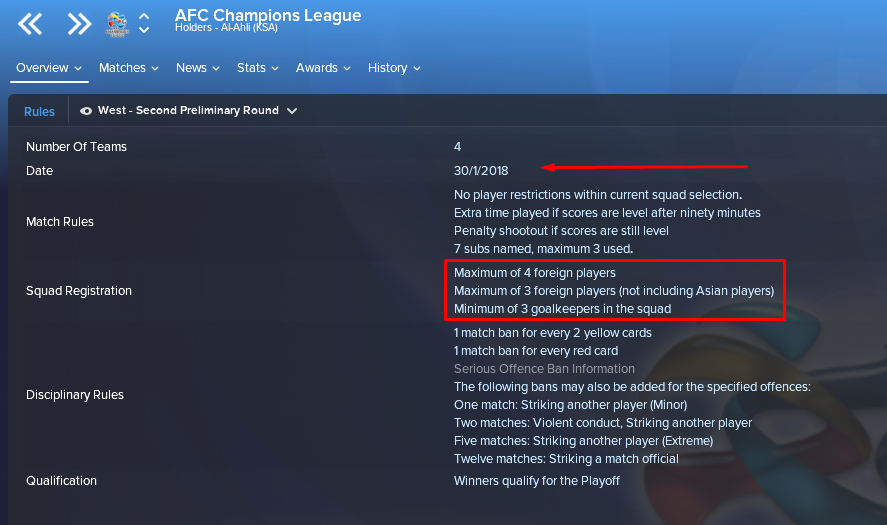 For once I am ahead of the game. I've been stung by not knowing continental rules before and this time I am 6 months ahead of the pack.
3x non-Asian players only. Generally I can see my team having Thiago Santos, Everton Santos, Nathan, Gustavo and Gerson – so that means two will have to drop out and also massively influences my recruitment over the next few months. With two foreign players leaving (Rafa and Emana) I will only bring in two foreign replacements maximum, and one of them has to be Asian now.
This was a big bit of news.
I really wasn't convinced he would sign, and although he still seems to hate me and the coaching staff we get another year out of him.
I spent most of yesterday's playing time trying to get my head around a better scouting system as I am still no fan of the new scouting system.
The first thing I managed to do was this.
There was no way on earth I was going to spend nearly €12,000,000 on new players so I've adjusted it to give me a much bigger scouting budget. I am presuming this will help, though still haven't got my head round it completely yet.
I am investing heavily in the scouting packages now.

Again, I am pretty much going in blind but if this helps us find a couple of really talented Asian non-Indians then we can balance out the South American/Asian quota a bit more to help us in the AFC.
Finally, I spent hours doing some views. You know what is massively counter-intuitive on FM? The fact that you create a view in "scouting" but you cannot use the same view in "shortlist". Pathetic amount of time wasted recreating the exact same thing!
This is what I am trialling right now.

I think it tells me everything I want to know at this stage. The plan is then to create something similar stats based rather than attribute based per position. I came up with these attributes as pretty standard want-to-haves in an ideal world – work rate, leadership, determination, strength, natural fitness, pace, first touch and technique. Notice none of them are technical attributes, I believe/hope we can train them in. This, blended in with some stats checking and some analysis and I think we will create a very good system for scouting over the next few years – basically, I want to cast the net far and wide before narrowing it down to the ones that I want.
As you can see – the same for the shortlist currently.
What I need to do now is nail down the process of how a player ends up on the shortlist and then how he becomes a realistic target. So far it has been very hit and miss in terms of approach.
Up until now I have been bored shitless of the scouting meetings where I get presented about 50 players every two weeks and sift through. I had no real method to putting a player on the shortlist other than if he was under 23 and seemed decent at best. Of course, that is tougher with the Indian players as their potential is often far lower than the South Americans for example.
Now, with a year under my belt, I am getting somewhere. I have a Chief Scout and three other scouts – the Chief Scout now sets the assignments and I get shown only the best report cards. That is saving lots of time. If I like him, we scout more and he will end up on the scouting list.
Now I flick to the scouting list and I see players that have only been scouted in the last ten days, meaning I need to check in frequently. If I like someone on that list, we scout until full knowledge and he goes on the shortlist (which I think I will clear out and start again soon as there is a lot of junk in there).
As I said, the key is to cast the net wide and then narrow down.
I think a little more clarity around "if I like someone on that list" is in order. I am checking all the things on the filter – age, position, personality, preferred foot, scout recommendation etc. Attributes are checked, but it is no bother if they don't have all of them in order. As the season gets underway again I will hopefully have the key stats views set up as well so I can add another layer into the process – I mean, what is the point of having all the attributes if you don't do it on the field? Equally, if you do it on the field but have zero attributes worth talking about you might also be worth a punt – remember Milan? He looks crap but is a fine player for us. I am looking for the diamond in the rough, and they can be found in strange places.
It is all very much a work in progress though.
I also need to nail down a much clearer strategy about deciding who becomes a signing – rather than the impulsive "you'll do" approach to date.
We have some very good young Indian players on the books now. We don't need 50 or so, we just need a good core of ten (I believe) outside the main squad. That ten can change and improve all the time, but what it means is I don't have to rush to sign every single Indian kid with more than 2.5 star potential. I can take my time and make a better decision now.
This boy is a good example of my slightly more cohesive thinking.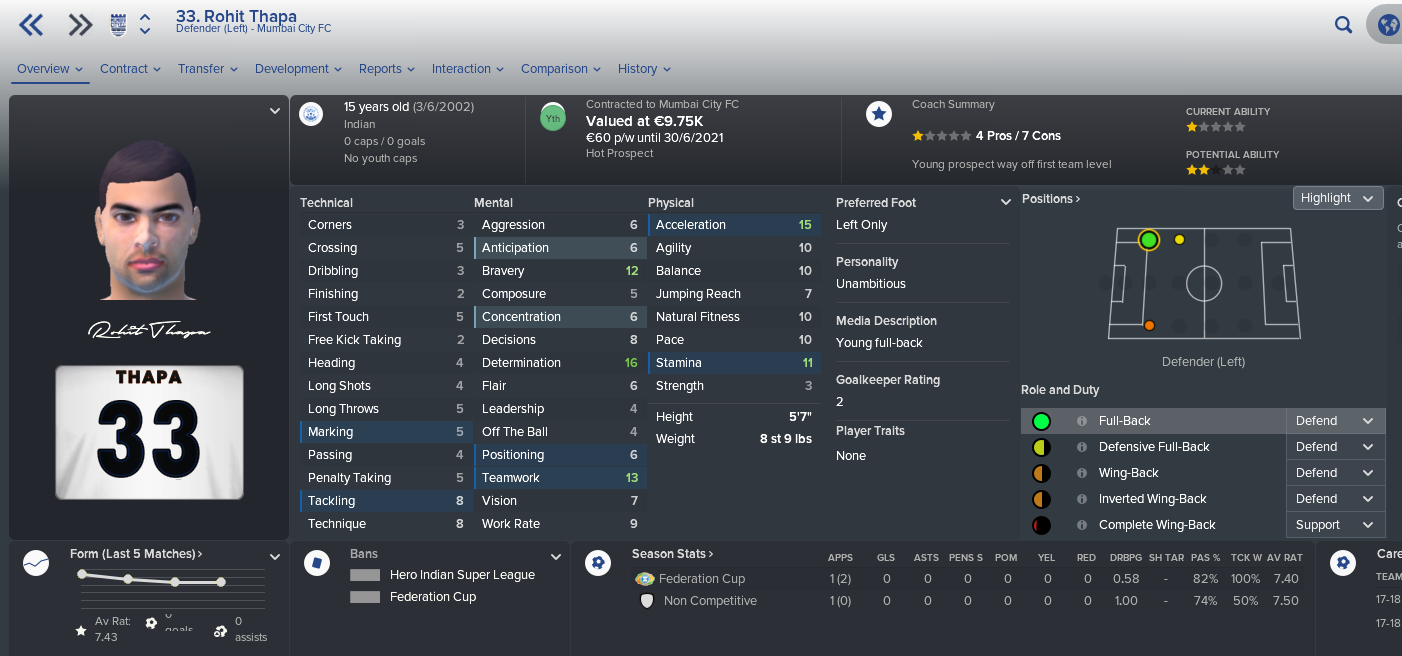 Left back is a place covered for the next two, maybe three seasons I think with Kimkima. But, he does not have a decent understudy and our youth intake did not have one. This kid was on the scouted list with a 46 score – which is alright. He played well in the three games he had for his first team, but that was not a great sample admittedly. However, physicals and mentals are decent and he has a small amount of versatility. Plus, we could take him on a free with no risk whatsoever and see how he develops. He did well in the couple of cup games he played in, but we don't have to rush him at all.
I also moved for this guy, and this was way more impulsive I admit.

He was the highest recommended signing we've had so far and I was able to get him for a mere €26k compensation – I would be amazed if his value does not go up. Initially I was going to sign him and loan him to Mumbai FC for a season as I didn't really need another non-Asian foreign player in the squad. He turned the loan down, so I might put him on the loan list and see who is interested. I can see us cashing in on him in the future.
I do feel we are short of a second striker in the team, hence the shortlist picture you saw earlier was of strikers. The lad at the top is from North Korea, has scored goals in India for years and is very highly recommended. But he is 31 and wouldn't be first choice. We have a kid from Iraq on trial but I am not that convinced by him. It is tempting to bring the North Korean in to be honest, very tempting.
I didn't get this guy first time out, he rejected my contract offer – I might go back.
Could I use him as the backup striker with a bit of training? Possibly, plus he is a good age. Actually, this might be a realistic option plus being Asian he would be useful for the AFC.
Or both?
Decisions, eh?
I'm rambling now.
Time to get back to Mumbai!