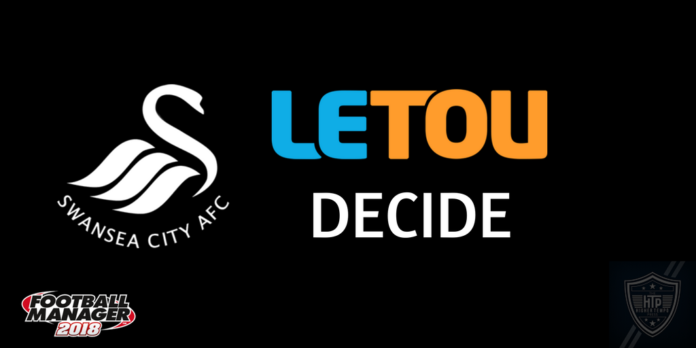 Welcome back folks.
Following yesterday's slightly anti-climatic reveal – I mean, no videos, no big teasing buildup and certainly dramatic music – we are on to the bit of this project that really counts.
Getting you involved, or as it says on the tin, the bit where we Letou Decide.
That's right – we are putting our first public vote out there right here, right now.
When FM18 drops officially on Friday, we are going to simulate the game through to November 10th (or maybe 11th depending on how quickly we are going to get the show on the road) and put our new manager in charge of Swansea City.
And you, you dear reader, you have the responsibility of appointing that manager by reading their "pitch" and voting below.
The manager you choose will be playing Letou Decide in Real Time, meaning there will be daily updates and they will be adhering to the rules explained in yesterday's intro piece.
Vote wisely, but please do vote.
Now, if you then want to be included in the first-ever PRIZE DRAW you have to use the click to tweet function at the end of the piece – this is how we will know who has entered. No click to tweet = no entry to the competition.
The first giveaway is…. A Swansea City matchball signed by the first team squad!
So don't forget to vote, and click to tweet.
Anyway, who has made the shortlist?
THE MANAGERIAL SHORTLIST
Reids (@from_the_wing)
If chosen as Swansea manager, I promise to bring an exciting brand of possession-based football to the Liberty Stadium. I plan to do this by playing a 4-3-2-1 formation that should mean we pack the central midfield area.
By doing this, it'll allow us to build up play well from the back – hopefully creating plenty of chances in the process. It should also allow us an element of defensive stability in that vital central midfield area. Using such a formation will, of course, mean a lack of width that could potentially affect us defensively, however, I have full faith in the defence to deal with any crosses or chances that will come from these areas.
I am proposing something like this for our system:
This should utilise lots of the attacking and creative players at our disposal, whilst maintaining defensive stability, surely we can reach Europe with me at the helm?
Charlie Tango (@CharlieTangoFM)
In all my years of football coaching, I have never seen anything as brazenly unprofessional as this. It's an absolute disgrace and no mistake. I will move heaven and earth to make sure this is stamped out before the rot spreads. Somebody needs to shake these chancers into shape and I'm the man for the job. Confrontation is just a fact of life, without it the players will see cowardice and interpret soft-soaping as an invitation to willfully ignore the rules.
I've only just got here and I can see why Cardiff City need my help, more than that I can see exactly why their ambitions rest between places 11 and 17. The canteen is a place of… conversation… and not the kind about who can rupture a spleen and still finish the game off. It's jovial, smiling, everybody getting along. That has to stop. How can you be expected to destroy your rival for the left-back position if you've been asked to attend his son's birthday party? How will you ever gleefully tweet about his subsequent loan move to Torquay to get some game time? If I even hear the word 'chips' I'm going to Frisbee my plate into somebody's throat. Storm out, that's the only language these fools understand.
The only problem is that storming out just takes us to the training pitch and things are even worse. It's a waste of my time and theirs, especially as the star striker was three minutes late and wandered over as if on a woodland nature walk. He's fined a week's wages because apparently, two weeks is 'over the top'. The centre-half is fined a week's wages for not kicking the ball into touch immediately on receiving it. F***ing head it and kick it is his only job description from now on. Who does he think he is, Beckenbauer? At this rate he'll owe the club money this month. If I see that right winger even reach for his gloves once more, I'll put them in his garden shed and set fire to the whole thing in the dead of night.
It wasn't like this in the old days. Not like at Blackpool, where tactical genius didn't make a blind bit of difference when you couldn't be heard over the planes taking off, or at Galway United, who were just bloody lucky I had nothing to do that summer when the Scunthorpe job fell through. Even the Welsh were grateful when I taught them the Queen's English and the best way to punch Tom Jones in the face.
We'll play a simple 4-4-F'N-2. Flat-back four, two wingers, a ball winner next to a playmaker, target man and shadow striker. Knock-downs, crosses, headers, tackles, what the fans want to see. It's not outdated, it's as crisp and modern as a Swiss railway station.
I'll get this team going. A few more shouting matches. Fines galore. Physical intimidation. Whisky at halftime. They'll learn the hard way. One of the youth players called me by my first name earlier, the level of indiscipline in this shambles of a club has clearly spread to the apprentices. He's been told to bring his exam grades in for checking and fined a week's wages, so is the tea lady. She's put two milk and one sugar in this coffee when I clearly said two sugar and one milk. She needs a training course, that'll be arranged tomorrow, either that or a hearing aid the daft old bat.
This is the way it has to be. They'll learn, they'll all learn.
Eh? Swansea City? Oh, that's completely different. We'll play like the Welsh Manchester City. Why didn't you say? Forget everything I just said, it's been a long week.
Johnny Cooper (Johnny doesn't have Twitter)
I'll be honest. This job has been a long time coming. It matters not that I have been out of the game since 2005. Football still involves eleven men on each side, some grass and a ball so I think I will be alright. Just because I have not been managing in the Premier League for some time now has not made me less of a manager. I've been able to watch and learn, watch and learn. I must have been to over 10,000 matches in the last decade. If I am given the opportunity to lead this wonderful club, they will see the brand of football I made famous at Mansfield Town and Wigan Athletic. We will pass it. We will move. We will score goals. It is time for British coaching to rise to the top once more. The Liberty Stadium is one of the finest arenas in Great Britain and it is missing just one thing. Me and Leathers in the dugout. You only get one vote, so use it wisely. Please.
VOTE HERE
So you have heard their pitches. It is time to vote.
POLL OPENS AT 1500 GMT

The managers you will be voting for are below!

You can read their manifesto later today

— TheHigherTempoPress (@thehighertempo) November 8, 2017
ENTER THE PRIZE GIVEAWAY!
CLICK HERE TO ENTER THE #FM18 #LetouDecide Manager Vote Prize Draw

(from 1530 GMT Wednesday 8/11)

Comp ends midnight Fri 10/11https://t.co/6zDF63XsS0 pic.twitter.com/zWHNdj5M72

— TheHigherTempoPress (@thehighertempo) November 8, 2017