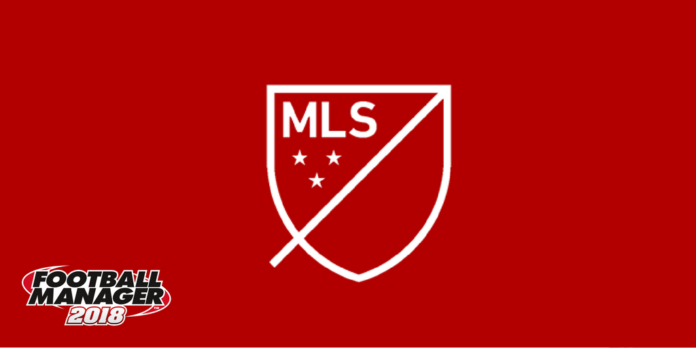 Welcome back to my MLS guide. In the first post, we went over league structure, and in the second post we covered roster composition. In this post, we're going to discuss various topics related to player acquisition, including the allocation ranking, allocation funds, the three main drafts that a Football Manager will experience, and the different ways that Major League Soccer teams can trade with each other.
Allocation Ranking and Allocation Funds
The easiest thing to explain first would be allocation funds. Major League Soccer distributes an annual allocation fund to each of the teams to serve as funds to transfer in players from abroad, be used to cover agent fees, to use in incentives and options with player contracts, as a part of a trade between teams, and to pay it back to MLS in order to buy down the salary cap impact of higher-value players like the Designated Player, as I mentioned in the previous update. While it can be used in different ways that are specific to MLS, it can be roughly equated to a transfer budget for other major leagues.
The next important, yet easy concept to understand is the "allocation ranking". Not to be confused with the allocation fund, the allocation ranking determines the priority of clubs in picking players in the SuperDraft and Re-Entry Draft.
For the SuperDraft, the allocation ranking is as follows: expansion clubs get the first pick of players in their inaugural season, the teams that didn't make the playoffs are reverse ordered by their record in the Supporters' Shield, teams that made the playoffs are placed in the order that they were eliminated, and the runner-up and the winner of the MLS Cup are given the penultimate and last picks respectively.
Basically, new teams or last place goes first, and the winner goes last. This is one of the ways that the MLS structure is designed to encourage competitiveness and parity, by ensuring the worst teams can potentially access the best players first. Note that a team's pick in any given round of the SuperDraft can be traded away to other MLS teams, which will be covered later, so teams can potentially make draft picks out of order or can make multiple picks in one round, and if a team trades that year's pick away in a deal that doesn't involve a pick in return, they will miss that round and have to wait until one where they still have a pick.
Drafts
SuperDraft
Now that the allocation ranking is understood, we can move on to the three major drafts that will happen during an FM18 save – the annual SuperDraft, the annual Re-Entry Draft, and the Expansion Draft, which will only happen at the end of the first season when Los Angeles FC joins the league for the 2018 MLS season and onward.
The SuperDraft is the first draft of the calendar year, and it takes place in early January. You can't participate in the 2017 SuperDraft, but they start annually occurring in 2018. The SuperDraft is a four-round event where teams take turns picking newgens who are in their early 20s. These are young college-level players looking to step up from amateur school ball to the professional game. They participate in a series of "combines" in the weeks leading up to the event. These are practice sessions and matches that provide a news report saying who's been doing well or poorly to give teams an idea of who to look out for to select.
In the draft interface, you can see which team is next up to pick, you can review previous draft selections, and you can review the attributes of draft players to decide who you want to grab. You can pass on your picks and leave the draft at any time and you can ask your assistant manager if he can recommend anyone to select for the team.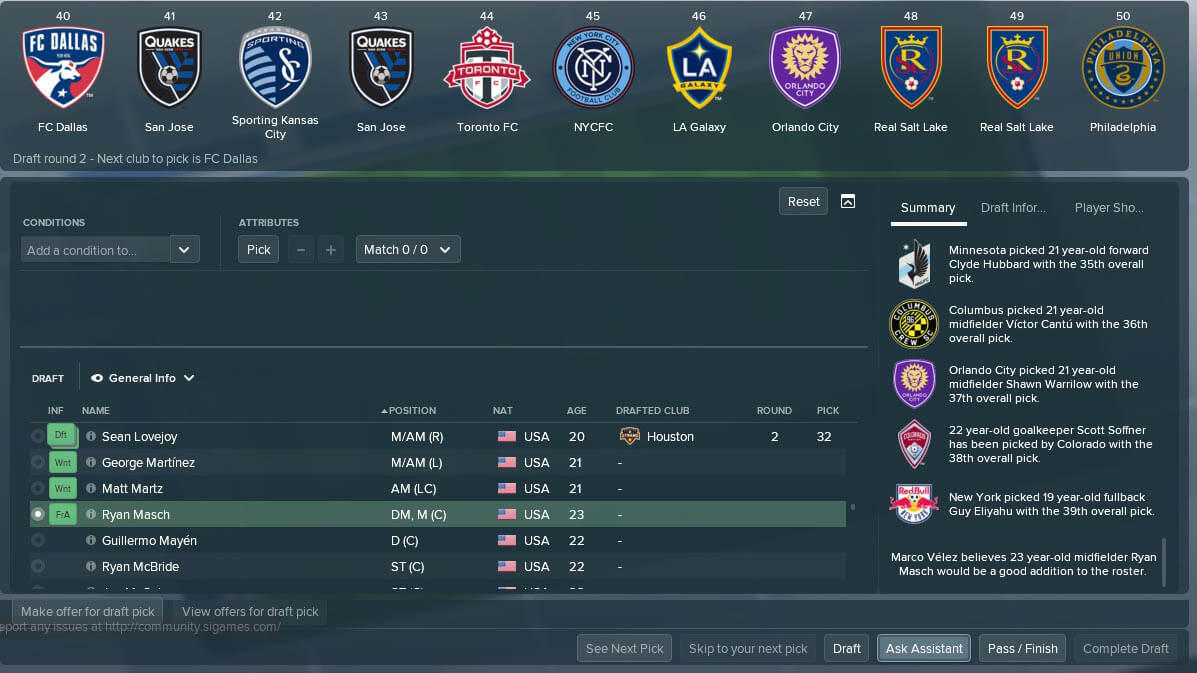 Re-Entry Draft and Waiver Draft
The single-entity MLS doesn't have true free agency, as all contracts are technically held by the MLS legal entity and not individual teams, which is what enables internal movement of players in the league. The MLS Re-Entry Draft, which occurs in December, enables veteran players who are out of contract or whose options haven't been triggered by their teams to be drafted into a new team for the upcoming season, with the team then activating that player's options for contract extension themselves or offering a new contract to the player. These players are all 23 years or older and with experience in MLS. There is also a minor waiver draft for players who have been 'waived' by the teams and allowed to leave, but don't meet the age or MLS service requirement to participate in the Re-Entry Draft. Since they are functionally identical, we'll only discuss the Re-Entry Draft, though.
The Re-Entry Draft consists of two stages of two rounds both spread a couple of days apart. If a team doesn't find a player they like in the draft, they can pass on their pick and they exit out of that stage of re-entry. This draft often turns out poorer quality players who weren't able to make a lasting impact at their, and most of the players on any given year tend to not be worth picking, though once in a while a hidden gem can be found or a decent backup can be picked up.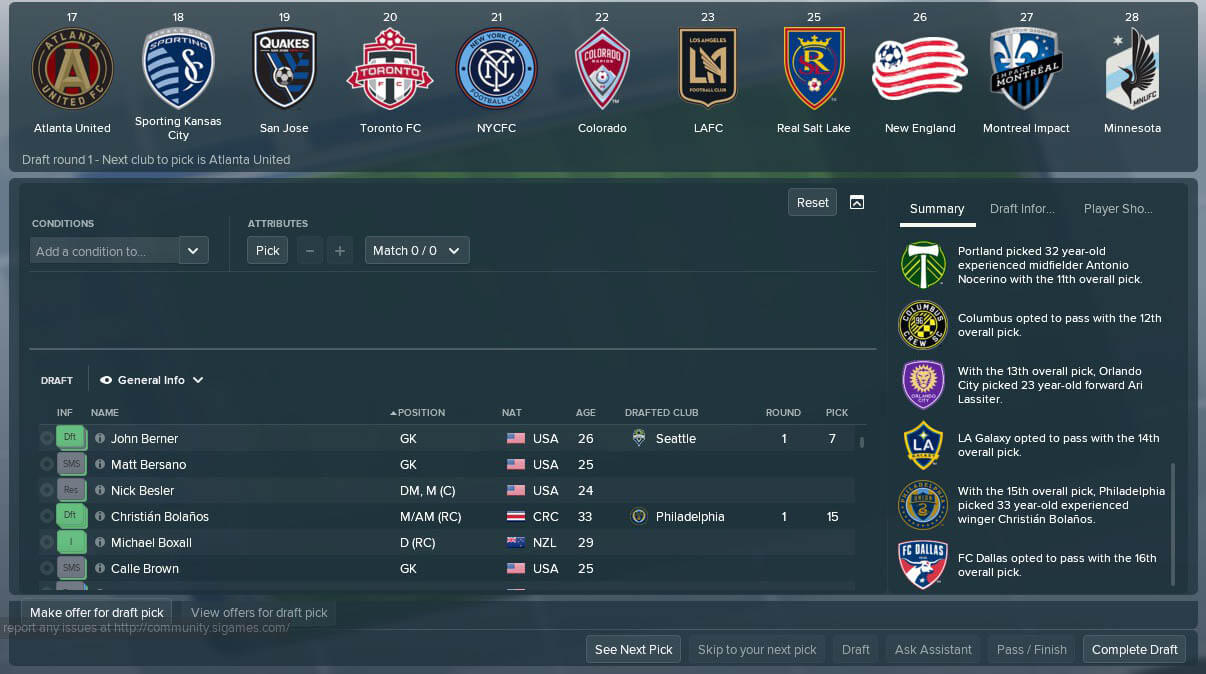 Expansion Draft
The last major draft in the game will occur just one time for Los Angeles FC when it joins the league in 2018. The Expansion Draft is a draft just for expansion teams to help them build up a roster for the upcoming season. In an Expansion Draft, each team names 11 players from their roster as "protected players" who are exempt from the draft, and the rest of the players are eligible to be picked by the teams joining the league in a short five round draft to grab a small selection of veteran players to join the new team. In this draft, LAFC will have five picks, and once a player has been selected, the rest of that team's players are now safe from being selected and return to their original clubs.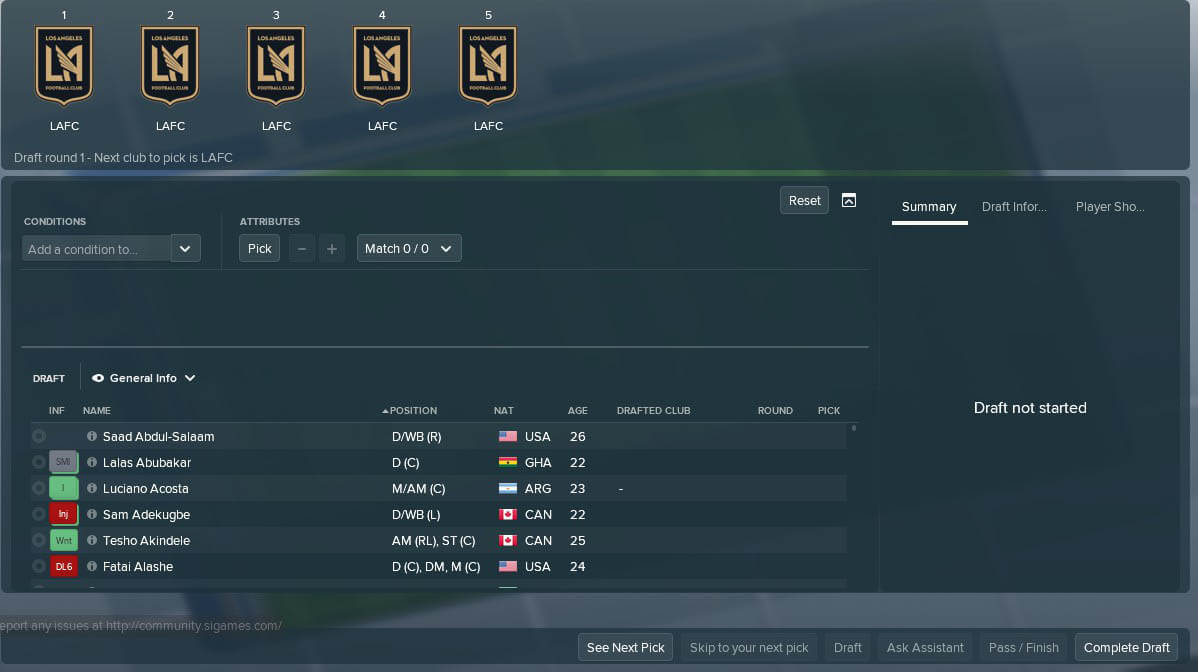 Transfers and Trades
To transfer players into your squad from free agency or from teams outside of the MLS, you can use your team's allocation funds as a transfer budget to place bids with other clubs for their players, handle agent fees, and add incentives to a contract, same as with any other major club or domestic league in Football Manager, easy-peasy. However, there are unique exchanges that Major League Soccer teams can perform with each other.
To transfer in players who are already in an MLS side, we have a system of "trading" whereas you can trade a player for the rights to another player, for allocation money, for a team's pick on any given round of the SuperDraft for the next couple of years, or for an international player slot, among other things, with an example shown the below image. Or, you can make a trade that doesn't involve a player at all, by trading draft picks for allocation money, or for an international slot, or whatever combination you feel like offering.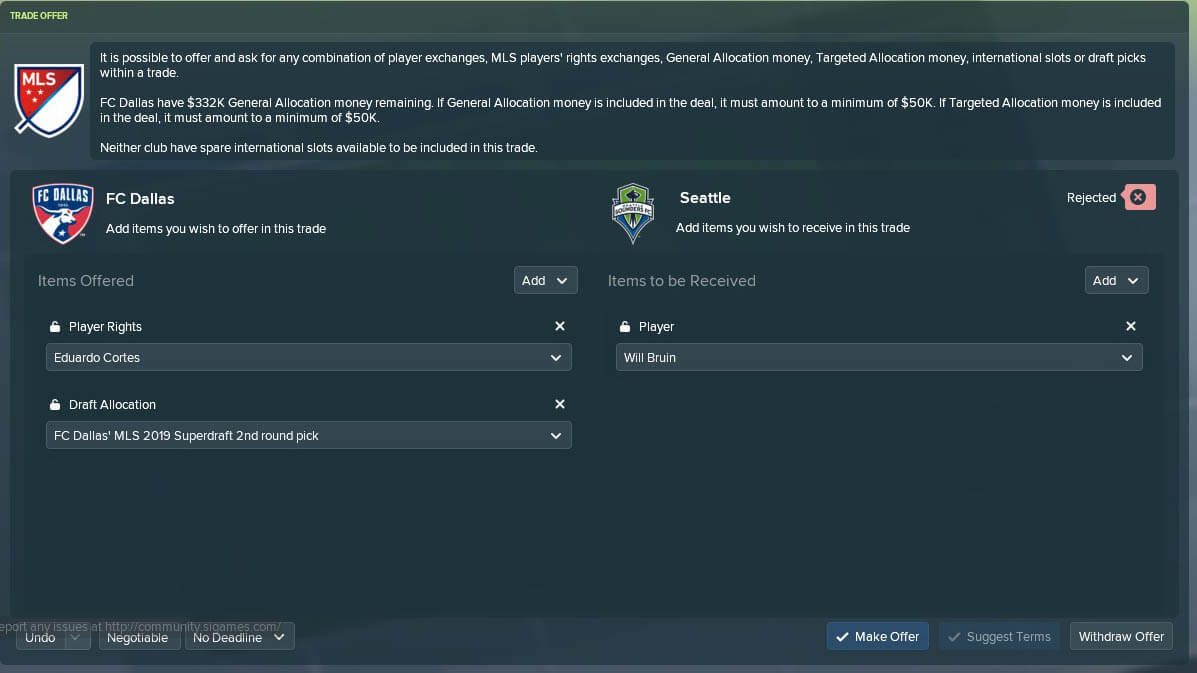 The precise value of items like a draft pick or an international slot can vary, and it often takes practice to determine what a fair value can be considered for something like a draft pick. For instance, a first-round draft pick from a team that is closer to the top of the list to pick has more value than a pick in the second round or the last round, since by that point the best players are going to be gone, and it can be advantageous to have several picks in one round. Picks a couple of years into the future, while valuable on their own, also have less value the farther away from the date you are at, but can be a good longer-term bargaining chip to hold on to for a later deal.
Like I said, it's an intuition thing for what the precise value is, and it takes practice. If you have a weaker team and need good quality right away, a pick that's near the top of the list can be a good piece of a deal to a better performing team for one of their already developed players, whereas a youth-orientated manager like me happens to have no problem trading SuperDraft picks, because the return on a player I picked up in his 20s isn't as rewarding to me as training my own academy youth, and I'd rather use those picks to get the rights to youth players or as part of a deal to secure a good senior player if I need to have one.
I hope that this is was a helpful read, and with the information provided in this three-part guide, hopefully, you're ready to try to your own Major League Soccer save! As I said at the beginning of this series, all of these fancy words sound scary because they are different, but once you've seen screenshots and have read what the actual process is, the league actually isn't that complicated, and it can make for a rewarding experience to take part in a more balanced and competitive league like the MLS.
If you do still have any questions, I am a regular on the Football Manager Slack, and you can find me in the #fmmls channel, or you can reach out to me on Twitter at @damoncmcknight. Take care, and I hope you enjoy your next adventure in Major League Soccer!