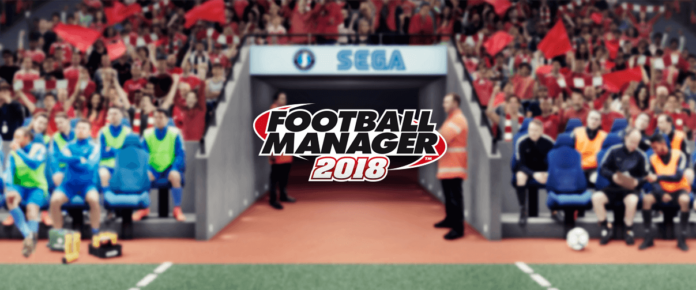 G'day mates, throw another shrimp on the barbie and take a trip to Lassiter's to see Dr Karl for this is a rather tortuous entrance to the Higher Tempo Press Australian A-League guide.
I'll drop the Aussie accent now, mostly because I was never a huge Kylie fan and Waltzing Matilda doesn't really cut it. This it has to be said is in stark contrast to the FM18 version of Charlie Tango, who can no doubt cut a rug as I open the beta and then leave it for a moment to see his attempts to 'get down'.
Earlier this week the Colombian league guide was published by @accordingtofm, featuring a fantastic insight into an alternative South American league and you'll see others appear in the coming days. Being a northern stereotypical sort of bloke, I'd have assumed that alcohol would have something to do with the A-League but while Columbia's Categoría Primera A is sponsored by a beer brand, the Australian A-League is sponsored by Hyundai and that's nothing to turn your nose up at, they make several very affordable and decently kitted out motors. In terms of the A-League's standing amongst Asia's league competitions, they are embarrassingly judged to be eighth at two stars.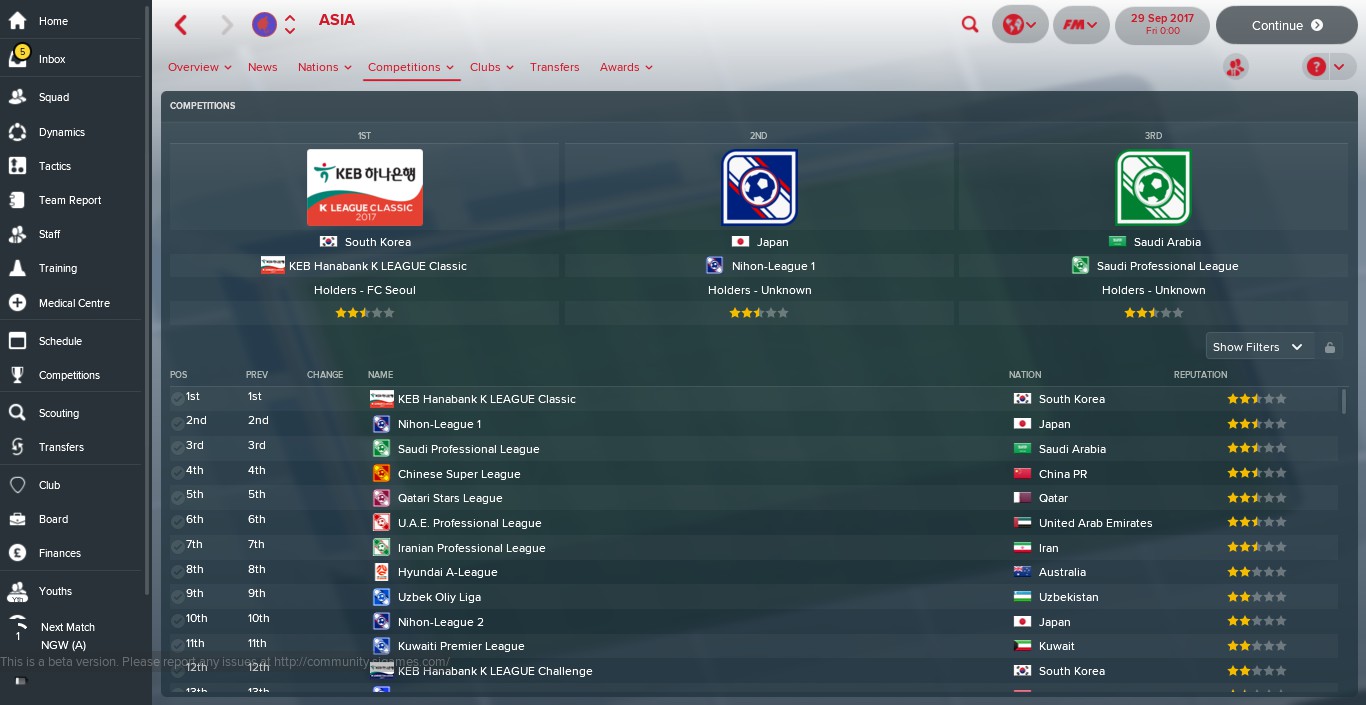 I'm sorry, two stars?! That's the equivalent in South America of the Argentine Second Division and the German Third Division in Europe. England's League One have two-and-a-half stars. I've seen League One. It contains cloggers, hoofers and tackles made so late fans need to hear whether they were successful during Colin Murray's highlights programme on Channel 5 that night. I don't want to labour on this point but it is the same 'decent' ranking as the Nihon-League 2 in Japan. There is very little that makes me spit my tea out in front of my laptop but we're having to get a new rug at Tango Towers after this.
Let's move on swiftly to the league structure, a league now sorely lacking in quality as per Football Manager 2018.
Structure
The first thing to note is that similar to Major League Soccer over in America, there is no relegation, it's a standalone league. Admittedly, this takes away some of the jeopardy and perhaps goes a way to explaining the reduced rating. In what is known in FM as the 'Regular Season' there are ten teams in the league, each team plays one another three times. This takes place between October and April. We then move into the 'Finals Series', which concludes early in May featuring the top six teams. The top two go straight into the semi-finals, the other two teams to be determined in the 'Elimination Finals'. Essentially, it's a play-off series to determine the Hyundai A-League Champions.
Last season I cannot tell you how much I enjoyed watching the A-League on Saturday and Sunday mornings on BT Sport. The enthusiasm and wit of the commentators, the production values, the stadiums, the team identities – it's all worth checking out. In fact, you will see from a faraway reach of my own twitter timeline how much I enjoyed watching the final, featuring eventual winners Sydney FC vs. Melbourne Victory in a 'Big Blue' derby.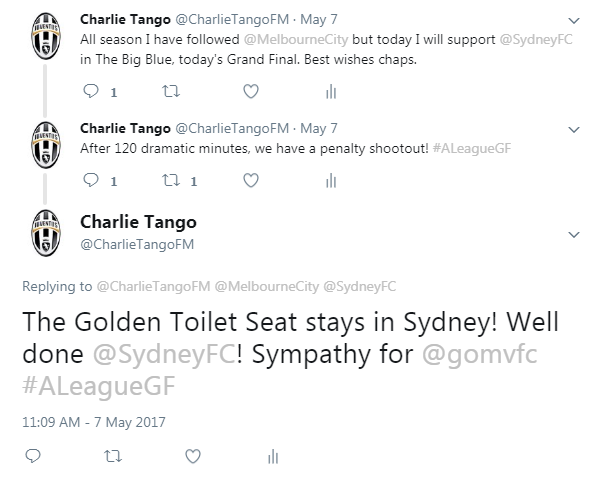 Continental Qualification
Without wanting to seem lazy, the game explains this better than I could.

The Asian Champions League is in full swing if you start the game as I did, at the start of the league season. By this point all three Australian qualifiers have been eliminated, which were Adelaide United, Brisbane Roar and Western Sydney Wanderers. As you can see due to the league dates being different, qualification for the Asian Champions League is lagged for A-League participants and they may still be participating in the continental competition a season after a new set of teams have qualified.
The only Australian team to win the Asian Champions League is Western Sydney Wanderers, who overcame Al-Hilal in the 2014 final.
It should be noted at this point that up until the 2004/5 season Australian clubs entered the Oceania Champions League, the only A-League club who won that competition was Sydney FC.
Restrictions & Rules
Oh boy, the Hyundai A-League has a fair few. It's not to the level of say the MLS, I have sympathy for @damoncmcknight writing their league preview to say the least, however there is good news. Sports Interactive in their kindness and largess have provided a helpful inbox item which will arrive by way of your personal assistant when you first take over an A-League side.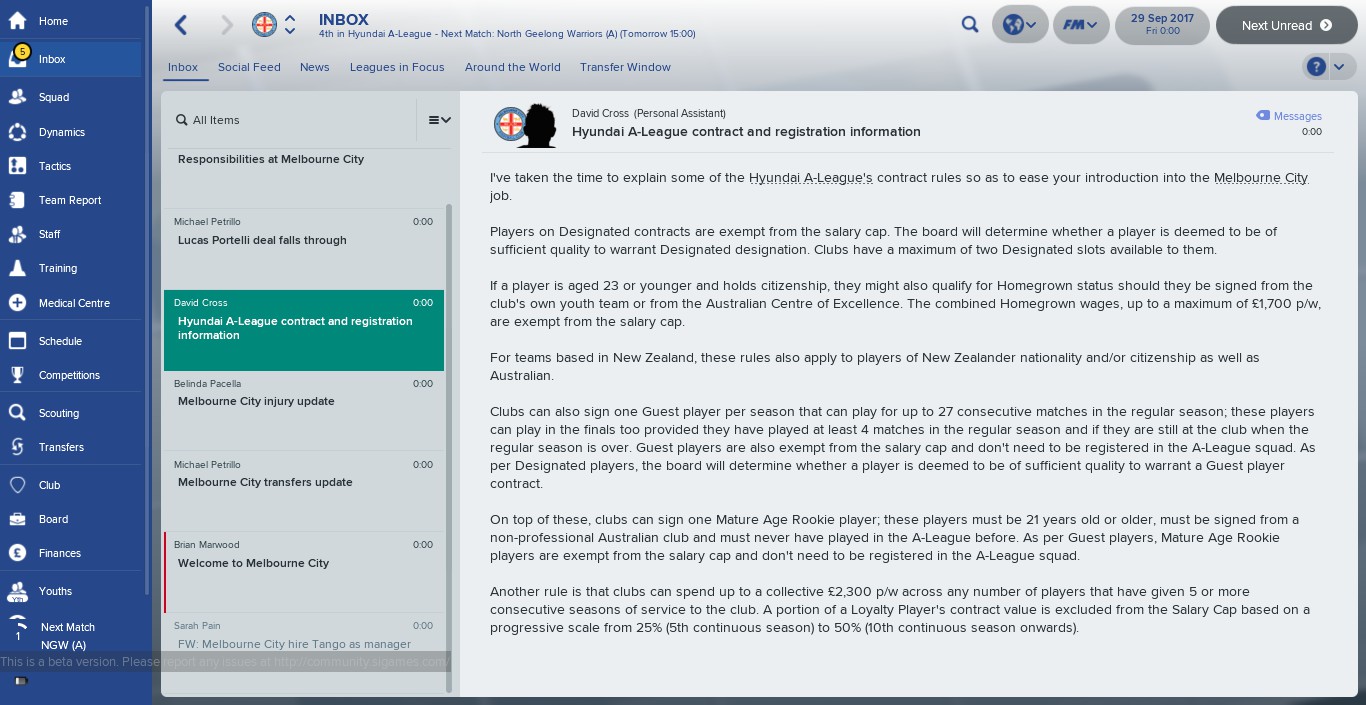 The geek in me finds the use of Designated, Guest and Mature Age Rookie players extremely interesting. I accept I'm probably in the minority but if you want to immerse yourself in the world of football as a real-life club does, then this is where the A-League comes into its own. There are real people in this world who have to know this and follow it, now so can you sat on your couch.
Past Winners
The most successful team is listed as Melbourne Victory with six competition victories, for some strange reason the FFA combine regular season wins and final series as two separate triumphs. Brisbane Roar and Sydney FC follow close behind with a combined five honours. The reigning Champions both of the regular season and final series are the aforementioned Sydney FC.
Who To Pick
Top Side: Somewhat embarrassingly FM18 lists Melbourne City as the favourites for the Hyundai A-League this season and I happened to tip them as a team to struggle in Football Manager this year. As a result I'm contractually obligated to ignore them and choose somebody else. My top pick is between Sydney and Melbourne Victory. Despite my appreciation for the striker Besart Berisha at Victory, my tip of the hat goes to the reigning and defending A-League Champions Sydney FC, featuring Milos Ninkovic, Adrian Mierzejewski, Josh Brillante and Brazilian hitman Bobô.
Medium Side: Middle of the road is expected to be Adelaide United, led by the wonderfully named Isaías as team captain. As a team they've been on the up ever since 2013/14. The prediction is that they'll come seventh, which is just outside the final series qualifying places, can you make the difference?
Youth Save: Sydney FC is the obvious answer but having already suggested them as our top side selection, I'll take a punt on Central Coast Mariners. They're listed as having good junior coaching and an established youth recruitment network. Their youth ground is the Mariners Centre of Excellence in Gosford, which I think we call agree just screams youth save.
Challenge: Say hello to Wellington Phoenix, firstly they're a New Zealand club playing in the Australian A-League and secondly, they haven't won a sausage since they were formed in 2007. Because of the rules above, they aren't even eligible for the Asian Champions League so good luck recruiting superstars.
Simulations
I run five simulations of how the initial 2017/18 season will go and the results are in. The 'key' is that green represents that simulations winner of the final series and yellow marks the runners-up.
With nobody securing an average position above third, the competitiveness of the league is highlighted along with demonstrating that the four teams at the bottom of the list (Wellington Phoenix, Central Coast Mariners, Newcastle Jets and Adelaide United) are somewhat cut adrift. The regular season winner only won the finals round on two occasions, once for Perth Glory and the other for Sydney FC. Perth secured the most points of the series, while Wellington Phoenix earned the fewest points in the second simulation with a paltry nineteen.
Tactical Considerations
More teams played a very traditional 4-4-2 than any other formation and more than that, it was the chosen formation for the majority of teams who won the competition.
Domestic Cup
The FFA Cup runs alongside the A-League, starting in July and ending in November. In a curious twist of fate in my simulations, Western Sydney Wanderers won it in every single save. A dominant display from the Wanderers.
Players
You need the big names for the big games and there's been very few consistently as good as the Irishman, Perth Glory's Andy Keogh. In five seasons he scored 92 goals, a great return from a player some overlook at their peril.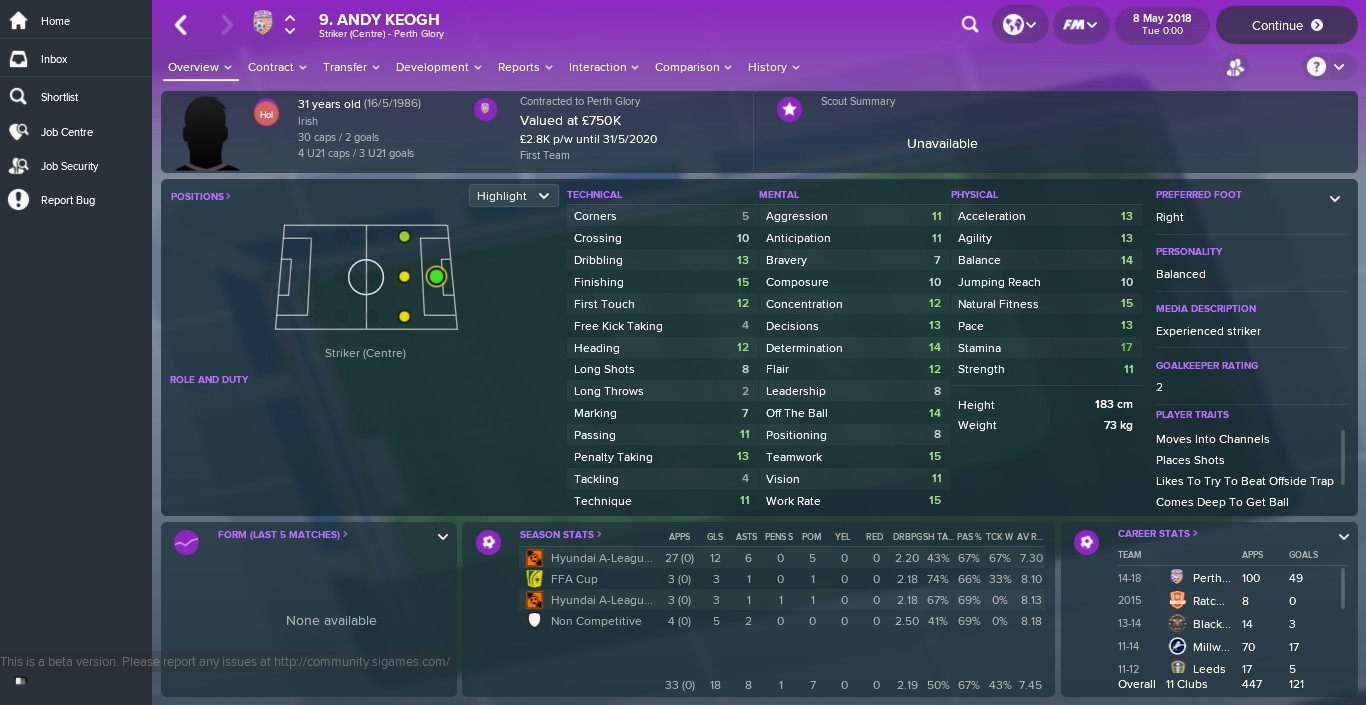 One added little note, the game automatically suggests Germany and Spain as accompanying leagues. It also recommends France, England and Italy – basically the usual suspects. I would suggest shunning the European leagues and adding the leagues which feed into the Asian Champions League such as the Chinese Super League to create some added competition for you.
The conclusion I want to present to you is that the Australian Hyundai A-League is ripe for the picking, it really is a fairly level playing field and you could make all the difference. Hopefully this guide has inspired you to consider a save in Australia, if it has (or even if it hasn't) let me know on twitter @CharlieTangoFM. Thanks as always to Chris for the platform to publish on and Mike for the template. CT.