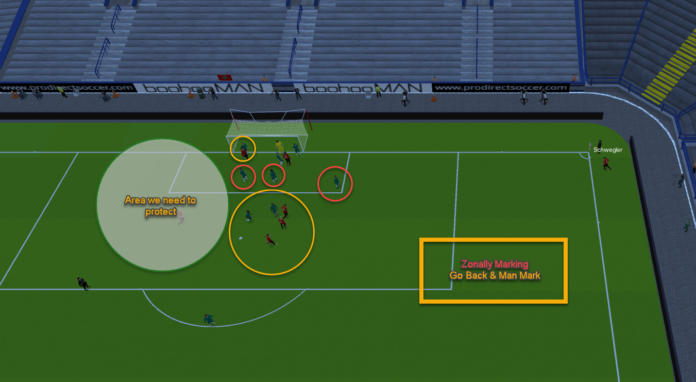 Far Post delivery = goal! Football Manager 2018 Beta version was released two weeks before full version and we are able to test new things in our beloved game. One of my main points what always test firstly are set pieces. As there are not many changes in set piece creator (read as almost nothing new). 
But I'm the only one who noticed one of the routines is very successful. Or unsuccessful. It depends if you score a lot of goals or you concede a lot of goals after this routine.
I started a save with Werder Bremen as my Beta save to test things. I play with 3 central defenders so I decided to create corner kick routines in the way to take advantage of all three central defenders who are strong and very good headers.
In FM17 my favourite routine was a short one with some build-up after a short pass and finish from the edge of the area. Almost same as with short throw-in routine. I decided to use Far Post delivery in this Beta save after some matches as there is a potential to score goals.
What we need to be successful? The main thing is to have right players in right positions.
The main roles for this routine are – Attack Near Post, Attack Goalkeeper, Attack Far Post and Go Forward.
These four roles are key. As I said my three central defenders are involved and they are set to positions at the near & far post and to challenge the keeper.
The key attributes for these roles:
Jumping Reach
Strength
Heading
Off The Ball
Bravery
Marking
Decisions
I like to use Attack ball from deep and Lurk Outside Area roles as well but what I saw the Go Forward role is more important in this routine so far.
Why? Because as we have far post delivery our strong player in the Attack Far Post position is able to finish by himself or he can pass the ball to the nearest player. And there is always one or two players who are set as Go Forward. It's simple, they are closer to the goal than players around the box.
The key attributes for "Go Forward" role are the same as in the picture above. I like to add here players who are also good finishers so it could be useful to put there striker.
The screen of the whole set up of attacking routine. You can see there is right foot taker in this picture so there is inswinging delivery. I used two my best corner kick takers, one right-footed and one left-footed. It's a good variety to not have only one type of delivery and it could be dangerous if corner is taken by left-footed player from the other side.
Perfect example of this routine ⇓
---
Defending
As I wrote at the beginning of this post you can be also very unsuccessful with this routine because of same as I scored a couple of simple goals thanks to this I also conceded goals as opponents also use this routine.
I can't remember I conceded a goal after near post routine or short routine. Just only after the far post delivery.
I used zonal marking and my set up for defending corners is made in the way that I want to score goals thanks to counter corner philosophy same as in FM17. But when I filled up all zonal marking positions it was a disaster.
I'm sure you noticed your players are like immobile wall during defensive set pieces and they aren't too versatile. And it's the same during corners. It was very easy for the opponent to deliver the ball to the far post and they scored because my defenders were concentrating on zonal marking. Not a man marking or they didn't think about to attack the ball.
So I made changes.
We need to protect the area at the far post but we also need to cover players who try to score. I decided to keep players in these positions – Zonally Mark Six Yard Box Near Post (to avoid scoring from near post routine), Zonally Mark Six Yard Box Centre and Far Centre.
One player is set to "Go Back" and three players are set to "Man Mark". One player is "Edge of Area" and on one player "Stay Forward". And one player "Mark Near Post"
This set up resulted in much better performances during defensive corner kicks. Before these changes, I scored 8 goals and concede 7 goals from corners in 10 matches.

After these changes, we didn't concede in five matches in a row. I watched these five matches in full to analyse players behaviour during corner kicks. The main point was that players set to Man Mark didn't allow opponent's players to reach far post and my players followed the player but also the ball so they were able to defend crosses.
The key attributes for Zonally Mark Six Yard Box position:
Jumping Reach
Strength
Heading
Positioning
Bravery
Concentration
Defensive set up ⇓
---
Let us know how you're successful or unsuccessful with your Corner Kick Routines or share your set pieces with us in the comment section or on Twitter.