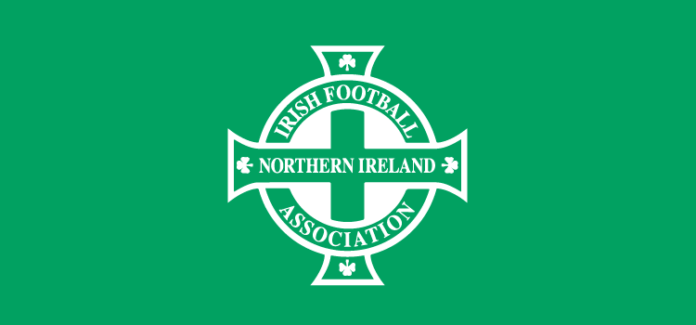 Once again, we're well placed to make a challenge for the second place play-off spot after a decent start to the campaign.
As always, you can also have a look at the real life 2010 World Cup Qualifying Campaign review from Henry's perspective of being a Northern Ireland fan.
Russia v Northern Ireland
Darren Kelly replaces the suspended Joe Dolan and Stephen Young returns to the lineup.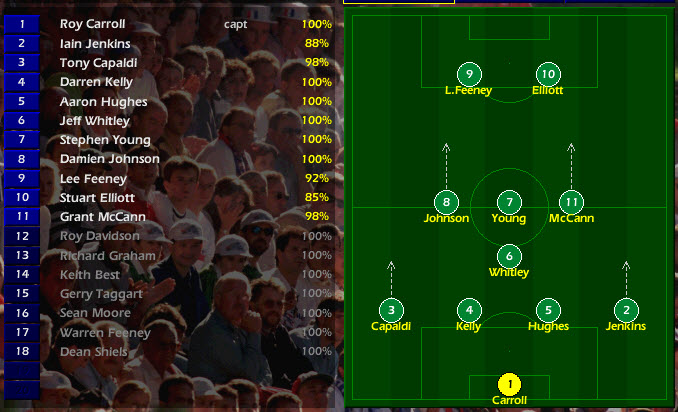 The Russians will look to match us man for man and overpower us. Having beaten them in the opening fixture, can we complete the double?
It's Stephen Young who gives Northern Ireland their opening goal on his return to the squad but that goal is cancelled out just minutes later as Alexandr Shirko equalises. 10 minutes into the second half Russia overturn the deficit to take a 2-1 lead thanks to a fantastic long-range effort from Dmitry Khokhlov. Russia double their advantage with 22 minutes remaining through substitute Vladimir Bestchastnykh. The Russians are put under pressure in the final 10 minutes though as Stephen Young grabs his second of the day but with the final kick of the game, Alexey Smertin makes it 4-2.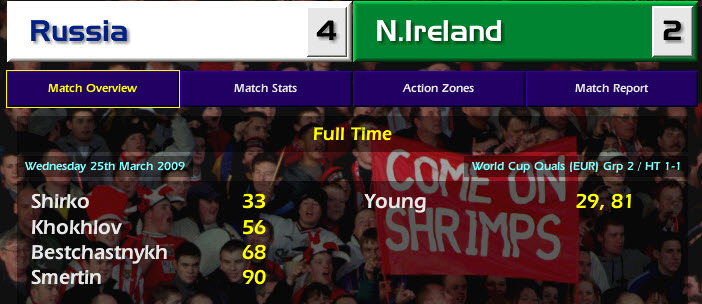 Northern Ireland v Norway
A win today is crucial if we still hold any hope of qualifying!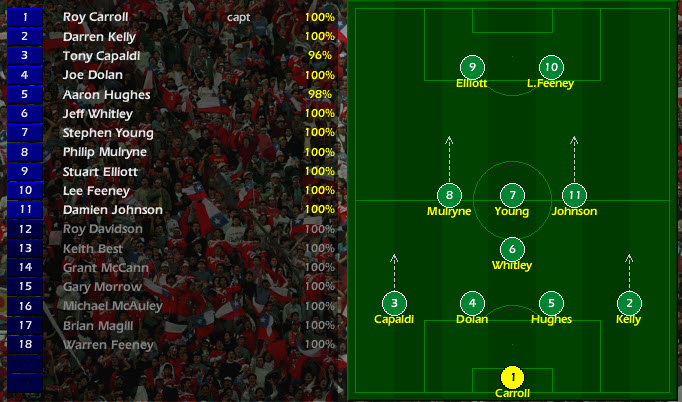 We know the danger in this team but we can't hold back, needing a win.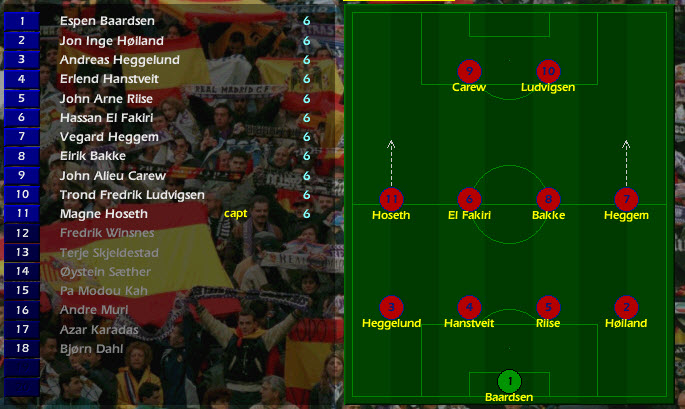 We had the ball in the back of the net within the first minute thanks to another Stuart Elliott header but it was ruled out for offside. Norway take advantage and take a fifth-minute lead through John Carew. Stephen Young is in fine form and he struck an equaliser five minutes later. It's seven minutes before the half-time whistle and Elliott has his goal, 2-1 at half-time! It's three just after the hour mark when Phil Mulryne volleys into the bottom corner from inside the box. The icing on top comes in the final minute as 21-year-old substitute Brian Magill scores on his debut!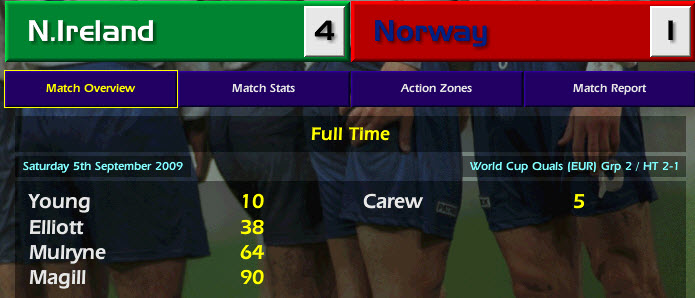 Armenia v Northern Ireland
Second place is a real possibility here so we'll have an eye on the result in the other game between Spain and Russia.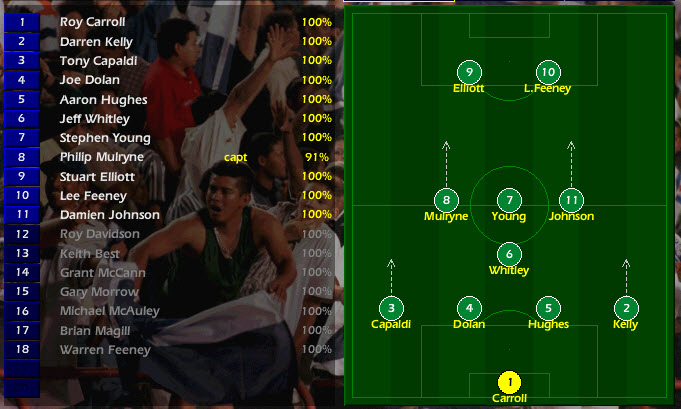 Anything other than a victory today will be an abomination.
On the half-hour, Stuart Elliott strikes us into the lead before he doubles his tally just before the half.  Meanwhile, there's a shock in Madrid as Russia lead Spain 2-0 at half time! A dull second half in Yerevan ends the game in a 2-0 victory for Northern Ireland! Over in Madrid, Spain made a fantastic second-half comeback to win 3-2…
Northern Ireland v Spain
A draw or better will almost certainly see us take second place in the group, to stand a chance of finishing high enough in the second placed teams table for a play-off I think we'll need a win against Spain. Unlikely as it may seem, that performance against Russia shows they're vulnerable.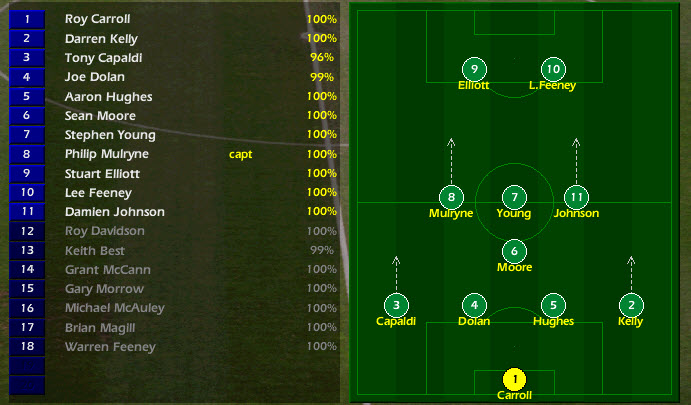 With Spain having already secured their World Cup qualification, I wonder if they'd like to take it easy on us and give us a foot up in our play off hopes?!
Windsor Park falls silent for a second before a roar erupts – seven minutes in and Stuart Elliott heads Northern Ireland into an unexpected lead! The lead lasts only six minutes as Raul finds an equaliser out of nowhere. 1-1 at half time. The second half is the tensest 45 minutes I've seen since taking over in 2001 but Northern Ireland cling on for a 1-1 draw at Windsor Park!
With that result and Norway failing to utterly demolish Armenia, we have gone and secured second place and with it a play-off for a place at the 2010 World Cup!
Our play-off will be against Turkey with the first leg at home.