We're into the final 12 games of a season where Norwich, poor potless Norwich, were meant to struggle. Saddled with debt, I was left with a competitive if unspectacular side to take on the ultra-aggressive English First Division. I mean seriously, it's like every team is fed only raw meat. Anyway, somehow we've got ourselves in a play-off place and even a chance of automatic promotion, but players are already plotting their summer exit due to the whole financial meltdown we've got going on. Can we gain promotion and save our financial skin? Is this the longest intro ever written? Let's find out.
We resume with a useful pair of wins, away at Burnley and at home to Forest, the 90th-minute winner from Zema Abbey seems particularly important.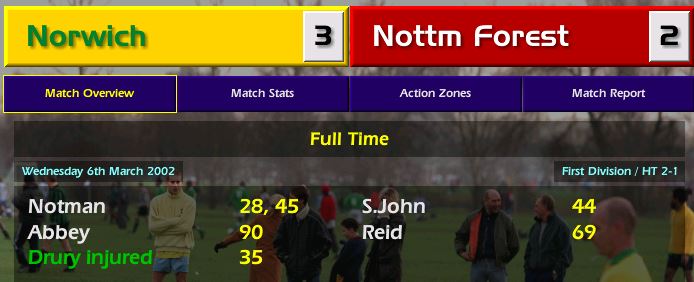 That is, however, a false dawn, as a trip to Vicarage Road sees us fall foul to the heavy duty partnership that is Marcus Gayle and Heidur Helguson. Defending has never been a strong suit, but it's going to get a lot worse…

A midweek trip to St Andrew's doesn't fill me with joy and after we fall behind, it soon gets ugly.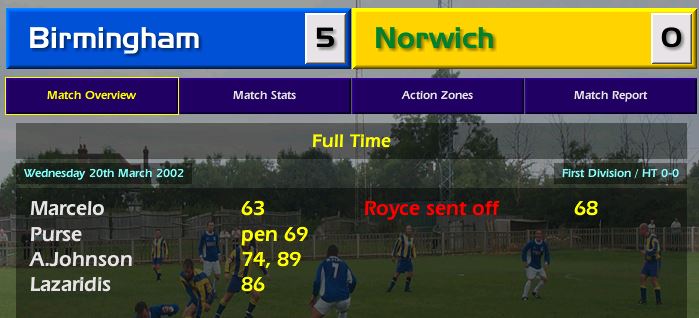 Royce has been a good performer for me but his red card signals the arrival of Rob Green, who makes no saves and gets a 4 rating. We're absolutely hammered in the last 20 minutes.
It's a three-game ban for Royce and, coincidentally, his latest loan period has expired. My gut instinct is to renew it but I got a bit greedy and had a look at who else was available now that we're a bit higher up the table.
Big Bald Brad! That can only help. His first act is to get man of the match in a 3-1 win over fellow promotion hopefuls Coventry.

With Brad between the sticks for the rest of the season, I'm sure this will herald the start of a wonderful defensive resilience when we need it most.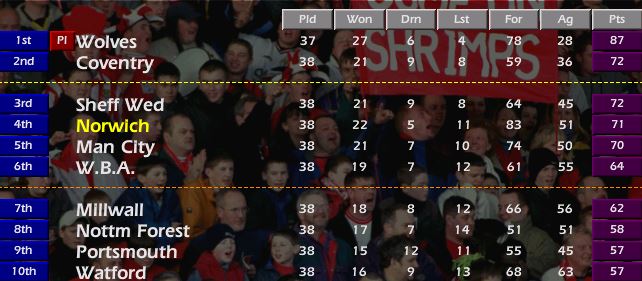 Instead, we concede 11 in three games and somehow win two of them.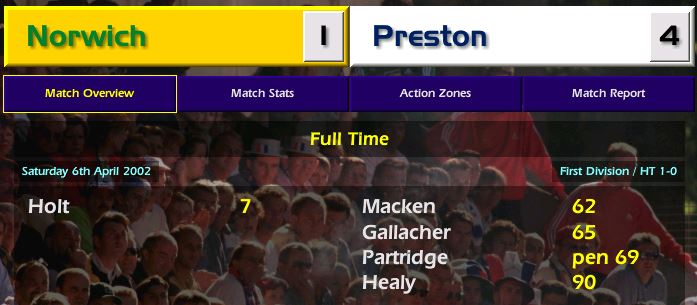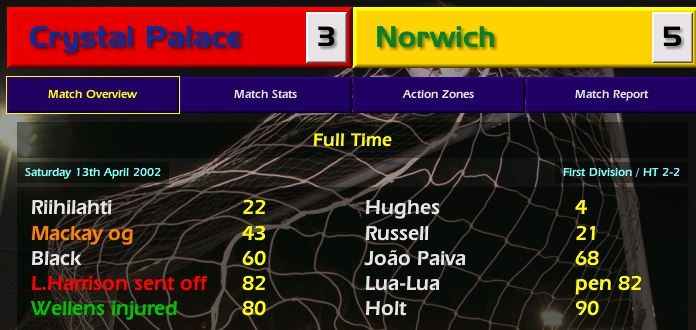 Where to start. The Sheff Utd game was one of the most bonkers I've seen, especially when you're 4-1 down with 16 minutes to play. To win from that position is borderline impossible, but somehow we managed it. Sheff Utd finished bottom with 99 goals conceded in the league. Preston at home should have been a home win on form but we just didn't bother defending in the second half and got hammered. Palace was another ridiculous game where they actually finished with nine men and Clinton Morrison in goal, having lost Wellens to injury after using all three subs then getting their keeper sent off. Lua-Lua sent Morrison the wrong way and Gary Holt wrapped it up. Phew.
A routine win over Barnsley and all of a sudden there's a chance we could go up automatically.
It's a tough run in though, with a trip to Man City followed by the visit of champions Wolves.
Keegan breaks my heart.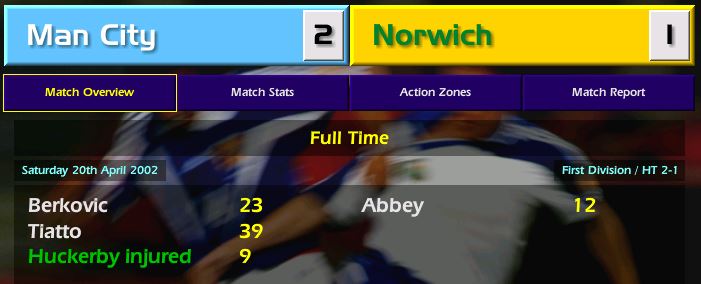 Wolves hold us off (and have the French/Belgian version of our goalscorer).
Both results combined kill the automatic dream and we settle for a play-off place. I play the reserves against Walsall, knowing it matters very little. The defeat there leaves us facing Man City over two legs.
So it's come to this. Mulryne has been notably poorer since agreeing to join Derby, however, Gary Holt has been amazing. He proves that here by adding goal 18 and 19 to his tally for the season.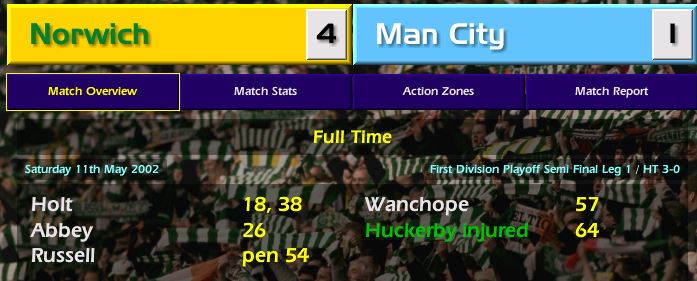 Surely we can't mess this up?
Sorry, Kev. WE'RE GOING TO CARDIFF. On foot. We can't afford a coach.
It's Coventry in the final, they saw off Millwall, who will be playing in Europe next season after they defeated Man Utd in the League Cup final. Brexit anyone?
So, Cardiff's Millennium Stadium stands between the green and the red. By that I mean, if we win we might clear our debts. If we lose, well I'm losing many players already and I just won't be able to afford new ones.

Never in doubt. Holt and Paiva get their 20th goals of a glorious season and we've done it! We're going up!
Liverpool waste no time in bidding for my captain

Unashamedly I accept, knowing fine well his departure will pave the way for many a talented Swede. More importantly: We're out of debt!
So whilst I search for a new captain, goalkeeper, centre half pairing and number 10, I'll leave you to question whether you want to see how these Canaries fly in the Premier League. See you then?