2001 was an odd time in English football, certainly outside of the Premier League. ITV Digital was supposed to breathe new life into the Football League clubs, but ultimately it would collapse towards the end of the 2001/02 season, causing financial mayhem in the process.
The First Division is as competitive as ever, with Manchester City clear favourites to win it but big clubs such as WBA, Wolves, Sheff Utd, Sheffield Wednesday, Coventry…the list goes on. Amongst the also-rans are Norwich City, who had found themselves stuck in mediocrity after dropping out of the Premier League in 1995. Nigel Worthington was the latest man in the dugout, replacing Bryan Hamilton in December 2000.
Now though, it's me in the dugout. Norwich managed to reach the playoff final in this season only to lose on penalties to Birmingham. That's not my reason for being them though – they are quite the challenge on CM01/02. Why, you ask?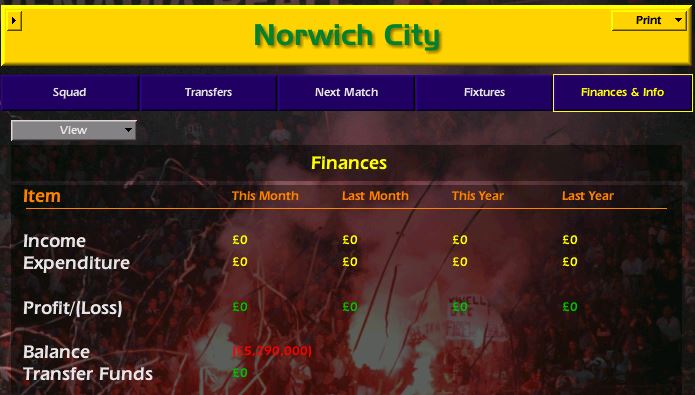 We don't have the proverbial pot to piss in. Which means no To Madeira, no Selakovic, no Dave Collins. Not even Taribo West…
He's not keen to play for £4k a week and no signing on fee, which is a surprise to nobody. The board really sell things to me
Amazing. How can it get any worse? Ah yes, two of my better players are long-term crocked


Bloody hell. Here's what I've got to work with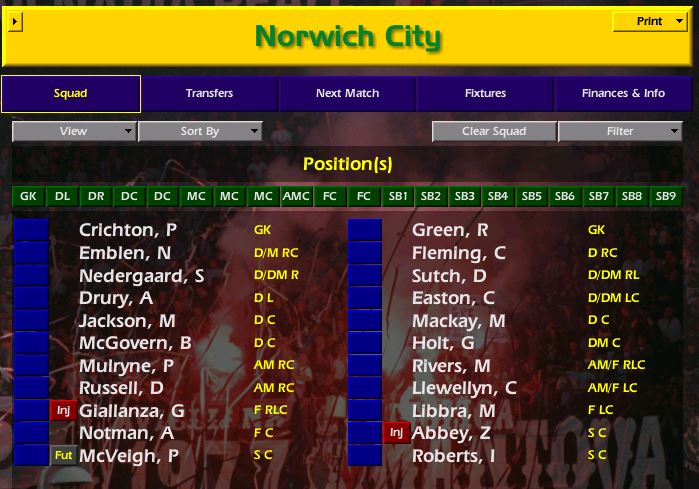 I mean it's not bad, but the two keepers are terrible and the defence needs work. I have managed to secure one forward on a free transfer
Meanwhile, one of the few saleable assets has been sold, which is good news but it doesn't really change our position. The debt is just slightly reduced

The squad is massive, and I swear every single reserve is useless. This chap is meant to be one of the better ones, and look what he's up to

Would you give him a new contract?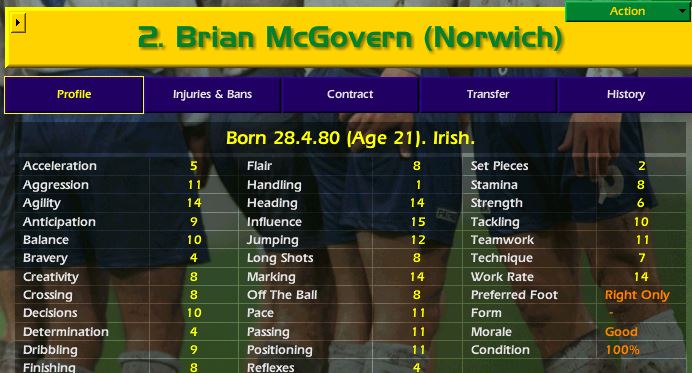 Goodbye Brian.
This roody poo doesn't even have a first name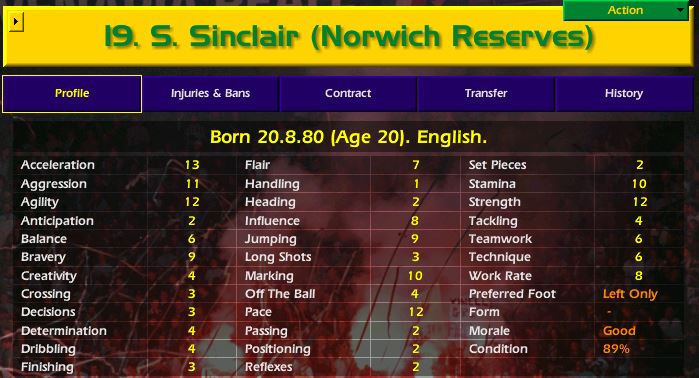 Nevertheless, here's the side we send out on the opening day. It's not a bad team: Phil Mulryne follows me around on CM and I'm building this team around his creative talents. Mark Rivers is versatile whilst Iwan Roberts has no front teeth. Malky Mackay went on to be a massive (alleged) racist, I would drop him if I could. Simon Royce has arrived on loan until November, which might help.
It's a good start. Norwich lost this fixture 4-0 in real life!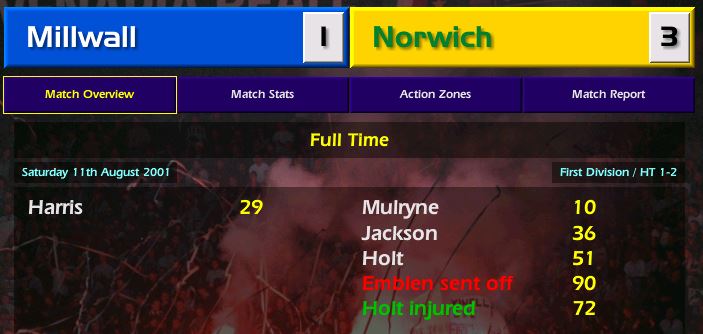 Neil Emblen leaves a two-footer on Kevin Muscat to round off the perfect day. Taking one for the team.
The goals keep coming in our first home game.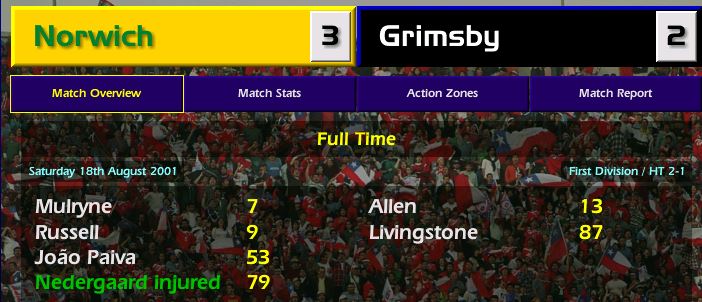 Then we even manage to progress in the cup. Enjoy it whilst you can, boys.

Once Gillingham are taken care of, that's nine out of nine and I'm wondering what all the fuss is about.

But soon it becomes apparent that this set of idiots don't know what they're doing
Early red card? No worries, it could happen to anybody. What was it, last man red card? A late tackle? Nope…

Bloody hell man. Still, I'm given a badge of honour for looking after these morons

With that comes the usual curse as we slip to an entertaining defeat. That defence is going to be an Achilles heel all season.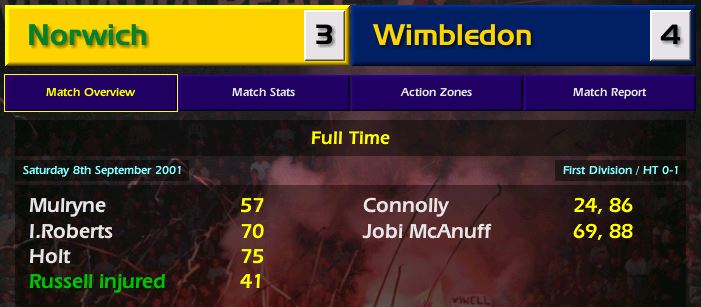 That's followed up by a defeat at Bradford and a draw at home to Portsmouth, before a big win at Carlisle in the cup brings some relief.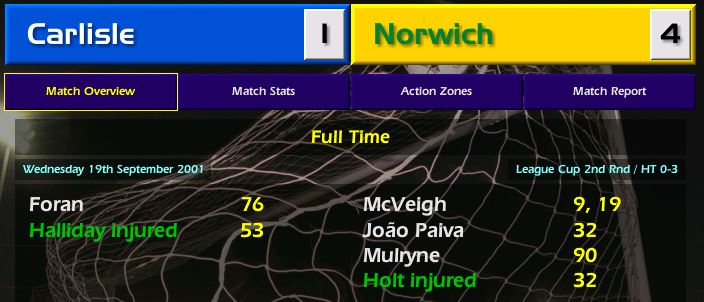 That's followed up by our first clean sheet EVER and also a mighty impressive win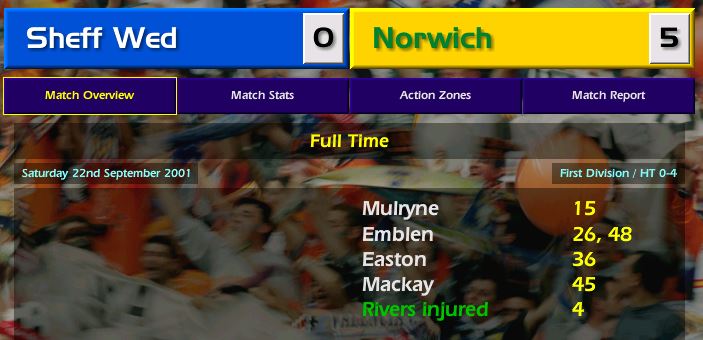 Neil Emblen, creative genius. Kevin Pressman was in goal, before you wonder how we managed that.
Finally, I managed to secure a second loanee. You're only allowed two at a time, so Hayden Foxe is a welcome addition to the backline.
Foxe once urinated on the bar at the West Ham Christmas party, which goes against the club motto here that it is better to be pissed off than to be pissed on, but we'll work through it.
We actually make it back to back clean sheets, though this happens at Gresty Road – a ghost goal!

I saw it flash up on the screen but there's no mention of it in the report or on the overview screen. Poor Paul McVeigh, the best goal he never scored. We won 3-0 anyway.
Typically though we can't get the consistency we crave. We suffer back to back home defeats to Stockport and Burnley.
The board obviously realise how well things are going financially and stick some cash in.

Gee, thanks, Delia. We're still in debt and you still won't let me spend anything.

We're fearless though and a heavy win at Nottingham Forest is very useful indeed.
We're still in the League Cup too – a tricky tie at Birmingham is negotiated and it'll be off to Premier League Middlesbrough in Round 4.

Alex Notman there, another who follows me around. All of that leaves the league table looking pretty decent after 16 games. Not bad but could be better.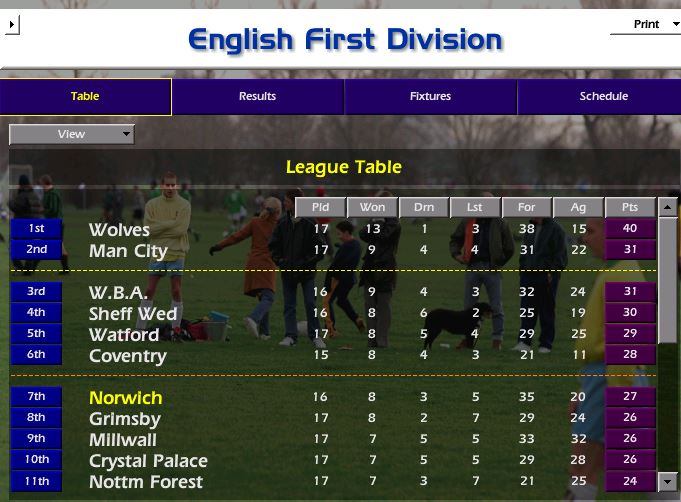 The problems we have ahead are that Royce's loan ends in a few weeks and I'll be damned if I'm playing Crichton or a very young Rob Green. I might not have a choice though. Foxe is here until January – so he's here for Christmas…
Join me next time as I try busking to raise us some cash. Bye for now.