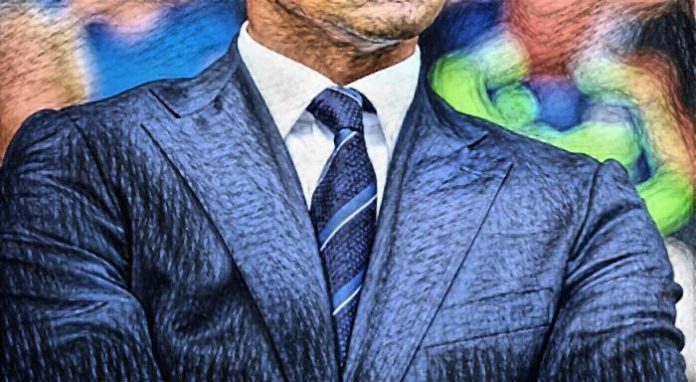 Thirty days and seven matches, that's how long we'll have to wait until we know for sure in which division we will be playing. We have been doing well as of late and I'm confident our seven point gap with the relegation zone is enough to see us prevail. But complacency has no place in our dressing room and I fully expect my boys to stay focused until the woman with weight problems sings.
Millwall was my very first opponent during my reign at Scunthorpe United. They were near the top of the league, as they are now, and we were narrowly defeated 2-3 in what was a confidence inspiring display by my lads. And now we face them again, this time in the dreaded Den. With Madden, Hopper, and Van Veen injured I'm without my first three strikers. The goals today should come from Kyle Wootton and the transfer listed Jonny Margetts, who already bagged a goal against Oxford United. I hope he can do so again. At the back, both Pennington and Wiseman are suffering from tired legs and will sit this one out. Their replacements are David Mirfin and Jordan Clarke.
As expected, Millwall is the better side and put our defenders under pressure right from the start. But we also show some teeth, with a ranged effort by Wootton going narrowly over the bar. Gradually, we are becoming the better side with more shots on target and more possession. Right in the period of this dominance it is Millwall who go ahead, with a low cross by Shane Ferguson converted by Lee Gregory in the 34th minute. We are aided in our hunt for an equaliser when Nadjim Abdou sees his second yellow card within 38 minutes and Millwall has to continue with ten men. With Millwall happy to defend their lead, it is we who are on the attack when the second half commences. The various injuries to our strikers really makes itself known in our lack of goals, with both Margetts and Wootton missing solid chances. I try and change things up by granting youngster Jack Dyche (not related to Sean Dyche, according to Wikipedia) his professional debut. And finally, in the 76th minute, we get our just rewards. A Smallwood corner kick is headed in by Mirfin to make it 1-1. We continue to press for a lead and victory is near when Clarke is fouled by Tony Craig and the referee points to the spot. But it is Luke Williams who buckles under the pressure and misses the penalty kick. Unbelief grips the bench and Scunthorpe fans alike. But Williams makes up for his error by crossing to Mirfin, who scores his second of the day to make it 1-2.
Our two matches against Millwall show exactly the development our side has made these last couple of months. In December we couldn't cope with going behind against a stronger side, but today we managed to overcome going down and take all three points. It makes me proud to be the manager of this great squad of players. The win against Millwall sees us remain in 16th place, with eight points separating us from the relegation zone and just five games to go. Safety is really just around the corner. Next up is Bolton, who are 5th in the table and haven't lost in seven games. But there's some very good news with Van Veen an Madden returning to the squad after recovering from injury. They will pair up on top. Elsewhere, Pennington and Wiseman return to the starting eleven, replacing Clarke and King.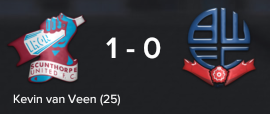 Bolton dominate the start of the match, with Macey denying them on several occasions. It is therefore very much against the run of play when Van Veen scores the 1-0 out of nothing with a devastating diagonal shot from just inside the penalty area. It is much more an open match after our opening goal with chances for both sides. The second half sees a more assertive Bolton sides, who continue to test Macey. Since his arrival, Matt Macey has earned his weight in gold around here. We manage to hold out and secure another vital three points.
Our unexpected win against Bolton sees us rise above Northampton to 15th place, the highest position since my arrival in North Lincolnshire. It also means we are now nine points away from relegation. Our next opponent on the path to security is MK Dons, currently 2nd in the league and on course for promotion to the Championship. But as we have seen against both Millwall and Bolton, we are very much capable of inflicting losses on stronger opponents. Let's repeat this a third time, shall we? Chances of that happening are greater with the return of Tom Hopper from injury and his reuniting with Madden up front.
The match starts very open with multiple solid opportunities for both sides. It is MK Dons who grab the lead however, with Nicky Maynard profiting from having enough room to build a skyscraper in our penalty area. The match continues to be quite enjoyable with both sides attacking at will. But with both goalkeepers in fine form, we fail to equalise and lose 1-0. After winning against two top five sides, a third win might have been too much to ask for. We played well, but didn't have the necessary composure to equalise.
The result against MK Dons sees us drop one place on the table to 16th. But with Rochdale also losing, the gap with the relegation zone is still 9 points. And with only three matches to play, we just need one point from our next three matches to secure our place in the League One for next season. The first opportunity to do so is against Chesterfield, who have just won the Checkatrade Trophy and are 10th in the league.

Chesterfield are definitely the strongest side at the start of the match, forcing Macey to once again pull of some fine saves. But they fail to score and so do we. There are some half chances on both sides of the pitch, but no side really look dangerous enough in front of goal. During the entire game, we very much cancel each other out and although the woodwork is tested a couple of times, we end the game as we started, with 0-0 on the scoreboard. But we should not lament a lost two points, but celebrate having gotten the one:

Three simple words, but they mean so much. Although it has been hanging in the air for some time now, it is very pleasing to be finally able to say it. I've dragged this side out of the mud and build it up in a very short time.
However, we still face top of the league Swindon Town and Coventry City. The Robins are very much in a neck-and-neck race with MK Dons to determine who will be winning the League One. Therefore, we can expect us to come at us with full force. We shall not be handing out presents, however. I want to finish this season on a high and beating Swindon will be an important part of that.
Now that League One status is secured, I give Oliver Davies a chance to impress me. Since his recovery from his injury, he has been playing for the U23s in order to gain some match fitness. With Matt Macey probably returning to Arsenal at the end of the season, the position of goalkeeper is very much still in the air. If Davies is a able to convince me against Swindon and Coventry, I might be tempted to refrain from looking for a new goalkeeper next summer. The same scenario holds up for Stephen Dawson, who will take Rotherham loanee Smallwood's place at defensive midfield.
As could be expected, Swindon take the game to us and pressure our defenders mercilessly. We are capable of resisting the pressure for a full 24 minutes until Jermaine Hylton puts The Robins up front with a low finish in the far corner. We only very occasionally turn up in front of their goal, but refuse to become very dangerous in doing so. In short, we can count ourselves lucky that it's still only 1-0 at half time. A quick turnover just after the play is resumed doubles Swindon's lead with Obika crossing for Hylton to score his second goal of the afternoon. Things aren't improved when Scott Laird receives a straight red card for a horrendous tackle on Jones. All in all, it is a very disappointing defeat.
Coventry City is the last opponent of the season. They are 12th in the league and, like us, have nothing left to play for. We are, of course, without Scott Laird who is banned for four matches. I top this up with fining him one week's worth of wages. Luckily, Laird is professional enough to accept the fine and move on. The ban will mean he misses the first three matches of next season. His place in the match against Coventry is taken by Josh Morris.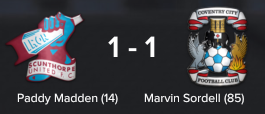 Coventry start of as the more dangerous side with some half chances, but it is we who go up in front with Madden scoring the 1-0 within fifteen minutes of play. After that, the game becomes increasingly lethargic. 46 games are a lot of matches and all 22 players are kind of done with this season. It has been a long season and with nothing left to play for, the lads only want one thing: a thoroughly deserved holiday somewhere sunny. This tranquillity is shattered however when Sordell connects with a long cross by Sterry to make it 1-1. That means we end the season with a perfectly acceptable draw.
When I took the reins at Scunthorpe United, they were in all kinds of problems. But about five months later, I've managed to turn the ship around and sail towards safety. We end the season in 17th place, four places higher than when I came on board. That may not sound like a huge deal, but they are a crucial four places, separating a continued League One status from relegation to the League Two. I consider my performance here a great success.
With FM18 upon us, I end my journey here. It has been a fun save, but I'm also very excited to begin a new (more long term) project right here at the Higher Tempo Press. So look out for a new adventure right here on this site.