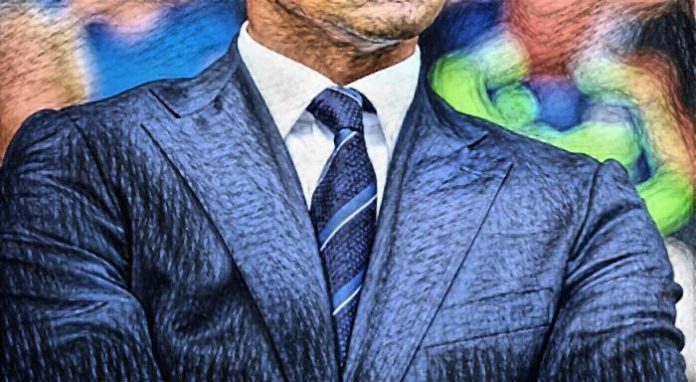 Going into the month of March, I'm feeling quietly confident about our chances of survival. We've lost just one of our last seven games and are three points away from the relegation zone. This month we'll mostly face mid table sides and I feel points are to be had in the coming weeks.
First up is Fleetwood Town in our very own Glanford Park. The Trawlermen are four points above us on the table at 15th position. Even though we have been doing very well in the last few weeks, I decide to change a few things in my starting line-up. Dyon Gijzen has been doing well, but he doesn't score enough goals as our central midfielder on attack duty. My fellow Dutchman has scored just once and provided two assists in his ten games for the club. He'll be replaced by Sam Manton with Luke Williams filling in as my deep lying playmaker. A further change is being made at the back, with Jack King replacing the disappointing Jordan Clarke (average rating of 6.78 in the previous five matches) as my right sided central defender.
We start the match badly with a Fleetwood corner kick ending up in the back of the net in 9th minute; Nathan Pond scoring with a powerful header. My lads go in search of the equaliser, but chances for Hopper and Laird go begging. I aggressively ask my lads to show me something else in the second half and it only takes 31 seconds for Hopper to do just that. A hilarious misunderstanding between two Fleetwood defenders sees Hopper scoring his 17th goal of the season and more importantly, putting us even. Luke Williams repays the faith I put in him by blasting us ahead less than a minute later with a wonderful strike from at least 20 meters. What a start of the second half! This powerful double strike leaves Fleetwood stunned and The Trawlermen have trouble retaking the initiative. After another failed attack by our opponents, we strike again with Sam Mantom putting the match beyond any doubt from a very tight angle.
It is always a bit of a gamble when you start tinkering in the line-up of a successful side. But when two of the players you introduce (Williams and Mantom) score, it feels like… like… I actually know what I'm doing. And let's not forget about my inspirational team talk:
The win against Fleetwood sees us further climbing on the table, with 17th place now in our possession, five points from the relegation zone. For our next match we go on the road to lovely Kent to visit Gillingham FC. The Gills are doing well at 8th place, but with six points away from play-off places and 18 from the relegation zone, they have little left to play for. After Madden has just recovered from his hernia, it is now Hopper's turn to be injured for 5 weeks with similar back problems. Kyle Wootton will take his place in the meantime.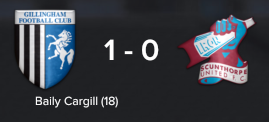 The match starts with a bit of misfortune on our side. Madden has to be substituted with a sprained ankle. Van Veen replaces him. Although the chances of winning at the Priestfield Stadium were slim, being without my two top strikers made it even more difficult. Gillingham are the side more likely to make things happen and Macey is tested by their strikers on several occasions. The Gills go up in the 18th minute with Cargill converting a corner kick. Gillingham continues to test our defence, with my lades barely hanging on to possession. Just like last week against Fleetwood, we begin the second half very well. Only this time, a goal is seemingly not on the cards. How we miss the goalscoring ability of both Madden and Hopper….
After the match, our worst fears are materialised when Madden is out for 5 weeks. This means we will miss the two players responsible for 28 of our 47 goals scored. With Wootton and Van Veen underwhelming as of late, I fear we're in for a tough period. Even though there are just a few days between the match against Gillingham and our next match against Rochdale, the squad is still very match fit and I retain my starting line-up with Wootton and Van Veen as strikers. With Rochdale being in 21st place, I have a feeling we could take all three points today.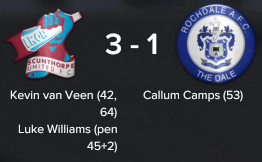 We start off strong with Van Veen creating several chances, but every time he's denied by Rochdale goalie Logan, who I imagine has extendable claws and therefore a larger reach. At least four or five times Van Veen tests the X-Man, but the score remains 0-0. Until the 42nd minute. Williams plays the ball out wide to Wiseman, who crosses for the Dutchman. He finally defeats his arch enemy with a forceful effort from up close: 1-0. It gets even better when Van Veen is pushed by Canavan in the penalty area and the referee points to the spot. Williams clinically puts the ball behind Logan to make it 2-0 before half time. We continue to dominate the proceedings during the second 45 minutes, but Rochdale manages to pull one back with a long shot by Camps in the 53rd minute. We don't allow ourselves to be intimidated by this small setback, however, and Van Veen puts things right with a devastating strike from close range in the 64th minute: 3-1. For the remainder, nothing else much happens and we manage to get a comfortable three points. Love it.
With my two main strikers out, I'm happy to see Kevin van Veen stepping up to the plate. He was very valuable for us with his two goals against Rochdale and I hope he can continue this run of form with Madden and Hopper still injured for the time being. Our win takes us up to the 16th place, with 8 points separating us from the relegation zone. Next up are Oxford United, who have exactly the same amounts of points as we. So we can really strike a blow against some rivals if we manage to win away at The Kassam Stadium. The U's have just ended a three game winning streak with a loss against Oldham, so hopefully we can beat them.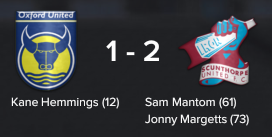 We seem to start of well with Wootton scoring the opener, but it was disallowed due to being a mile offside. It is Oxford who manage to break the deadlock in the 19th minute when Macey mishandles a Maguire cross to allow Kane Hemmings to score. We press for an equaliser, but lack the necessary fortune in front of goal. Oxford are the better side at the start of the second half, with some very good chances gone begging. But we manage to escape from the blue-yellow pressure in the 61st minute with Mantom equalising from 16 metres away. The snobby university types are dumbfounded by the sudden turn in fortune and it even gets better for us when substitute (and transfer listed) striker Jonny Margetts puts us ahead: 1-2. Oxford are awaken by our comeback and press for their own equaliser, but Macey has recovered from his earlier failure and keeps them out.
Another game, another win. Safety is getting closer and closer with each passing week. Ever since my lads got to grips with the system, we have started to play very well and more importantly, we have started to win. Even with Madden and Hopper suspiciously both out with a hernia (maybe think about getting them separate rooms next time in a hotel) we still manage to get the goals in. We hopefully continue our fine run of form against 13th placed Bradford City, who have recently parted with manager Stuart McCall. For this game we are without Scott Wiseman, who is on international duty with Gibraltar. Yes I know, it is also very weird for me. He'll be replaced by Jordan Clarke.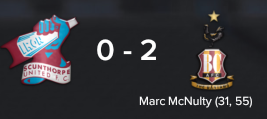 The game is quite a boring affair until Bradford finds the net with 30 minutes played. A penetrating pass by Billy Clarke is received by Marc McNulty, who puts it past Macey to make it 0-1. The goal is a true wakeup call and we start to attack. Things get worse in the second half when McNulty scores his second of the evening to make it 0-2. We are nowhere to be found and play one of our worst matches since I'm in charge. Bradford have the match firmly under their control and doesn't give us an opportunity to come back into the game. So the game ends 0-2 in a very underwhelming performance by The Iron.
And to make things worse, one of the few strikers remaining has sprained his wrist during the match and is out for about 10 days. That means we are very much depended for our goals on a 20 year old and a transfer listed lad. On the plus side, our loss hasn't affected our standing in the league and we remain 16th, a comfortable seven points from relegation with just six games to go.