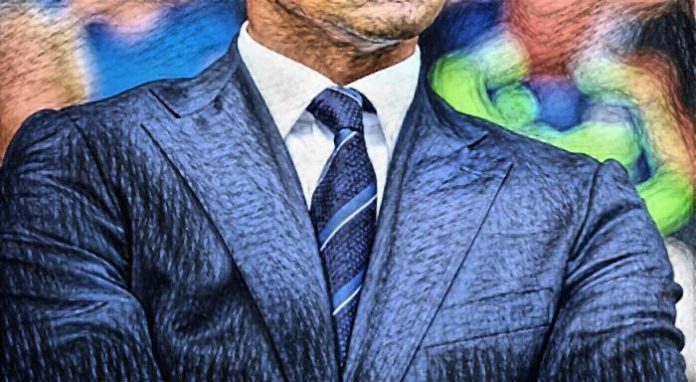 We start the month on a very sour note:

Although he needs around 419 chances to score, Madden has been in lethal form since I took the reins at the Iron. He has scored an incredible 8 times in 9 matches and will be missed. His replacement for now will be Kevin van Veen, of whom I hope to see more than he has shown thus far.
February will be a very important month, because we face several fellow relegation candidates. The first is Southend United, who are two points above us and on the edge of the relegation zone. If we manage to defeat them at Roots Hall, we shall climb above them and perhaps out of the quagmire that are the bottom four places in League One.
The first 45 minutes are full of open play with chances for both sides. That it takes until the 43rd for one of us to score, says a lot about our mutual ineptitude in front of goal. Luckily, it is we who take the lead. Wiseman is brought down in Southend's penalty area and Hopper scores his 12th of the season to put us in front. The second half is just one minute and 51 seconds underway when we double our lead in the most fortuitous way. Wiseman crosses low and it's Southend defender Ryan Inniss who puts it behind his own 'keeper.  It gets even better when a second penalty is given to us after Anton Ferdinand pushes Smallwood during a corner. Again, Hopper shows his cool as he clinically despatches the ball in the net: 0-3. The game is not over, however, when Ryan Leonard makes it 1-3 with a low shot from 20 metres out. Less than 10 minutes later, it is Simon Cox who puts The Shrimpers back in the game with a deft finish at the near post. Even when forced to continue with ten men, Southend still pushes on, leaving me with a dangerously elevated heartbeat. But after a second player is sent off, the wind is taken out of their offensive and when the referee blows on his whistle for the last time, it is we who are victorious.
The result sees us rise out of the relegation zone with a single point separating us from the unlucky bottom four. This means one thing and one thing only: we have safety in our own hands. Let's pray and hope we don't fuck this up. To begin this not fucking up, we'll have to show more consistency against Shrewsbury than we did last time after an away victory. Even though Shrewsbury are five places above us, the gap between us in only three points. This means that IF we win and IF the other results go our way, we could make a giant leap up the table.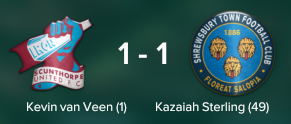 The game is exactly 40 seconds underway when a wonderful tiki-taka passing game puts Van Veen one-on-one with the Shrewsbury 'keeper. My compatriot doesn't hesitate and blasts the ball into the net: 1-0. Talking about a dream start… Shrewsbury immediately starts to put the pressure on us, but our capable defenders keep them at bay with the most exciting moment a direct free kick that hits our crossbar. The second half is just a couple of minutes old when Shrewsbury are level after a beautiful strike by Kezaiah Sterling beats Macey. Shrewsbury continues to be the dominant side and actively seek the goal that would put them ahead. Salop is in no such luck, however, and the match ends in a stalemate: 1-1.
Considering Southend lost their game against Millwall, the draw leaves us still clear of the relegation zone. A win would have been nice, but just a few weeks ago we would certainly have lost this game so I'm putting this away under progress. The next side visiting Glanford Park is Wallsall, unbeaten for 8 games. I wish we could say the same. Even though there are only two days between the two games, most of the squad is still reasonably fit. Gijzen will sit this one out, and will be replaced by Sam Mantom, who recently returned from injury and has been itching for a chance to re-establish himself in the starting line-up.
We start the game by pressing the Wallsall defence, and are rewarded in the 3rd minute. Mantom goes down in the penalty area and the third penalty kick in as many games is given. Hopper again dispatches the ball into the net to put us in front. We are not allowed to enjoy our lead for very long, with Matt Preston equalising for the visitors in the 9th minute. The next biggest chances are for The Saddlers, but Macey is showing himself to be an astute signing. The second half is a tedious affair, with some half chances for both sides. The game is brought back to life in the 71st minute, however. A long ball by Williams puts Hopper between the Wallsall defenders and their goalie and the Boston born striker doesn't fail: 2-1. I immediately switch to a defensive mentality, and instruct the boys to focus on retaining possession. That's enough to see this match out and secure all three points.
Ending Wallsall's unbeaten run sees us climb the table even further. We're now in 18th place, four points above the relegation zone. It took a while for my players to get to grips with my playing style, but they now seem to get the hang of it. The next game sees us travel all 46 miles to nearby Sheffield, to face the local United. The Blades are in bad shape, having won just one of their last ten games. Gijzen returns to the side, with Mantom shifting to the right.
We're making a habit of scoring early goals, a habit I can get used at. It is Dyon Gijzen who scores his first goal after 33 seconds with a wonderful strike from range that hits the net off the post. But again we aren't allowed to enjoy the lead. Danny Lafferty strikes hard and true from range and manages to beat Macey: 1-1 after just 8 minutes of play. Things get worse just 7 minutes later when Harry Chapman volleys the ball after a corner kick is headed away by Pennington: 2-1. The game is seemingly put out of our reach when Billy Sharp heads the ball powerfully into the net with 36 minutes played: 3-1. We start the second half well and create some decent chances. Our just reward for our fine play is received in the 58th minute when Scott Laird's first attempt at a direct free kick ends up in the wall, but he volleys the returning ball hard into the far corner: 3-2. We continue pressing The Blades' defence and the expected equaliser comes in the 76th minute when Hopper beats the Sheffield United goalie with a low shot from just inside the penalty area. The 3-3 is about all we can muster and we return to North Lincolnshire tired and grateful with a point in the bag.
Since we played Sheffield United on Friday and FA Cup fixtures during the weekend, we'll have to wait until Tuesday to see where we're at. If results go our way, we could end the weekend as high as 16th. However, the victory of AFC Wimbledon against Shrewsbury sees The Dons rise above us, leaving us at 17th place. Our next match is a true relegation battle against 23rd placed Bristol Rovers. They've won one game since the beginning of the year and provide a good opportunity to snatch another three points. I start with the same eleven names who started at Bramall Lane last week, considering our performance during the second half was the best football I've seen all season.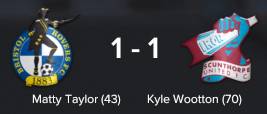 The game takes a while to get really started, but after about 30 minutes without any real opportunities for either side, Bristol Rovers seems to score. Fortunately for us the goal is disallowed and the score remains goalless. Small chances are exchanged between both sides, without really becoming dangerous. It is in the end defensive clumsiness which put Bristol Rovers in front. A low cross by Daniel Leadbitter hits Wallace, who is unable to control the ball and ends up at Matty Taylor, who puts the Rovers ahead: 1-0. During the second half, Bristol Rovers hang back and soak up our pressure. We create some half chances, but fail to really split open their defence. We are finally able to break through in the 70th minute when a high cross by Laird ends up on the head of Wootton, who heads the ball in the net. After the equaliser, we continue to search for a way to get the full three points. The Bristol Rovers defence holds fast, however, and we end the match on equal grounds.
The draw against Bristol Rovers sees us slide down the table to 18th. It is a really tense battle in the lower end of the table. Three teams are at 35 points, with us just two points above them. I feel like a surfer surrounded by sharks in League One kits. However, looking down is not the only option. During our last match of the month we face AFC Wimbledon, who are two points above us. It presents another opportunity to put more distance between us and that dreaded relegation zone. Because Van Veen continues to disappoint, I opt for Wootton to take his place. It was his performance that won us a point against Bristol Rovers. The good news is Paddy Madden is back in full training, but is not fit enough for 90 minutes. He'll start on the bench.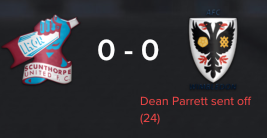 During the first half, we start as the side most likely to make things happen with some good shots by especially Gijzen failing to hit the net. We are aided by Darren Parrett, who needs only 23 minutes to receive two yellow cards. During half time, I bring on Madden – that Irish guarantee for goals.  We continue to put pressure on the Wimbledon defence, without making much of a dent into it. Norwegian goalie Kjetil Haug is really putting up the fight of his life, keeping everything we throw at him out of his goal. When the referee blow his whistle for the last time, the result is still goalless. We get a point, where we would have deserved three. A shame.
We end the month of February without losing a single game. I would have liked more wins, but there is progress to be seen. We are drawing the matches we were losing and we are winning where we drew in the recent past. I trust that with the return of Madden, even some of these draws will turn into wins. But for now we are in 18th place, three places higher than we were at the start of the month. I'm confident we can take this all the way and stay up. That would give us a platform to build upon. I'm beginning to grow very fond of the club and would like to stay here.