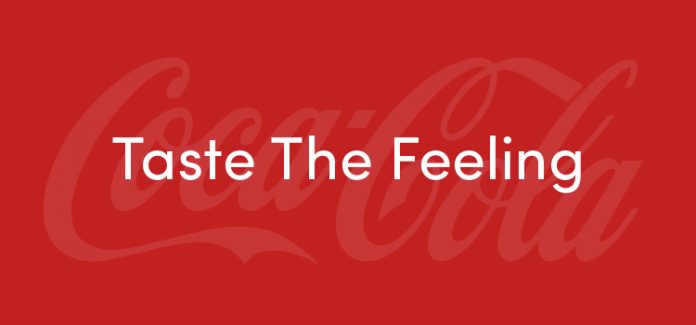 It's been 5 real life months since I last updated you (unless you're in #tastethefeeling on slack!) on how my Taste The Feeling save is going.
In case you missed it first time around (if you did, take a read of the series from the beginning by clicking my name and going back to the first page!) – the series was a simulation of sorts, exploring what would happen if Coca-Cola were to follow Red Bull into the football business, but with a heavy change to the Red Bull transfer model.
It's no secret that Red Bull are absolutely loaded with money, and aren't afraid to throw it around on wages and transfer fees. Our model was to be clever, and gradually build a worldwide scouting network that would throw up unpolished gems, that we would polish ourselves through a network of clubs in different leagues – meaning that no matter the quality of player, we would be able to find a place for them – hopefully getting them ready for the Premier League. If they didn't look likely to reach that level or could find a home in our network they were either loaned out or sold, with the profits invested back into more players, or into the facilities – to hopefully generate our own talents.
We started our journey with Coca-Cola Antwerp back in the 2nd division of Belgium in 16/17, before adding Coca-Cola Silkeborg in the Danish 2nd division in the 18/19 season. Coca-Cola Leiria in the Portuguese 2nd division was added for the 20/21 season before Coca-Cola Sunderland in the Championship were added in the 22/23 season.
The reason for this gradual expansion was simple – we needed our own set of players to be able to compete, and for that, we needed to expand our scouting network – along with the actual purchasing of players.
So – was the system a success? Yes, yes indeed. The system has been such as success, I needed to add another club to bridge the gap between the other clubs as I had simply too many players that were of the Coca-Cola Leiria/Antwerp level, but not good enough for Coca-Cola Sunderland whilst being too good for Coca-Cola Silkeborg (which would have negatively affected the development chain for the youngsters at Silkeborg), so the 26/27 season saw the introduction of Coca-Cola Alkmaar in the Eredivisie.
The Model
Having 5 clubs at our disposal, with an incredible scouting network that covers 63 different countries meant we were bringing in a frankly ridiculous amount of players each season. Each season every player was analysed to determine what level they were currently at (or could potentially reach) and then sent to an appropriate team for the season. The below graphic demonstrates the development cycle I implemented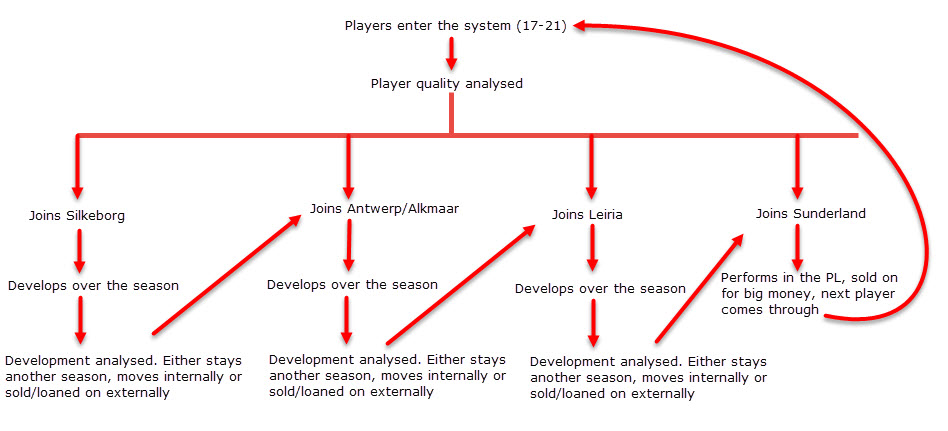 When players moved between clubs internally as permanent transfers, I ensured a 50% sell on clause was inserted, which would see a trickle-down of funds from the richer clubs (aka Sunderland and Antwerp) into the poorer clubs.
I have a few examples of our process working wonderfully. Take, for instance, Emilio Muzonho. He came into Coca-Cola Leiria as a regen and instantly began attracting bids from clubs like Dortmund and Arsenal before even kicking a ball. So it was obvious he must have high PA. He moved to Antwerp aged 17, to cease the attention around him and went on loan to Lommel in the Belgian 2nd division.He didn't do very well but had gained a bit on his attributes so I deemed him worthy of a loan to Coca-Cola Silkeborg. One solid season later and he's hit double figures for goals and jumped up stats wise. Now too good for Coca-Cola Silkeborg (who had more players ready to take his place), he was ready for a harder challenge. Sadly both Coca-Cola Antwerp and Coca-Cola Leiria had solid starters and backup strikers so I couldn't find a spot for him, so he was loaned to Zulte Waregem. Finally, in the 25/26 season, his attributes had improved so much, and due to player sales – I was able to find him a place at Coca-Cola Leiria. He spent 3 seasons at Coca-Cola Leiria scoring 80 goals in 98 league games – making him ready for the step up to the Premier League, moving to Sunderland for £15.25m (split equally between Leiria and Antwerp) where he ended up scoring 18 goals in 33 premier league appearances

The scouting network has bought huge competition for places (hence the addition of Alkmaar) that has lead to an incredible conveyor belt of talent. When someone gets bought for big money from Coca-Cola Sunderland, there's normally instantly someone ready to make the step up from one of our other team.
Let's use Mateusz Ponski as an example. He joined Coca-Cola Sunderland in January 2025 for a fee of just 3.5m – as he was brought in January, I had no space in any of the other Coca-Cola teams for him, so organised for him as part of the transfer to return to Legia Warszawa on loan until the end of the season. He was on the fringes of the Sunderland first team during the 25/26 season, rotated with Jadon Sancho, an ageing Serge Gnabry and Greg Kiltie (all established FM legends and all bought before I took over at Sunderland). At the end of the 25/26 season, both Gnabry and Kiltie were sold – leaving Ponski and Sancho as the 2 main wingers. Ponski flourished, so much that Tottenham came in with a huge bid for him
The same day, Man City bid £28m, for Sancho. Without a doubt, I accepted both. Now, you may be sitting there fuming at me for letting Ponski go, when aged 20 he's arguably got the world at his feet with those attributes, but that's all part of the model. Sancho was bought for £1.7m and Ponski for £3.5m – a total outlay of £5.2m, receiving a potential £64m back from sales for a rather nice profit of £58.8m.
Over at Coca-Cola Antwerp also during the 26/27 season – we were drowning in wingers ready to make the step up.

David Wandi was bought for £1m and had spent the last 2 seasons out on loan since impressing at Coca-Cola Silkeborg, firstly at Espanyol and then at Shakhtar (earning Coca-Cola Antwerp over £8m in loan fees during those 2 spells) and looked like he was ready for the Premier League (he actually ended up joining Barcelona that window for over £20m)
Luis Lopes had spent the season at Coca-Cola Sunderland anyway as a rotational option, having joined Coca-Cola Antwerp from Atletico Madrid for just £4.5m, and could have potentially been ready to make the spot his own, having impressed during his 15 games last season.
Sotiris Katiskas had spent a year and a half in Coca-Cola Antwerp's first team since signing from PAOK for £4.8m and had just netted 2 goals and 7 assists from 29 starts for Antwerp.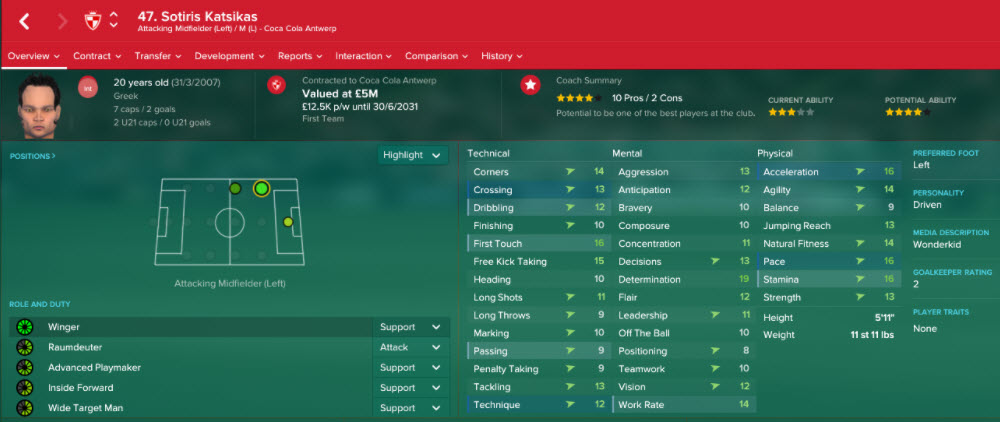 Jonathan Figueroa joined Coca-Cola Antwerp in January 2025 for £6.25m from Celta De Vigo, played a full season on the wing for Antwerp before joining Coca-Cola Alkmaar on loan, where he was used as a striker – scoring 14 goals and 4 assists in 32 starts.
So Figueroa and Katsikas were the ones chosen to make the step up, with Katsikas joining Coca-Cola Sunderland for £12m and Figueroa joining for £15m and 50% of the next transfer. Both with 50% of the next transfer clauses inserted
Obviously, with those moves, that leaves a void at Coca-Cola Antwerp that needs to be filled by players such as Mpalile (bought to Coca-Cola Silkeborg for 625k) or Mohamed Tumbo (bought for £1.5m)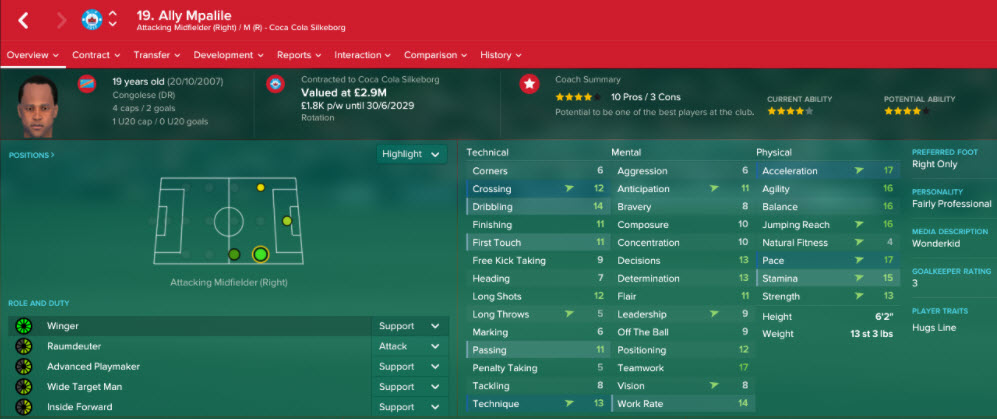 Both Tumbo and Mpalile ended up moving to Coca-Cola Antwerp for £5.5m each (both with 50% sell on clauses for Coca-Cola Silkeborg to later profit from). Since I started this piece Mpalile has indeed now moved to Coca-Cola Sunderland which should end in a nice windfall for both Coca-Cola Antwerp and Coca-Cola Silkeborg if they're sold on for big money like the previous players in their positions – which will allow the smaller clubs to re-invest that money into youth facilities and more players, thus beginning the cycle once more.
Our model + scouting network was so successful that we were bringing in too many players, and even with the introduction of Coca-Cola Alkmaar we couldn't give them all game-time, so instead adopted a new strategy – loaning players out for large sums of money, often for more than what we bought the player at, just for one season!
This also helped players develop, and helped the bank balance. Coca-Cola Antwerp (where most of the players started) alone had 39 players out on loan for the past season, a majority for a fee. This was a huge money earner for us, with our network of clubs earning a total of £4.77m a MONTH during the last season, obviously a pretty large sum – which leads us nicely onto the next section of the analysis (finances) which will be covered in part 2 later in the week!