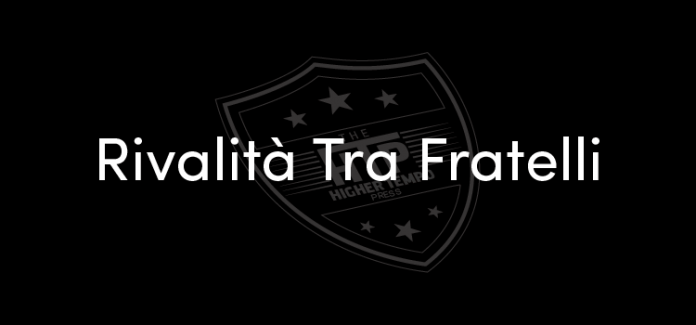 This is the story of two brothers, a modern-day Cain versus Abel if you will, based now in the Allianz Stadium. If you'd like to replicate this challenge, we're using the updated medium database with the following leagues: England (Premier League, Championship, League One & League Two), Italy (Serie A & Serie B), Spain (La Liga & Segunda División), France (Ligue 1 & Ligue 2) and Germany (Bundesliga & 2. Bundesliga).
Rivalità Tra Fratelli, Episode 30 – March '20
MIKE: This is not to my liking. Charlie is off writing other articles for The Higher Tempo Press and attempting to rescue Preston North End from the clutches of relegation, meaning March 2020 in our world is my responsibility to report on. I'm sure we've talked about insight into the way these RTF episodes are produced, we play the game either together or separately and my rambled notes are changed into something semi-coherent… basically, put the women and children to bed, this won't be pretty.
The good news is that there's only five matches to review this month, the bad news is that the league fixtures look entirely unappealing. Included though is the second leg Champion's League game against Chelsea, which we lead on away goals from the first leg 1 – 1.
As I have to sit through Charlie's Preston defeating local rivals Blackburn 2 – 0 to move five points clear of relegation, I'm planning for Salernitana. Basically, it's the stiffs.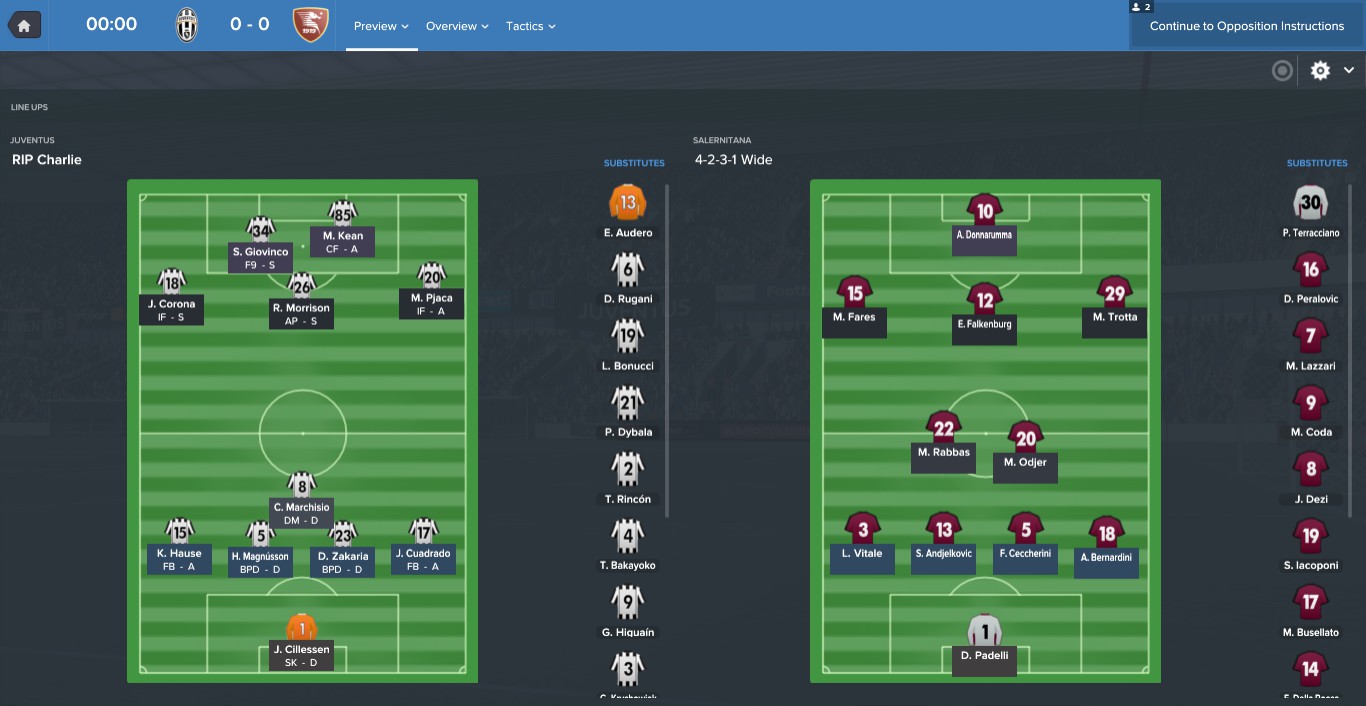 MIKE: Things are a little tentative in the early stages before Pjaca takes the game by the scruff of the neck with two goals in two minutes. It's actually all positive, which is rare. Cuadrado was cautioned as usual (that's just the SEVENTEEN for him so far this season and we're only just in March) but Giovinco added another goal to his tally and Higuain returned from injury as a late substitute.
Things don't normally go this well without a sting in the tail. Perhaps Charlie has been holding us back all along…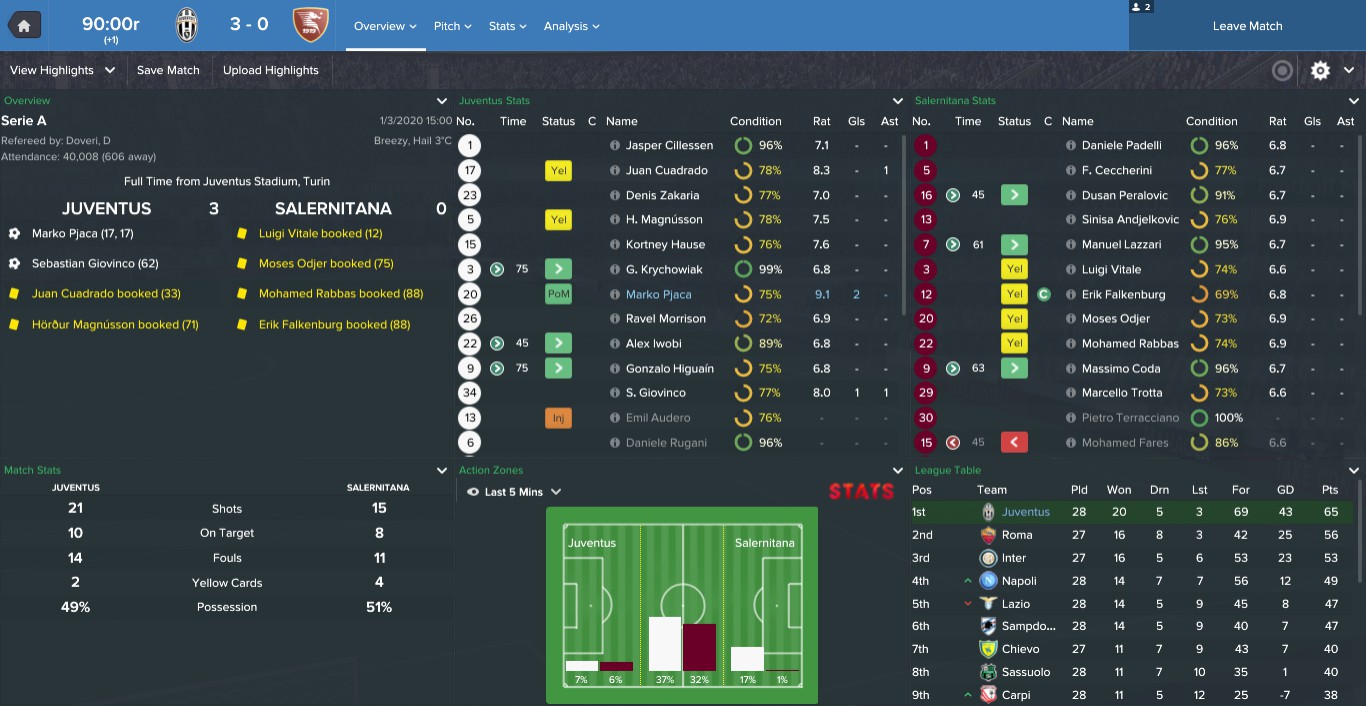 MIKE: As Charlie informs me that Tottenham have won the EFL Cup, beating West Ham on penalties, my mind is already on our next opponents – Bologna – and exactly how I'm going to destroy them. I think we'll stick with this attacking formation with two strikers because that's the one we'll play against Chelsea. We don't normally play it away from home but familiarity breeds contempt or whatever the bloody phrase is.
Basically, I want the players to have as much preparation in this formation as possible before we face Leonardo Jardim's boys.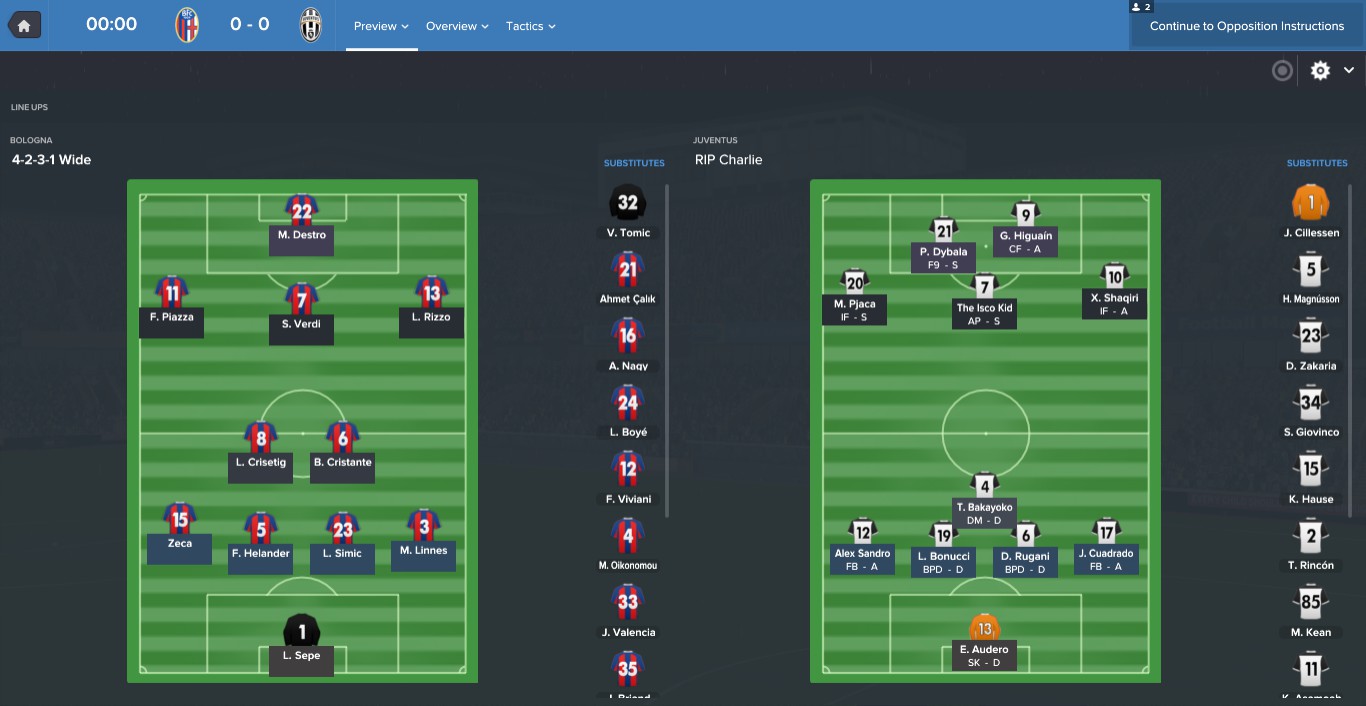 MIKE: It may be Alex Sandro's 125th appearance for the Old Lady but Shaqiri is the man to take his mantle of overlapping runs from the start as he provides a cut back for Dybala to earn his 20th goal of the season.
In the second half just as I'm thinking that this really isn't a suitable formation for an away game, Bologna have a chance from a corner and second choice goalkeeper Emil Audero has to make a superb point-blank reaction save. Even though he got a clean sheet and made that awesome save, he only got a 6.9 rating. It's like Didier Drogba's poor ratings when I was at AC Milan despite having a good game all over again. Higuain missed a late chance after being put through, he looks rusty.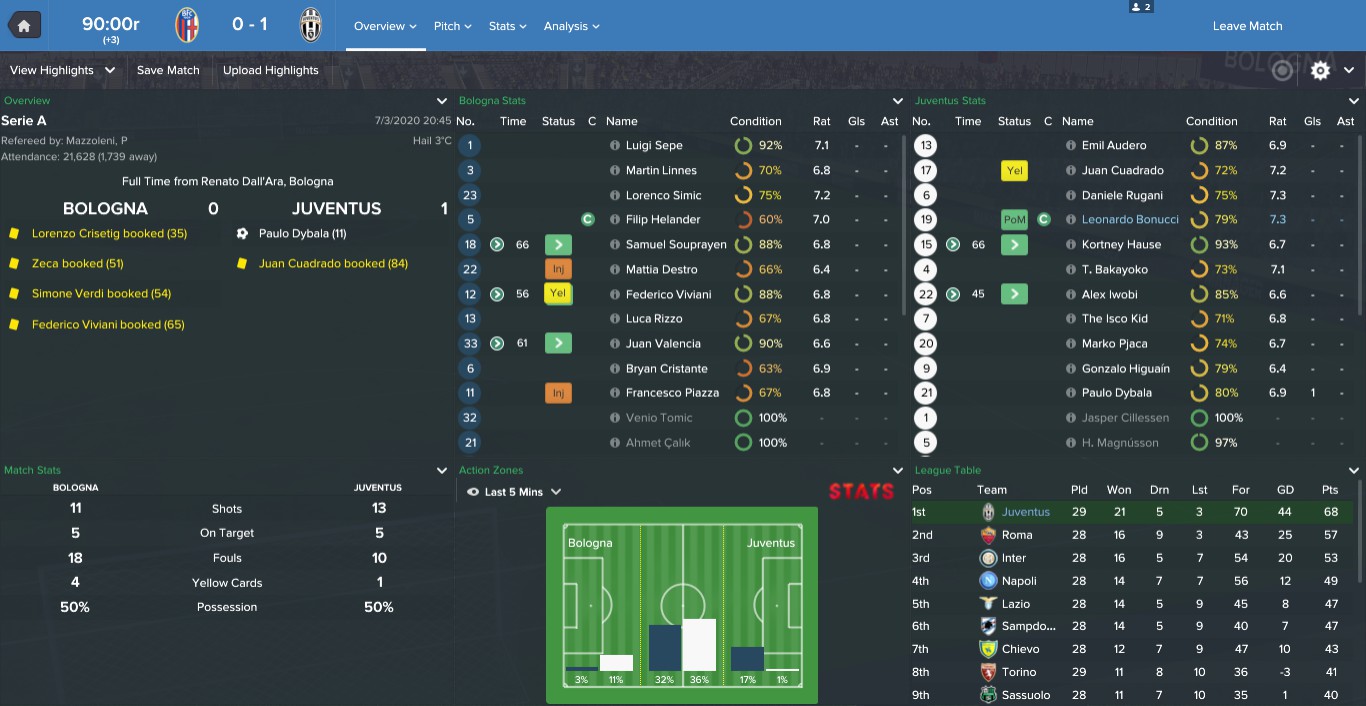 MIKE: It's now thirteen games without a loss just at a time when our rivals are faltering. Roma are managed by David Moyes these days and are our nearest challengers, some eleven points adrift in second and Inter are third, a point behind. Roma have lost and drawn their last two, just at a time when they really needed to win. AC Milan are floundering themselves, still down in fifteenth.
If you do like a laugh, as I do, Charlie's Preston side are about to play Stoke in the Championship. Stoke have just appointed a new manager… one Sam Allardyce or Allardici as he is known in my save. A marriage made in hell.
Just as I'm looking at the other European quarter-finals, PSG, Arsenal, Liverpool, and Bayern are all safely through… Dybala reports injured. It's only for a week but it'll be touch-and-go for Chelsea. As a result, Higuain will get one half against Palermo to get some fitness as he might be needed to lead the line.
MIKE: Giving Salah and Higuain the first half didn't mean anything as Palermo bolt into a two-goal lead, for crying out loud. The first was a penalty given away by Hörður Magnússon, who just dangled a leg out for no reason. He'll be lucky to play in the U23's from now on.
Even though Giovinco, on at the break for Higuain, got us back into it with a penalty of our own, Palermo run out 3 – 1 winners. Not exactly the best preparation for Chelsea.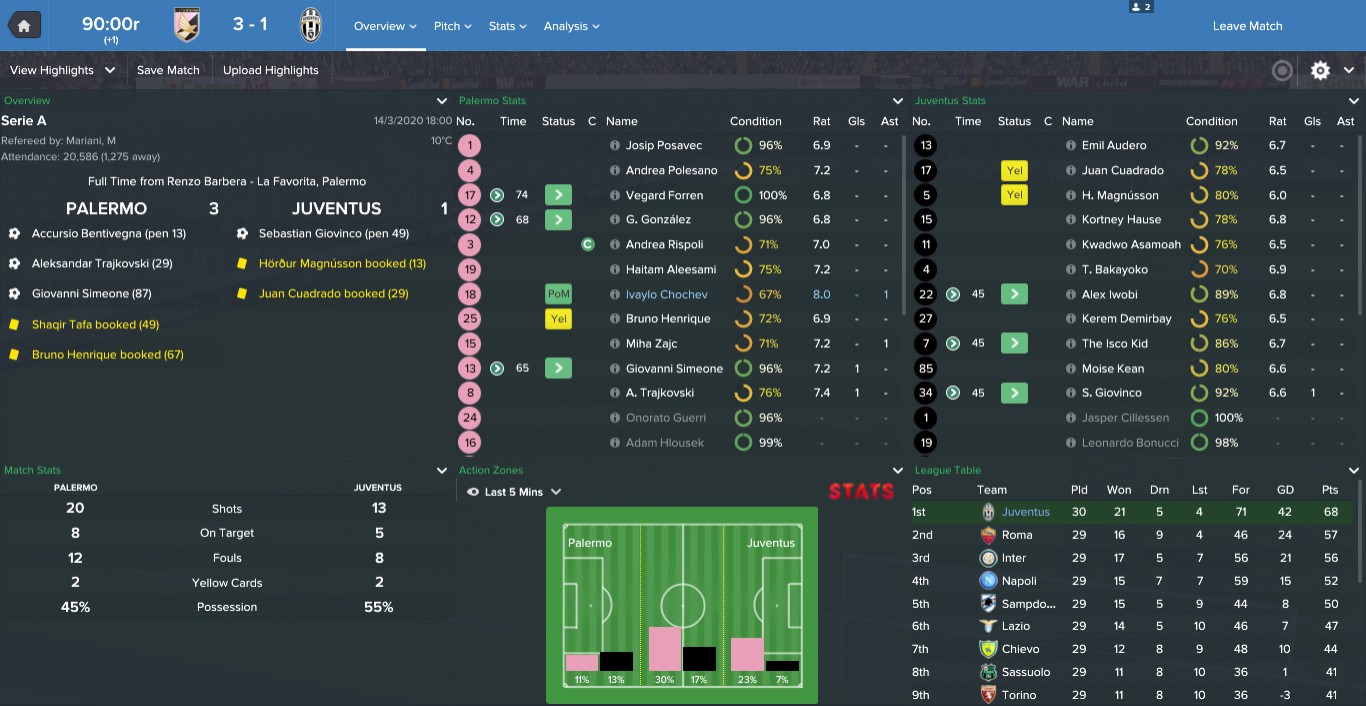 MIKE: Roma won their match to reduce the arrears, Barcelona and Manchester United are through in the Champion's League to the quarter-final. Real Madrid only need to draw against Lyon to progress. It really is going to be a strong quarter-final lineup. Over in Preston, Charlie has led PNE to the FA Cup semi-final and Wembley with an unlikely away victory 2 – 1 over Burnley, who for some reason have got Dimitar Berbatov installed as manager, all against the backdrop of some pretty poor league results.
Alex Sandro is suspended so Kortney Hause gets his big chance at left-back. Dybala has recovered enough to partner Higuain up front but Giovinco is on the bench ready to step in if required. All we need to do is not lose and we're through, or not concede too many. Rugani and Bonucci are our central defensive pair, they don't piss around, they're as tough as an overcooked Slimming World Sausage.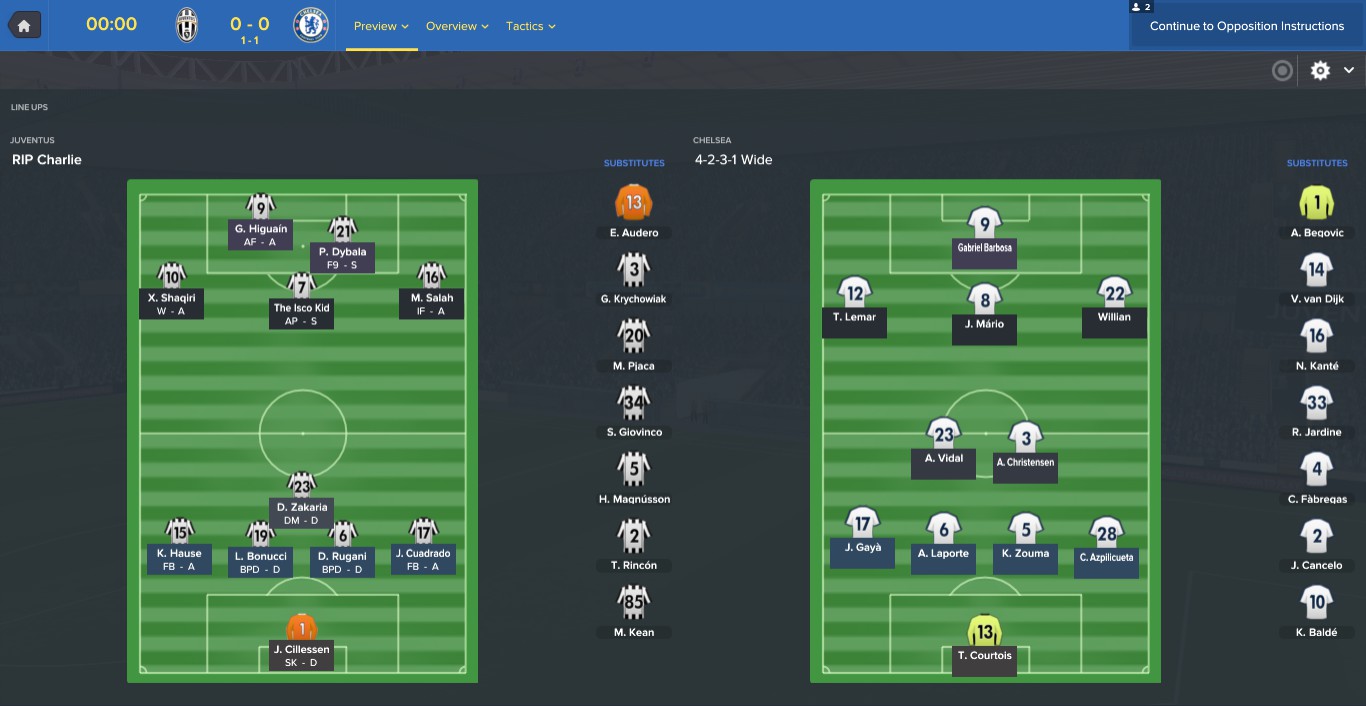 MIKE: The attacking midfield trio of Shaqiri, The Isco Kid, and Mo Salah are as good as any trio in world football. With Dybala and Higuain ahead of them, that is one hellacious quintet. It's two of the five who combine to open the scoring before the ten-minute mark as Higuain cuts back from the edge of the box for Isco to slot into the far corner.
Pinball in the Chelsea area then sees Salah pass for Higuain to sweep home but Lemar reduces the deficit with a well-taken free-kick. All this before the clock even says 13 minutes. Chelsea are circling the wagons here and after a corner gets cleared to the edge of the box, Willian just curls it around everybody into the top corner, now Chelsea lead on away goals. I can't even keep up as we attack down the right with Cuadrado, Salah takes over and finds Shaqiri at the back post… it's 3-FUCKING-2! I will now happily profess my love for the little Swiss Superman.
Seconds into the second half and Willian picks up Shaqiri's clearance. He finds Christensen and he just hits a half-volley on his left foot from 20 yards out first time and Cillessen is beaten! Chelsea lead on away goals again, the bellends, even if that was a pretty awesome strike. For 40 minutes nothing happens, not for us anyway… that's until Shaqiri fires us back into the lead! I am on my feet pacing back and forth as Shaqiri looks like he's going to cross but surprises Courtois at the near post and the Belgian 'keeper is left flapping in thin air.
Then it happens.
Bonucci technically notched the assist for Shaqiri's second goal but he turns villain as he fouls Gabriel Barbosa in the penalty area, shoving him. STUPIDLY shoving him. For what? He hadn't got within 40 yards of the goal all game! Vidal steps up against his former club and knowing his character I know that he relishes putting one over us. Vidal dispatches the pen and Cillessen concedes his fourth of the night, he went the right way but couldn't save it.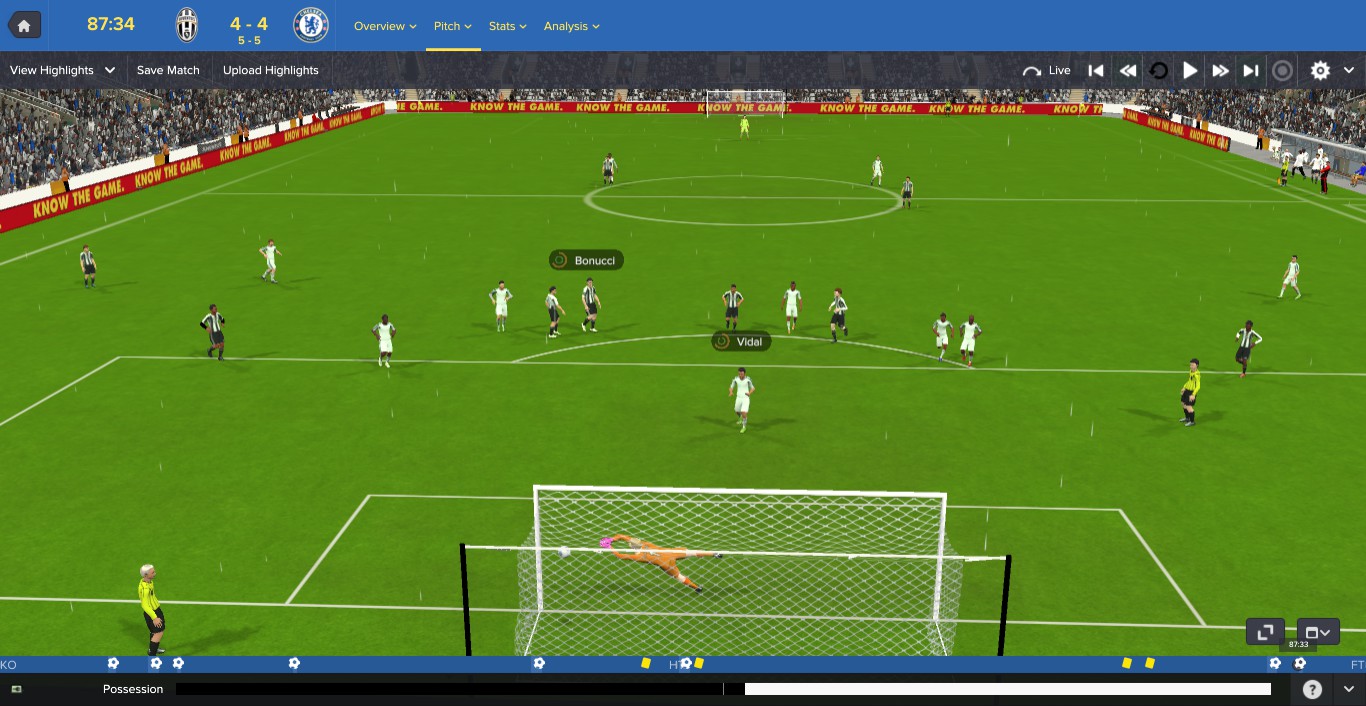 I rewind. It happens again. I rewind. Again. I rewind. Again. Each time Vidal scores. The seconds wind slowly down as the Champion's League dream hangs by a thread. The final score is Juventus 4 Chelsea 4. A score draw means Chelsea win it on away goals as they got more at our gaff than we did at theirs. I'll say that again but I'm having a hard time processing it. Chelsea win it on away goals.
We're out.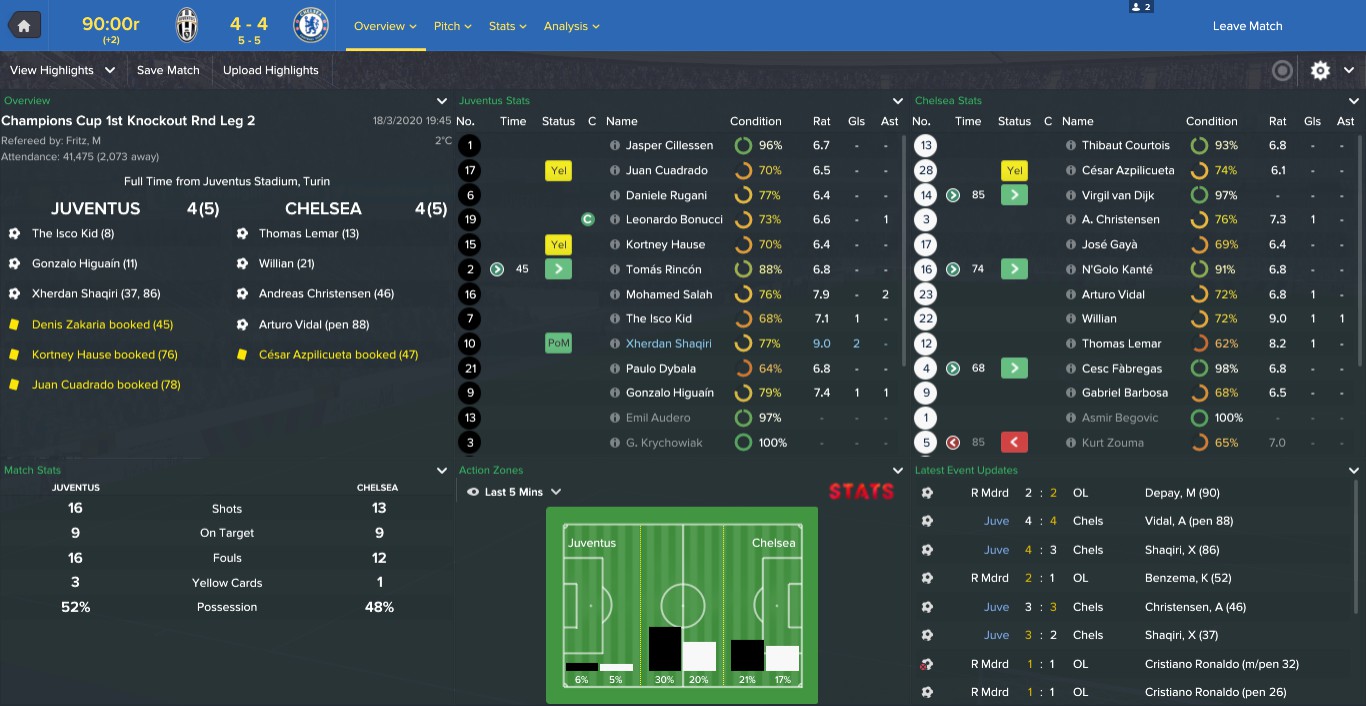 MIKE: It's over.
No Champions League. No European Cup. No redemption for two years of being beaten finalists. We didn't even progress beyond the first knockout round.
It's over.
I don't know what to say, I really don't know what to do. It's game over. We play Napoli at home before the month ends and draw 2 – 2 but I don't care. I'm on autopilot.
It's just… over.
Thank you for reading, join us on twitter at @FM17Challenge, @CharlieTangoFM & @MikeTangoFM for exclusive comments, developments prior to episodes and reaction afterward. Continued thanks to Chris, Mike and everyone at Tempo for the opportunity to share this with the readers.