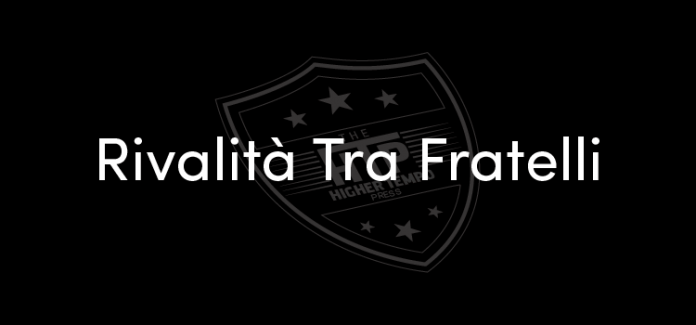 This is the story of two brothers, a modern-day Cain versus Abel if you will, based now in the Allianz Stadium. If you'd like to replicate this challenge, we're using the updated medium database with the following leagues: England (Premier League, Championship, League One & League Two), Italy (Serie A & Serie B), Spain (La Liga & Segunda División), France (Ligue 1 & Ligue 2) and Germany (Bundesliga & 2. Bundesliga).
Rivalità Tra Fratelli, Episode 28 – January '20
MIKE: Welcome to 2020 in the world of Football Manager 2017, Tango Towers (I hate that name) and of course, the Rivalità Tra Fratelli challenge. I have no idea what the new year celebrations are like in Turin but I imagine them to be spectacular with Juventus at the very heart. If they aren't then they should be and Gigi Buffon has had plenty of time to sort them out. We begin with a visit to Carpi, who are one of our affiliates and should roll over in the same manner as Toro Rosso to Red Bull if they know what's good for them, then we stay at the Allianz to play our local rivals. After that, there's Fiorentina (having a shocking season), Empoli and finally my old team AC Milan.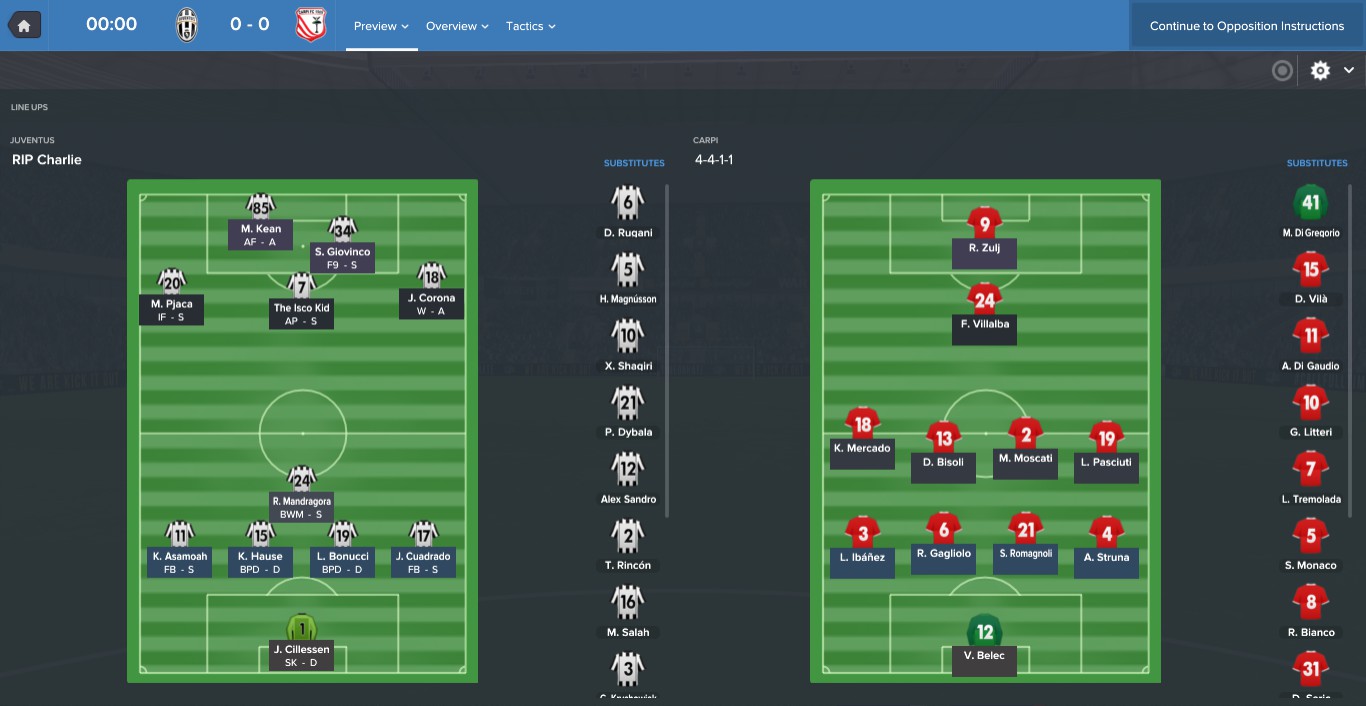 CHARLIE: Mike is thinking that Fabrizio Castori's side will turn up, lay down, collect their belongings and return to the Sandro Cabassi with their tales between their legs but I have a sneaking suspicion that it won't be so simple especially with Inter loanee Fran Villalba in attacking midfield, who I originally signed from Valencia for the Nerazzurri.
And so it proved. A 2 – 0 win is nothing to unappreciated and despite scoring two, Giovinco could have had a hat-trick but saw a penalty saved. Had it not been for him, Juventus would have been in trouble.
CHARLIE: Mike rested a host of players but it just about paid off especially on a day when AC Milan lost again, this time embarrassingly 4 – 1 to Lazio and Inter Milan suffered a crucial defeat to rivals Roma at the San Siro.
MIKE: I have to address the issue of transfers. The window is now open and if there's anybody available, we have money in the pot… £37 million of it to be exact and £103k in weekly wages. The problem is, nobody is standing out. Charlie's advice has been to strengthen where we're weak, which is with our young boys. D'Urso, Mandragora, and Orsolini will prove to be great business but right now, it's proven quality we need. With Orsolini on his way out on loan to Carpi, I bring in Alex Iwobi on loan from Arsenal. That's £22 million worth of talent and an average rating of over 7.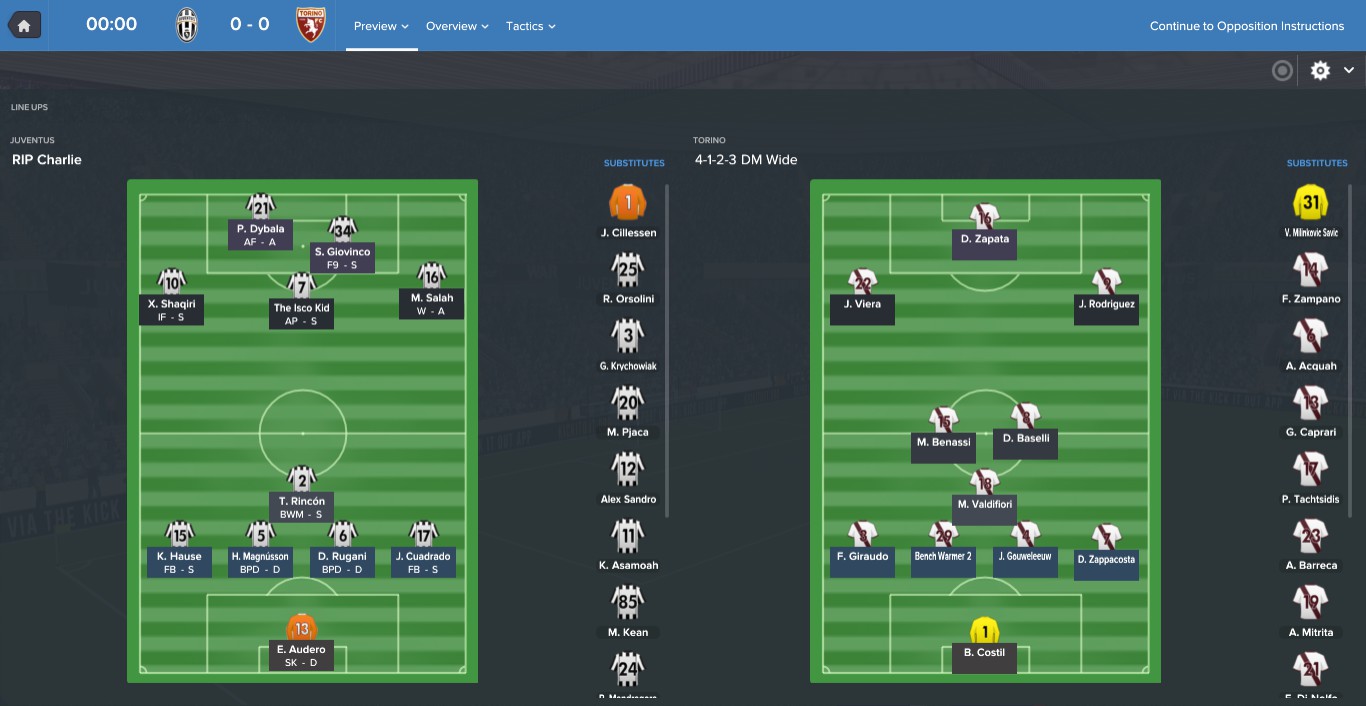 MIKE: I've never made much of the local rivalry between our two clubs, even in press conferences, after all, it's hardly Manchester United vs. Manchester City, but there is needle. How do Espanyol feel about being in the shadow of the mighty Mes Que Un Club? How do Paris FC feel about PSG?
CHARLIE: A really good first half sees Dybala, restored to the first team, involved along with strike partner Giovinco to set up Salah for tap in. Torino fire back through Jonathan Viera, the former Las Palmas man bringing our neighbours level. Just as it looked like Torino were about to take the lead, we hit them with a classic sucker punch as Dybala rifled home from Salah's sensational run to beat half the Torino defence. Having had no time to take in, Torino were hit again as Giovinco's deflected effort beat the goalkeeper. Three-one at half time, where The Isco Kid was replaced by Karem Demirbay. Isco has been fairly poor recently but Demirbay took his opportunity with aplomb, scoring direct from a free-kick.
MIKE: Giovinco notches with his usual goal but we're far from finished. One more from Dybala and then Salah mean this is an utter whitewash. I'm proud of Giovinco. He's our top scorer, our best player, and now most trusted striker. Although there is word on that front…
MIKE: The big news is that Paulo Dybala will now consider signing a new contract so an offer has been made. He was set to leave on a free at the end of the season and Chelsea have been scouting him in recent weeks but he turned down offers from both Monaco and Dortmund in the last week. His future seems up in the air and as we all know where there's chaos, there's opportunity.
With some irony, he won't start against Fiorentina but I expect him to feature at some point. Giovinco is just undroppable, even for Dybala. Alex Iwobi makes his first start as The Isco Kid is benched.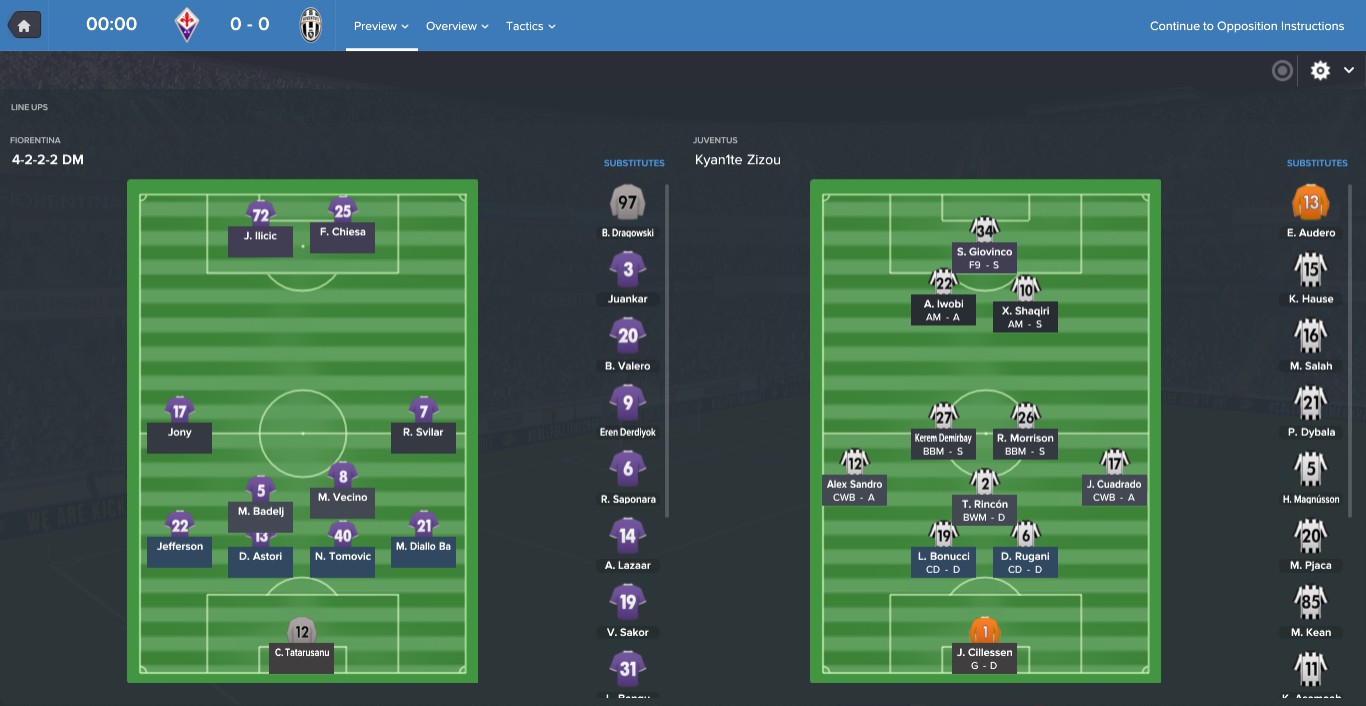 CHARLIE: I'll level with you, I can't get my head around the first half. We lead 13 shots to 1 but it's 0 – 0 on the scoreline and just before half time, Rincon got himself sent off for a silly second booking. On the hour Dybala and Salah are on for Giovinco and Iwobi but still, there's no breakthrough at either end. In the last minute Cillessen had to thrust himself to his left to save from Jony otherwise it would have been no point at all.
MIKE: Roma won, Inter won, AC Milan lost! Ha! They are now down in seventeenth, oh how times have changed. They are preparing for life in Serie B while I am proud to announce…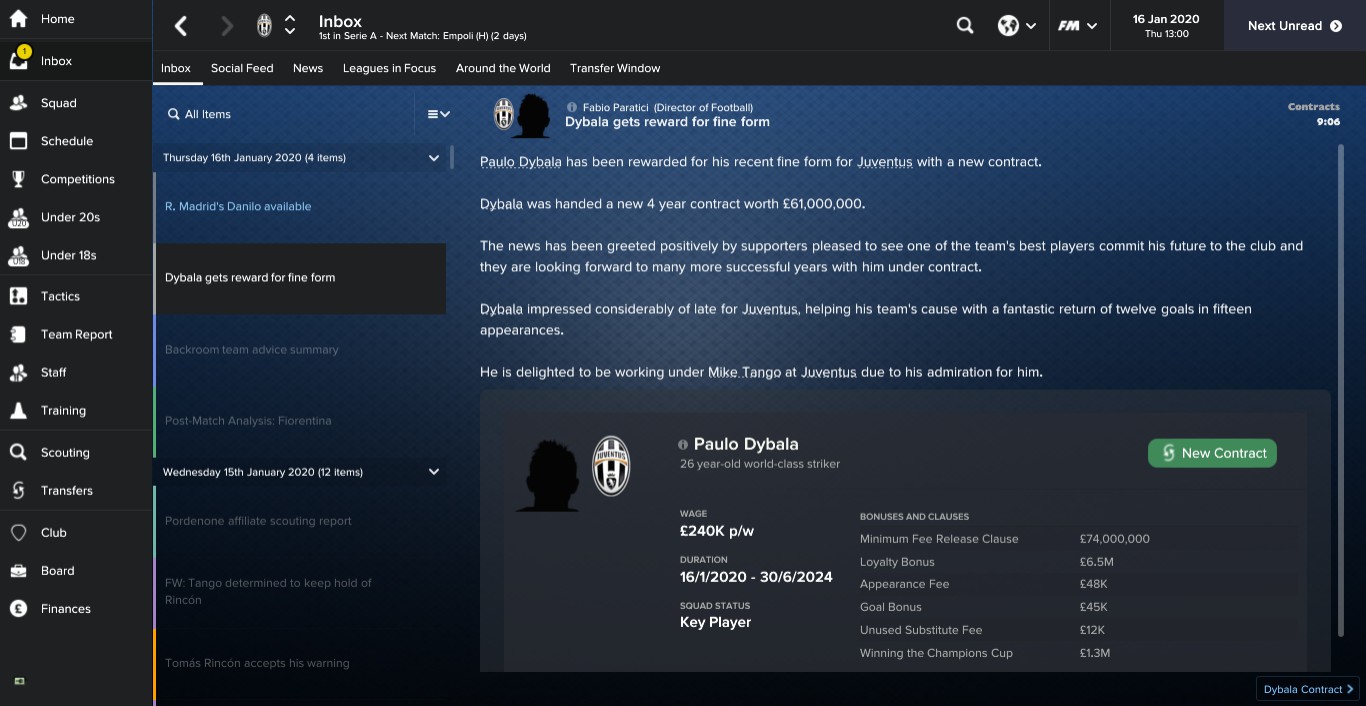 CHARLIE: This is akin to Ozil and Alexis Sanchez turning around and signing new contracts for Arsenal. Yet again, I don't know how Mike did it. As soon as three weeks ago, Dybala was pining for a transfer to PSG. Fair play to him, that's quite a result and on the eve of his 150th game in Juventus colours.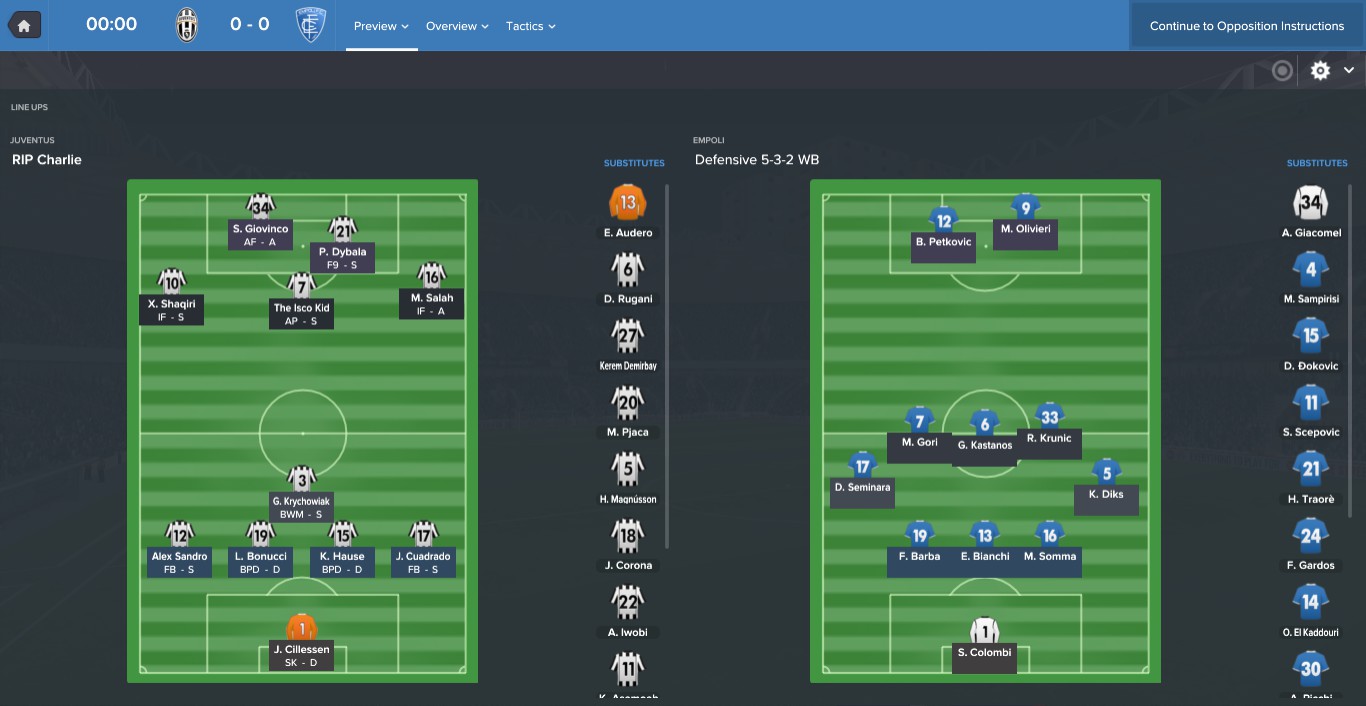 CHARLIE: I'd like to know what these Empoli boys had for breakfast because they were on it from the first whistle, chasing and harassing our lads. I don't want to overplay this but they targeted Kortney Hause, to my chagrin identified as our weakest defender and they ran at him relentlessly so much it was more like a mercy kill than a substitution when he came off at the break. Shaqiri was frustrated having been dispossessed more times than ever in his career I expect.
MIKE: Just when you're thinking that things can't get worse, Grzegorz Krychowiak reminds me that he can't be left with sharp tools by getting himself stupidly sent off. First Rincon, now him. Not acceptable. Twelve, yes, twelve yellow cards I can take in his position but a red means a fine. Simple as.
CHARLIE: A reshuffle sees Sandro and Cuadrado made wing backs on attack, Isco in the centre of the park and Dybala now a deep-lying forward behind Giovinco. It pays off immediately from the free-kick as a result of the red card. Empoli lose the ball and we scamper up the field for Salah to assist Dybala, who celebrates that new contract with a valuable equaliser. We've barely finished celebrating that and Gori puts Empoli back in the lead, he was abandoned at the far post and headed in far too easily. The pendulum shifts as Dybala picks up the ball on the edge of the box and crashes in the equaliser, another one for him! Get in! You beauty! It's over at 2 – 2 but what a bloody game.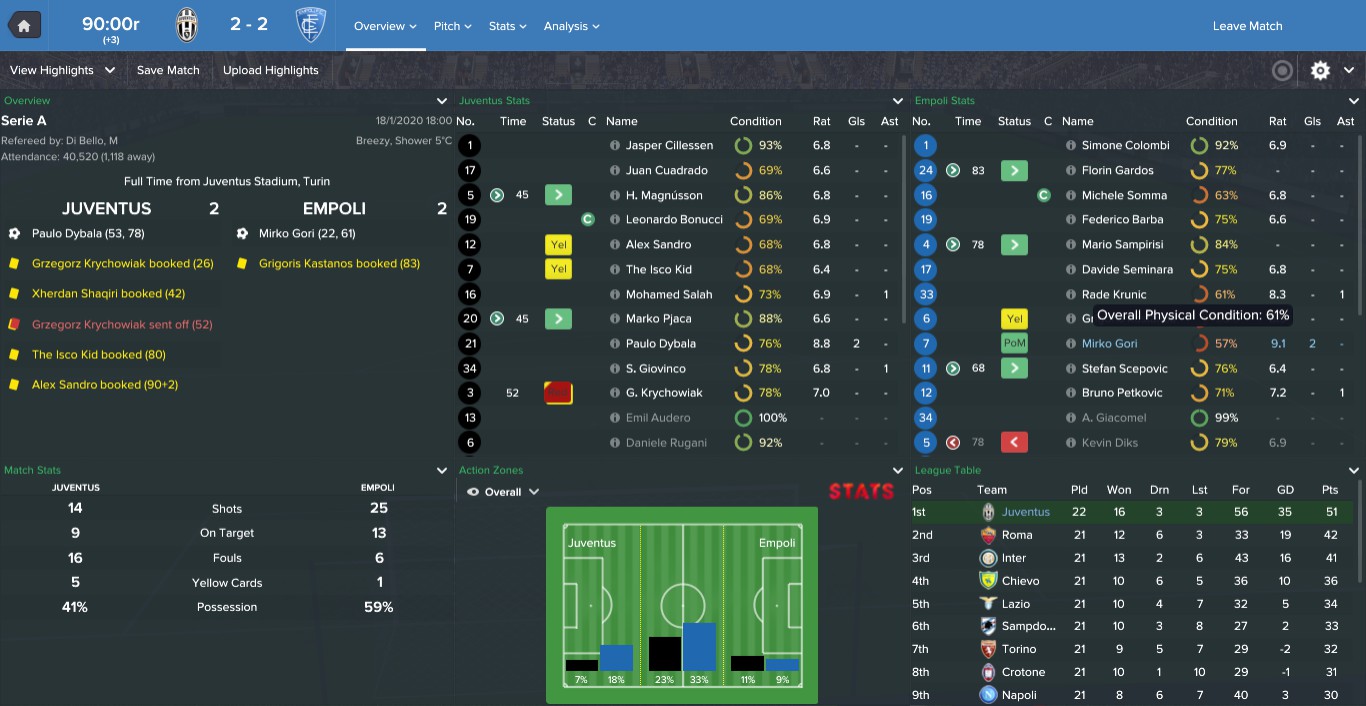 MIKE: Annoyingly, AC Milan are up to fifteenth after a miraculous late 3 – 2 win over Bologna but they remain only four points ahead of the relegation places. Ronald Koeman is the third manager in this save to attempt to emulate my achievements but Juventus haven't lost to AC in five games, that's not about to change now. Oh, and for some reason, Grzegorz doesn't want to accept his fine.
MIKE: If you want to see a complete away performance, just give me a call and I'll show you. 60% possession in the San Siro, AC Milan reduced to the pretenders they have become without me at the helm.
CHARLIE: As Mike waxes lyrical about his success, I have to say, it was again very tight. I'm rather banking on him using all this good FM luck in 17 so 18 is free for me to dominate. The game was settled by Dybala as early as the second minute, Bacca was disposed by Bonucci before he could race clear of the Juve defence and fourteen passes later Dybala was there at the near post to score from Alex Sandro's low cross. I won't go into every pass in that sequence but suffice to say Demirbay, Rugani, Bonucci, and Cuadrado also deserve credit.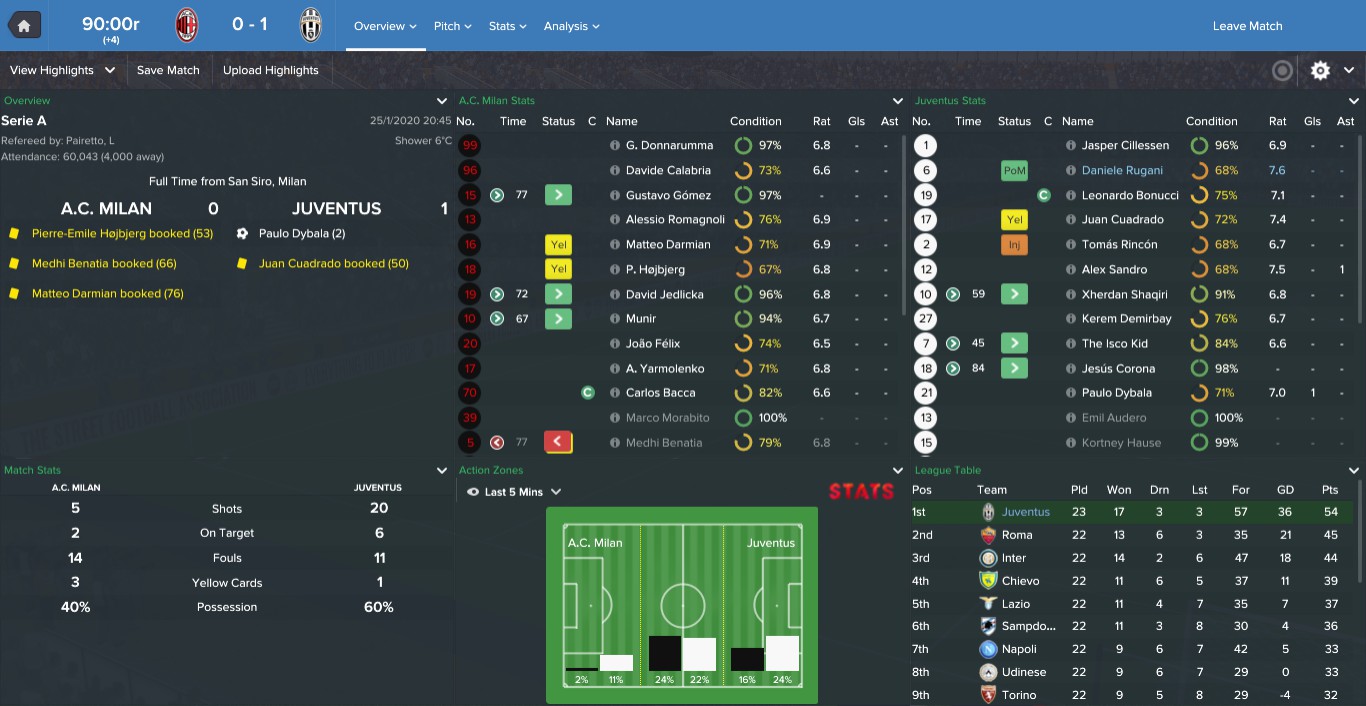 CHARLIE: After the weekend's football, we are top of Serie A but only have a six-point lead over a strong Roma side. Inter are three behind them, nine behind us. AC Milan are down in seventeenth, just one place and four points above the relegation zone.
MIKE: Before we go, I'd like to announce that I have solved the defensive midfield problem. I'd like you all to welcome a player once coveted by Charlie himself for Inter Milan and a most importantly a man not sent off once since the 2016/17 season… Tiémoué Bakayoko.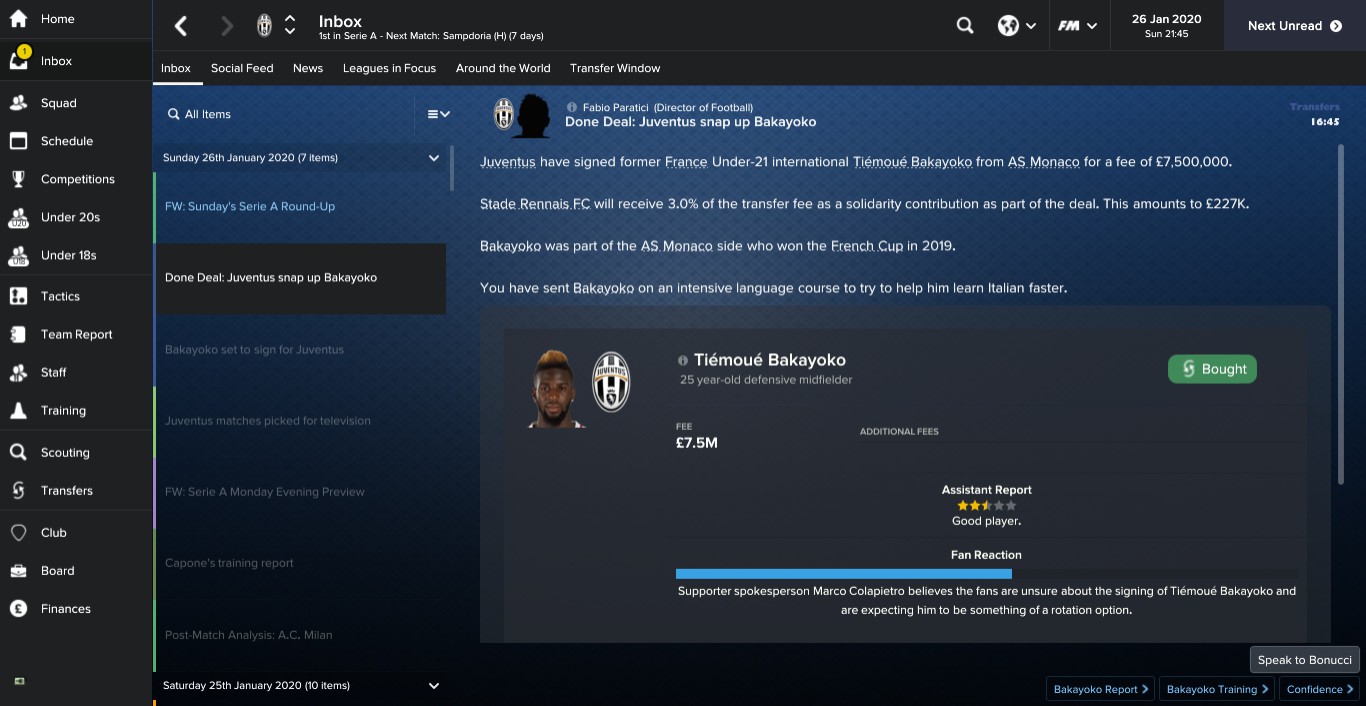 Thank you for reading, join us on twitter at @FM17Challenge, @CharlieTangoFM & @MikeTangoFM for exclusive comments, developments prior to episodes and reaction afterward. Continued thanks to Chris, Mike and everyone at Tempo for the opportunity to share this with the readers.