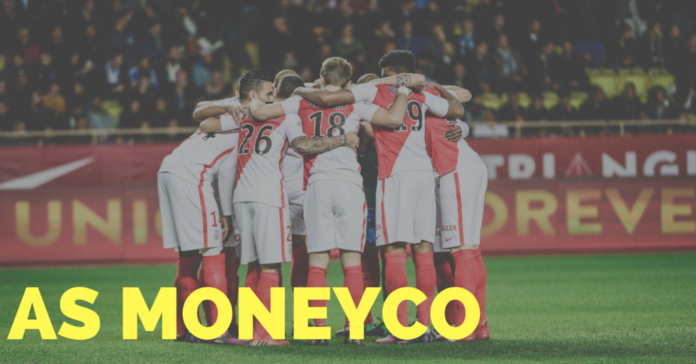 So here we are. We pick the series back up after my Monaco side trounced FC Metz 5-0 to keep us in the European battle.
Soon followed our return to continental action with a Europa League clash against Celta Vigo. It was an away fixture first up, and my 5-2-3 worked to perfection. Radamel Falcao snatched an early second-half goal and the La Liga side were restricted to efforts from range. Marko Grujic – who is in on loan with a £12 million option to buy – was excellent in midfield once again.
Perfect European result wrapped up, and we are back to Ligue 1 action.
Things were frustrating as ever against SC Bastia. Allan Saint-Maximin is a Monaco player, but he opened the scoring early on against us and it took most of the match to restore parity through Thomas Lemar. Chances were missed aplenty yet again, but a 1-1 draw was as good as I could hope for.
What followed was the hardest part of my season.
The second leg against Celta Vigo was a match my Monaco boys controlled throughout. Grujic and Tiemoue Bakayoko patrolled the midfield, while Wesley Hoedt, Kamil Glik and Jemerson gave their forwards no chance.
They squared the tie through Gustavo Cabral in the 82nd minute. It was a painful moment, but the sting was minor. Extra time was on the cards, and a couple more chances were spurned.
Pione Sisto then collected the ball 25 yards from goal and unleashed a bullet shot into the top corner. Away goals had done for us. Bernardo Silva nabbed a consolation, which only made the result harder to take. Bernardo had left me wondering why it took so long to find the killer touch.
Unable to recover from this, an away 3-0 defeat to Evant de Guingamp followed. Clear-cut opportunities were missed again, of course, but it took an early Djibril Sidibe own goal to put us behind before two late sucker punches finished the match once it was overload time.
A little momentum was regained next time out. A 3-0 smashing of Amiens in the French Cup cheered me up from my slumber, though the season was still in disrepair as an immensely close top half looked increasingly challenging.
An extraordinary match with Nantes followed. Monaco were 2-0 down after six minutes, then 3-2 up after 75, but only took a point. Nantes are near rivals and three points was a must here after the Guingamp disaster, another late goal had left me under pressure from the press once again.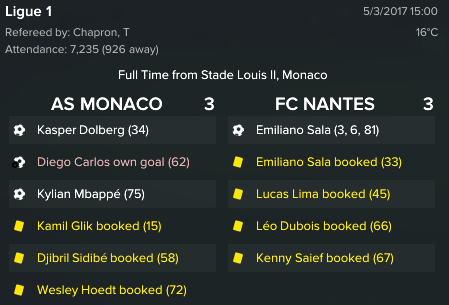 The upside at this point: we had found the net six times in two matches.
Make that 12 times in four matches.
A brace of 3-1 victories over Bordeaux and Caen followed. The Bordeaux match was a rare one, as we were the beneficiaries of late goals. Kylian Mbappe and Bernardo Silva scored in the 87th and 89th minutes respectively to keep us in the race.
Sadly, it was more agony against Saint-Etienne. One of many teams in a congested upper mid-table, Saint-Etienne came out victorious 3-2 when they visited the most luxurious place in Europe. Monaco were 2-1 up after 32 minutes, too.
The visitors scored in the 81st and 92nd to land a powerful punch on my European dreams.
It is now April. It is frequently labelled 'business end' of the season, and I am fighting to keep my job. Get through this spell with some positive results, and next term could be a successful one given all the talent at my disposal.
Check out Episode Seven for my French Cup quarter-final and more…
Follow me on Twitter @SamRCox_ and like my Facebook page facebook.com/SamCoxSport