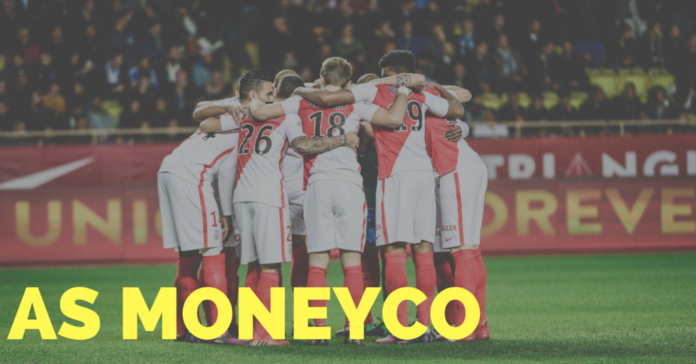 It's transfer time.
First things first, Radamel Falcao is listed with a desired fee of around £20 million. Then Danijel Subasic is offered about again as Predrag Rajkovic has taken his spot, and Kamil Glik attracts interest from almost all of the European elite. In the real world, you'd have been able to get great odds on all the upcoming transfer activity with our friends over at FreeBets who have some of the very best football free betting offers out there. Anyway, on with the show.
Emails were sent about Glik on a few occasions. He had a decent year, but the arrival of Tin Jedvaj in January and form of Wesley Hoedt made him surplus, and I fancied my chances of making better use of those large wages. At 29-years-old, it was time to move him on.
With Bernardo Silva's future at Monaco uncertain, it was time to look around for alternatives. Kai Havertz immediately leapt out, with versatility and potential to be one of the best in the world. An eventual offer of £30 million was accepted. Havertz was heading to Monaco.

The next move to bolster my creative options was for Dani Ceballos. Multiple scout reports returned favourable news, and it looked as though he could be signed for under £10 million. A bargain given the budget I was handed. My initial bid of around £6 million was stalled.
Ceballos, like Havertz, might not be a star for me in 2018/19 but has immense potential. They could form a defence-splitting duo for years to come, and bring me glorious transfer fees in a couple of years.
Next up was Marko Grujic. The midfielder had excelled as a box-to-box and deep-lying playmaker. My loan deal gave me the option to make the deal permanent for £12 million, but this meant parting with the whole fee up front.
Tiemoue Bakayoko and Fabinho were likely to attract interest, and Iver Fossum had not developed as I was hoping. Grujic's importance in my late season surge meant I couldn't resist moving for him. This decision looked all the more sensible with the next piece of news.
Manchester United's interest in Bernardo brought an offer. The mutterings of Zlatan Ibrahimovic had some substance. It began with a total offer of £48 million. That was laughable.
If I was to lose the player that so often provided a spark to my attack, top scored, and created chances relentlessly, I wanted big bucks. It took a few negotiations, but I got my money. £93 million, in fact. That fee was a monster, beyond what anything me and my accountants could have hoped for.

Prior to the Bernardo offer, both Southampton and Liverpool had been in touch.
These two were not after the attacking midfielder, but Falcao and Djibril Sidibe respectively. A deal for Falcao was agreed at £15 million, though Liverpool were not willing to improve their £15 million for Sidibe significantly so I told them to leave me alone for a while.
That took me to over £100 million of transfer revenue, of which I was retaining 90%. The fun was about to begin.
With the Havertz deal completed, Falcao also completed his move to the south coast of England. Fortunately, there was no rush to sign a striker, with Richarlison ready to fill in and Falcao's departure meant there was a non-EU space for the Brazilian wonderkid.
Ceballos' £6 million offer was accepted after a nervy wait. His move was swiftly completed and joined Havertz in the squad. Can barely remember who that Bernardo chap was.
Finally, a Subasic offer came through and Montpellier made it up to the heady heights of £2.2 million. It was far from what I wanted initially – and I wish I had got more in January – but it was better than nothing and freed up some wage budget.

Hard not to turn to Breel Embolo with this sort of cash sloshing about. That bright idea of mine was quickly quashed by Schalke when they demanded over £90 million for the forward.
Leicester and Paris Saint Germain made offers for Glik. Neither were quite what I wanted, and neither gave me the chance to negotiate, which is always frustrating. The price was about £14 million, I was holding out for something closer to £20 million.
With Embolo off the list and Balde Keita snapped up by Tottenham, Samu Castillejo was a good option with his £31 million release clause. Profit was still possible from this transfer even with that fee. PSG then piped up and blew his wage demands into the stratosphere. That target was gone.
As we moved into pre-season, my Mohicaned assistant let me know the World Cup had been moved to Morocco. Nice.
The window was not really going to plan.
A raid of Sampdoria begun, as a move for striker Patrik Schick – which would allow me to play Richarlison in different positions – was worked out.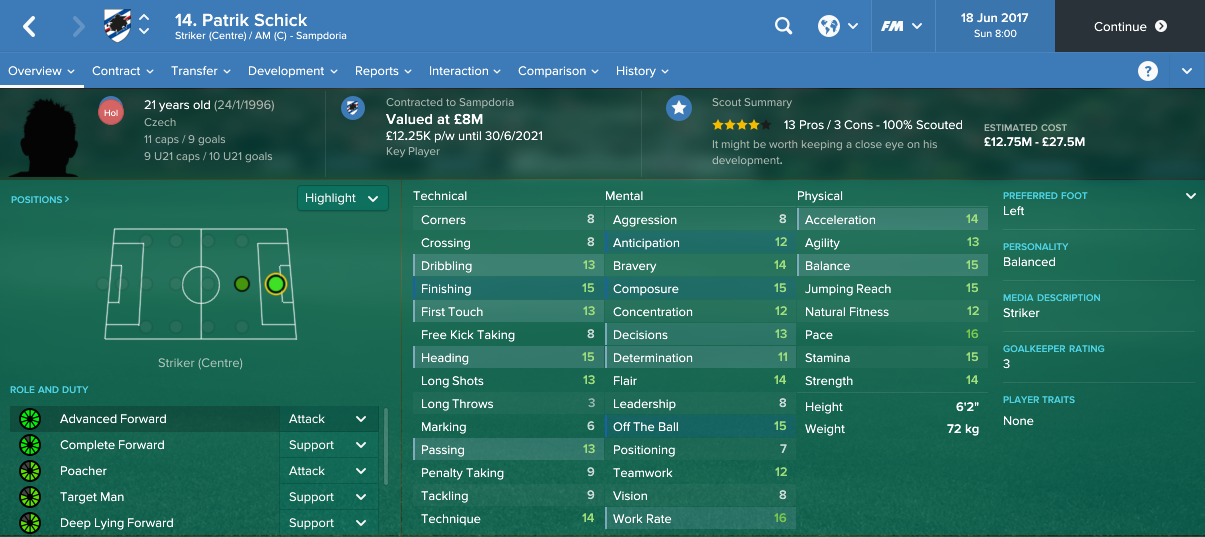 Polish box-to-box Karol Linetty was subject to an offer from us, and he looked a bargain at £18 million. Should Bakayoko force a move, Linetty was the perfect man to step in.
Schick and Kasper Dolberg set me up with two superb striking options. Linetty added to an already hefty midfield squad list and made it easier to consider the sale of key men.
With Glik likely to be leaving this summer, a new central defender was still key. I had a few younger players who were almost ready, but loans were best for their development.
Calum Chambers sprung up, Andreas Christensen was far too costly, and Jose Gimenez was going to be tough to convince. Niklas Stark was a good value deal at around £20 million. Chambers might yet be considered, but Stark ticked many boxes.
Competition for Stark was severe, as Bayern circled like the cruel vultures they are.
Atletico Madrid's Lucas Hernandez was another name considered. Considered so kindly, in fact, that we agreed a £25 million fee. Signing both was possible, especially if Jemerson and Glik were to depart.
Stark eventually turned down Bayern's glory. He was clearly lured by my offer of first-team football, and I got a little sucked into offering him higher wages. It worked out though, and I got my man.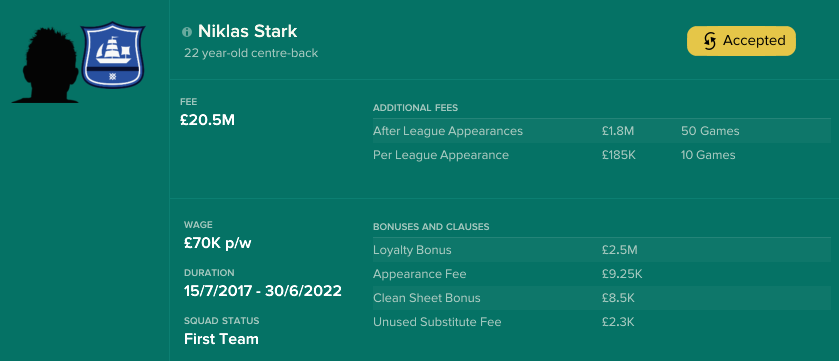 And, naturally, I ended up pushing through the deal for Lucas too. Resale value is a massive thing in any addition, and each of these guys should be moved on for almost double their fees in a year or two.
While the window was still bubbling along, our Europa League qualification was about to take place. Maccabi Haifa were the opponents; we had the home leg first.
It was that man Stark who delivered. From centre-back, he scored twice to take a 2-0 lead into the second leg against Maccabi Haifa.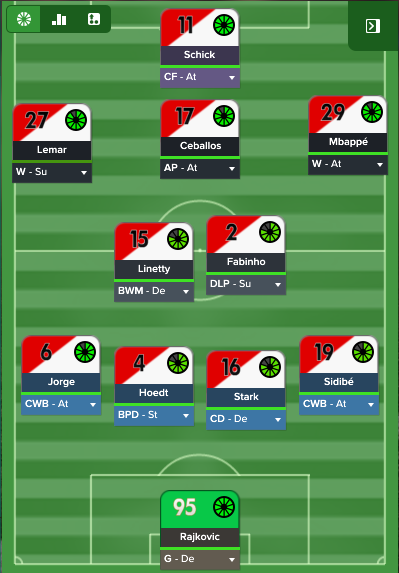 After the match, Fabinho came for a little chat. The midfielder wanted to go to Manchester City and cited their financial power as his reason. Fair enough, I said, but he wanted me to accept any offer around £30 million. No chance. It's going to have to be £40 million or above. Now we wait.
With Fabinho still in the line-up and probably mumbling to himself in the corner, we took on Maccabi Haifa in the second leg. It was emphatic. It finished 5-2, and Thomas Lemar was fantastic yet again. IFK Goteborg were my opponents for the next qualification phase.
Transfers were still on my mind. I had to put that on the back burner for the meantime, though, as the opening Ligue 1 match of the season against AS Nancy-Lorraine was coming up.
The finishing was ruthless, which was a pleasant surprise from my first campaign. Schick grabbed a brace, and Lemar tormented their full-backs. It finished 4-0. What a start.