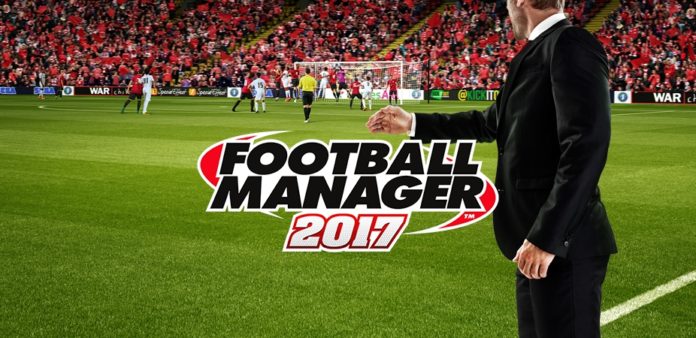 With FM2017's life cycle coming to a close I wanted to look back over my season playing it and pick out some of the highlights. In terms of trophies and titles, it has been slim pickings. With the teams I have written about I did not enjoy the greatest amount of success but keeping Burnley in the Premier League in my first season was an achievement in itself. Admittedly we then regressed and were relegated the following season but we will gloss over that. Following that came 'Regen to Legend' where I (so far) have won just two lower league titles. I took the League 2 crown with Blackpool on the final day before guiding Leiria to the Portuguese 2nd division title in my second full season. Now at Porto, I did not win anything in my first full season but I have set an aim to win at least one cup with them this season.
Over those few seasons of play I have seen many players come and go, but who has been my favorite, if not best? Below is the starting lineup, they're not the best players I have played with, but each has their own reason for being here.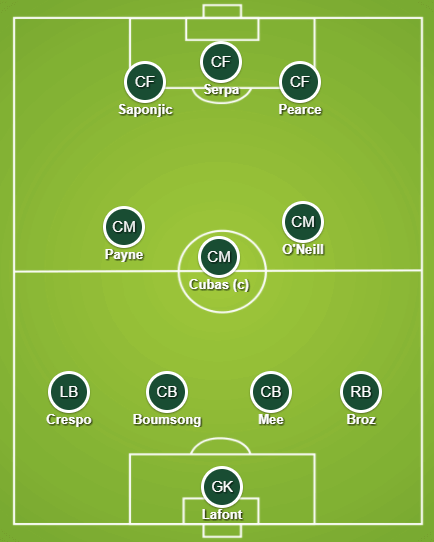 Goalkeeper
Alban Lafont / FC Porto 2020-2024 (present) 
You may not need me to tell you what an excellent player the Toulouse youth 'keeper turns into as he is one of the best prospects in the game at the start. Fortunately for me, Lafont was already at Porto when I arrived and boy was it a nice surprise. I had heard great things but never used the French stopper in a previous save so I was overjoyed to see him in the squad when I arrived. He has been a rock at the back for me and helped to guide my FC Porto side to their highest league position of FM17. Although Spurs came calling in the summer I just couldn't let him go. I think our time together may come to an end after the current season as Pochettino is constantly at the Estádio de Dragao but he had better bring his chequebook next time and be prepared to pay £30+ million.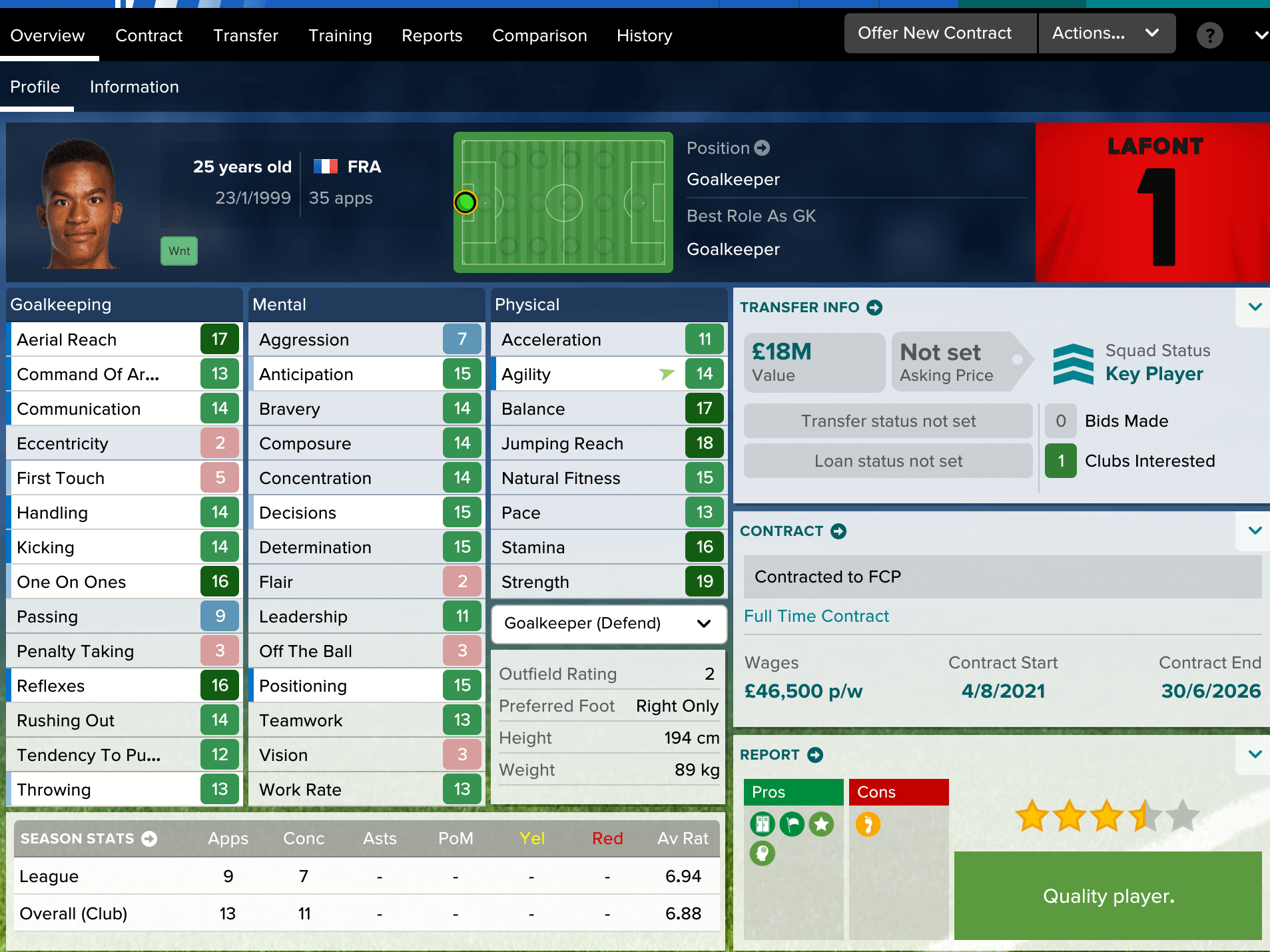 Right back
Lukasz Broz / Legia Warsaw 2016-2018
Part of an offline save where I tried the Polish league for size with Legia, Broz was never the most gifted with attributes. In the early part of the season I didn't fancy the 30-year-old, instead opting to try and develop a younger player. However, an injury forced me to use Broz more and his inclusion in the team coincided with a good run. He soon became a permanent fixture for the remainder of the season. We went on to keep a lot of clean sheets that season, and if not for me misunderstanding the league structure, would have been title winners. Essentially I wrongly assumed the league was wrapped up only to find it split at the end, similar to Belgium. This caused us to lose out by a point, which was a little embarrassing. In any case, I put the fact that we were in a position to challenge down to Broz, he became our Talisman at the back and even pitched in with a few goals.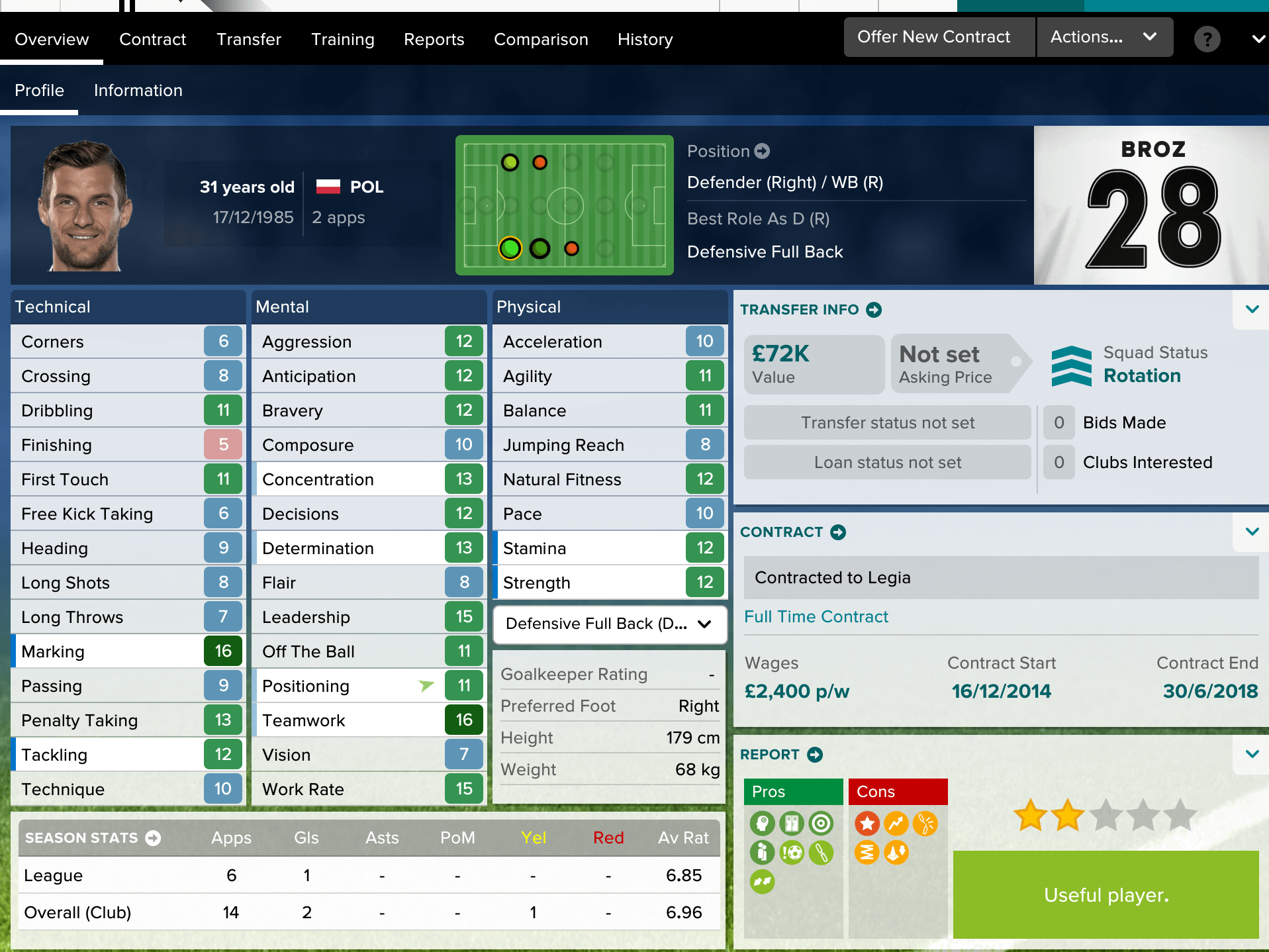 Centre back
Olivier Boumsong / FC Porto 2023-2025
A free signing from lower league side Portimonese, Boumsong was an excellent centre-back who, together with Lafont, helped Porto finish runners-up in the 2023-24 season. The now 21-year-old Cameroon international will move to Southampton in January 2025 for £14 million but in his season and a half with me he was excellent. I feel some regret in allowing him to leave and only time will tell if it was the wrong decision but with his impending involvement in the African Cup of Nations, I would be without him for over a month anyway.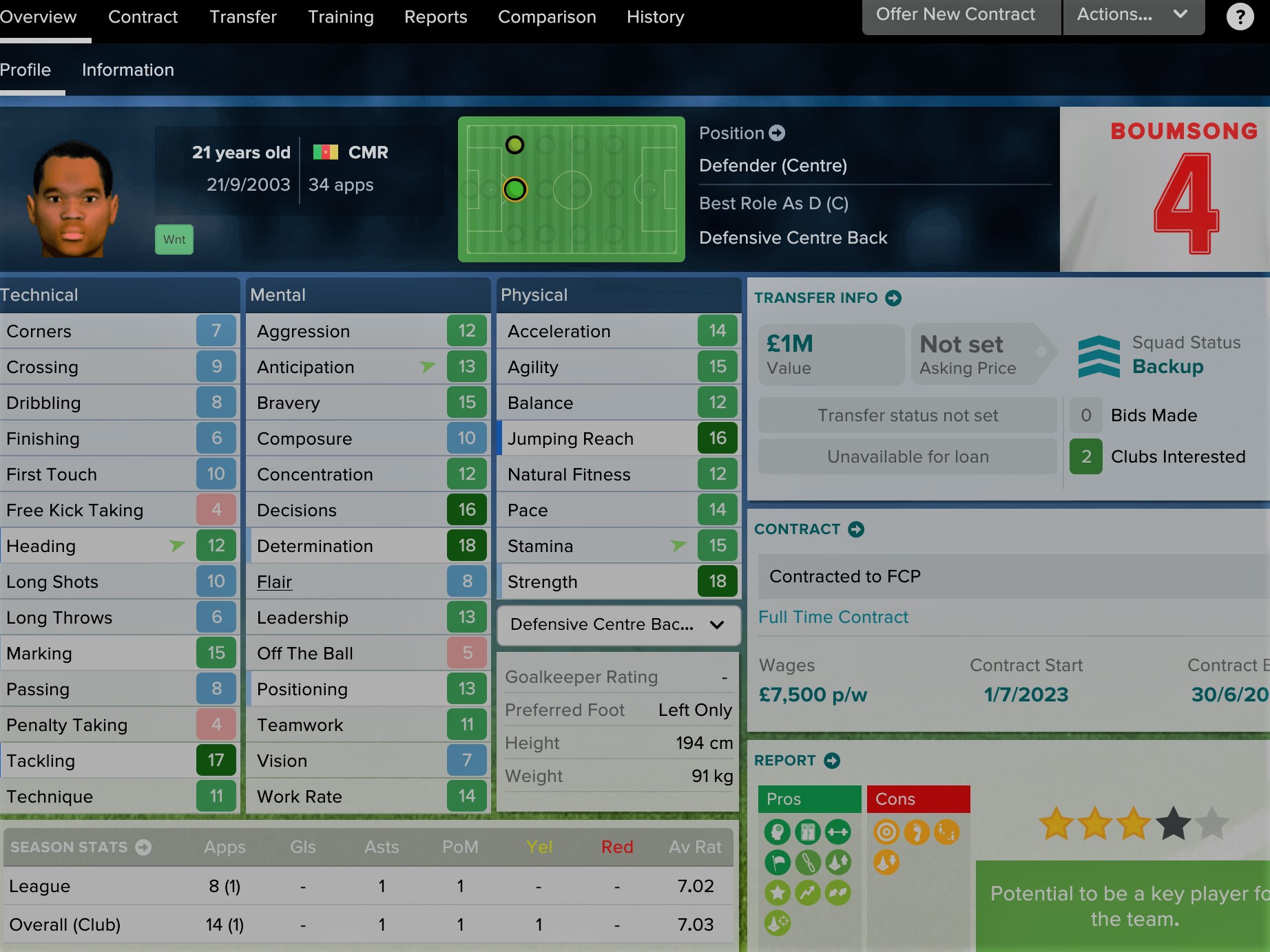 Centre back
Ben Mee / Burnley 2016-2018
Before I had even seen a ball being kicked on FM17 I had sold number one defender at Burnley as Michael Keane moved to Tottenham. This left Ben Mee as my next best option at the back as I reinvested the Keane money into other areas. He played both our seasons in the Premier League making 73 appearances with an average rating of 6.84. Despite several bids over the years he never asked for a transfer until, following relegation, he moved to Watford for £7 million. A loyal and solid performer for me and, although we succumbed to relegation, it was through no fault of Mee's.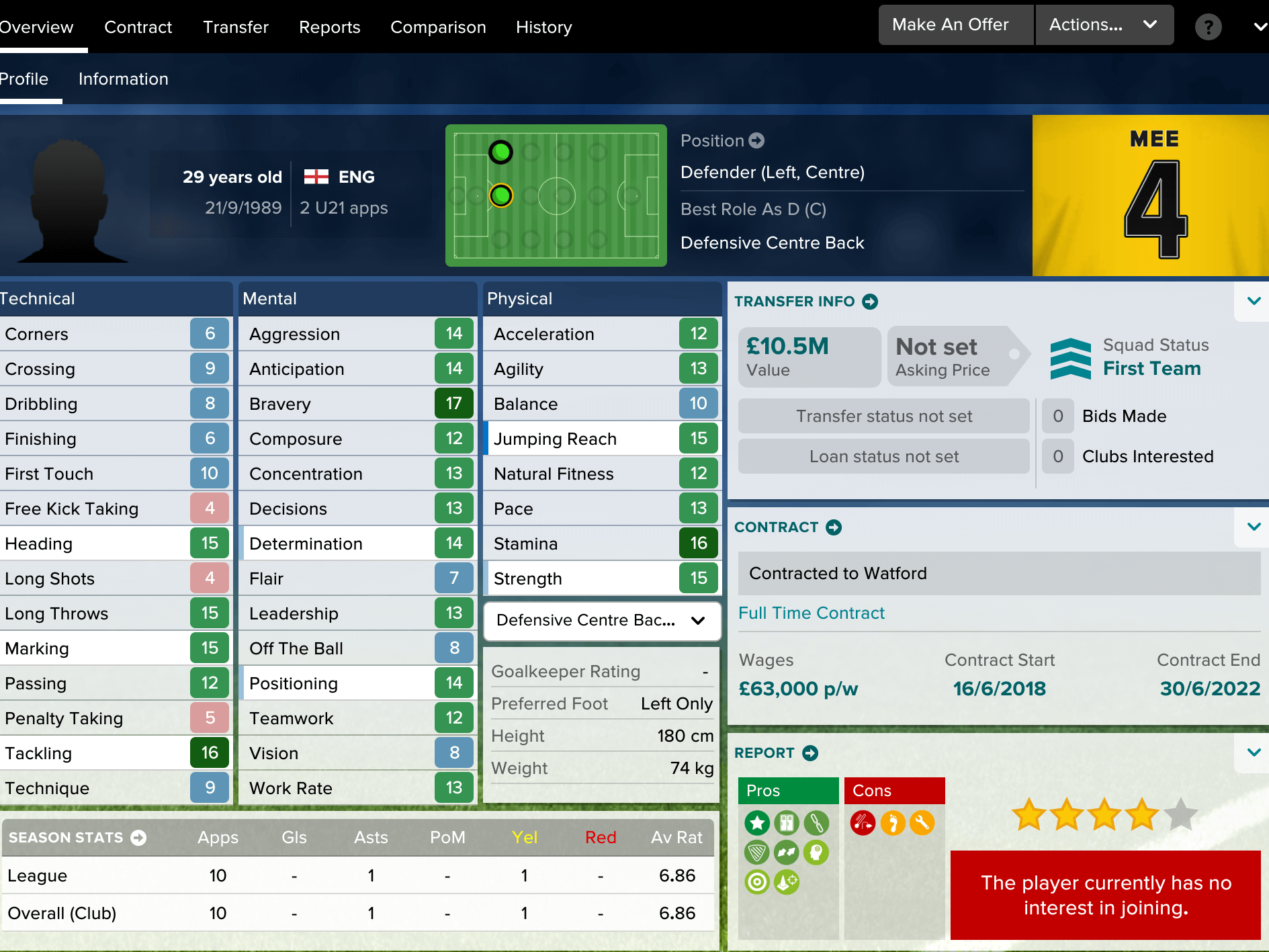 Left back
David Crespo / Leiria 2019-2023
Already a regular starter for Leiria before my arrival at the club Crespo's role changed over the seasons. Originally a defensive midfielder by trade I moved him to left wing back due to the lack of options out there and he was at least competent. During his first full season as LWB, he played 34 times and providing seven assists. The side then changed formation to a back four but Crespo kept his place at left back, becoming more accustomed to the position. During our promotion season, he again played 34 times but was our player of the season with 11 assists, three goals and an average rating of 7.34. Throughout my time at Leiria, I never had to worry about the left back slot as I knew Crespo had it covered.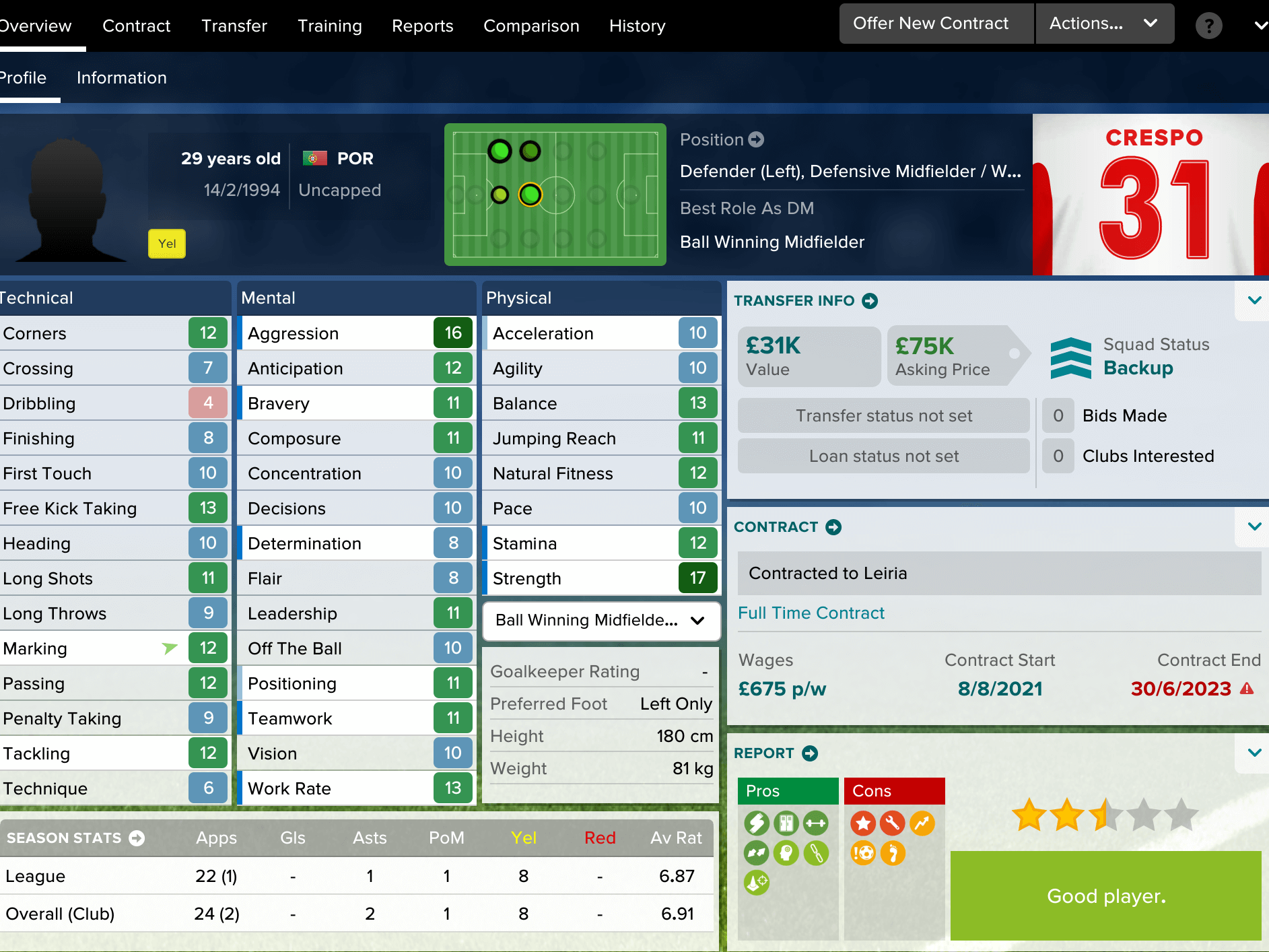 Deep-lying playmaker (Captain)
Andres Cubas / FC Porto 2022-2025 (present)
For many he won't go down as a legend of FM17, I cannot imagine that the forums are bursting with recommendations for the 20-year-old Boca prospect. For those who have used him, however, he will be forever in your heart. Again, I was fortunate enough to have him waiting for me as I joined Porto, but immediately I understood that here was a player who could do everything. In my current save he has excellent mental and physics attributes including great vision. He also is blessed with high attributes for passing and tackling, negating the need for any other defensive players in the middle of the park. Before Porto the Argentine had a varied career moving from native Boca to LA Galaxy before a £7 million move to Tigres in Mexico. From there it took £9 million for Porto to bring him to Europe. In those eight or nine seasons, Cubas has never scored less than a 7.07 average rating. He has quickly become my love for this game.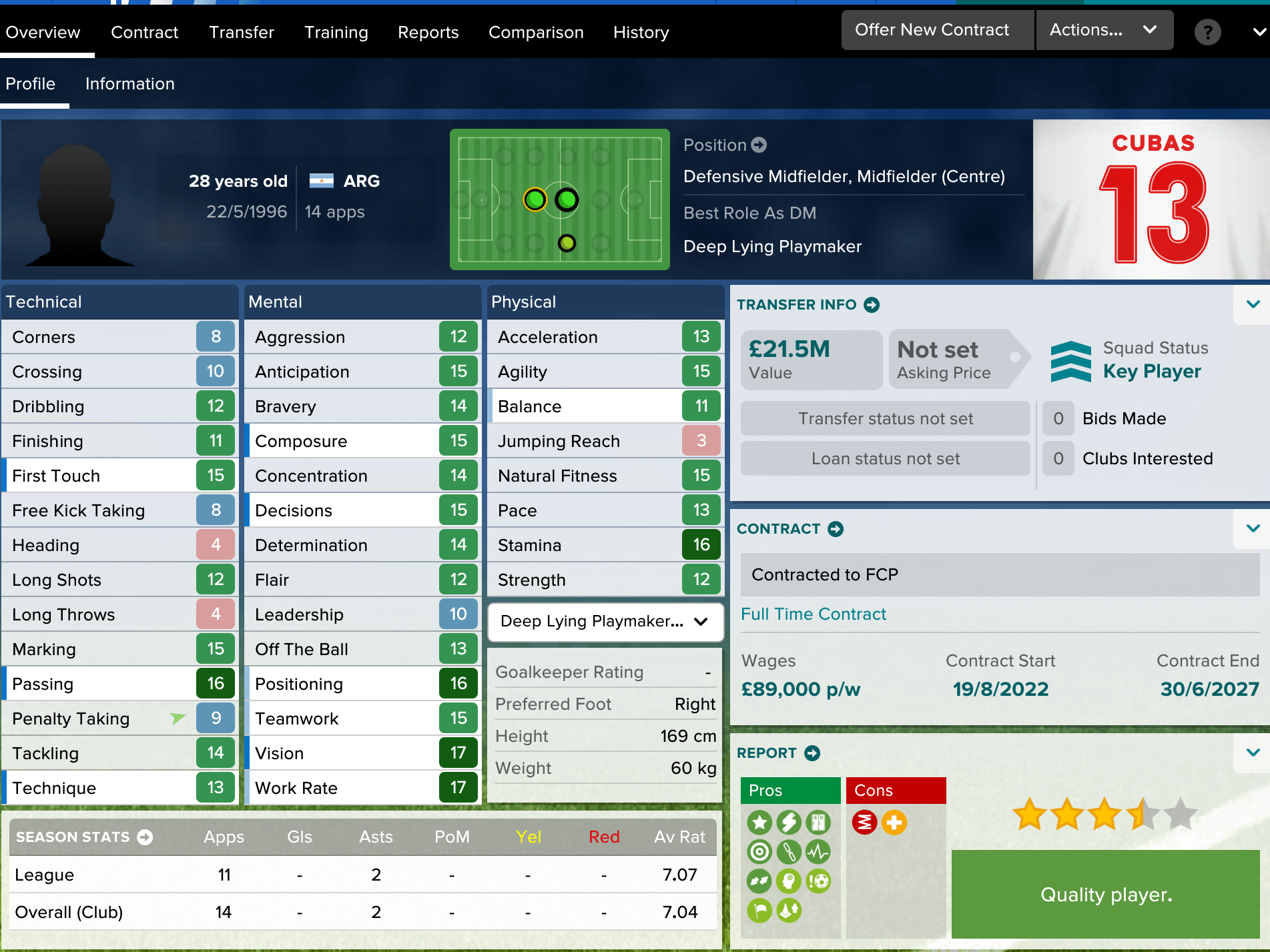 Box to box midfielder 
Jack Payne / Blackpool 2017-2020
Payne is another which would struggle to walk into any side above League 1, but when he was not on the pitch for my Blackpool side we just did not look as assured. With few standout attributes, the Englishman was listed as a deep-lying playmaker. At the time I did not have a use for this role as I was using an Enganche further up the field so Payne became the runner for the side. As part of a narrow three-man midfield, the former Peterborough player made the side more stable and put in a number of consistent performances. Playing 43 games during our run to the League 2 title he scored three and assisted twice.
Central midfield (attack)
Aiden O'Neill / Burnley 2016-2019 / Blackpool 2017-18
My first nice surprise of FM2017 came from the young Australian who was the only player I signed in two different saves. Having never featured for my Burnley side throughout the first season he became a big player during our second season. After trialing him in some preseason games prior to the 2017/18 season he lit up the pitch and forced his way into the side. That's where he stayed scoring five and assisting five in his 34 games with a rating of 7.03. Not a bad return or a 19-year-old in a relegated Premier League side. I was so impressed with him that when starting my Blackpool save and he became available on loan I had to bring him in. During our promotion, he scored six and assisted five in 36 games (7.15 average rating). I have not watched Burnley closely in real life but I think he is still there and hope he can make an impact in the near future.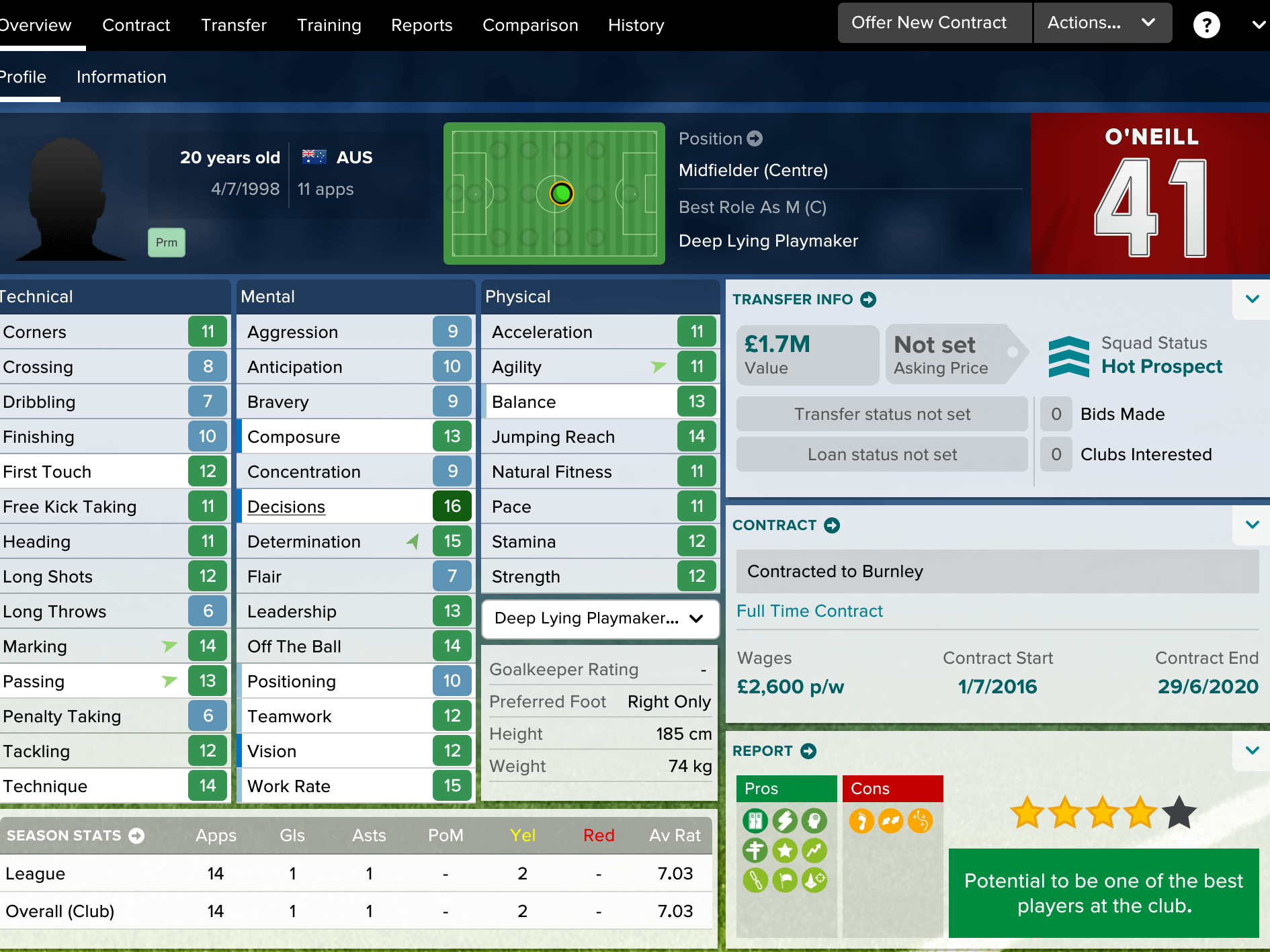 Centre forward (Target man)
Ivan Saponjic / Leiria 2020-2025
Brought for a then club record £85k Saponjic failed to nail a first team place due to injury. He then wanted to move away from the club but the deal fell through and at one point he would not renew his contract. I really thought that I would lose the striker on a free, losing Leiria £85k they didn't have to invest. After a rocky start like that I didn't see him being part of my best XI but in the following season the Serbian was instrumental In Leiria's promotion and was the league top scorer with 22. He then helped Leiria to survive their first season in the top league scoring 11 in 32 games and is still at the club as the save continues. Although not my favorite or most prolific striker, no one has done more to turn around my opinion than Saponjic.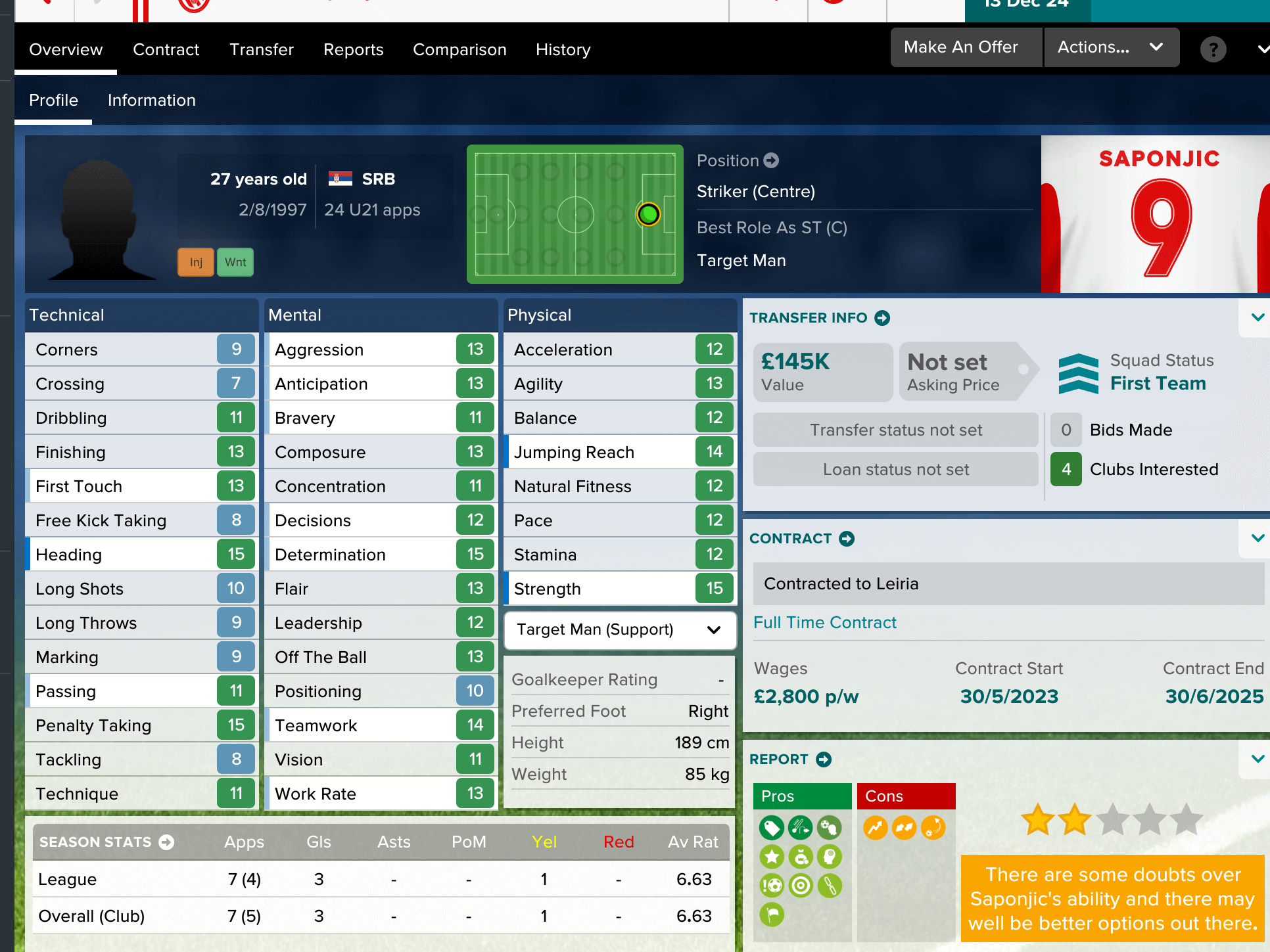 Complete forward 
Hugo Serpa / FC Porto 2023-2025 (present)
My first (that I know of) Wonderkid for FM2017, found as my scouts were in Brazil. The 19-year-old with bags full of potential joined for £25 million and scored 12 in 28 in his first season. Partway through the second season and following an injury, Serpa has five in 11 games. Often leading the line on his own the young Brazilian can link up play well and is often seen providing an outlet for the rest of the team. With his excellent dribbling and finish attributes, many of his goals are long solo runs where he shouldn't really score, but somehow finds a path to goal. When he is able to lash one in from the edge of the box I usually embarrass my self in Costa Coffee by muttering his name and cheering. He has been my favorite striker for this edition of the game.
Centre forward (Target man)
Dave Pearce / Blackpool 2016-2020
No side who play three up front would be successful with two target men so it is a good job this side is pure fantasy. Pearce is not my favorite player or the best, in fact, he was a bit of a disappointment but I couldn't do a list of my highlights without including the reason why I went to Blackpool in the first place. The whole premise behind 'Regent to Legend' was to find a young newgen and follow their career as they rose through the ranks and divisions to hopefully become a legend. Pearce was supposed to be that player but injuries early on really held back the progress. From there the series gathered pace in a different direction and became more about the team as a whole before I moved to Portugal. I will remember him though for some time, possibly until the new wave of FM18 newgens take over so for that reason he makes the list. For those interest, Pearce scored 10 goals in 41 appearances for my Blackpool side with an average rating of 6.93.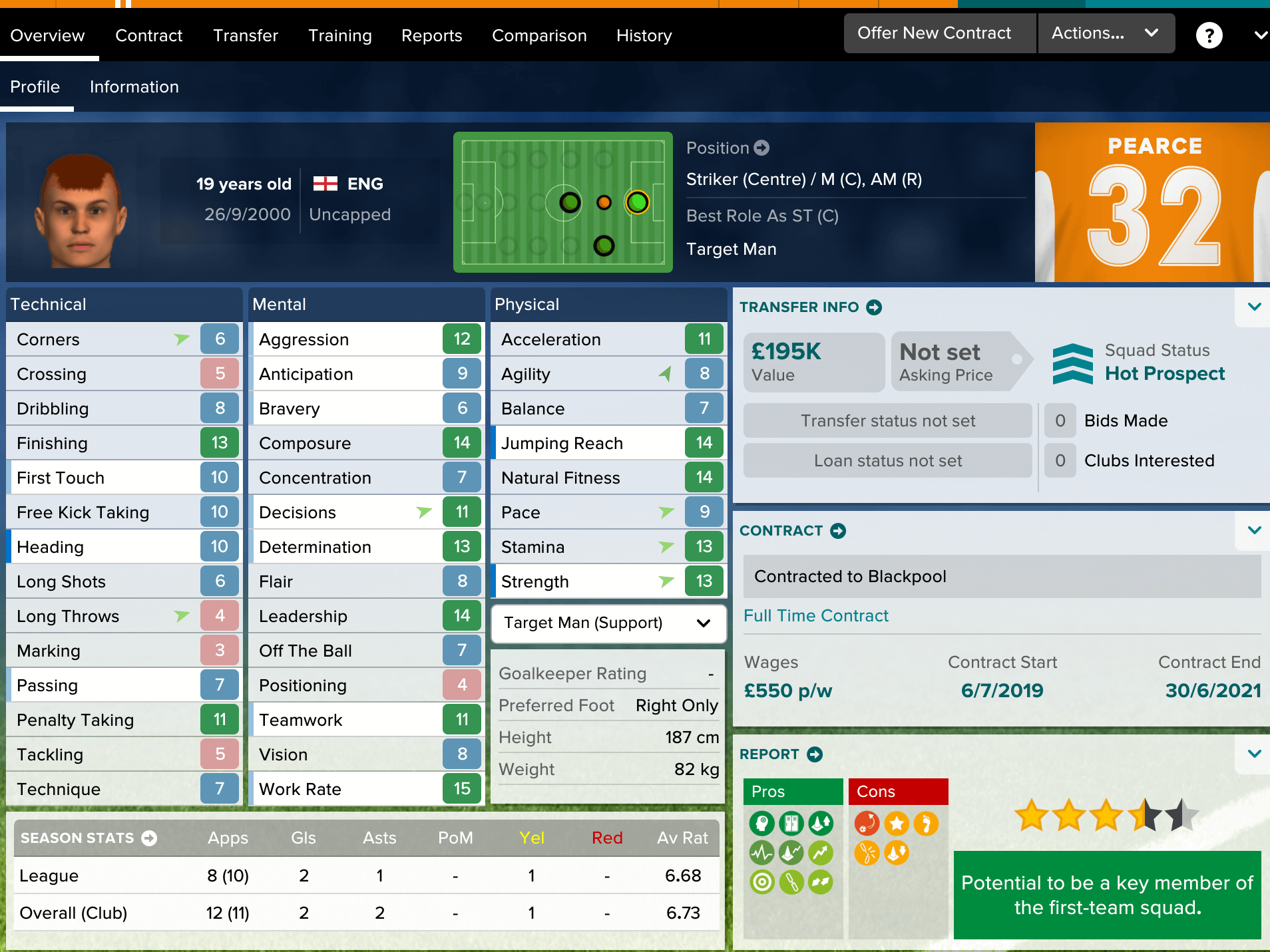 Regen to Legend will continue to run on a Sunday as I quickly try to get some success before FM18 is with us. I'll be back on the Tempo throughout 2018's lifespan with a few interesting ideas. Please also check out my profile for more details or follow me on Twitter @accoringtofm and say Hi.