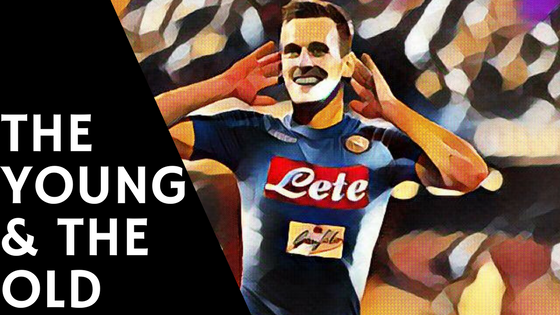 Peak Performing Players
There is an obsession in football with signing players during their peak years. Football Manager tends to remind us that these years are between the ages of 24-30 for attackers, and a little later for defensive players.
While it is obvious that players do tend to enjoy their highest performing seasons during this period of their career, it is also obvious to clubs.
As a result, the value of a player who is approaching or is in this peak period takes a huge spike, and can make the player unattainable without an extortionate amount of money.
The question is, do these peak players really perform so much better that their value warrants such an increase? Would it be possible, for example, to sell all of the players in a club who are in their "peak", and replace them with significantly cheaper players who are deemed too old or young?
The Experiment
Adopting a variation of the Moneyball method, I will be attempting to meet the board's season requirements without using a player who is aged 21-29 on the 1st of July 2017.
To do this, I will take charge of Napoli. The general expectation or Napoli is to at least qualify for the Champions League, and ideally, challenge Juventus for the title. Here I will be giving myself one season to either surpass the board's expectations or to take home a piece of silverware.
They have a solid youth setup and also some high-quality players over 30, including Dries Mertens and Jose Callejon. They also boast a number of top quality players in their prime, who will be likely to fetch a pretty penny in the transfer market, which should prove the point that peak players are highly valued in the modern market.
Unlike the Moneyball technique, which prides itself on selling ageing players and utilising youth, this experiment will try to understand what attributes can still be considered useful in an ageing player, to save money in the transfer market and wage bill. Rather than using older players who were excellent 3 or 4 years ago, I will look for older players who are still currently performing at the top level.
Equally, young players are important, but I need youngsters who can make an immediate impact, rather than players who may still require 3 or 4 years to develop into a first team player.
The hope is that the mass exposure to first-team football should benefit youngsters in their development, but should also prove the worth of some older players in FM17.
The Aim
It can be difficult to pinpoint exactly when a player's peak years will be. For some, like Messi or Ronaldo, there is no differentiation between good and bad years, every season is a masterclass. Other players, like Bale or Hazard, are on people's radars for a long time, before they have their breakout season and become immediately world class. The players I want to target are the Michael Owen's and the Alexandre Pato's, the young lads who were indeed world class as a teenager, before losing that yard of pace and as a result, their effectiveness.
I will aim to have a generally older defence, with young backup players. Up top, I'll go for a youthful, pacey attack, with wisdom on the bench. Luckily, the Italian league may help facilitate this tactic. A legendarily slower league, focused on intelligent defending to limit opposition shots, in contrast to the frantic defending often seen in the British leagues.
That slow style could work well with an ageing defence, in the same way opposition defenders may not be able to deal with tricky young wingers. Historically these sorts of wingers haven't shone in Italy, with promising youngsters El Sharaawy and Ricardo Quaresma falling by the wayside over time.
Indeed, many top clubs in Italy opt for wing-backs and two up front, primarily Juventus. However, I feel that the wide players will be hugely important in this side, as we aim to pick up a trophy.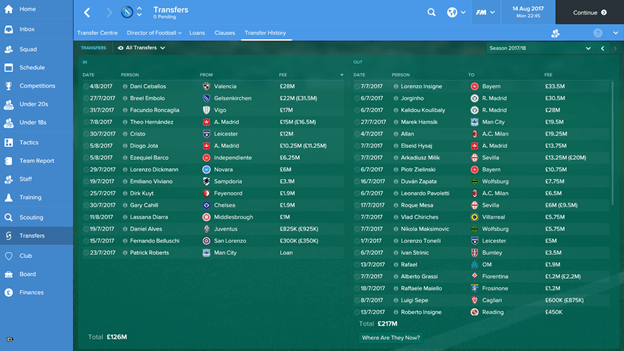 These are the signings that I have made in the summer. The transfer fees are an immediate indication of the inflated prices for peak performing players, and how little it can cost for genuine quality.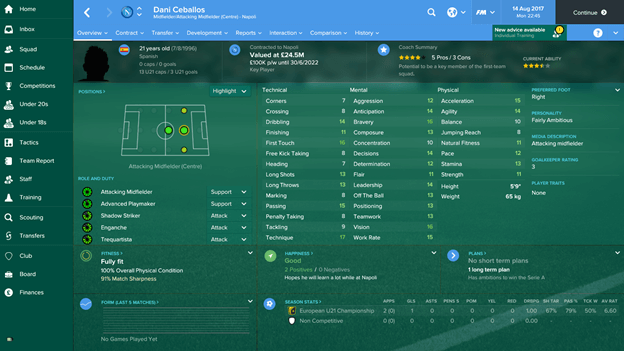 Dani Ceballos is a prime example of a young player who is exceptional right now. Ten goals and ten assists in the league for Valencia last season, all at the age of 20. He is now 21 because his birthday was in August, but he was 20 at the start of the save, so he counts.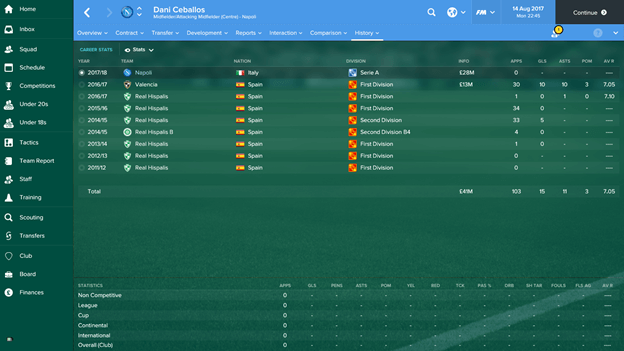 Other top quality young players include Theo Hernandez and Breel Embolo, who already boast superb attributes for their position. Shrewder signings include Gary Cahill and Dani Alves, who bring a wealth of experience and ability, for a total of less than £2m.
With the first game against Torino looming, we will see next week how this hybrid team of old and young copes with the Serie A.