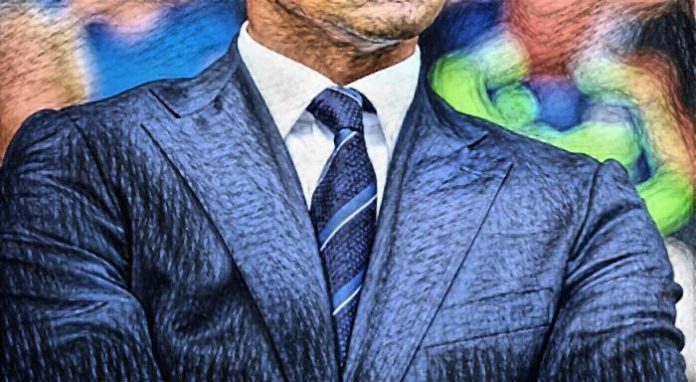 We get the opportunity to break the unhelpful habit of not converting our chances when we face Northampton Town, the big surprise of the season at 6th place. They play a revolutionary strikerless formation, which is almost unheard of at this level. Manager Robert Page is either a visionary or an evil madman bent on destroying all the fine traditions the English hold so dearly. We face The Cobblers with a new face at left wing back: Scotsman Scott Laird has returned from his loan spell at Walsall and will be given a chance to cement his place in the starting line-up.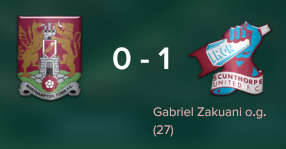 The habit of creating our own bad luck seems to be broken when we open the score with the most unlikely of events. Robbed of any meaningful passing options, Smallwood tries his luck from 30 metres out. A daft choice, of course, where it not for Zakuani's shoulder hitting the ball and leaving 'keeper Smith with no chance at all: 0-1. We don't give Northampton a chance to fight back, with Madden and Gijzen failing to double our lead. During half time I choose to switch to a more defensive mentality.  It is a very tense second half, with Northampton pressing our defence and we creating chances through counter attacks. Northampton are limited to firing shots from a long distance which fail to trouble Daniels. With The Cobblers adopting a similar 5-3-2 approach, we cancel each other out and at the end it is Smallwood's fluke goal which grant us the full three points. Finally, Lady Luck has smiled upon us.

Meanwhile, I scour the transfer market to add some more options to the squad. In keeping with that age old English tradition, I raid the bloated squads of the top teams. The first fish I'm able to reel in is 22 year old goalkeeper Matt Macey from Arsenal. With both new signing Davies and third choice Anyon injured, I have only one fit goalkeeper. Macey will rectify this situation.
Hopefully, Lady Luck continues to shine her light on us, because our next match is against 2nd placed Charlton Athletic, who have recently been toppled by Millwall. Loanee Matt Macey is better than Luke Daniels (on paper) and will start between the sticks. A big loss is the absence of Hopper with a chest injury. He'll be replaced by Van Veen.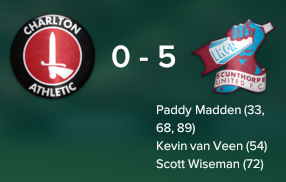 I can't believe my eyes when we take the game to Charlton Athletic. The Addicks are forced into the role of spectator as we run circles around them. In a refreshing change of narrative we actually reward ourselves. And how! Ness plays a deep pass down the right to Wiseman, who crosses it back to Ness with his left leg after a lovely turn, Ness heads the back to Gijzen, Gijzen performs a casual first touch flick on to Madden and the Irishman casually lifts the ball to the underside of the bar, where it comes down behind the line. It is such a lovely move I uploaded it to YouTube for your pleasure:
But let's not get ahead of ourselves, we still have over an hour to play. I switch to a defensive mentality in order to head of the inevitable Charlton counterattack. There are some really dangerous chances, but new boy Macey immediately proves his worth. The attacking intentions of The Addicks leave plenty of space for us to counter attack, but both Madden and Wiseman fail to make their chances pay. It is Hopper's replacement, my compatriot Van Veen, who doubles our lead with a low shot into the far corner after a fine pass by Gijzen. Even though we play with a defensive mentality, we continue to be the better side. It even gets more incredible when a low cross by Wiseman finds Madden at the near post and he deftly puts it past Rudd: 0-3!! With the game in the bag, we continue to press the Charlton defence. I'm checking the game to see if I don't accidentally started a FC Barcelona save, but that isn't the case. It's The Iron that rules The Valley. This is exemplified by our fourth goal of the afternoon. A header by Van Veen finds Wallace alone at the near post, who passes to ball to Wiseman. The right wing back does not hesitate and puts the ball in the net from 13 meters out: 0-4. With Charlton lying on the ground screaming 'No more! No more!' it is Madden who shows no compassion. He responds well to a King pass and puts it past Rudd to make it 0-5. This is by far the best game I played on FM 17. It is wonderful stuff. Just look at the stats: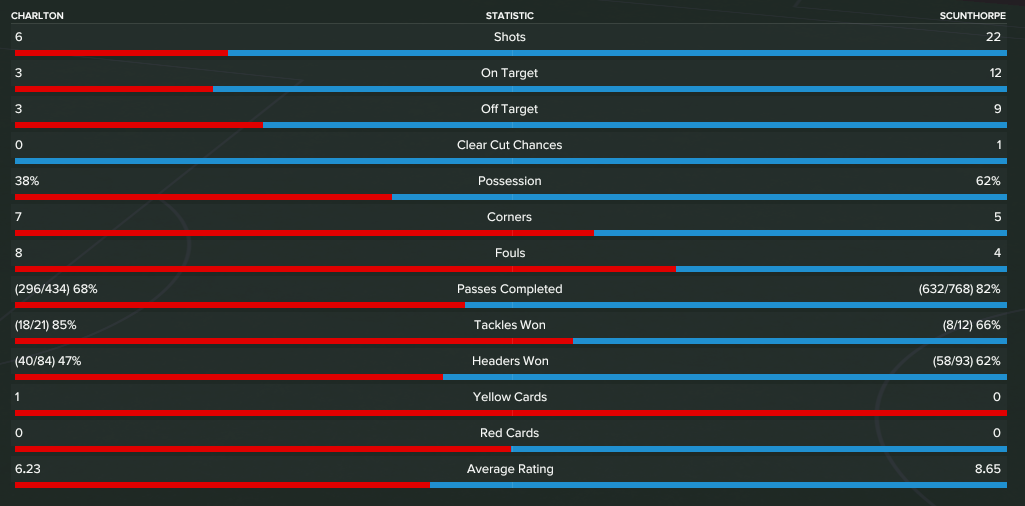 Just when I thought it couldn't get any better, it did just that:
I wasn't especially satisfied with our defenders, who were leaking goals at an alarming rate. We ended up in a situation where we had to score twice to just get a win, but even then it was up in the air. So I was scouring the loan market for a defender, I stumbled upon Everton's  Matthew Pennington. Beating a lot of competition, we managed to sign him for the rest of the season. Instantly we have the best defender in League One available to us. This means there is no place for Blackburn loanee Scott Wharton, who returns to Ewood Park.
To say I'm floating on air after that result is an understatement. I'm not floating, I'm actually flying through the clouds. Our play was magnificent and our finishing clinical. Wonderful stuff. But let's get down to Earth. The last match of February is a visit by Port Vale. They are a stable mid table side whose season is all but over. They won't climb into playoff places and probably won't get into relegation trouble. Hopper returns from his chest injury and replaces Van Veen, with Pennington immediately getting into the first time line up in the centre of my three-man defence.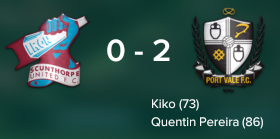 Port Vale is the better side in the opening stages of the match and it takes nearly half an hour for us to take our first chance, a shot by Wiseman into the hands of Alnwick. Port Vale continues to press our defence, with our attackers especially poor. After reaching a low of 6.2 average rating, I take Madden off and replace him with Van Veen. The Valiants continue to create chances, but fortunately, refuse to put it into the net. Our luck finally ends when Kiko scores an absolute howitzer of a direct free kick in the 73rd minute. And it only gets worse when Pereira doubles their score to 0-2. And that is the way it ends. It was a poor match from our side and I expect much better next month. The loss against Port Vale leaves us at the top of the relegation zone, which is an improvement. We will have to be much more consistent, however, to secure our place in the League One for next season.