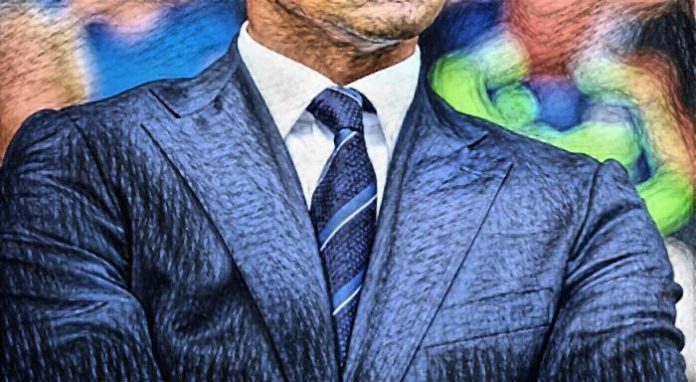 Looking at the schedule, I don't have an easy run toward the end of the year. We face Millwall (2nd), Bradford City (8th), and Bolton (5th). That's a bit of a downer since I really hoped to get this team firing immediately. With our position the way it is, we need to get some points soon and the chance of doing just that is smaller with such opposition. But, the ball is round, it's 11 v 11 and so on, so there's always a chance for an upset.

Oh for fuck's sake… Chris Kirkland has literally just fell apart and is out for the rest of the season. Luckily (from a financial point of view), there is an injury release clause which I decide to activate. It is no use paying him £ 2,500 per week to sit around all broken like that. We'll just have to go out and find a new goalie. Meanwhile, Luke Daniels will take his place between the posts for now.
Millwall has been doing great this season. They find themselves in 2nd place, six points behind league leaders Charlton Athletic. They have won 3 of their last 5 away games in the league. We'll have to keep our eyes on striker Lee Gregory, who has scored 13 times this season and will undoubtedly be looking to add to that against us. Millwall play a standard 4-4-2, and I think my new formation will be a good match for this, at least on paper.
Well, we lost. But it is a very encouraging defeat against the number 2. We went ahead twice, but just couldn't pull it off. Hopper puts us in front with barely 3 minutes played, until mistakes by Wharton and Toffolo allows Lee Gregory to put the ball behind the net. It is Hopper again who puts us in front with a nice finish from 17 meters. The second half has just started when Millwall equalise again via a deep cross landing on the head of Worrall. Things get even worse when Lee Gregory finds himself in a pocket of space some 20 meters from goal and hits the net: 2-3. We do not give up and start to create chances via Van Veen, Ness and Toffolo. We absolutely dominate the last 20 minutes, but fail to score. My boys played well and I'm confident that once they get the knack of this formation, we'll be alright.
Next up we travel to the Valley Parade to face Bradford City. They've lost their last match 2-6 against Walsall, so two things are possible: they are entering an almighty slump or are itching for revenge. We'll just have to hope for the first. We are without one of our best players, Rotherham loanee Richard Smallwood, who is suspended for collecting 5 yellow cards. His place in the defensive midfielder position will be taken over by Stephen Dawson. Otherwise, we're unchanged compared to our match against Millwall.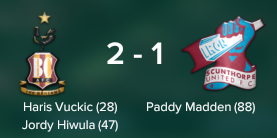 It is a very open match with chances for both sides. In the 28th minute Vuckic finds himself in enough space to build a house with enough room for a pony and the Slovenian unfortunately knows how to make the most of it: 1-0. And it only gets worse. Holmes loses the ball clumsily on midfield, which allows Vincelot to put Hiwula behind our defence with acres of space and he puts it away to double their lead. We do create some chances, but most of them force the groundkeeper to search for the ball somewhere on the parking lot behind the Bradford City goal. In order to increase the pressure on Bradford's defence, I switch the defensive midfielder into an attacking one. Hope returns to The Iron when substitute Paddy Madden pulls one back with only a couple of minutes to go. But that's about all we get and we end the second match of my reign again with a narrow defeat after having played very well.
The last match of the year sees us travel to Bolton, where we take on their Wanderers. After the last few matches, I still have confidence in my system. Against Millwall and Bradford City we played well, but unfortunately weren't efficient enough with the scoring. To remedy this, I replace Van Veen with Madden and Toffolo with the more attacking Josh Morris at wing back. The Irishman did play well against Bradford City and deserves a chance to shine. Smallwood returns from his suspension to take his place at defensive midfield. Holmes is suffering from a hernia and will be replaced by Luke Williams.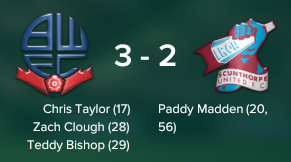 We start the game on the front foot, but it is Bolton that opens the score. Taylor is free to hit the ball just inside the penalty area to make it 1-0. We immediately re-establish our dominance and manage to get along side when Morris crosses for Madden to score the 1-1. That's right, the two players I have selected are directly involved in the equaliser. That feels good. Even though we remain the dominant side, it is Bolton that again takes the lead. A deep pass by Wheater ends up behind our defence and in front of Zach Clough, who dispatches it clinically to make it 2-1. A stupid mistake by Wallace makes things worse and allows Bishop to make it 3-1. Bolton continue to press and create some really dangerous chances, with us being mere spectators. I use half time to put my defence in order. We stabilise a little bit and it even gives us the opportunity to attack. And it is Paddy Madden who pulls one back after an excellent pass by Hopper. We continue to dominate proceedings and show some fine attacking play. We fail to reward ourselves with an equaliser and leave the Macron Stadium with 0 points.
Three games played, zero points. This reminds me of my start with Go Ahead Eagles, which is not a good thing. But there are plenty of differences. We play well and create enough chances. But we fail to make them pay. We have been playing against some of the best teams in the league, and I'm confident we will get the necessary points when facing opposition further down the table.