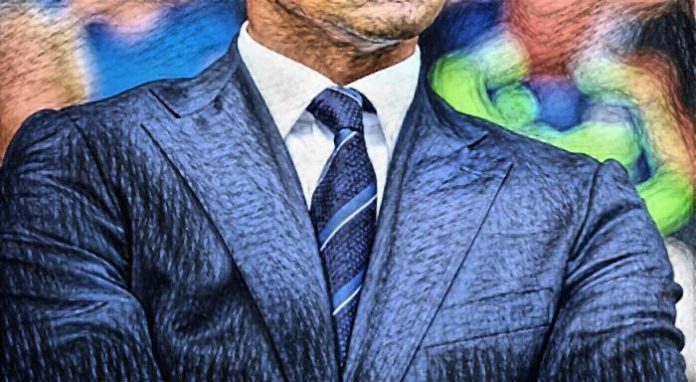 Scunthorpe United are 21st in the table, but only one point from safety: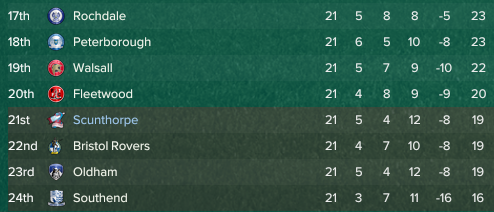 A good run of results could see us climb up the table relatively fast, which would be right up the board's alley as they want me to avoid relegation.
Squad assessment
Just like I did when I started my ill-fated reign at Go Ahead Eagles, I use the team comparison screen to assess our strengths and weaknesses.
It's good to see determination as being 'above average'. Being near the bottom of the table, we'll need plenty of it to escape from our predicament. Since I love to play with short passing, it is also good to see we can make good decisions, have decent passing and got our ball control right. All very important when trying to keep hold of possession. At this level, a lack of pace is certainly a problem. Pace is very important in the English lower leagues, although it might not be such a game changer at League 1 level compared to the National League. Having a below average rating on finishing is never good, but it is not the end of the world too.
The staff
The staff is reasonably filled, but lacks some depth in the scouting and physio departments. To remedy this I hired Luke Anthony and Pip Yeates as physios and George Rooney and Mike Milligan as scouts. Furthermore, former Sunderland, Nottm Forest and Middlesbrough player Mark Proctor joins us as assistant manager.
The squad
Looking at the squad, I see that I'm light on wingers, so a winger based formation is ruled out. I do have plenty of central defenders and strikers, including my compatriot Kevin van Veen. With plenty of strikers and central defenders one formation almost presents itself:
It is a variation of the formation I used to some success at Go Ahead Eagles, but with more flair and attacking intent. The main differences are: a defensive midfielder and a second striker. The CM (A) offers more options during the attack and should combine nicely with the deep lying forward. All three of my attacking players will be supplied by the deep lying playmaker, and width is provided by my wing backs. Furthermore, I expect to be facing 4-4-2 a lot and that midfield triangle will give me dominance in midfield, with the defence more than capable of taking the two forwards out of the game. I think it is a solid formation and I will refrain from chopping and changing too much, like I did during my time at Go Ahead Eagles. Slight improvements is the name of the game.
With the staff, squad and tactics sorted there is nothing more to do than just go ahead (pun very much intended) to the remainder of the season!