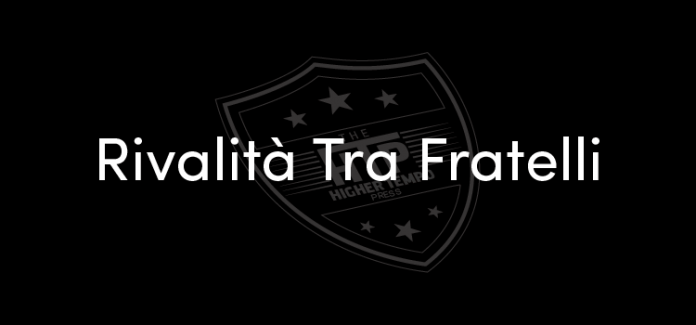 This is the story of two brothers, a modern-day Cain versus Abel if you will, based now in the Allianz Stadium. If you'd like to replicate this challenge, we're using the updated medium database with the following leagues: England (Premier League, Championship, League One & League Two), Italy (Serie A & Serie B), Spain (La Liga & Segunda División), France (Ligue 1 & Ligue 2) and Germany (Bundesliga & 2. Bundesliga).
Rivalità Tra Fratelli, Episode 25 – October '19
CHARLIE: You'll be pleased to know that I have blocked Mike from opening this week's episode with series of immature stereotypical taunts about the visitors for our second European game, that being Liverpool, you know the sort – lack of windows, car stereos… I've informed him that sort of thing isn't really appropriate anymore. So instead I've fired up the YouTube for a complication of Stevie G goals and knitted together a voodoo doll of Mauro Icardi, my old Inter striker who deserted the San Siro for pastures new.
MIKE: Following my reprimand, all I'll say is that I've requested a personal hearing. And there are no reserves for this one.
CHARLIE: Shaqiri is unlucky to miss out but The Isco Kid, Salah, and Jesús Corona plays against his former club. They always do well. Longer-serving readers will know that I do not relish seeing Icardi lead the line for the Reds, when we started this whole project some time ago I was Inter Milan manager and spent the majority of my time persuading him not to leave the club.
MIKE: As Charlie shudders at the very sight of Icardi, I'm more worried about Belotti in reserve on the Liverpool bench. I don't know why they felt the need to sign both and play only one but they did and they have. Back to the game and Dybala does what Dybala does, notches his eight goals in five just seconds into the match. Then we get a penalty via Clyne on Salah and Dybala's record at penalties is better than John Wayne's in movie shootouts… and he misses. Karius saves from a poor shot straight at him.
CHARLIE: Following the missed penalty a minute later Mauro Icardi runs clean through and equalizes for Liverpool. From then on, despite changes including the ultra-experienced Higuain on for Isco, no goal comes. There were such frustrating moments, mostly Salah being stupidly offside and Pjaca shooting wide. Mike had to take another walk before addressing the boys.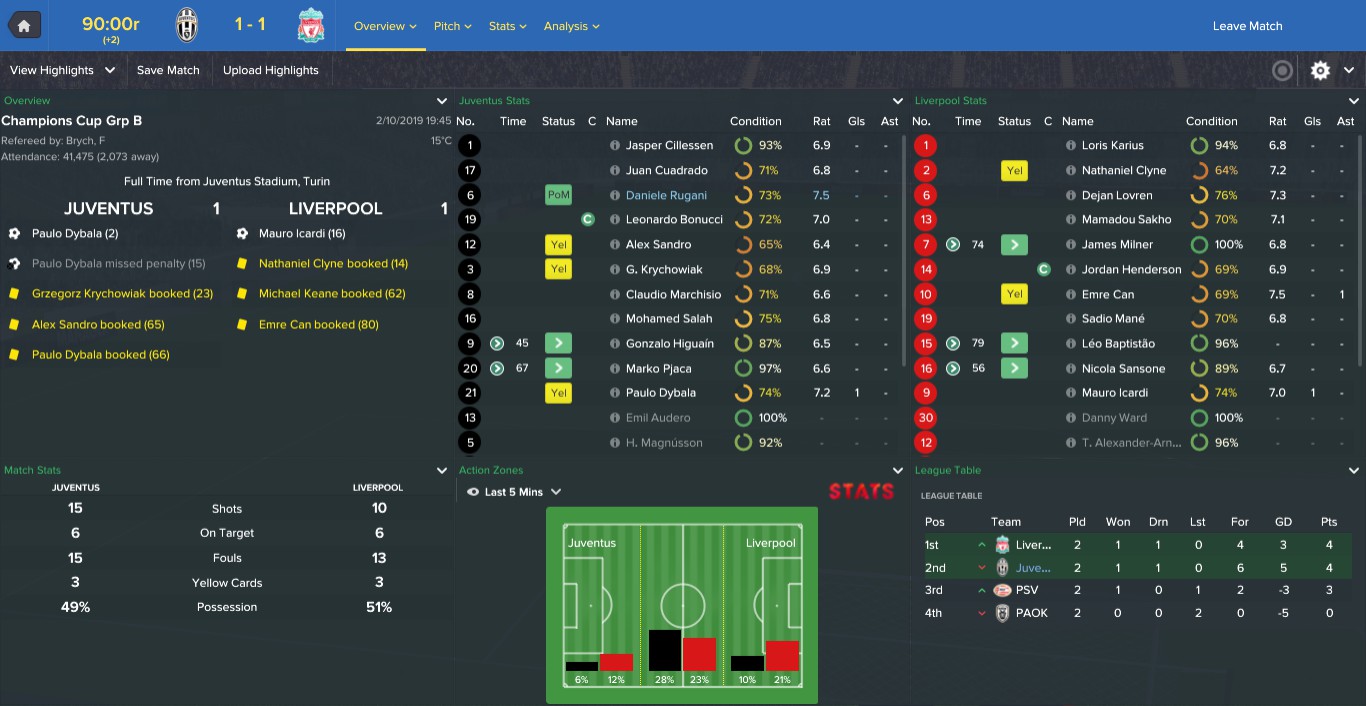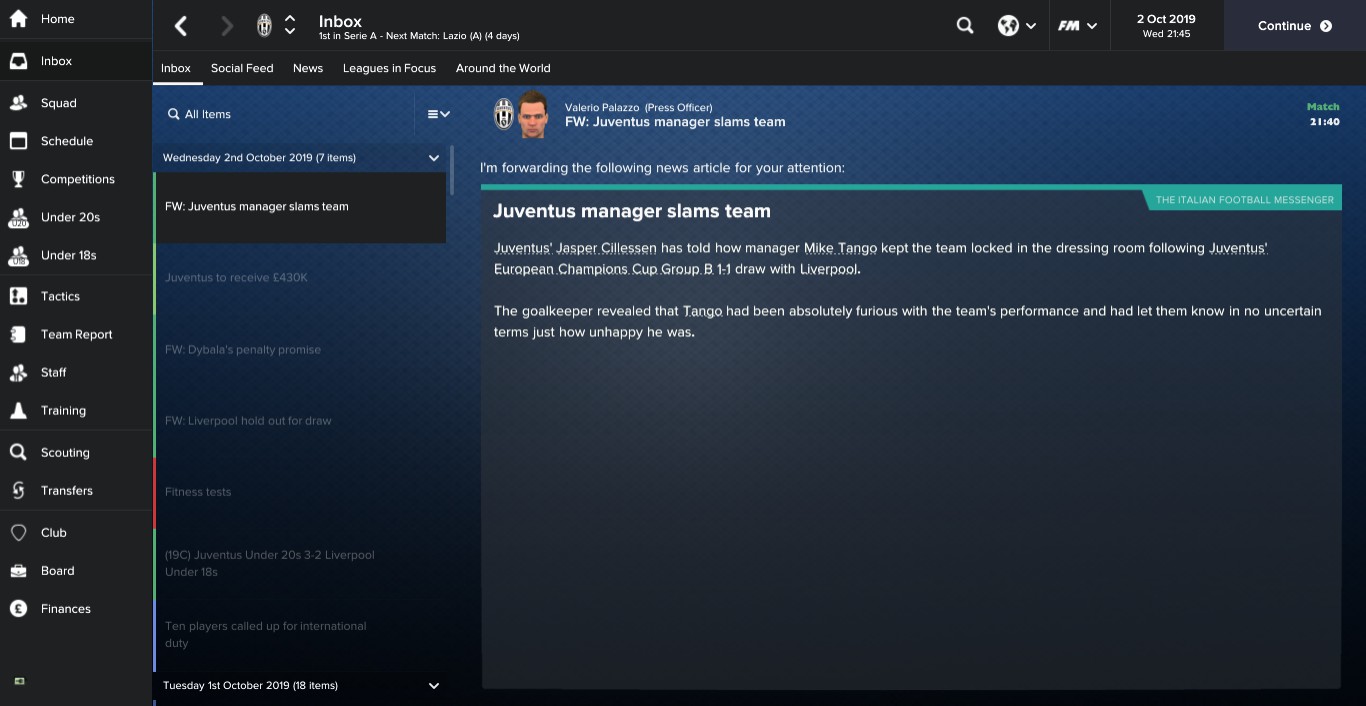 MIKE: We didn't play badly, we just didn't play well and that does not sit well with me. At least we don't have long to wait to set the record straight, Lazio are our next victims at the weekend. After an indifferent start, they've won five in five. Well, that won't last, mark my words.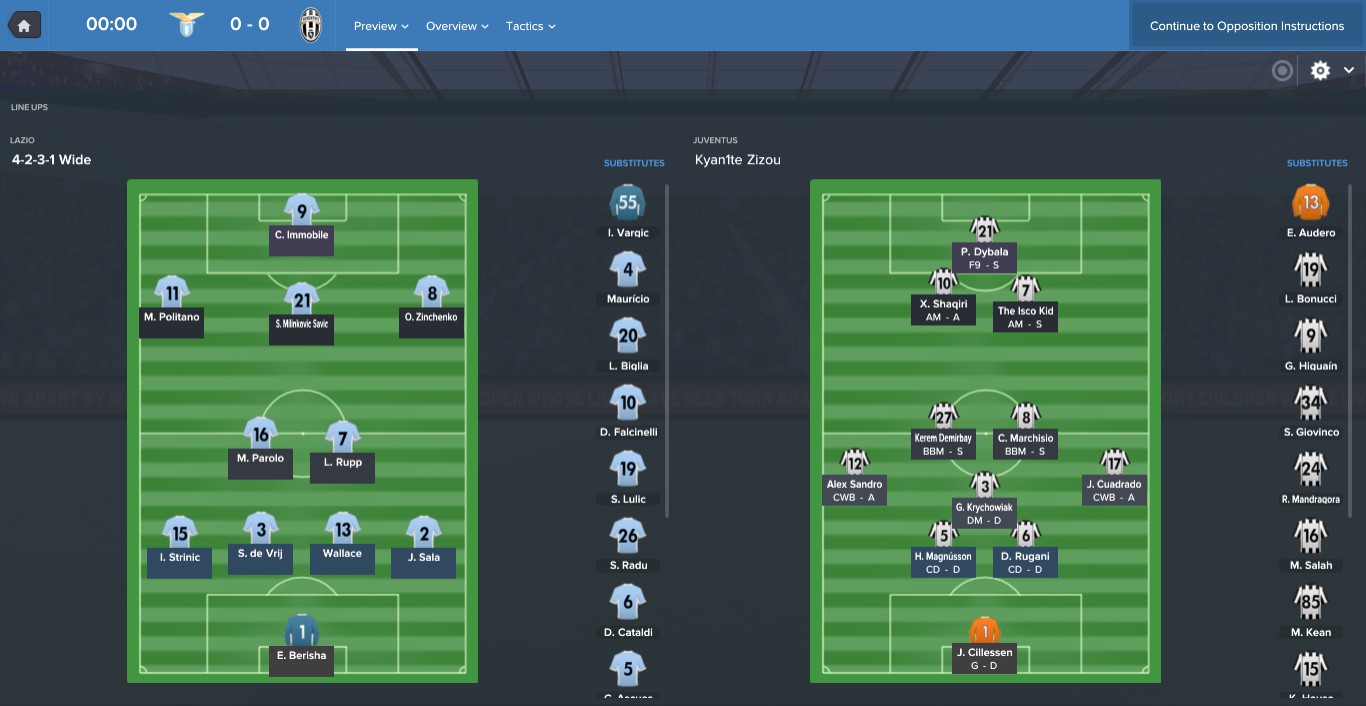 CHARLIE: The good news is that Lazio have not gone six wins out of six, Mike's promise held water. However, it is a second 1 – 1 draw on the bounce. I seem to remember very early in the save that Mike reasoned the way to beat Lazio is to stop Marco Parolo. Sadly he forgot to pass on that pearl of wisdom as he tucked away a penalty before a Demirbay freekick leveled matters.
MIKE: Not impressed, not impressed at all. What's worse, Cuadrado is injured. Who the hell am I going to play at right-back?!
CHARLIE: A short international break follows as I'm dispatched to the Under 20's to scout right-backs who could and I quote 'do a job'. Further questioning was met with a stern look, then a comment which will stay with me for some time. "When Brian Clough sent Peer Taylor to find a player did he whine, bitch and moan like you? No, he didn't, so find the bloody right-back you pr*ck." I didn't see a decent player for Mike, sadly newgen Gabriel Boi started in that position and all three of Parma Under 20's goals came from his side of the pitch. He was utter gash.
MIKE: With my assistant manager failing to find a diamond in the rough under our own noses, I'm just grateful that Cuadrado has recovered sufficiently to start in our next game against Crotone.
CHARLIE: I have this nagging feeling of deja-vu as I prepare to take the stage as Juventus face Crotone at the Allianz. The sense that I've already played them before somewhere in an alternative reality. I sat down late one-night last week and played this game, a game we won 4 – 0 with Kerim Demirbay scoring his second and third goals of the season before Higuain grabbed a brace. It was late and after remembering to take a screenshot of the result, my eyelids drooped and I accidentally clicked the 'Yes' option to exit without saving. I hold my hands up and apologize. I'll post the original result on twitter as a special little feature.
In this new reality, Higuain shows Dybala how it's done by crashing a penalty into the roof of the net and The Isco Kid makes things safe late on after Crotone offered little by way of attacking intent.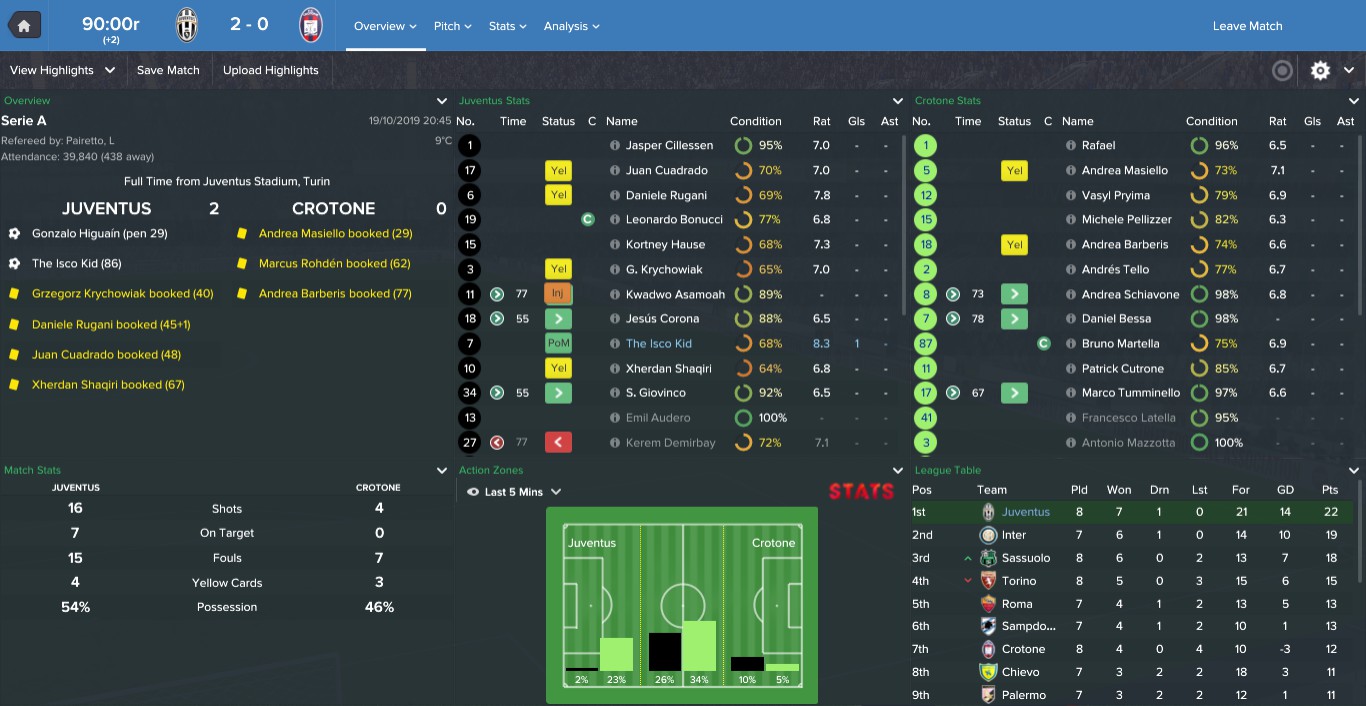 MIKE: Once again, if I'd have managed that Crotone performance with four shots off target and the round total of none on target, I'd have offered my resignation. The press fawn over Bonucci, who has now played 300 games for the Old Lady but I'm more interested in the running theme of Krychowiak versus yellow card as he's now suspended for the next game. Tosser.
The next game is back in Europe and I'm that confident in turning PAOK over at home that the squad has been rotated to the max. Feet up, this won't take long.
MIKE: For some reason, we're playing in our away kit of blue despite being at the Juventus Stadium, that's about the only interesting thing in this fixture. Three first-half goals mean three group stage points safe and secure before PAOK get one back through Seb Palacios. PAOK put up more of a fight than Crotone did but another three Juve strikes after half-time, including one for Charlie's favorite defender Kortney Hause, sees us home impressively.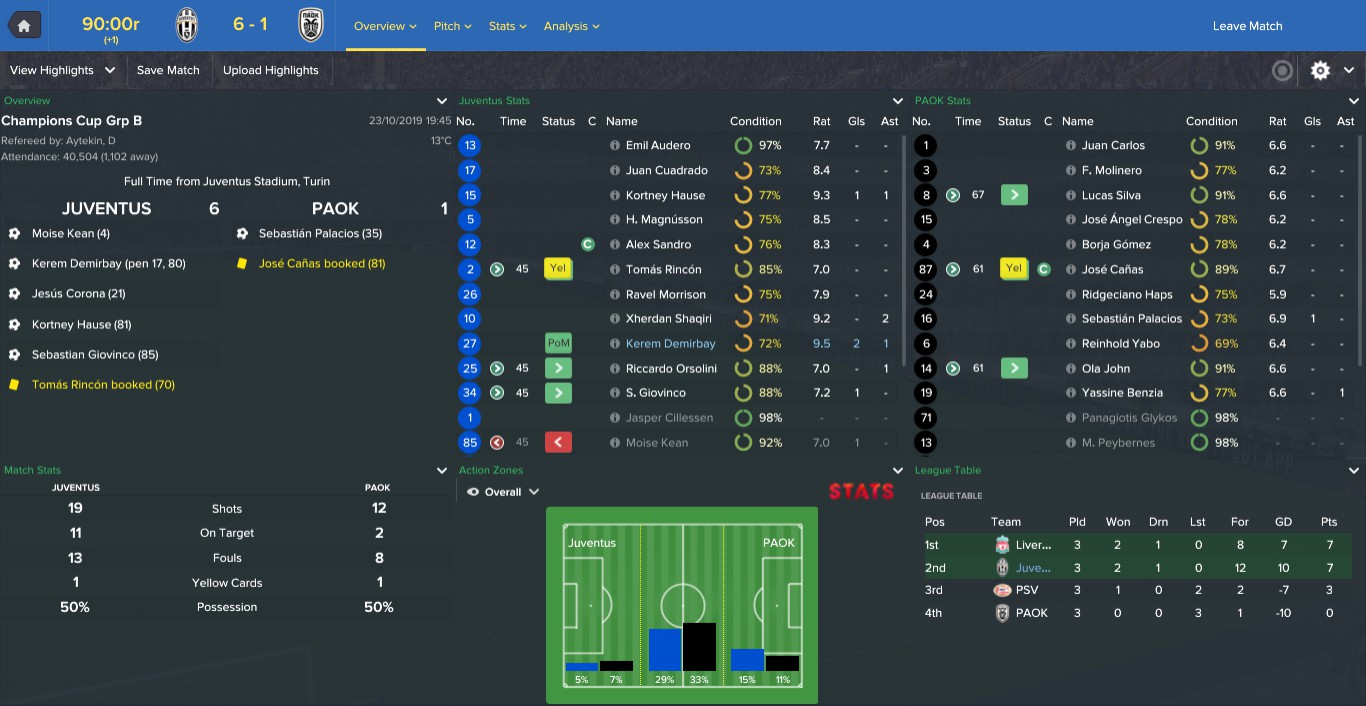 MIKE: Two more games in October should be fairly routine. Salernitana shouldn't pose a threat, not with The Isco Kid, Shaqiri and Dybala leading the line, not to mention Salah in reserve. Just for reference, Salernitana are rooted to the foot of the league with only three points from draws to their name.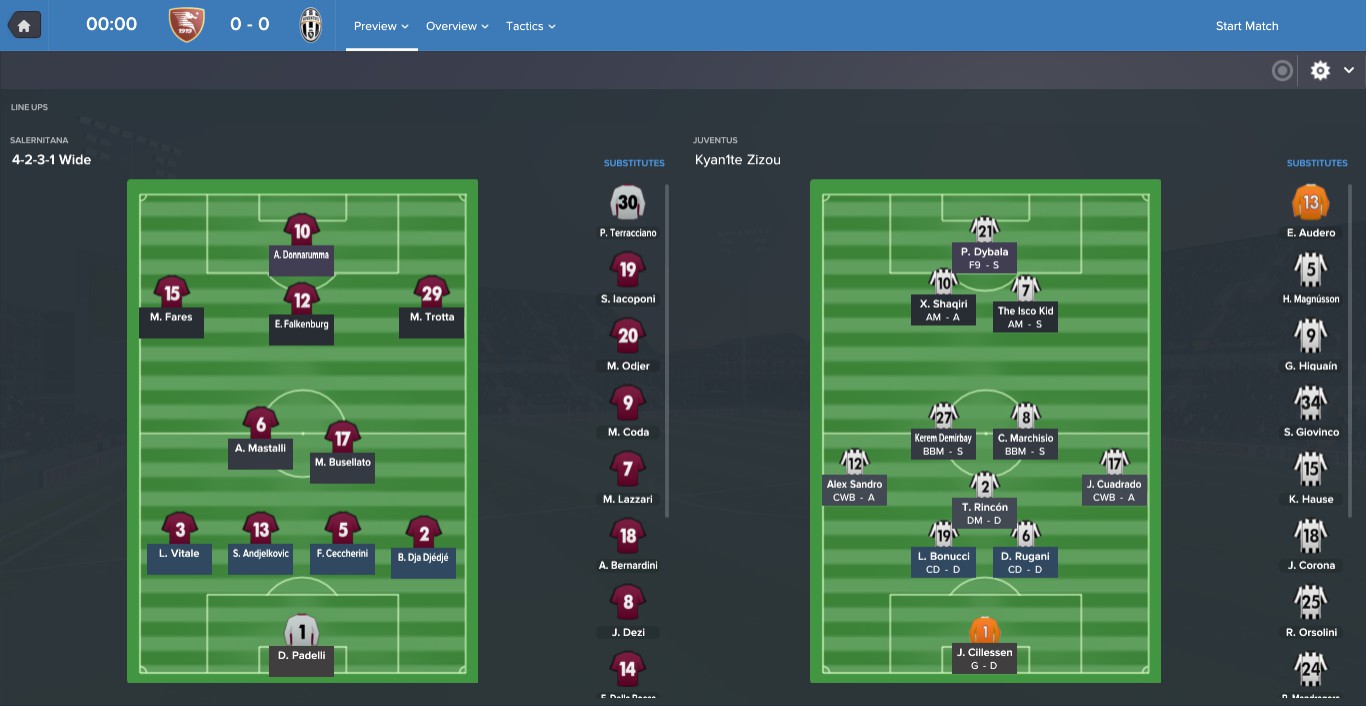 MIKE: What everybody in Italy needs to know is that there's a pecking order and I'm top of it. For some reason, Aldredo Donnarumma of Salernitana isn't aware of that. He's so unaware that he puts Saler-I-refuse-to-write-it-again into the lead on 9 minutes. It takes until just before half-time for Demirbay, who seems to be on something of a hot streak, to equalize. Right up until the 85th minute it appears as though the likes of Sampdoria and Inter Milan will gain ground on us before Higuain comes up with the goods. A lofted finish over the goalkeeper puts us on the right path. He adds another and then Trotta donates an own goal. 4 – 1 flatters us, I suppose. Do I care?
CHARLIE: I don't know how he does it, Salernitana should have held on for the draw. It literally went from 1 – 1 to 4 – 1 in two real-life minutes and ten FM minutes. His luck defies all logic. I know FM, I've played FM, the FM Gods are less forgiving than a bride left at the altar.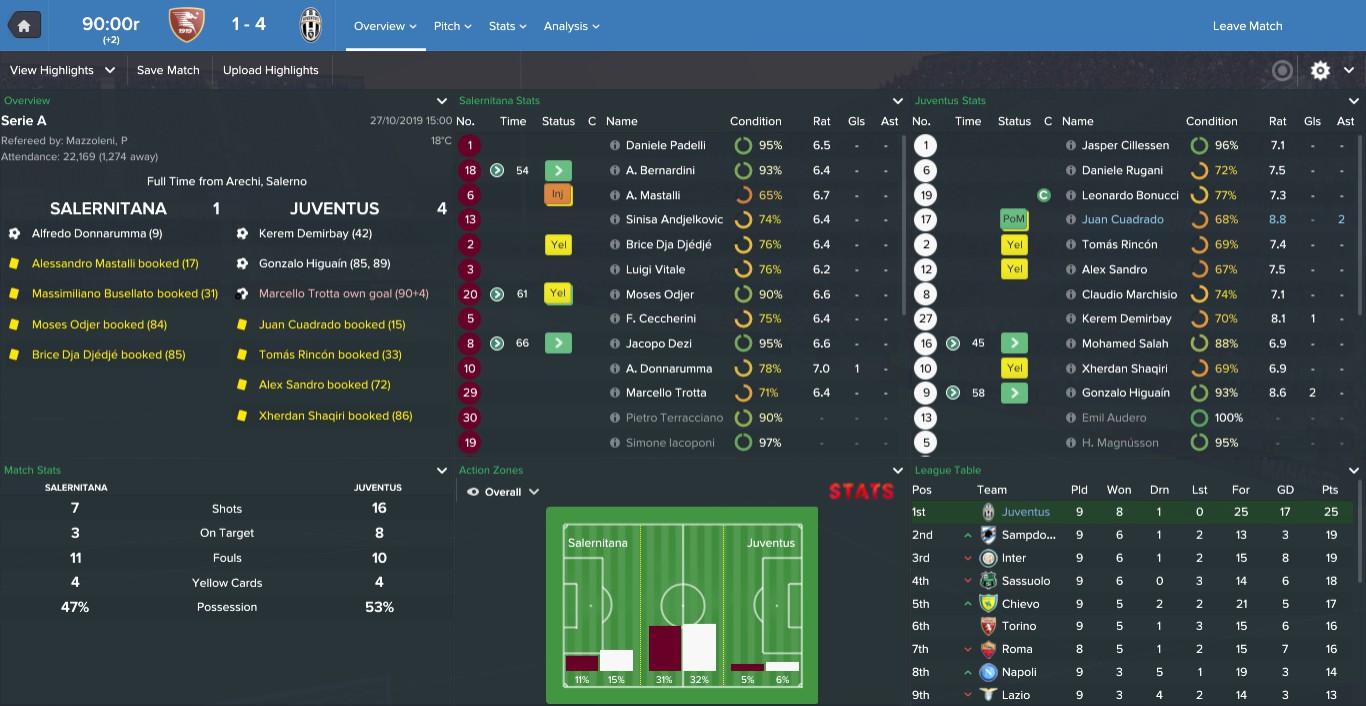 CHARLIE: We end the month with Bologna visiting the Allianz. Dybala is dropped, Higuain retains his place after going so well as a substitute against Salernitana. Tango Towers is awash with brotherly love as we once again ride together.
MIKE: The sum of my assistant manager's contribution is to suggest Hause for a right-back after Cuadrado is ruled out. The less said about my response, the better.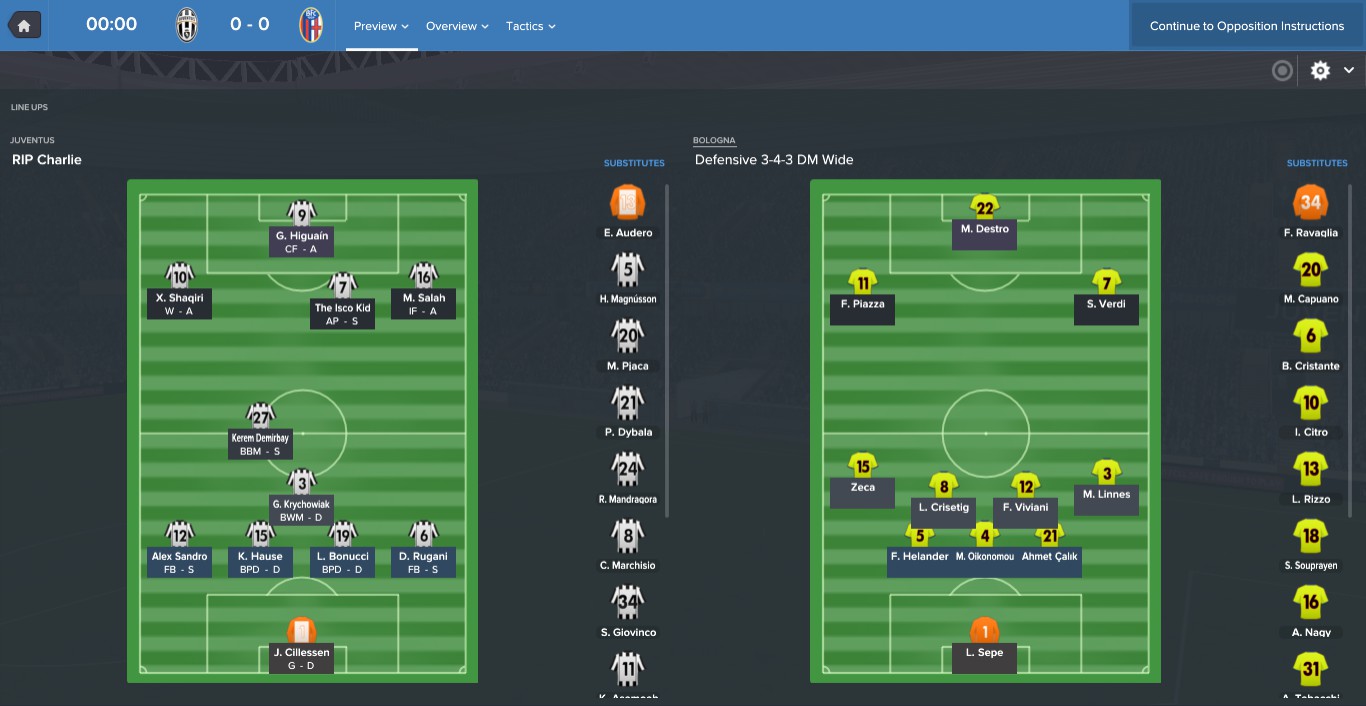 CHARLIE: I'm not one normally to gloat but I do confess to punching the air in celebration after Kortney Hause fired in a rebound from a Shaqiri free-kick saved by Bologna's Sepe.
MIKE: It seems like we seem to end episodes on something of a negative note. Last time it was a late win against Chievo that Charlie almost managed to f*ck up, this time it's due to our wasteful play. 31 shots, 12 on target and yet… and yet… and yet just one goal to show for it. Oh, and another caution for Krychowiak. Seriously, it's every match. Does anybody else have this problem or is it just me?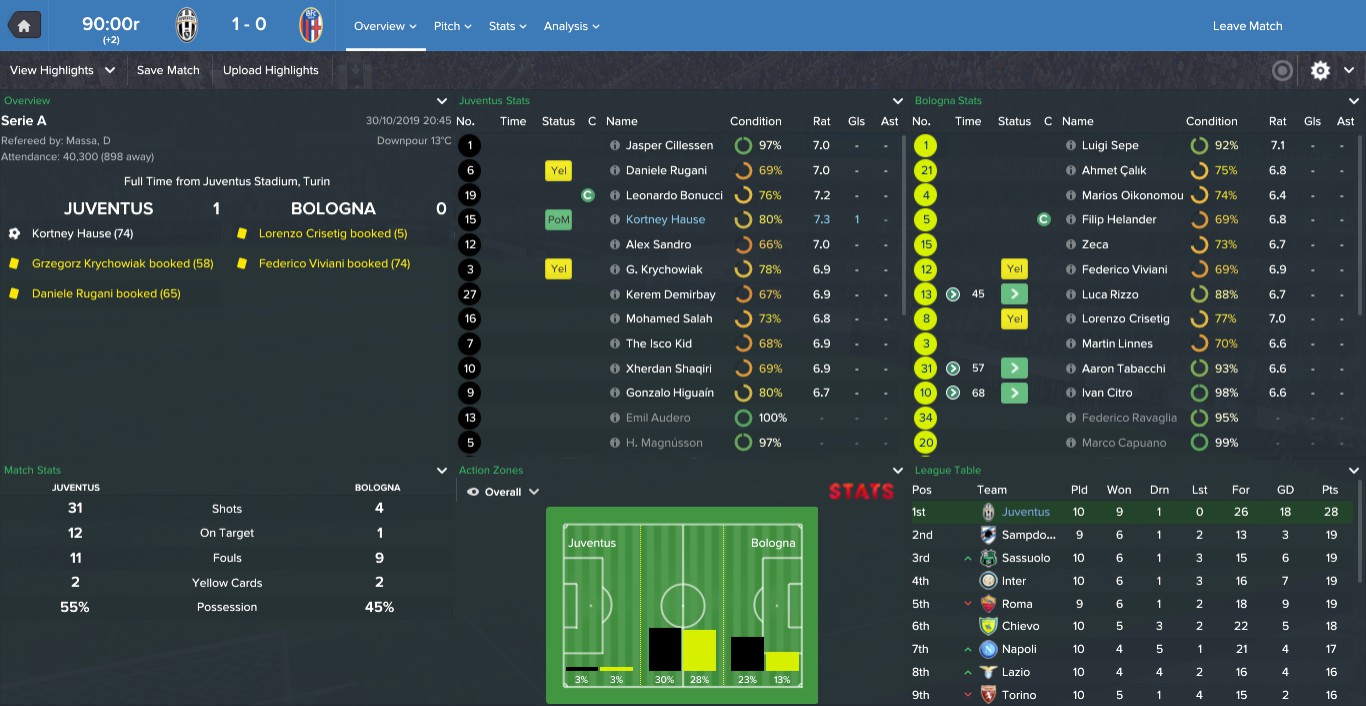 MIKE: Only Demirbay makes the team of the month, despite the team ending it nine points clear at the summit. I don't mind, it's Mike Tango vs. The World, it's my favorite fixture.
Thank you for reading, join us on twitter at @FM17Challenge, @CharlieTangoFM & @MikeTangoFM for exclusive comments, developments prior to episodes and reaction afterward. Continued thanks to Chris and everyone at Tempo for the opportunity to share this with the readers.