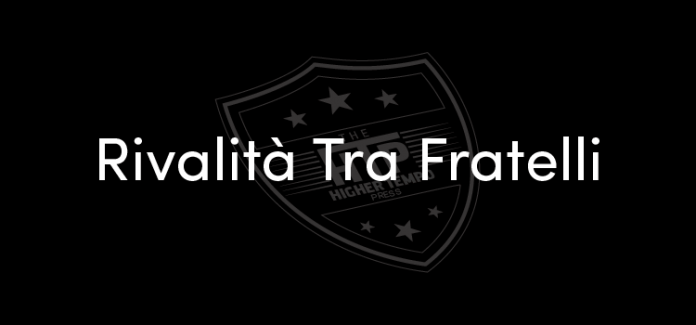 This is the story of two brothers, a modern-day Cain versus Abel if you will, based now in the Allianz Stadium. If you'd like to replicate this challenge, we're using the updated medium database with the following leagues: England (Premier League, Championship, League One & League Two), Italy (Serie A & Serie B), Spain (La Liga & Segunda División), France (Ligue 1 & Ligue 2) and Germany (Bundesliga & 2. Bundesliga).
Rivalità Tra Fratelli, Episode 24 – September '19
MIKE: If August was short and underwhelming, business is about to pick up in September 2019 with six games to cram into this one episode including our first trip to Europe and an international break. There's also the small matter of the transfer window closing but first, we are bathed in purple as Fiorentina visit the Allianz Arena. After proving my point with the experienced players putting Torino in their place, it's time to expand. Back comes The Isco Kid, Krychowiak and Shaqiri.
CHARLIE: I actually have a theory about Mike and how similar he is to Arsene Wenger. I think they both protect players by leaving them out of big games to ensure they aren't tarnished by whatever happens then bring them back in against 'easier' opposition. We'll see. For this game, Mike has heeded my advice and moves Isco back into central midfield to make certain we aren't overrun.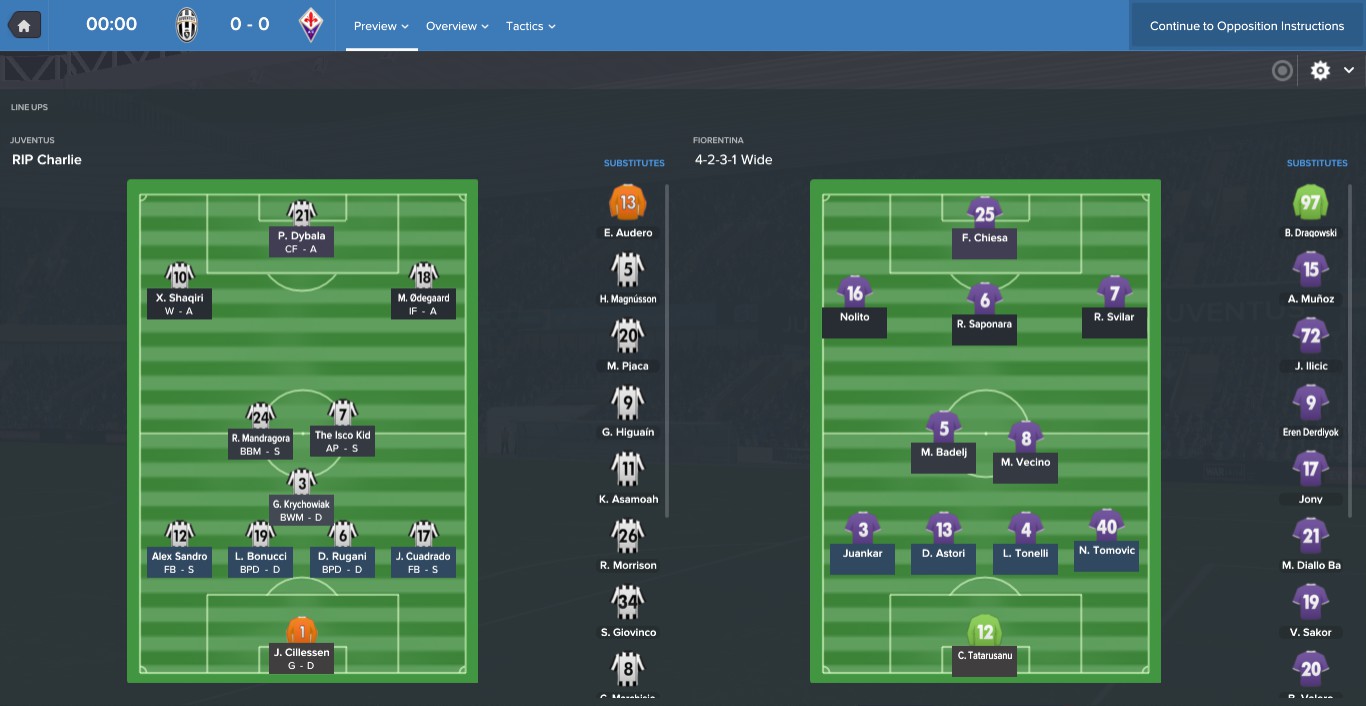 CHARLIE: Debutant Rolando Mandragora, the subject of recent transfer interest from the mysterious and mythological Real San Sebastián, opens the scoring before Fiorentina hit back almost immediately. Embarrassingly, it came from Fiorentina avoiding the middle of the park by going out wide and working to the byline. I suffered the humiliation of watching helplessly as Mike slowly moved Isco back into attacking midfield at the break, all while maintaining eye contact.
MIKE: Thanks to my intervention, Dybala and then The Isco Kid guarantee victory with a swashbuckling performance. This whole experiment is already on thin ice… wafer thin.
CHARLIE: If you've not seen the video on twitter of Sheffield United's Chris Wilder and @brfootball on transfer deadline day, I suggest you find it, we're both hoping the window closes without incident especially as Higuain has been complaining about a blocked move to Real Madrid. The doors are locked and the training ground surrounded by barbed wire.
MIKE: You can add PSG to the list of clubs I have a vendetta against. After refusing to answer phone calls or emails until a group of French… Qatar people who are usually far too busy on a golf course doing business place a briefcase full of £43 million on the table and slide it across, which annoyingly meets his release. The upshot is Ødegaard moves to Paris and we need a replacement. I wanted Dimitri Payet because he can cover all three attacking midfield positions but he's suddenly off the transfer list after three years of being on it. Instead, Liverpool's Jesús Corona will have to do. I just said 'have to do'. Not something you want to hear.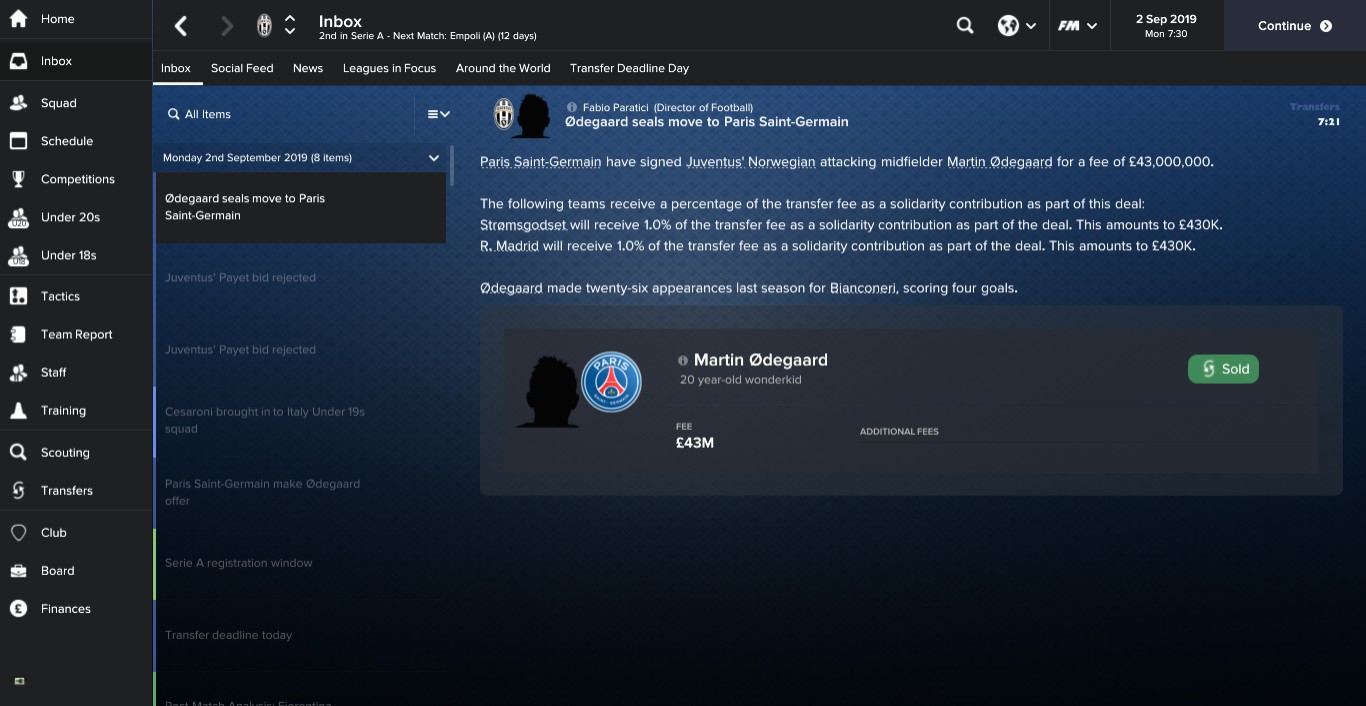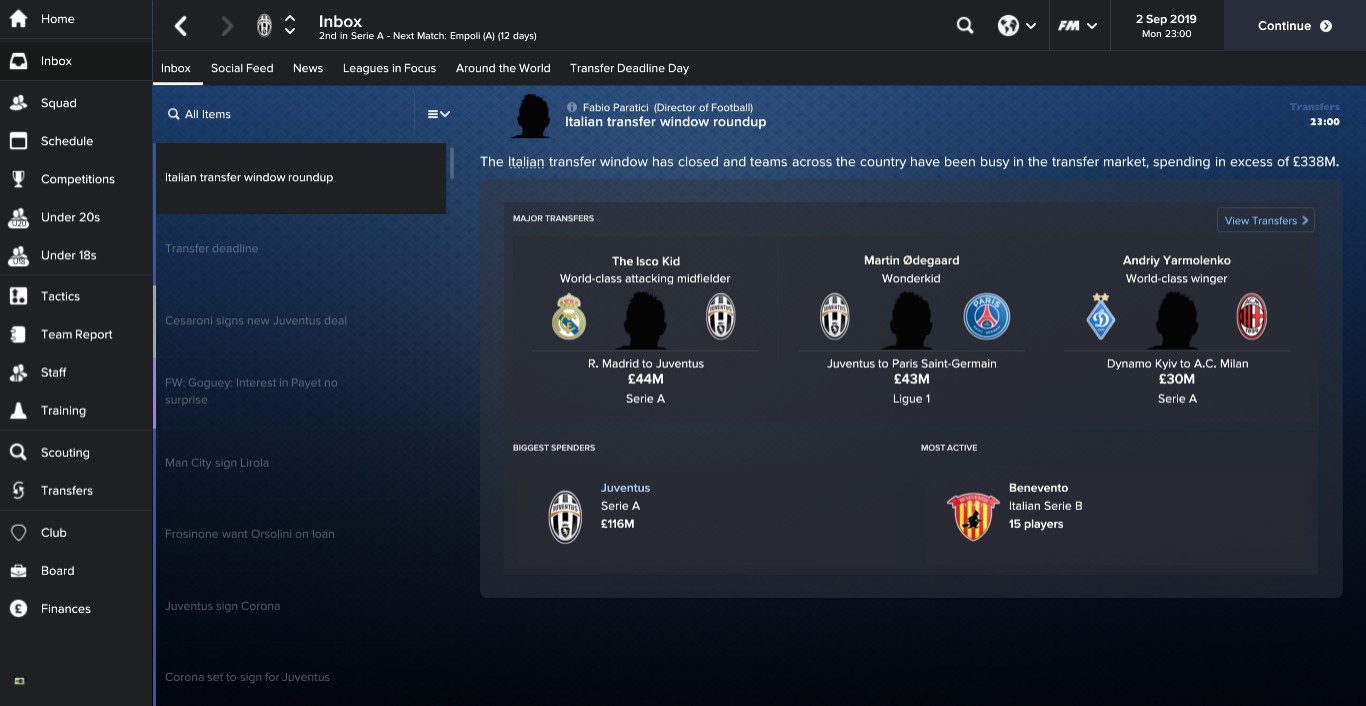 MIKE: Let's just get back to the football, nothing bad can happen on the pitch. What's that? An international break? Six games in September and a 12-day international break? Absolutely wonderful. There's more good news! Dybala is injured for the next game. Spiffing, absolutely bloody spiffing.
CHARLIE: When your undisputed number one striker is off-form or injured you need a reliable and capable backup option, let's call it the Harry Kane principle. At Juventus, we have such an option as Higuain comes into the team for Dybala and it takes him all of 11 minutes to notch his first of the season. I'm still not convinced by his desire to move to Real Madrid, I don't think he'll play every week, I suspect it's more of a bluff to get game time here but alas, as long as he bangs in the goals neither I or Mike are worried.
MIKE: Krychowiak picks up his weekly booking (that's three in three games for anybody keeping score at home) but other than that small blot on our copy book, along with substitute Salah attempting to do everything on his own with a series of jinking runs into wide long range shots, it's all routine.
MIKE: Our first game in Europe is away at PSV, which shouldn't really cause us many problems. We also have a tasty home fixture against AC Milan to come, my old team. Rotation comes into force with Shaqiri, Salah, The Isco Kid, Cillessen and Bonucci all rested. Corona makes his first start alongside Pjaca in attacking midfield.
CHARLIE: I'd just like to point out resting so many first choicers was against my advice. If we want to progress from the group stage then a marker being set down in the first game will not only give us three points but also sends a message out to our rivals, especially Liverpool.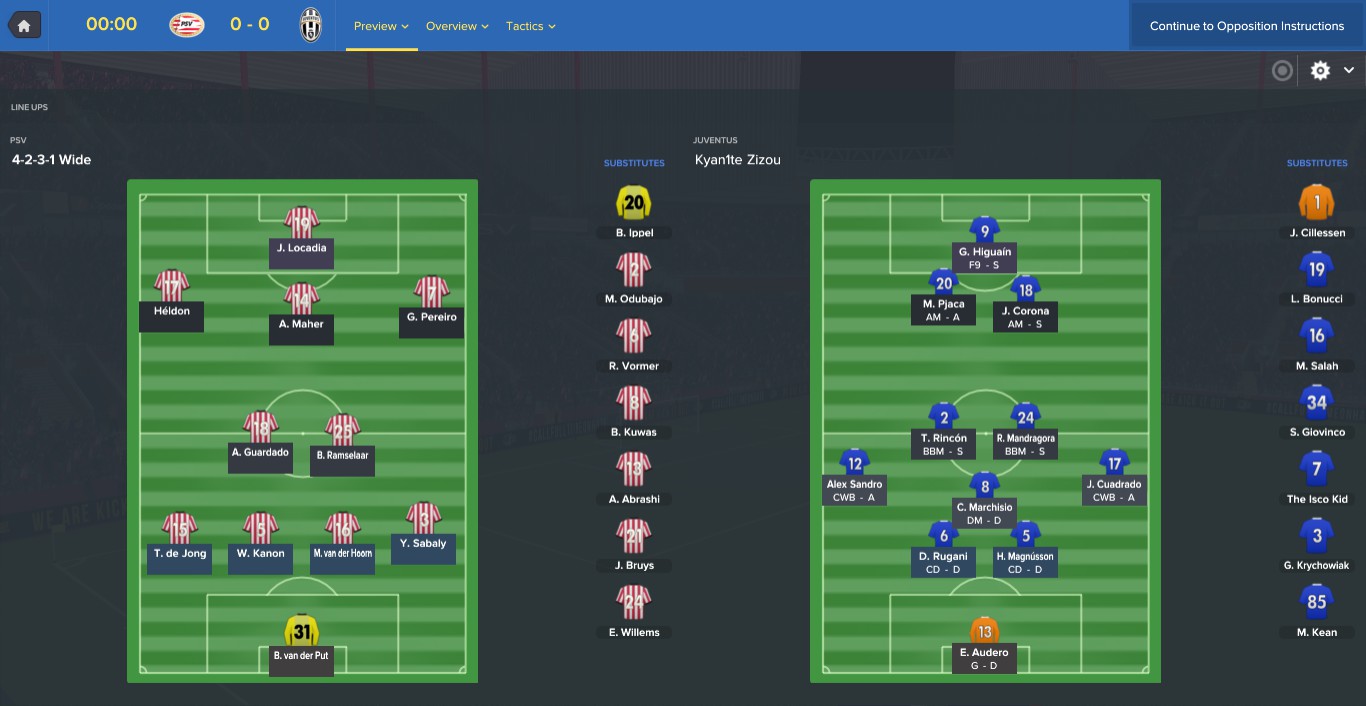 MIKE: Never let it be said that Charlie's advice is actually worthwhile. Allow me to just walk you through the highlights.
• Pjaca goal, Higuain assist – 11 minutes.
• Rincon goal, Mandragora assist – 21 minutes.
• Higuain goal, Sandro assist – 35 minutes.
• Higuain goal, Pjaca assist – 41 minutes.
• Corona goal, Giovinco assist – 48 minutes.
Need I say more?
CHARLIE: …
CHARLIE: It's been a few days since the PSV hammering, all I can say is that this game can be so cruel, this bloody game. At least the next game is against Mike's old side AC Milan, which should be interesting. He really wants to win and he sent me off to do some homework on the Rossoneri. The side looks so different to his, only Donnarumma, Calabria at right-back and Romagnoli remain as first choices. Matteo Darmian was a late signing, he's still there at left-back but other than that the midfield and forward line is completely different. Bacca can't get a game, they seem to play Barcelona loanee Munir and the big star now is obviously Yarmolenko, who starts on the right wing. He has five goals in four games.
MIKE: Salah has this annoying habit of running into blind alleys, which wasn't on the scouting report I can tell you. Luckily for him on this occasion, the ball ricochets back off Benatia (the turncoat) and it hits Salah before falling into the path of Dybala. Casual as you like, Dybala just chips it over the goalkeeper. The real truth of the matter is that I don't consider AC Milan rivals anymore, I did, I was bitter, but now… I'm just indifferent to them. That may just be the worst insult of all.
CHARLIE: Dybala involved again for the second, this time feeding Shaqiri and the Swiss superman scores from a tight angle. Not even half an hour on the clock and Dybala fires in a free-kick reminiscent of Candeva in my Inter days.
MIKE: Cruising at 3 – 0 until we hit extra time when Munir suddenly realizes he's in a game, he fires in two quickly in succession to bring AC within a goal of us. No need for that, laddy. Thankfully Dybala has read the script, he earns his hat-trick thanks to some Shaqiri magic and it's Macintosh time to see the last half hour out in a dour, drab end.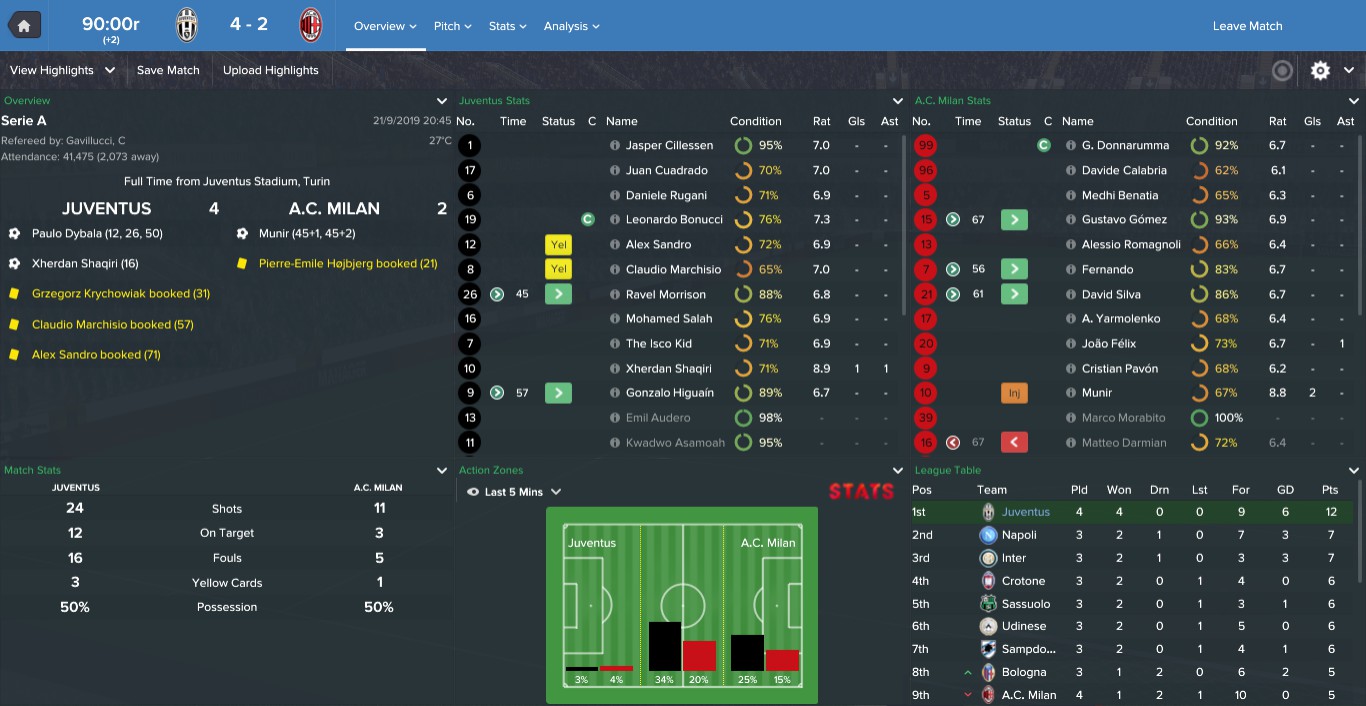 MIKE: You almost feel sorry for Joachim Löw… ALMOST. I've beaten them again, I've proved I'm better than the club. AC Milan? Don't mean a thing. Just another game to me.
CHARLIE: Up next is Sampdoria and with so many games in one month, we need to marshal our resources carefully. Mike begrudgingly agrees so Giovinco makes his first start since returning from Toronto, his pet project Ravel Morrison partners Marchisio in central midfield and Sandro gets a well-deserved rest.
MIKE: I don't normally like to say this sort of thing out loud but that was largely a perfect performance. Two goals for Giovinco, one for Asamoah – the two replacements – and another world-class strike from Xherdan Shaqiri. Krychowiak didn't even get booked, a first for the season.
CHARLIE: The only minor negative is that Asamoah will be out for two to three weeks with an ankle injury but even then he got player of the match with two assists and a goal. We've both had success as part of this save but really, Mike shouldn't be and eventually, the FM Gods will tear him a new one.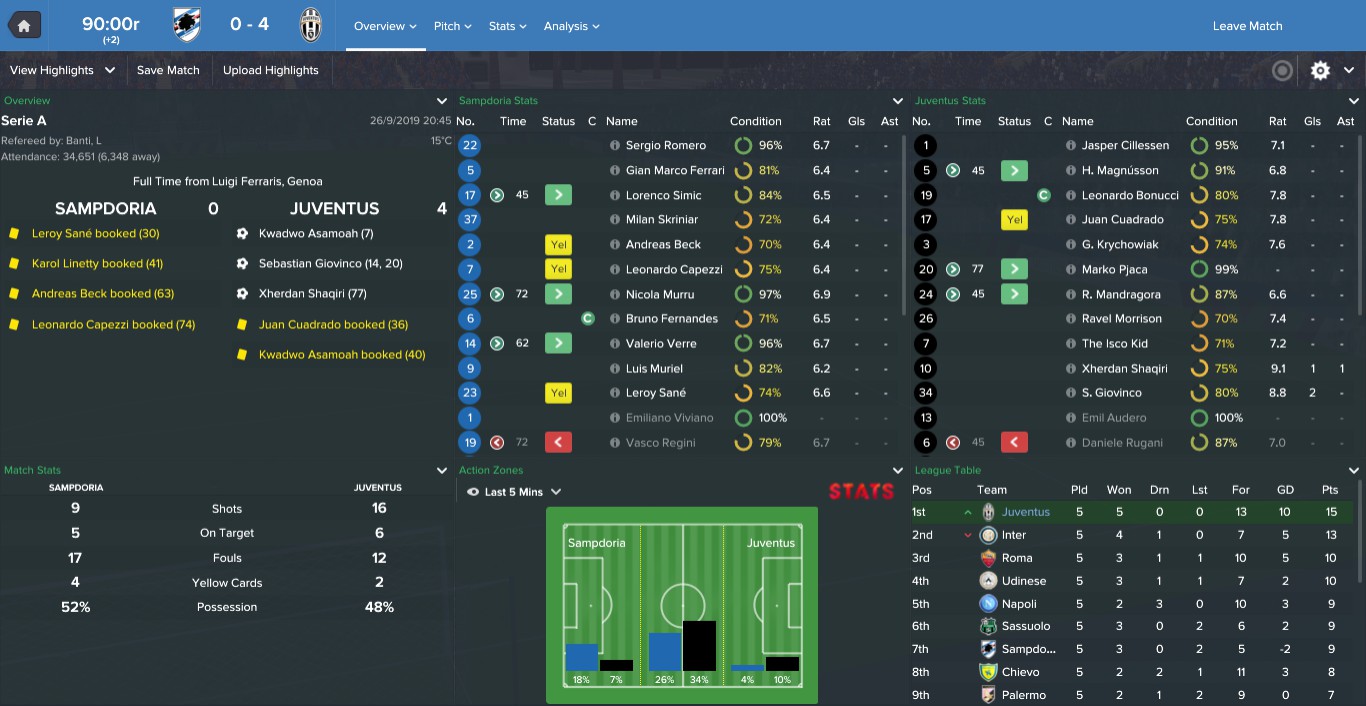 MIKE: I like this world. This world is a haven. Sam Allardyce is still Crystal Palace manager, Arsenal have won the Premier League for three years running and there's this guy called Neymar tearing it up in the Camp Nou. I don't even think he's heard of Paris. No messing about, it's Chievo and it's at home. Charlie can do what he likes.
CHARLIE: Graciously given team selection while Mike heads out for the evening to a snooker club that I don't get an invite for, Kerem Demirbay makes his first appearance since recovering from a spell on the sidelines and the three behind Dybala are Shaqiri, Isco, and Salah. If that doesn't make the mouth water, nothing will.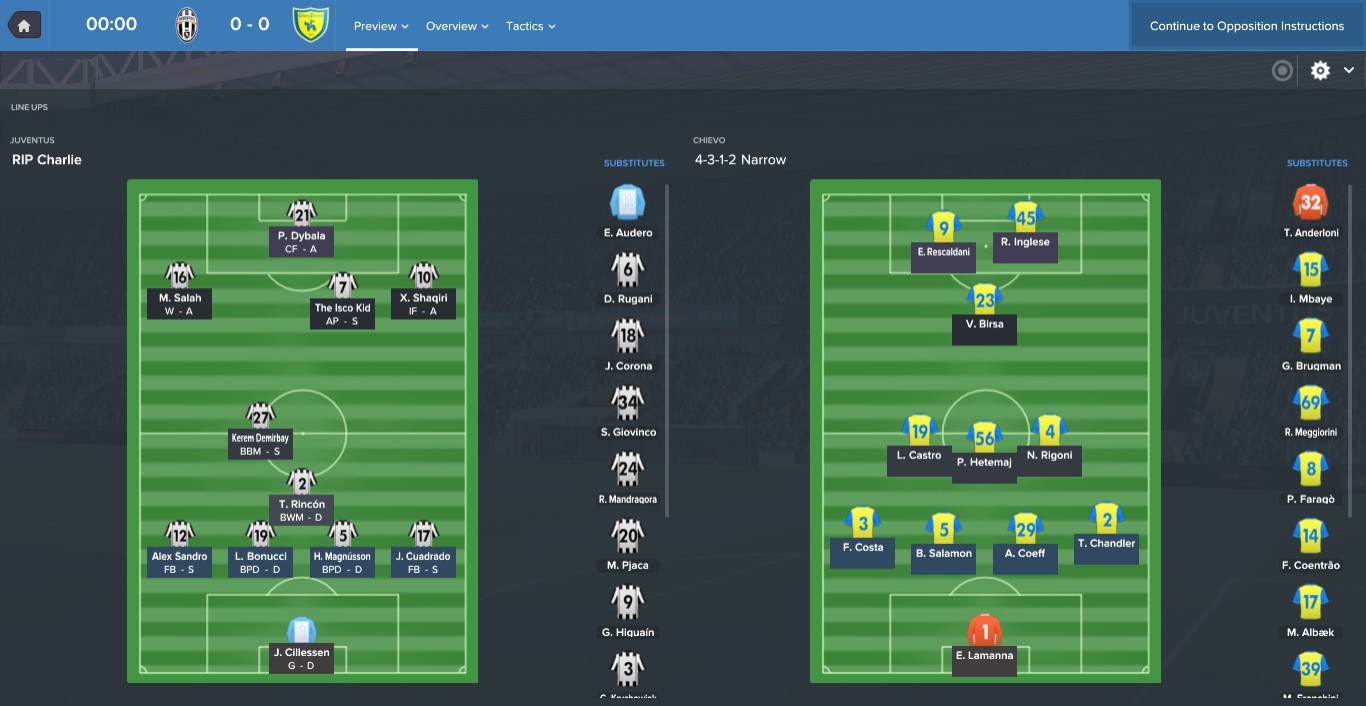 CHARLIE: Three minutes on the clock and Dybala converts a penalty after a foul on Isco. So far so good. Three minutes later, Chievo hit the crossbar and the resulting pinball sees Hatemaj find Rescaldani and his shot leaves Cillessen stranded. 1 – 1. Despite seeing off the ninth and twelfth minute (seems to happen every three), it's fifteen when Shaqiri leads a counter attack and his sweet pass sends Dybala scampering down the line. One cut back later and Mo Salah does what he seems to not be doing for my fantasy team and scores (Ed – poor timing considering his goal against Burnley). Close to the half-hour Salah's long punt downfield sees Dybala leave Chandler in the weeds as he "meep-meep's" past and fires in.
Just as I'm rather enjoying being a manager again and not just an assistant (Jose is known as the translator and he's done okay), Chievo are back within a goal thanks to Roberto Inglese. Cillessen literally reached down to scoop up the ball as it sailed past him. Then substitute Moise Kean gives away a daft penalty and Rescaldani converts with aplomb. Things are suddenly level and sweat is becoming to form on my forehead.
Our blushes are spared by Moise Kean himself, who scores two goals in quick succession to spare our blushes. We win 5 – 3 but boy, was that more difficult than it should have been.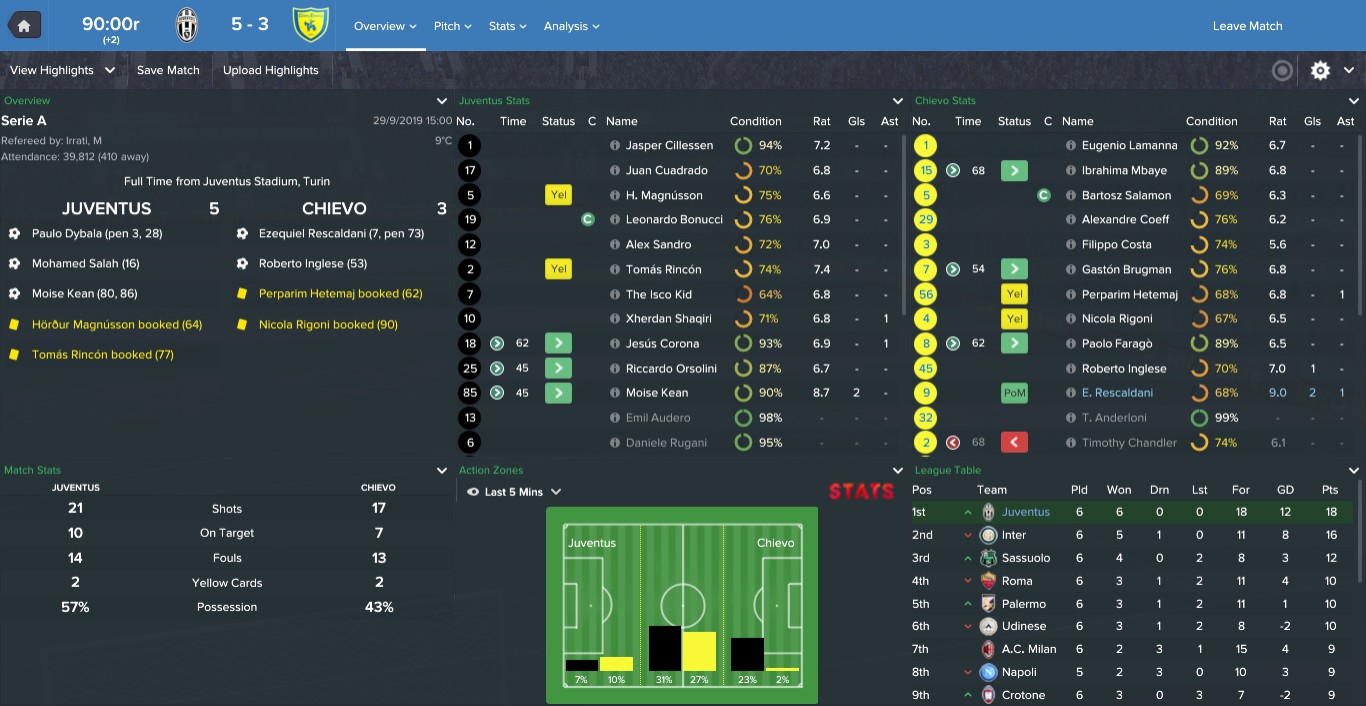 MIKE: So Charlie oversaw a high scoring game and we're top. Six wins so far out of six. Up next, we welcome Liverpool to Turin and October 2019. Calm down… calm down…
Thank you for reading, join us on twitter at @FM17Challenge, @CharlieTangoFM & @MikeTangoFM for exclusive comments, developments prior to episodes and reaction afterward. Continued thanks to Chris, Mike and everyone at Tempo for the opportunity to share this with the readers.