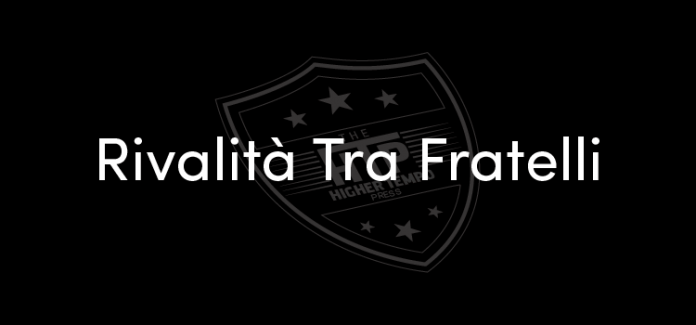 This is the story of two brothers, a modern-day Cain versus Abel if you will, based now in the Allianz Stadium. If you'd like to replicate this challenge, we're using the updated medium database with the following leagues: England (Premier League, Championship, League One & League Two), Italy (Serie A & Serie B), Spain (La Liga & Segunda División), France (Ligue 1 & Ligue 2) and Germany (Bundesliga & 2. Bundesliga).
Rivalità Tra Fratelli, Episode 22 – 2019/20 Pre-Season
CHARLIE: Yesterday we were. Yesterday we were dreamers with a boundless imagination. Yesterday we were youthful zealots embracing the promise of tomorrow. Yesterday we were pioneers with old ambitions. Today we have become the very embedment of our youthful hopes and dreams. Today we have become… partners.
Like everyone else, I'll always remember where I was when Mike Tango admitted he needed help to claim the one prize that has alluded him on Football Manager 2017, the Champions League. I was sat behind and slightly to the right of him with a hand on his shoulder saying, "Oh, mate."
MIKE: I'm already regretting this. I feel sullied and abused. I feel like the office worker who 'generously' asks his colleagues if they want anything from the canteen for lunch expecting them to say the correct answer of 'no, but thank you for offering' only to end up with fifteen orders of crisps, chocolate, cans of pop, sandwiches and pies. He should have declined, but he didn't so I'm stuck with him.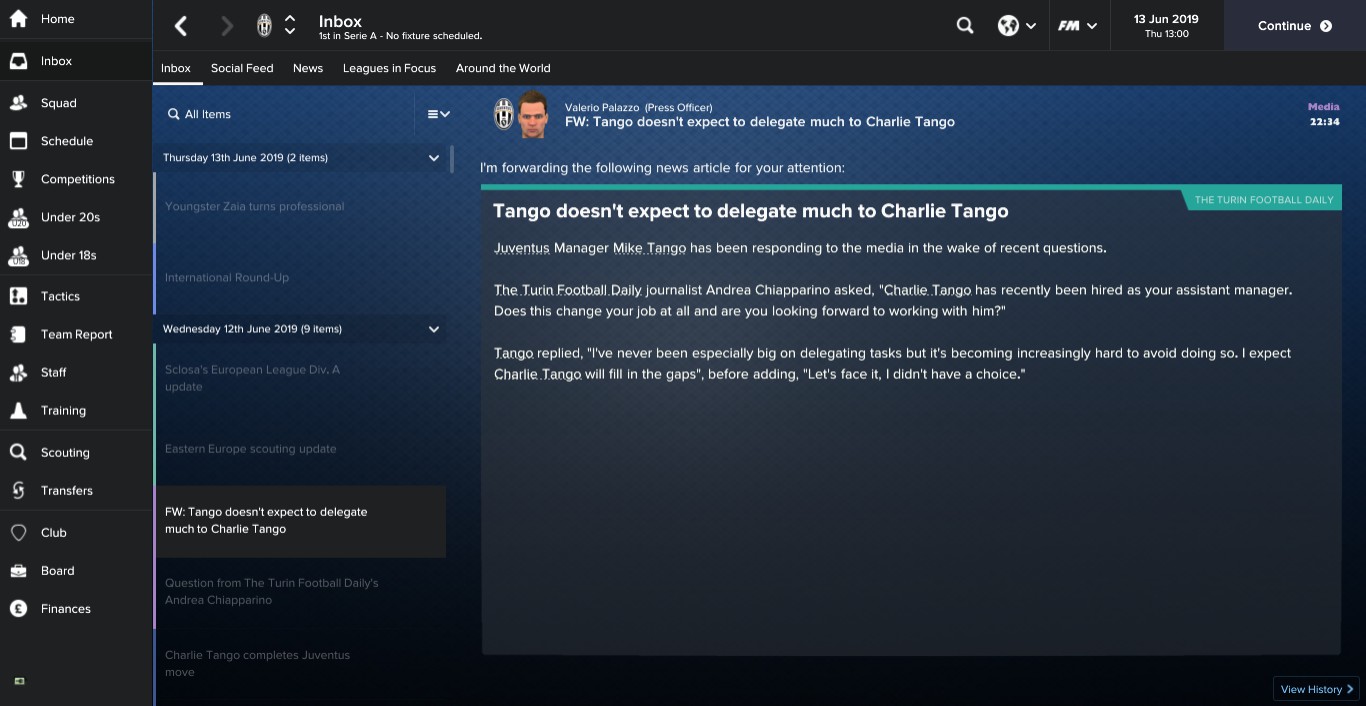 CHARLIE: I know the type of assistant manager I want to be. A hard-nosed northerner with a voice like someone shovelling grit and whose handshake feels like a minor traffic accident. I think I've just described Sean Dyche. Since I've got a lot of time for the Burnley boss, I'll run with it. Players tend to bring problems to the coaches they wouldn't dream of mentioning to the manager, I'm here for the little cherubs. The first thing to do as part my new responsibilities of post/pre-season is to help review the squad.
MIKE: I don't want to hear this. Even I have made an emotional connection to some of these players. Asking me to transfer somebody out, it's like somebody saying which bits of your wife would you like to cut off.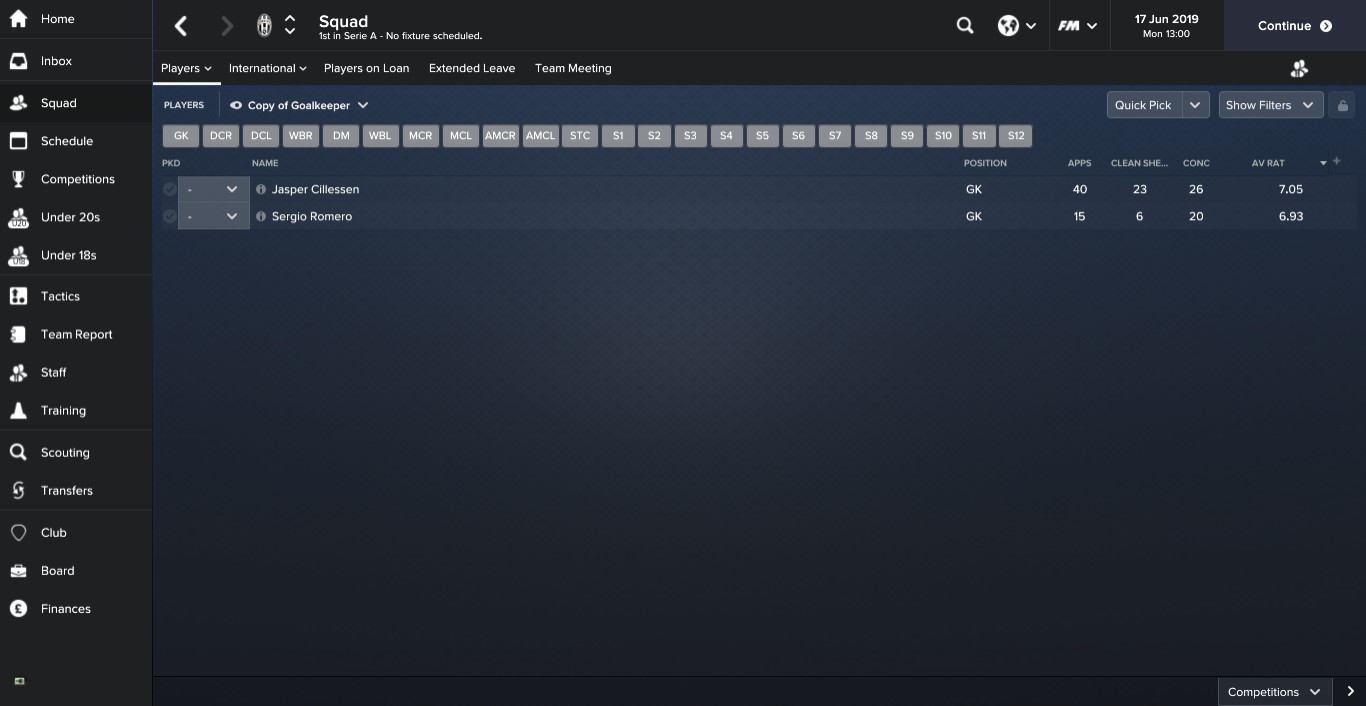 CHARLIE: Mike plucked Jasper Cillessen from Barcelona after being trapped as Ter Stegen's back up, in fact in 2017/18 he only played 5 cup games and played for his national side more. He's solid, reliable and trustworthy, which Mike values more than anything else. Sergio Romero wasn't as bad as Mike claims during the last campaign but I sense an opportunity to look at our eligibility stats. Emil Audero is a young Italian goalkeeper who ticks several boxes and has been out on loan at Pro Vercelli in Serie B, where he played over 40 games and kept 17 clean sheets. Romero is transfer listed and he comes in as back up to Cillessen and in a curious twist of fate, we had to re-sign Audero after his contract curiously expired. Both of us checked that and he was under contract until 2021. Hmm.
MIKE: I may have persisted with Chiellini for too long, I'll admit that. He's now retiring so our central defensive pairing will be Daniele Rugani and Bonucci heading into next season. I'm not about to flog Bonucci as in real life, he's too good. Benatia is fine as back up and Charlie has been banging on about Kortney Hause again (Ed – third best defender in Serie A two years ago), so I'll let him sign him as the fourth of four centre halves.
CHARLIE: Dani Alves is also retiring and since Juan Cuadrado is pretty competent at right wing-back, he's to be signed permanently for a reduced fee from Chelsea. I may persuade Mike to look at a young Italian right-back as a squad player. On the left, Alex Sandro topped the stats for distance covered, along with being one of the best on the game in his position and Asamoah has good versatility. No problems there.
CHARLIE: Now we get a little… murky. Sami Khedira's contract is expiring, Mario Lemina will move to Manchester City after signing with them in January and being loaned back, numberseventeenValverde returns to Real Madrid following a fairly successful spell. Claudio Marchisio is already 33 years old and I can't see Tomás Rincón being a first teamer. I've identified defensive midfield as a priority for Mike to recruit to.
MIKE: I'm not selling Ravel Morrison, he's been another one of my pet project success stories. Whatever happens, he stays. If I consider a formation with width next season we probably need another body and embarrassingly between us we have identified the ideal player who is versatile enough to play on both wings, offers plenty in the middle also as a playmaker… he's in my own reserves. Samir Nasri. Bollocks. If I eat humble pie now, will the squad ever respect me again?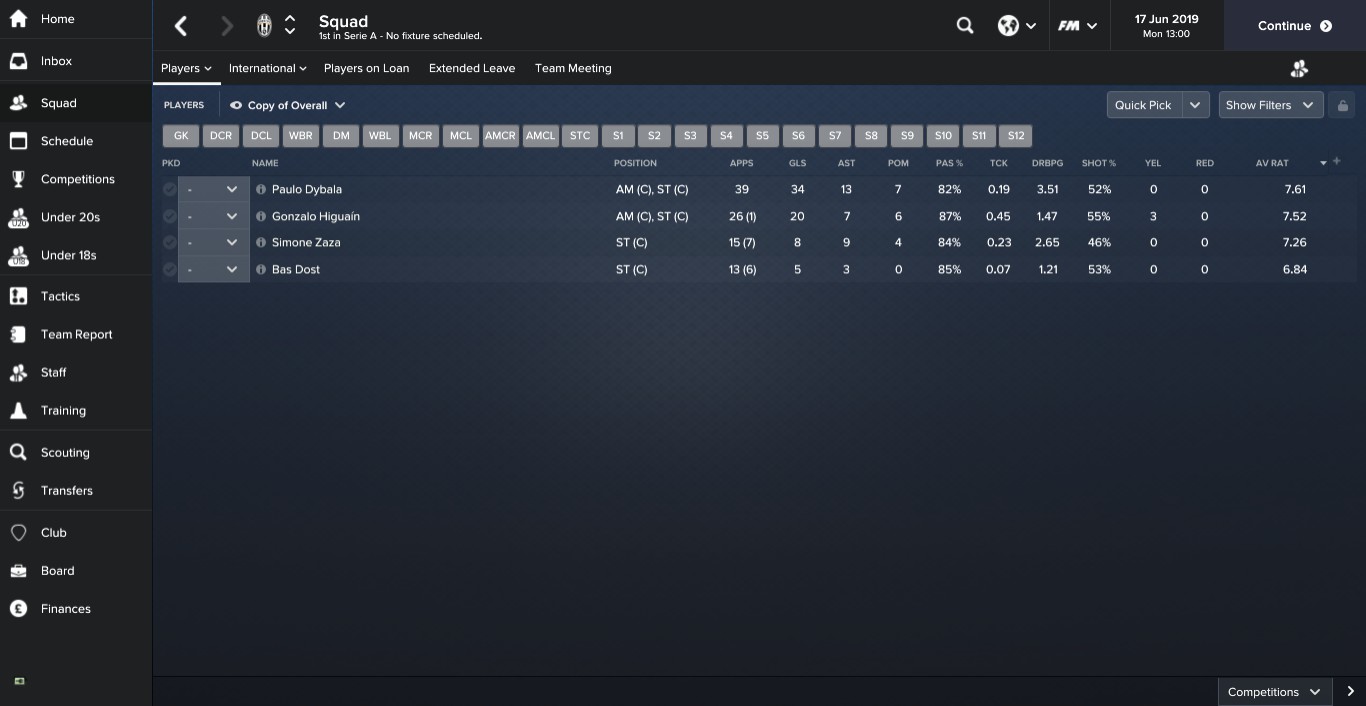 CHARLIE: Obviously in Dybala and Higuain, Juventus boast two of the best forwards in Europe. If they are retained, I'd back them over every other strikeforce. However, Bas Dost and Zaza just aren't good enough. I've suggested selling the both of them and taking a look at the Under 20's, where there are a couple of really good prospects like Moise Kean. So far the arguments have been restricted to a grunt and a whispered expletive.
Despite persuading Mike to agree that Nasri will take up a position in the 25-man squad, he's now bleating about returning to France becomes he's homesick. I sense he's not in the right frame of mind, Mike is wondering whether he's in the right frame of mind to be fined a week's wages. That's what I'm dealing with here folks.
What I've been attempting to convey is that it's about building a squad capable of challenging on all fronts. Having read Mike's season with Juventus and indeed observed chunks of it, the losses came really when injuries struck. Let's look at some of the players who have been signed, starting with a man purchased to replace Sami Khedira.
Grzegorz Krychowiak arrives from Paris Saint-Germain for a decent £9.5 million fee, which is less than he's worth. I do feel that Tony Pulis and West Brom have somewhat stolen our thunder by signing the Polish defensive midfielder on a season-long loan. Pulis and the Baggies have had a cracking transfer window but nonetheless, I'm confident that Krychowiak will fit into the Juventus side seamlessly.
Francisco Román Alarcón Suárez, more commonly known as Isco, has been signed for £44 million from Real Madrid in a statement of attacking intent. A creator and a finisher, he will add to the growing numbers of players able to provide chances for the likes of Paulo Dybala and Higuain. This is a Mike signing, his reasoning being that the swelled coffers were weighing him down. Mike has also insisted on contractually referring to him from this moment forth as The Isco Kid.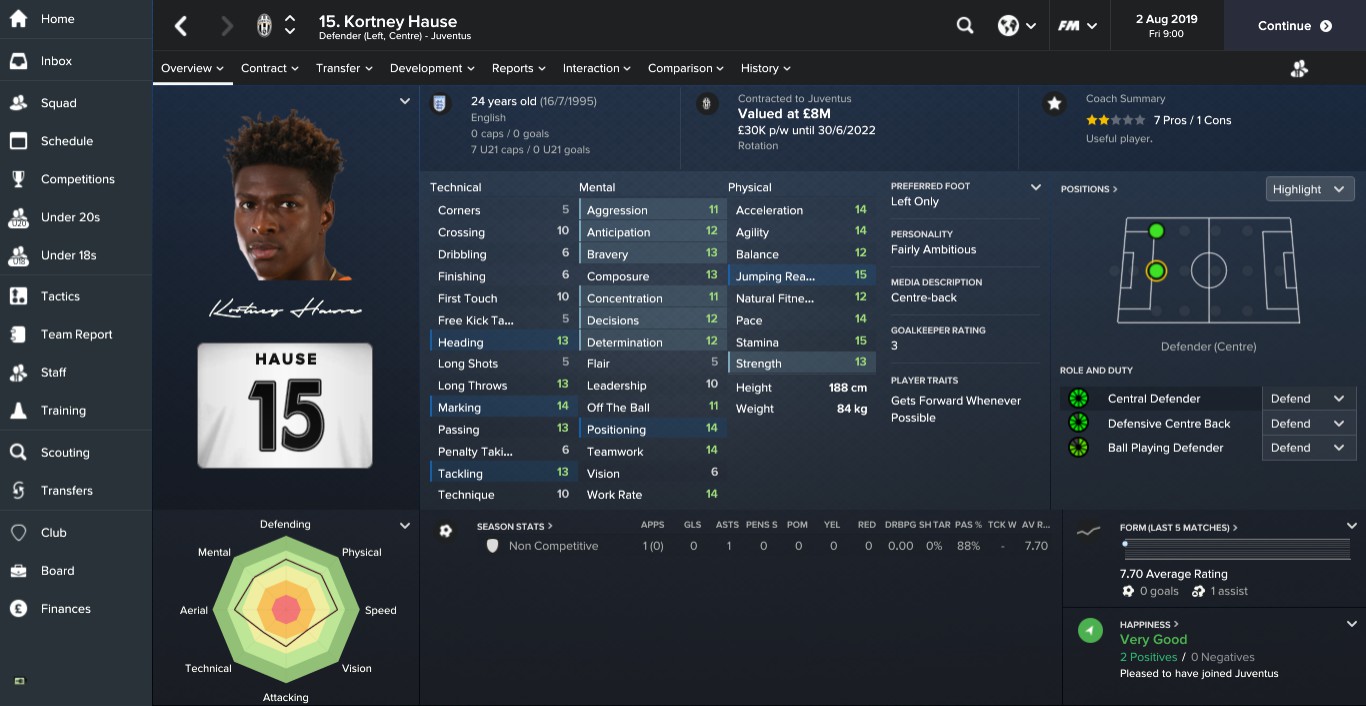 I had Kortney Hause at Inter Milan in the original season in the Rivalità Tra Fratelli challenge and he ended up placing third in the list of best defenders in Serie A 2016/17 behind Charlie Taylor and Alex Sandro. Since then his career has taken something of a downward turn in Mike's save by first being sent on loan to Palermo and then sold to West Brom. I'm confident that he can displace either Rugani or Bonucci by the end of the campaign.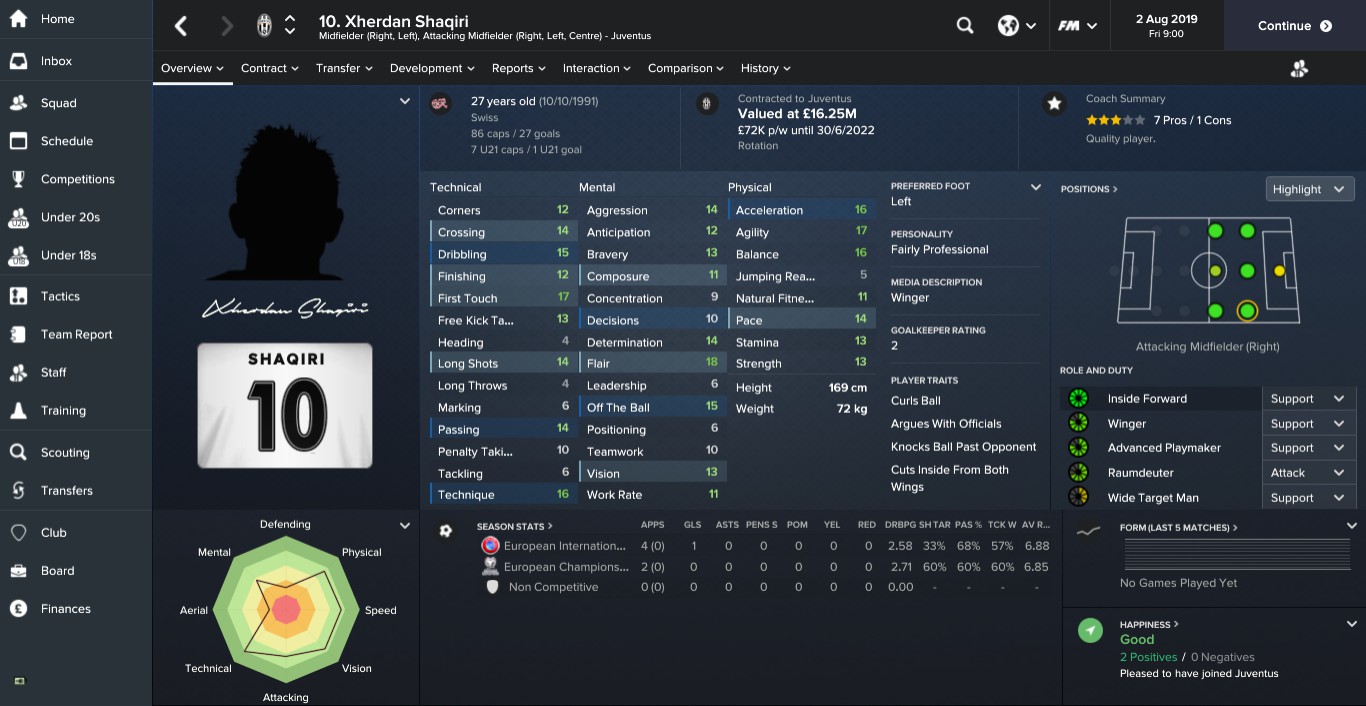 Only 27 years old in 2019, which is a little mind-boggling, Xherdan Shaqiri is a favourite of Tango Towers. Still at Stoke City, he was plucked to form another spear in the Old Lady's armory. We have Salah, we have Martin Ødegaard, we have Pjanic, we have Isco – sorry, 'The Isco Kid' – and now Shaqiri as the bullets for the striking guns.
The squad seemed pretty settled but the number was at 24 with a spare slot having to be saved for the homegrown restrictions until I had a brainwave, which believe me does not happen regularly. We could find someone who played for or was trained at Juventus to fill the 25th slot should we require additional cover. With only Higuain and Dybala senior options at the sharp end of the field, we agreed on Sebastian Giovinco with a 15-game clause in his contract for an extension. At 32 he is not spry but does have a good goalscoring record in the MLS and will be a solid rotation option.
There's also a group of hungry youngsters looking for a chance to impress including Christian D'Urso, Rolando Mandragora, Riccardo Orsolini, Emil Audero and Moise Kean, the majority are academy graduates except for D'Urso – signed from Spal for £4 million.
That just leaves tactics. Mike is insistent that his Kyan1te Zizou tactic remains and he'll take over team selection for the away fixtures. He's allowed me to come up with the home formation so I've plumped for a variation on the original 'Skewer' tactic with two of the attacking midfielders thrust out wide, most likely Salah, Shaqiri or Ødegaard.
I'm not exactly ecstatic about the name but as you can see we have two wide men, one winger and one inside forward alongside the attacking playmaker behind one complete forward. I think that's what Arsenal used to do.
The tactic was tested in pre-season as Mike 'graciously' allowed me to take over the fixtures against Valencia and Fluminense, which saw us score five goals in each game. I think we're ready.
MIKE: I'm not big on the preliminaries. I'll be back when we take on Atlanta in the Super Cup showpiece in the August episode. I'm happy with the squad depth and quality. There is just one thing bothering me. What happens if I don't lead this team to Champions League glory? Will I be held back a year and denied Football Manager 2018?
I've already been planning an AC Milan save, a PSG save, a Barcelona save… this could be devastating. Time to focus.
Thank you for reading, join us on Twitter at @FM17Challenge, @CharlieTangoFM & @MikeTangoFM for exclusive comments, developments prior to episodes and reaction afterwards. Continued thanks to Chris and everyone at Tempo for the opportunity to share this with the readers.