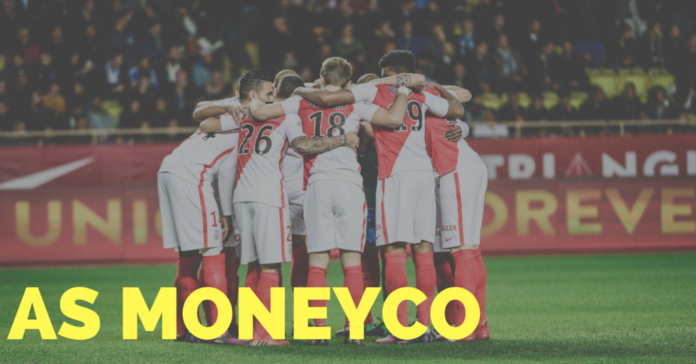 The season was not off to a great start for my young Monaco squad. Radamel Falcao had been ruled out with a hamstring injury, and poor finishing was complemented by misfortune to hold my side back.
A mere three days after the Sassuolo frustration, Stade Rennais fans were treated to a trip to Monte Carlo. Bookings were rife as the high pressing seemed to lead some of my inexperienced defenders to believe they should scythe opponents down at any opportunity.
The aggression from the defenders was not matched by clinical play from the forwards, however, as it finished as another 1-1. Perhaps a fair result, we did edge the match and could easily have put a few past them. I did enjoy limiting them to 60% pass completion, mind.
A big derby away at Nice followed. Yep, you guessed it, it's another 1-1. A little happier with this one, though, despite dominating possession and the shots once again. Iver Fossum performed superbly alongside Fabinho in midfield, too, which was pretty satisfying given the £11 million splashed on him a few weeks previously.
The transition from AS Monaco to Jose Mourinho's Manchester United was complete in our next outing. Bottom-placed Angers visited for what was a walk-in-the-park three points. It was quickly thrown into chaos, though, as Kamil Glik committed a brutal foul in the middle of the pitch to earn himself an early bath with just five minutes on the clock. Fabinho dropped into centre-back, but any hope of a thrashing was long gone.
Having gone behind in the first half, the kitchen sink was flunked in Angers' direction after half-time as we snatched it back to lead 2-1. Naturally, the underdogs nicked a late goal for it to finish 2-2. Mourinho would be proud as my streak of draws reached four.
Up next: Fenerbahce. The nastiest match in my Europa League group as we headed to Turkey needing three points. The back five delivered. Kylian Mbappe fired home after 37 minutes and the Turkish giants were shut out resolutely from then on. Europe was back on track.
This kicked off a four-match winning streak. Metz fell 2-0, Toulouse succumbed 1-0 as Falcao returned and Rostov were dispatched 3-0 to put us in the driving seat in the Europa League. Chances, however, were still not converted well enough as a reliance on individual moments of brilliance grew.
The inability to finish a chance even when presented with silver service began to hurt. Domination of Montpellier and Saint-Etienne brought two points. Two points should have been six, but back-to-back 0-0s sapped all momentum out of the season. We were the draw specialists of France, and this was not even going to get us in the top three, let alone challenge PSG.
Luckily, the return fixture against Rostov allowed us to get back to winning ways. Monaco's fans were a bit cheerier, too, even if it was only a 1-0 at home scored by Jorge on an overlapping run.
Two more draws followed because that's what we do. AS Nancy Lorraine and FC Lorient held us to 1-1s, with the first one being particularly painful having once again carved them open repeatedly at home only for an 81st minute to deny three points. Lorient impressed, and are a side I was desperate not to draw in the cups later in the season.
The chance to guarantee Europa progression with a match to play came up next. Heading south to Italy to face Sassuolo, a near full-strength side was fielded and we got off to a flyer as Fabinho appeared late in the box to guide one home. A quick equalizer left us biting nails and pushing hard for a victory.
Shots rained in from all angles, but no breakthrough was in sight. Then, Mbappe stepped up. The ball falls to the French youngster in the box, it's the 92nd minute and he had already missed a sitter. This time it's different, this time he curls it into the far corner and it's game over.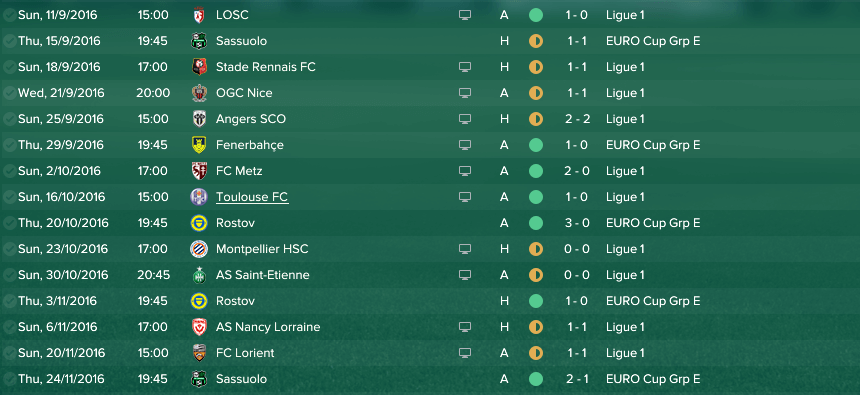 We're through, we're unbeaten since August. What comes next for Monaco?
Follow me on Twitter @SamRCox_.